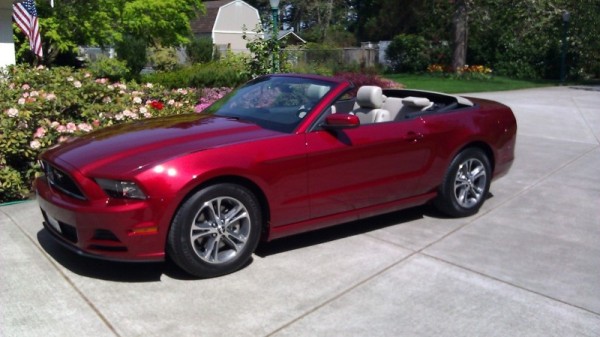 That's Maria (muh-rye-uh) after being spiffed up for a car show.
Maria's story begins in November of 2012 in Hawaii. Mel and I had gone to Hawaii for a week and decided to splurge and rented a Mustang convertible. It was a V6 Premium with SelectShift automatic, apparently a common rental configuration. The V6 is a 3.7L DOHC engine with variable valve timing and produces 305 HP and 280 ft/lbs of torque and runs on regular gas. I quickly learned that it is more than quick enough, despite the fact that it is a relatively heavy car at 3,630 pounds. It also handled very well, while at the same time providing a very comfortable ride. Before we had finished a week with the Mustang I had realized the paradox of my S2000. I REALLY love to drive that car, but truth be told I didn't much like riding in it. It is a purpose-built car and fulfills its purpose wonderfully, but that comes with more noise than one would like and a ride that can be very harsh on poor road surfaces.
I thought about it over the next month and then started doing some serious research. I learned that Ford would be introducing a redesigned Mustang for 2015 and there were strong rumors of them finally switching to an independent rear suspension. I considered waiting, but then decided to move ahead. I used both the Ford site and truecar.com - a site where you can completely configure a car and be presented with a very aggressive target price. Once I registered my email address with truecar.com, they sent me contact info for three dealers in the area and sent them my contact info. I wanted to buy from my hometown dealer, Lakewood Ford, so I went in and spoke to the salesmen on January 3rd in the evening.
I was surprised to learn that apparently truecar.com has a 'contractual' relationship with some dealers and that they must meet or beat the target price. When I showed the salesman my documents that was all it took. We went through the configuration process so he could get an order ready and he quoted me a price that was a little better than the target. By this time it was too late to enter the order, so I left a deposit and he told me he would enter the order the next day. When he attempted to do so he found that Ford had already closed off orders for 2013s. The deep red color had changed from Red Candy for 2013 to Ruby Red for 2014. It is a deeper and bluer color and even better than Red Candy. He got back to me to let me know what was going on and I confirmed that I wanted to proceed with the order, so on January 7th he entered my order for a 2014 Mustang V6 Premium convertible with the comfort package and the reverse sensing and security package.
I joined a forum called themustangsource.com and, with the help of a Ford Customer Service Rep (Deysha) who monitors the forum, was able to keep up with the progress of my order. As it progresses a VIN is assigned and soon after that it is possible to pull up an image of the window sticker showing the build date. Mine went into production on February 6th and was completed and shipped on the 13th. It's a somewhat slow process making its way west on the train and then being trucked from the unloading point to the dealership. She was finally ready for delivery on the 28th.
I had told my salesmen that I did not want to mount the ugly front license plate mount on the bumper and insisted that they not drill holes in the bumper for it. They were great about passing the word and I have the mount in my garage just in case I am ever forced to use it.

Bill writes Do NOT drill holes in the bumper
By the time we completed the paperwork it was getting dark, but here is Maria at delivery.
She turned out to be everything I had hoped for. I'm still getting familiar with her, but have taken some curves in her almost as fast as I took them in Rico. She is VERY quick, but is really comfortable. Her 215x65R17 tires absorb a lot of the bumps in the road, and will wear longer and be cheaper to replace than low profile tires that could help her to handle marginally better. The tradeoff makes good sense to me.
I had spent a lot of time learning about Sync - the system developed by Microsoft and Ford. I have a 32GB thumb drive with about 260 albums on it and leave it plugged into the USB port. I am able to select tracks, albums, artists, or genres by voice command and the recognition is remarkably good. However, when she pronounces back what she is about to play her pronunciation is sometimes good for a chuckle.
I figured out a way to mount the front license plate to the lower grill and checked with a State Patrol trooper who said he believed it would be just fine. I bent over the top and bottom edges with my bench vise. It is still possible to read the state name and the plate number. I attached two pieces of aluminum strap to the back side of the plate with a long bolt sticking through each. Those long bolts go through openings in the grill. A longer piece of aluminum strap goes over them behind the grill and lock washers and nuts secure the whole works. The plate can't move around and mar paint and will not fall off.


Maria's front license plate setup
The Ruby Red Metallic color is amazing and seems to just suck you in. Every time you see it in a different light the color looks different. I ordered her with a Stone top and interior rather than black, and am I ever glad I did. She is really a terrific looking car.
You wouldn't know it to look at this photo, but I can sit in the back seat behind the driver's seat when it is adjusted for me and be reasonably comfortable. I would not want to ride back there for a long drive, but for a shorter drive it would be just fine.

I really like the wheels on this car and they are surprisingly easy to clean.

The outside mirrors have small insets in the upper and outer corners that give you a broader image. It takes a little time to get used to them, but once you do they do a great job of showing you vehicles that would be in a blind spot for a lot of cars.

All Mustang convertibles now have strut tower braces to help keep the body more rigid. I believe those cars that have 19" wheels also have them. The V6 engine is a very tidy bit of work, and Ford has done a great job of producing power and efficiency. It runs on regular gas and is rated at 30 MPG on the highway.

Here are some shots of the interior. There are undoubtedly capabilities of the stereo system that I will never use. The Sync system and my thumb drive keep me entertained, and the Bluetooth connection between my phone and Sync provides hands-free calling. Of course, there are cup holders. The storage area behind them has the USB port (note the small blue thumb drive) and one of the two power ports.
The steering wheel is quite comfortable (thick and padded with spokes at just the right places) and has buttons for cruise control, stereo operation, phone operation, voice interaction with Sync, and control of the display of trip computer data and various control that show up between the speedo and the tach. It does not telescope but does tilt, and I am able to achieve a very good driving position with clear view of the instruments.