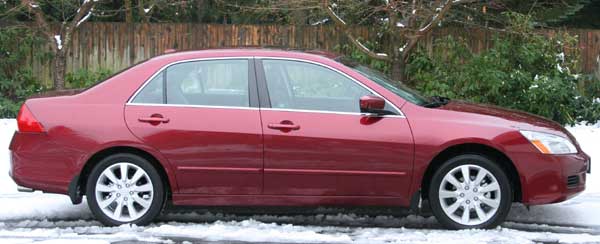 She's our 7th Honda and we named her in honor of our New Zealand friends.
Ah, the Hondas in our lives. It all started with a used Civic hatchback we bought with 72K miles on it as my commuter car. It was the most neglected car I had ever seen, but it ran well. I called it the puddle jumper, but my family referred to it as the puddle junker. By the time I had 100K miles on it the engine was in need of help. It was leaking oil past the valve guides. A friend down the street helped me pull the engine for a rebuild. The rod bearings looked amazingly good, but we replaced them anyway. We also put in new rings and honed the cylinder walls, had the head professionally done, and rebuilt the clutch. Once back on the road it was a strong and solid runner and I was sold on the quality Honda designs and builds into its cars.
Eventually we got rid of the puddle junker and bought a new 1983 Civic 1500S (the Speed Buggy). We put 154K miles on it before replacing it with a 1988 Accord LXi sedan (we named it Hendreary after a character in 'The Borrowers' because our salesman was named Hendry). We turned that car over to our older son with 281K miles on it when he headed off to Florida to pursue his doctorate. We replaced Hendreary with Vita, a 1993 Accord SE that we drove for over 240K miles. There was actually another one between the '88 and Vita. We had put just 12K miles on a new '92 Accord EX sedan when it was totaled out from under me on a winter day. Other than a cracked sternum, I was just fine. It was the air bag that caused the cracked sternum, but saved me from possibly much worse injuries. We still have the sweat shirt I was wearing that day and my wife sometimes wears it when gardening in cooler weather. It has a quarter-sized spot that looks like a dirt smudge, but is actually where the air bag crushed the sweat shirt pile between my sternum and the seat belt. We decided we wanted dual air bags in the replacement car. The '93s were out by that time and the SE was the only model that offered dual air bags. At the time, Vita (shortened from La Dolce Vita - the sweet life) was the most luxurious car we had ever owned. She was an excellent car that provided trouble-free service, like our previous Hondas. But once we acquired Siven (a 2006 Honda Accord EX V6 sedan), Vita was been sold. We put an ad in Craig's List on Saturday afternoon and had six responses before the end of the day. I had cleaned her up and made her spiffy and she sold Monday morning for an excellent price.
We had been planning on replacing our '93 Honda for some time. Since Mel was going to be working some miles from home in January (and possibly part of February and even March), we decided to look into doing so sooner rather than later. We were considering a used Accord V6 - a 2003 or 2004, but the price difference between a low mileage used car and the new car was not that great. We got a terrific deal on the new car and got to take the sales tax deduction that year. The car is wonderful and is a far cry from Vita.
As to name, she is our 7th Honda. For those of you who have never had the great pleasure of visiting New Zealand, the Kiwis have, to our ear, an interesting way of pronouncing the numbers 6 and 7. The number 6 sounds like seks (or sex, if your mind works that way), and the number 7 sounds like siven (with a short I as in give). Our Kiwi friends are good humored about it, and if asked to count to ten will respond one, two, three, four, five, half a dozen, siven, etc. Doug, if you are reading this, we truly miss you and Liss and all our other wonderful friends way down under.
Here are a few more shots of Siven. The snow is an unusual feature - we get very little of it here.



The lap of luxury with heated power front seats, dual zone climate control, and a home link system so we can finally stop messing around with remotes for the garage door openers.