Matt and Lacey (our younger son and daughter-in-law) had planned a trip to London so we decided to go along. We rented a flat for the week and saw as much as possible.


The clock tower housing Big Ben



The rudder, the keel and the bow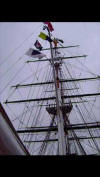 Deck planking, rigging and the whole ship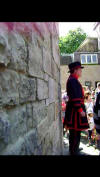 The axe, a Yeoman Warder and Traitor's Gate
We rented a car for a day and visited Stonehenge and Windsor Castle.



Stonehenge, the chalk horse and burial mounds


Us - the weather was beautiful