We were due for a little relief from the cold and the wet so we went to Phoenix for a couple of weeks. We had long wanted to go on a hot air balloon ride, so we did on this trip. We got to the pickup point early and the driver took quite a bit of time finding just the right place from which to launch.


The first step is to inflate the balloon


There were other balloons in the area - beautiful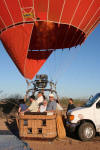 Once the balloon rises, they tip the basket up and we climb in


A little blast from the burners and up we go



There were balloons above us and below us and there was us
Our pilot tried various altitudes, but there was no wind. We floated above the same spot until he finally gave up and brought us down. The most interesting part of it was the story of an earlier trip of his. There was a guy who kept making cell phone calls and annoying everybody. Finally his wife asked if she could use his phone. He handed it to her and she chucked it over the side. Applause!!!

The balloon deflating is quite a sight

We stopped by an old Indian site on another day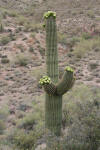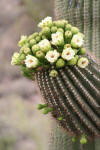 I've never considered cactus lovely, but these flowers are really something.