We had never spent much time on the Olympic Peninsula, so we decided to make a three-day trip.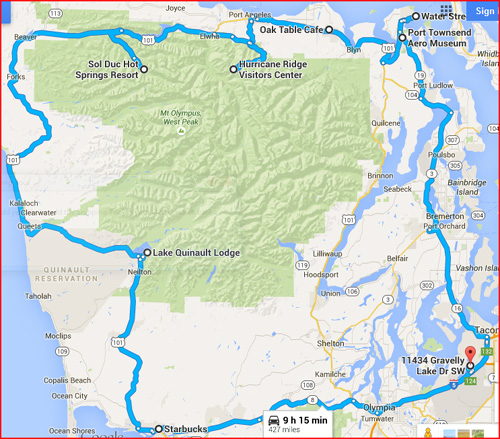 Our first day took us to Port Townsend with a stop at a small but delightful Aero Museum where they have a very nice collection of older small planes housed indoors.
We stayed in the Waterstreet Hotel - an old and funky place where we had stayed previously. Dinner was at the Silverwater Cafe - a very good restaurant just a few blocks from the hotel.
The next day we drove to Sequim (pronounced Skwim) and met friends for a late breakfast. The story of this friendship is really interesting. I was at home alone one day a few years back when there was a knock at the door. The gentleman introduced himself and told me his Aunt Bette was in the car. She and her husband had a construction business and built our home in 1960. They were in the area and Aunt Bette wanted to see what the house looked like now. It had been decades since they sold it. I invited them in and Paul got Aunt Bette out of the car and into a wheel chair. She had had a couple of strokes and could no longer walk and her speech was very difficult to understand. However, she was still as bright as a button. We became good friends and have gotten photos of the house when Aunt Bette lived in it.
After lunch we drove up to Hurricane Ridge and took a photo of the Olympic Mountains. What a beautiful area.

We continued to Sol Duc Hot Springs Resort - another place we had never been before. Frankly it was a disappointment. For a place that is pretty spendy you would not expect to have towels that had stains or were threadbare. Even worse was the restaurant. We had dinner and breakfast there (no other choices) and it was really poor. I did take shot of Maria near our cabin.

We drove to Lake Quinault on our third day, had a quick lunch in the lodge and then drove to the nearby National Parks Ranger Station in time for a nature walk with a ranger. The walk was in a temperate rain forest and was really interesting. The ground cover is so dense that seeds and cones that fall can't reach soil. New trees only start when a seed or cone falls on a stump or fallen log that has moss on it. These are called nurse stumps or nurse logs. The tree starts on the nurse but must extend its roots down to the soil in order to survive. The really old trees have hollow areas under them where the nurse has rotted away.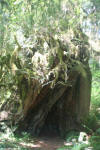 A nurse stump has largely rotted away under this tree

A nurse stump that is host to some very young trees
Some of the trees have growths on them called Conchs. These are parasites that will bore into the tree and eventually cause it to rot from the inside.
There a variety of ferns including one that is dense and very low-growing.

After the walk we returned to Lake Quinault Lodge and checked in. We had a nice swim in their indoor pool and then had dinner in the restaurant. It was MUCH better than Sol Duc, fortunately. Our final day we rose early and packed up and hit the road for home, stopping for breakfast at a Starbucks in Aberdeen. All in all a very pleasant getaway.