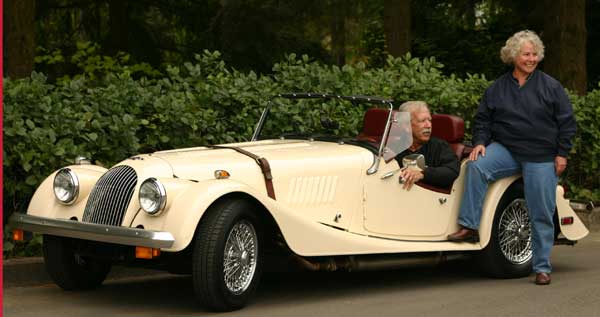 Mel and Tom with Moggie at the Weyerhaeuser Gardens for a photography class field trip
photo courtesy of one of our classmates
It was June 2001 and Mel and I had taken Sophia on The Run to the Gorge - an outing for British cars that started in Tacoma and wound its way down to Hood River, OR on the Columbia Gorge. There was a fair variety of older cars and some newer ones as well. The usual suspects were present - Jaguars, MGs, Austin Healeys, etc. There was also a 1998 Morgan Plus 8. It was a stunning car in dark green and Mel was smitten. I had known about Morgans but had never taken an interest in them, perhaps because one doesn't see many of them around.
Later that year a 1991 4/4 came into European Motors where I was working as a salesman. I had retired from a career in information technology and wanted to do something completely different. European Motors specialized in pre-owned Jaguars and I had gotten to know the salesman there before we acquired Sophia. Owning a Jaguar seemed to make it a natural, so I took up selling them. In any event, this Morgan came in for some minor service issues and just sat in a back corner of the shop for at least a month and a half. I wondered why it was still there. Then one day the owners came in to see the manager. They told him they were not driving the car and wanted to sell it. They felt the best way to do so was to consign it to the dealership. The manager asked how much they wanted to get for the car and they replied, 'Oh, about $10,000. The challenge then was to determine what price we should put on the car. We located the man who had originally imported it and sold it to these folks. He remembered the car and gave us a sight-unseen buy bid of $12,000. I had no idea what it was actually worth, but I had a feeling it was a lot more than that, and saw a possible opportunity to buy it for a great price. I asked the mechanics what was wrong with the car, and they told me it had a minor coolant leak but was otherwise in excellent condition.
Mel was working from home, so I drove the car home during lunch and showed it to her and took her for a short drive. She loved the car but was reluctant to spend the money. I told her I thought it could be a great deal as the car had only 11,000 miles on it and would be a good investment. A few days later the manager of the dealership told me he was going to have to let me go. Things were very tight and he was watching every penny. I spoke to Mel about the Morgan again and we decided to make an offer. On my last day, we met with the manager and offered him $12,000 for the Morgan. I told him I would do the paperwork and would forego the commission. He accepted the offer. So in December of 2001 we became the proud owners of a third car that we had to try to fit into our 2 1/2 car garage.

The wide door is actually only 13' wide, and the areas beyond the edges of the doors are about 6" rather than 24"
Fast forward to June of 2002 and we were on our way to Hood River again - but this time in the Morgan. I noticed some odd squealing noise when we went around left-hand bends. I later discovered it was the left rear tire rubbing against the tail pipe. We got checked into the Inn and went into Hood River to the Cenex store. Moggie was running on propane when we got her and I had found that the Cenex store was a place where I could refill her tank. We got there just after 6:00 PM and were told that they could not sell propane after 6:00. HUH??? I pleaded with them and told them that I would not be able to get back home. They relented and said they would record the sale on Monday. Must have been another of those odd Oregon laws like the one that prohibits you from pumping your own gas. In any event, I was beginning to develop an intense dislike for burning propane. Other than that, Moggie was wonderful.





These photos were taken in May of 2002
I had found that power on propane was rather poor. Going up even moderate grades on the freeway, it was necessary to downshift into 4th gear to maintain speed. Mileage was also quite poor. We appeared to be getting about 23 miles per gallon of propane. I say appeared because the fuel gauge fluctuated wildly a good part of the time so you were never sure how much fuel was left. Also, the nature of refueling was such that full was rather more variable than with gasoline. We took the Morgan down to Rogue River, OR to see my sister that fall. I had located a place to refuel in Salem on the way down. My sister had attempted to locate a refueling place near her home. The fellow at the Texaco station said he didn't know how to charge the tax that applied to fuel sold for use on the road. The fellow at the Chevron station said he didn't think his nozzle would fit the car and suggested the truck stop 20 miles south. We stopped at the Shell station in Grants Pass and their pump was out of order. We finally found a station that could refuel us. On the way back home we had a long wait and paid a premium price for propane. That was the last straw. I decided to convert the engine back to gasoline.
Read about Moggie's propane to petrol conversion
The miles added up and performance seemed to drop off somewhat. Then, in 2006 we set off on a cross country trip (you can read about it in the Travel section of this site). During two months and 11,500 miles we had ample opportunity to wish that we had fuel injection and more power. Moggie would not idle above about 4,000' and would not climb long hills without downshifting from fifth to fourth and sometimes third. At highway speeds there was not enough acceleration left to readily pass large trucks. The engine was smoking and was obviously failing with only 50K miles on it.
We decided that something had to be done and I concluded that it would not involve the original Ford CVH engine. This engine was an English Ford Escort engine that had been converted to rear wheel drive for Morgan. Acquiring parts to rebuild it would have been difficult and expensive, and I had since learned of some known weaknesses in the design. It would have been foolish to pour money into an engine that would likely not last another 50K miles. I considered a couple of alternatives and finally fell back on long years of experience with Hondas as being extremely reliable. So I acquired an engine and gearbox from a 2005 S2000, complete with the alternator, etc. Since the S2000 is a rear wheel drive design, there would be no conversion required. The donor car only had 26,094 miles on it when it was totaled because of body damage, principally to the right rear. So Moggie's transformation to a Mog 2000 was underway.