A Week in Devonshire
Saturday, June 30 - Chalford - Wells - Totnes
When I went to bed last night there was a soft English rain falling. Tom came to bed a bit later and the soft rain had turned into a fairly hard one. This morning is gray and damp, although the weather forecast is for clearing.
We have breakfast, shower, pack the car and are on our way before 9:00 a.m. Our route takes us through Bristol over to Wells.
We are impressed with Wells, the town and the beautiful cathedral. It is well maintained and has some interesting features, such as a very old clock – the second oldest operating clock in Europe and a Chapter House, where the Canons used to conduct daily meetings to discuss the cathedral business. The cathedral close is wonderful – open and spacious. We take several photographs of this wonderful building.

Couldn't resist this shot of Henderson Place
We drive through Glastonbury, but don't have time to stop – pity, as the Abbey there looks interesting.
We head toward the South of England. Our destination is Crowdy Mill, near Totnes. The drive is reasonably quick, along an M road.
We are surprised when we drive through Totnes to see a recently plowed hill near the town. The soil is very red - much like that on Prince Edward Island. I can understand how my G3 grandfather must have felt comfortable on PEI having come from an area such as this, although it is more hilly here than on 'The Island."
Our cottage, Spillway, is interesting. It is right next to a brook. It consists of a 'lounge', with a loft above for extra sleeping area (accessed by a ladder), a very small kitchen with a Rayburn stove, which is also used to heat water, a small loo and a small bedroom. It is nicely decorated, but I am intimidated by the stove. It doesn't have dials for regulating the temperature. "What you see is what you get." I can't face cooking dinner tonight. We go to Totnes to do some shopping (the town has a legitimate High Street as well as a Safeway) but plan to go out to dinner – Indian – tonight.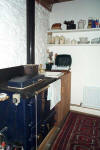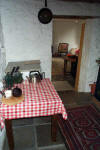 Lounge, Rayburn and dining area
I am surprised at the bustle in Totnes – the High Street is very busy – we find a greengrocer, a baker, a butcher and a general store and make some, but not all , of our purchases. We find an Internet Café and check e-mail - Michelle from the credit union tells us that Visa has managed to find the problem with our debit card. We head over to Safeway to complete our shopping and try the cash machine. Glory be - our debit card works at last!
We return to Spillway and put things away. We meet the people in the cottage next to us – Debbie and John, son Lucas (age 4) and a daughter, 18 months. They are just in the process of purchasing parts of Crowdy Mill from the current owners. They want to get the mill up and operational again, and have B & B and self-catering cottages. We hope that we are able to talk with them some more before we leave – they used to live in London, but wanted to own their own home in an area where they could raise their children. London housing prices were prohibitive.
We drive back to Totnes for dinner at the Indian restaurant. It is OK, certainly not great, but not bad.
Upon returning to Spillway, I start reading 'The Country Diary of an Edwardian Lady." It is beautifully illustrated – obviously the author knew a great deal about nature.
We have a couple of different alternatives for tomorrow, haven't really decided what we are going to do. A lot depends on mood and weather. However, we are settled into our cottage and don't have to move again for a week.
Sunday, July 1 - Totnes - Princetown
Today is gray and we can't tell if it will be fine or rainy. We set out to Dartmoor. The road quickly becomes 'unclassified' and deteriorates to some of the narrowest we've seen yet. Our destination is Princetown, which has information on Dartmoor. It is also the location of the infamous Dartmoor prison.
Along the way we see far too much evidence of foot and mouth disease – many pathways and farms are closed because of the disease. This has been devastating to the region.
We also see many sheep grazing along the road. They are unconcerned with the traffic. We stop at a 'tor' – we can't tell if it is man-made or natural. There are a Dartmoor mare and foal grazing around the tor. These ponies are rugged little beasts.
We make our way to Princetown. We pick up bicycling information at the information center and chat with the cashier, who has a distinctly American accent. She tells us her husband worked here for four years and then was granted residency status (we wonder if he worked in the prison – how grim!).
Arthur Conan Doyle stayed in Princetown when writing 'The Hound of the Baskervilles.'
We drive on, eventually reaching Plymouth. Our initial impression isn't favorable. It is a seedy town. Subsequent reading causes us to reconsider a visit to the town if we have time.
We've read about a couple of pubs in Ashprington, so we check them out. The village is beautiful! Both pubs look promising. The road between the two pubs includes one of the steepest grades we've ever seen – 20%. If we had any idea of riding to dinner on Tucats, we quickly abandon it.
In the afternoon we explore Totnes. There is quite a bit to see here. The High Street is alive and well, unlike many central areas in towns in the U.S. We go up to the Norman castle, now a ruin, for beautiful views over the town.
In the evening we chat with Debbie and John. Debbie loves the U.S., John not quite so. We show them pictures of our home that we have on the computer. We'd like to arrange a house swap. They caution us strongly against moving here – it is so expensive. They are right – food, petrol, housing are all very expensive. We decide a house swap for 3-6 months at a time is better than a permanent move.
Monday, July 2 - Totnes - St Austell - Wadebridge
Today is bright and clear. The weather forecast is promising a wonderful day today, but thunderstorms tomorrow.
We set off early for "The Eden Project." We have no idea what to expect, but Debbie and John next door say it is interesting.
We pull into the car park for The Eden Project – still no idea of what we are headed for. We load onto a bus with 60 other people and then offload a short distance further. We trudge ahead on the pathway and come to a very large pit – at the bottom of the pit are some tents and two enormous domes with frames of metal, covered in plastic.
The Eden Project is one of the Millenium projects funded by the National Lottery. Its purpose is to help visitors understand their relationship to plants. I'm impressed that it isn't a 'radical green' message. For example, they try to explain sustainable forestry.
One dome is 'Mediterranean climate' and must be the newer habitat for the plants don't appear to be established. The other is subtropical. The heat and humidity are intense. So are the crowds. The admission prices strikes us as expensive, yet the place is packed, even though today is Monday. Our general impression is that it is too crowded, too expensive, but interesting.
Next we drive to the Camel Trail. We don't know the exact location of the trailhead since it isn't on our map. We stop at a pub in Mabyns and have lunch and get directions. A few false turns later we are at the trailhead.
The trail surface is hard packed gravel for the most part, though there are stretches of a fine gravel top dressing which make the going rough because the tires sink into it. The scenery through farmlands and along the streamside is beautiful. It is quiet and peaceful, the weather is good, but warm. We pass a point where boys are jumping into the river from a steep bank – very bucolic.
We peddle to Wadebridge, a nice resort town, then on to Padstow. We pass heaps of stone that appear to be slate. No wonder slate is such a common roofing material in this area.
Having reached Padstow, we rest a few minutes – it is now 5:00 p.m. and we are miles from our cottage. Although this isn't the most challenging ride we've done, we are tired when we get back to the car, as well as hungry and gritty.
The trip back to Spillway is uneventful. We don't have dinner until 9:30. If we hadn't been so dusty and dirty we would have stopped at a pub for dinner, but we weren't presentable.
Tuesday, July 3 - Totnes - Barnstaple
Today is warm and muggy. We drive from Totnes to the West Coast of Devon to Barnstaple (pronounced Barn-stble). This is a lively town. Traffic for the most part is excluded from the downtown area. There is a street called Butchers' Row that is lined with shops, mostly butchers, but some cheese, delicatessens and fish shops. It would be fun to shop here, but we are a long way from Totnes and don't want to risk having our purchases go bad.
We also stop in the Pannier Market. This appears to be temporary stalls with people selling plants, clothes, shoes, handicrafts, vegetables, cheese and honey (among other things). We buy some local strawberries at ₤1 for three punnets. That's the best price we've seen thus far.
Our plan had been to ride the Tarka Trail but I'm still tired from yesterday's ride. We pass on the bike ride, which is a pity as the trail appears to be one of the better ones.
We drive to Appledore – there is a Maritime Museum here. This is where William, brother of my G-Grandfather, set up a shipyard in the 1800's. Shipping and fishing have been important occupations here for hundreds of years. The staff at the museum are very helpful in trying to help us piece together anything about William, but there isn't much information. We learn that he is buried in the local church, but it is locked. I'd like to find out if he had any descendants, but that is rather difficult. The archivist of the museum might be able to help us, but she is on holiday.
We drive to Bideford – there really isn't much to see here, so we decide to head back to Totnes.
We decide to have dinner at one of the pubs listed in our AAA book, the Durant Arms in Ashprington. It is only two miles from our cottage, but on unclassified roads. The village is so pretty. The buildings are almost all gray stone with nice gardens.
The pub is beautifully done, with soft colors and a traditional bar – no pinball machines or video games here.
I order a veal cutlet in mushroom sauce, Tom has pork tenderloin in Stilton and mushroom sauce. Both come with roasted potatoes and nicely cooked fresh vegetables. We pass on starters and dessert, even though the election looks wonderful. We have an Italian wine – a pino bianco/chardonnay blend (yes, white wine with meat, why not?)
We take a wrong turn on the way home. The hedge-rows are so high here that you easily get lost because you can't see any landmarks. At times the lanes are so narrow the brush touches both sides of the car. Some of the trees have grown across the top of the lane to form a green tunnel. Only the frequent traffic keeps the lanes open.
Wednesday, July 4 - Totnes - Cornwall
It poured last night. This morning the BBC gives reports of 2" of rain in six hours in the West Country. Power lines are down and there is fear of flash flooding. Meanwhile, at Wimbledon, it is hot and muggy, but another fine day. In Scotland it is a good deal cooler. For such a small island (only 1/3 larger than Washington) the weather is certainly variable.
We drive to Truro. This city has the newest Cathedral in Britain, created in 1876 when Cornwall made noise about needing its own cathedral. The building exterior is more French than any other style. The interior is Gothic. It is a lively Cathedral – lots of people in and out. Volunteers give a free guided tour. The windows are beautiful – traditional, but new compared to so many other cathedrals. There is a beautiful reredos behind the high altar – made of Bath stone, carved in London and brought in sections by ship to nearby Falmouth in the late 19th C. Near the parking lot we see a photo op too good to pass up.
We find if we ask intelligent and respectful questions people everywhere are eager to answer and will tell you as much as they can about a place or building or event in history. Our tour guide today, the fellow in the Barnstaple TI yesterday, and the stewards at St. Michael's Mount are all well informed and willing to take the time to explain their piece of history.
We plan to drive around the far west part of Cornwall, taking in St. Ives and Lands' End.
As we drive to St. Ives we see the hydrangeas are in bloom in great variety of colors – cream, pink, blue, deepest purple. They are glorious.
St. Ives is another "Britain In Bloom" city and is beautiful. We'd love to explore it, but after we park the car and head toward the waterfront, the skies open up in a torrential downpour. We snap a few photos and head back to the car. It is only four blocks, but our jackets are soaked through.
We continue our drive along 'B' roads to Lands' End. This would be a wonderful route if it weren't so darn wet!
We arrive at Land's End. It is a tourist trap of the tackiest type. ₤3 to park, various exhibits, guarantee of all undercover. We were hoping for wild Cornish seascape and we find concrete and plastic. We don't bother stopping.
We proceed to Marazion, the town off which is located the wonderful former abbey, then fortress, then castle of St. Michael's Mount. Since the tide is in, we take a small motor boat to the island. It is an impressive sight, looming over the bay. The climb up to the structure is pretty difficult – the stones are rough and uneven, but we wore tennis shoes today. We arrive at the top – hot and winded – to be treated to a magnificent view. The parts of the structure that are open to the public are wonderful – cozy and inviting. Other parts are still inhabited by the St. Aubyn family (Lord and Lady St.Levan) and are not open to the public. We enjoy the library – beautiful fireplace, cozy chairs and lots of books in a small intimate room. The dining room, the former refractory, has a beautiful table – seats about 20 – and a wonderful ceiling. This is one of those rare, grand houses that you can imagine living in. "Sherry, please, James."
We return to 'the mainland' and stop for a cream tea. This seems to be a West Country tradition. Scones, strawberry jam and 'clotted cream.' As Tom's co-worker, Stan, says, "The sound you hear is my left ventricle slamming shut." Clotted cream is not as firm as butter, but thicker than heavy cream. It is lightly sweetened. You put the jam on your scone, then top with clotted cream and enjoy with a cup of good tea (Earl Gray is our favorite).
We retrieve our car and head back to Totnes. We both love Cornwall and would like to spend more time here – particularly if the weather were more enjoyable.
Thursday, July 5 - Totnes
Today is gray, off and on raining, but warm. The rain seems to be here for a few days. We want to see the National Motor Museum in Beaulieu (New Forest Area) and there is a great bike ride in the New Forest. We decide to make today a 'work day' and book a room in New Forest so we can see the museum at leisure and do the bike ride as well.
Laundry done in Totnes, lunch at our cottage, we drive toward Kingsbridge as Debbie has told us of the wonderful beaches in that area. She's quite right – fine, off-white sand coming off farmland. In the U.S. such beaches would have McDonald's and boat rental agencies right next to them. This is the sort of place we'd love to stay if the weather were better.
We stop at the TI in Kingsbridge. The BTA (British Tourist Authority) and others have a wonderful system in the TI's. Some charge for booking a room ahead – usually a 10% refundable fee – you book, you give them 10% which is deducted at your lodging. We book a 4 diamond B & B in Lyndhurst. They call the Lyndhurst TI, get maps, pictures and descriptions faxed to Kingsbridge, all at no charge to us. Can you imagine that in the U.S.?
Lyndhusrt also has a couple of pubs in the AA book, so we'll have a pleasant stay.
We return to Spillway. We've exchanged e-mail and snail mail addresses with Debbie. We'd like to arrange a house swap a few years from now when her children are a bit older.
We think it would be nice to visit the local pub for a glass before dinner. As it turns out, this is the worst kind of pub – video games, smoke and the only white wine is a California 'Blossom Hill' of dubious vintage (Tuesday, 2:00 PM?). We decide to pass on the pleasure and return to our cottage.
A word about Rayburn stoves. Ours heats water, heats the cottage and cooks. It is diesel powered. Although there is no odor, it has a looming presence I find intimidating. Today Debbie showed me her Aga. I could learn to love an Aga. It has three or four ovens, each specialized according to what you want to do (bake, roast, keep the new-borne lamb warm). There is an ample cook top (unlike our Rayburn). I don't know if it has a broiler, I didn't think to ask. I've heard that people who have Agas love them, but they must take a bit of getting used to. They are 'on' all the time. I wonder how costly they are to operate. And they must be hot in the summer.
Item of interest – today's newspaper said there were 31,000 lightening strikes in the West Country yesterday – a once in three decades storm. People in nearby towns are still without power.
Friday, July 6 - Totnes - Lyndhurst
We manage to pack up and hit the road by 9:30 or so – we have a long drive – not in miles, but in time – to Lyndhurst in the New Forest. Our objective is the National Motor Museum in Beaulieu (pronounced Biew-Lee). We've heard a lot about it and want to have adequate time to explore.
The drive is uneventful – even though it takes – as we have found, typically 25% longer than we'd expected.
New Forest is a National Park, but it has a few towns and private houses in it. We stay at a nice B & B called Little Hayes. Our accommodations are quite nice. Again, I am struck by the green thumbs of the English. The begonias are twice as big as any I've ever been able to grow. The geraniums are a riot of color.
We drive to Beaulieu. On the way we cross moors – there are numerous ponies on the moor – we learn that they are owned by various people but allowed to graze to keep the vegetation down. They are too tame, grazing right next to the road. The speed limit is 40 mph – any faster and you'd run danger of hitting a pony.
The National Motor Museum is on the grounds of the Montegue estate. It is one of the best museums we've ever seen. The cars are interesting – beautiful Rolls Royces of a by-gone era of grace and wealth, a little VW bug from post war Germany, some slick Jaguars. There is a nearly full size representation of a 1930's garage.
We spend some time talking to a woman in the museum who is selling raffle tickets for a Beaulieu Caterham Super 7. Like so many people here, one or two questions starts a whole conversation. She was an evacuee during the war – so many 60+ year olds were. What a horrible disruption to normal family life that must have been. She tells us that on Guernsey they had 24 hours to evacuate the children – they were sent all over England, families separated for five long years.
On the same grounds are the remains of Beaulieu Abbey, dissolved by Henry VIII. There is a very good exhibition of the life of the monks.
Finally, we tour Lord and Lady Montegue's home (that part that is open to the public). There are many portraits from over the years, plus several rooms with very fine furnishings. There's also a Victorian kitchen of some interest.

Bell board wired to various rooms of the house
On the way out we go through the gift shop. Lord Montegue has written a book (autobiography) – seems he had some sort of scandal in the 1950's – I should buy the book just to find out what the scandal was all about.
We return to Lyndhurst and walk to the High Street for dinner. Once again, we choose Indian. This time the meal is excellent, as is the service.
After dinner we stroll to the nearby pub, have a glass of wine, then go back to the B & B.