Four Days in Krakow
July 23
We retrieved our Audi from the garage – sadly it had not morphed into a BMW over the past few days. However, we were treated to another great feature of this garage. Our car came out onto a turntable that turned it 180 degrees so that we were headed out into the street nose first. Very cool! Our GPS navigation system was a little out of date and we had some wrong turns getting out of Budapest, but eventually made it to Slovakia. We were not going to be caught again, so we bought the requisite highway permit.
There are a lot of ski resorts and some beautiful little towns in Slovakia. We stopped for lunch at a roadside restaurant and had what was probably the worst meal of our lives – the national dish is something called 'shaggy dumplings' and they are glutinous and virtually inedible. Continuing on our way we were about 5 km from the Polish border and we were stopped again by the police – this time supposedly exceeding the speed limit (hard to do in bumper to bumper traffic). The policeman wanted 50 Euro, Tom only had 20, which the policeman gladly took. I had gotten a little smarter and had taken Tom's wallet when we were stopped, and removed most of his money, so I guess we got off a little cheaper than we would have otherwise.
The approach to Krakow isn't very inviting – large stores, some industry, car dealerships. We were staying in the former Jewish quarter (Kazimierz), where the streets were narrow and the buildings cheek by jowl. Our hotel was very nice – we had adjoining rooms and they were quiet. Our first night we ate in an Italian restaurant – we learned that this area of Krakow is now heavily Italian – almost 50% of the restaurants are Italian.
Just down the block from our hotel we came upon an example of communist era manufacturing - a Wartburg. If it still ran, it had not done so in a while.



The Wartburg - note the screwdriver as gear shift handle
July 24
Tom had been told by one of his Morgan buddies that we really needed to see a resort town called Zakopane which was a few hours drive from Krakow. The weather had turned wet and the resort was….touristy. I suspect in the winter it would be a great resort, but the combination of wet, crowds and kitsch made it somewhat less appealing. We couldn't find a good place to eat, so we had lunch in McDonalds, which was packed.
Back in Krakow, we decided to eat in the hotel, and had a very nice dinner.
July 25
Time to go to the Wieliczka Salt Mines, which are about 10 km from the Jewish Quarter. They were fascinating. We descended deeply into the mine – along the way we saw dozens, if not hundreds, of sculptures made from salt, carved by the miners in their off duty hours – tableaux, individual statues, many with religious themes. The highlight was the complete chapel at the very bottom of the mine, with chandeliers made from salt. They were so beautiful.
Lunch was late – we couldn't find anything that appealed to us near the salt mines, so we went into the nearest town, to a lovely hotel and had pirogue – you can only 'do' pirogue every so often – they are not my favorite!
We returned to Krakow and stopped along the way at a mega market – I needed some face cream. What an experience! I don't speak a word of Polish and so had to walk up an down the aisles to try to find what I wanted. Tom and TTS waited patiently (well, maybe not quite) for what should have been a five minute purchase, but it stretched into thirty minutes.
After we returned to the hotel, TTS and I went into the nearby Jewish cemetery, which was rather run down. Part of the condition is because the Nazis desecrated it. It was a sobering place - there were memorial tablets for entire families who had been murdered by the Nazis. We also went into the Synagogue, which is still used as a place of worship.
Before dinner we took in a Klezmer concert at the Galicia Jewish Museum. While waiting for the concert to begin, we looked at the photography exhibit which consisted of pictures from over the years of the Jewish quarter - what it was like before the Holocaust as well as what happened in the quarter during that time. The concert itself was fun - only three musicians, very young men, lively music.
We had walked a lot in the Salt Mine, so we decided to eat in the Jewish Quarter – which is really the Italian quarter.

A wall made from shattered grave markers
July 26
Finally we have a day to go into old Krakow – what a gem! The city has many cathedrals and churches, a lovely covered market, a vibrant town square.

The Church of St. Peter and St. Paul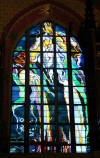 "God the Father let it be" by Wyspianski in the Church of St. Francis

The Archbishop's Palace - residence of Archbishop Karol Wojtyla before he became Pope John Paul II
We loved the pianos that were on display throughout the old town – decorated to various themes.
We spent a few hours in the old castle. The old cathedral in the middle of the castle grounds was both beautiful and very crowded.
Krakow was the home of Pope John Paul II, where he was the archbishop and later became a cardinal. In Poland he is revered (rightfully so) and there are pictures and memorials of him everywhere. It is sometimes hard to reconcile the smiling younger Karol with the very ill Pope just before his death. He is sometimes called "The Greatest Pole" and if it weren't for him, it is doubtful that Communism would have failed in Eastern Europe.
A word about Auschwitz – we did not go to this former extermination camp – not that we are Holocaust deniers, but we've been to Maulthausen in Austria and even if it wasn't the death factory that was Auschwitz, we felt that we had seen enough of the terrible carnage visited on the world by the Nazis.