Visiting Places and Relatives Back East
8/6 – We took an off day and just puttered around.
8/7 - We had a very short drive today, so stuck to side roads through the Amish country. We got into Philadelphia before 3:00 and checked into our hotel. There is a very good Italian restaurant called Garces near our hotel, so we made reservations for dinner. Their wine is VERY expensive, but they have a wine shop. You can buy a bottle of wine in the shop and take it into dinner without a corkage charge. We got a nice bottle of Vernacia di San Gimigniano to go with our meal.
8/8 - After breakfast we walked over to Independence Square and picked up our tickets for the tour of Independence Hall. Once inside they present a briefing and then take you into the area where trials were held. We were then taken across the hall to the room where the Declaration of Independence was signed and then, some years later, the Constitution. George Washington was busy fighting the British and was not present at the former event, but was there for the signing of the Constitution. He sat at the head table and his chair is shown there. There were tables for representatives of each of the original states. We then went upstairs to the original Senate chambers.




The Constitution was signed here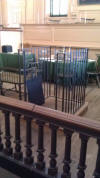 The Judges' Table and the prisoner's dock
Getting around in the center of Philadelphia is not for the faint of heart. The sidewalks seem to be an unending series of trip hazards and the streets are like nothing I have ever seen before. I understand they ground off the upper layer/s and will be resurfacing the streets, but it appears that they ground off the entire central city at once and have not yet resurfaced anything.

8/9 - I was concerned about having Rico in a parking garage in Philly, but it turned out alright. We retrieved him and went back to the hotel to load up our luggage and were on the road a little after 10:00. We drove across the Walt Whitman bridge into New Jersey and added a state to the map. In short order we reached Delaware and added yet another. We had been told to avoid the toll part of the highway and head south on US 301, so took the appropriate exit. After a stop for lunch we crossed the Bay Bridge. We had projected arrival at Mel's cousin's home about 2:00, and were 5 minutes early.



Through New Jersey and Delaware and into Maryland
Janet's husband, Norm, pulled in a little later and we headed off for an afternoon sail. Mel and I waited on the dock while Janet and Norm got the sailboat ready and pulled over to pick us up. We had great wind and really enjoyed a relaxing time on the boat.



We visited Mel's cousin and went out on their boat

8/10 - It is raining today and likely to do so all day, so we will catch up on laundry. It stopped raining and we went into the City Dock area of Annapolis for a walk around and ice cream. In the early evening we went to the beach near their home where the neighborhood was having a barbeque. They had hamburgers and hot dogs and bratwurst and a lot of other stuff.

8/11 - Today we got away reasonably early for a longish drive to Charleston, WV. It had rained last night so the top was up long enough to dry it out, then down for the rest of the day.

8/12 - We had a shorter drive today from Charleston, WV to Bowling Green, KY. Kentucky is another of those beautiful and seemingly sparsely populated states. Our B&B is in the country outside of Bowling Green and surrounded by soybean crops. The other crop we saw a lot of in Kentucky was tobacco.



Kentucky and Tennessee
8/13 - We checked out and headed for Mammoth Caves. The caves are certainly impressive, but there was truly nothing beautiful about them. We went on the Historic Tour and enjoyed it. It had started raining as we were led to the entrance to the caves and was really coming down as we headed back to the Visitors' Center. We had made reservations in Nashville and found our way to our digs for the night.