Overview and the Trip East

It's just four days until I pull out the driveway and head east for Gettysburg Get Together III. I expect it will be top down most if not all of the time. I'll be on the road 32 days and will cover some 8,000 miles before getting back home. Mel gets uncomfortable on long road trips, so she will fly back to DC where I'll pick her up. We'll be together almost three weeks before she flies home from Dallas. I'll take everything with me so that Mel only has to take her purse and her laptop.

Below is my route map.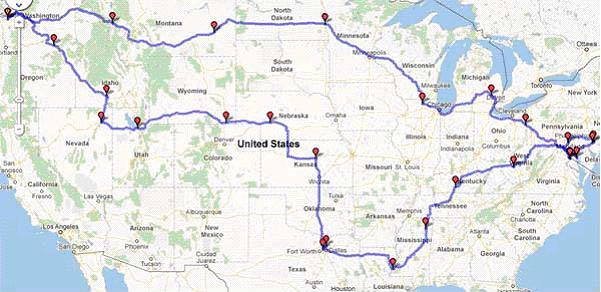 Stops along the road will be made much easier by the Roadster Valet. It's essentially a garment bag that hangs behind the seat and has a pouch at the top that hooks over the head rest. It has enough capacity that I won't have to haul suitcases in and out each evening. I bought two of them so I can take some of Mel's clothes in one. Each of those could carry about five shirts and a couple of pairs of trousers on hangars.
7/25 - Well, I'm on the road this morning. I'll drive through Puyallup, up highway 18 through Auburn and over Tiger Mountain to I-90 and over Snoqualmie Pass (a mere 3,022') into Eastern Washington, where I'll pass by orchards and wheat fields on the way to a fuel stop in Spokane. Then it's across the neck of Idaho, past Coeur d'Alene (where there is a great restaurant called Tony's on the Lake) and on to Missoula, MT. Driving the Interstates is not much fun, but Missoula is 494 miles away, so I'll do it the easy way. Here's a shot of Rico ready to roll. You may be able to make out the Roadster Valet pouches over the tops of the head rests.

The S all packed and ready to go
I tried to take a photo as I got into each state. This was usually done by resting my DSLR on top of the windshield, pointing it in about the right direction, and triggering a shot. It worked remarkably well.
The hills in Western Montana crowd close to the road in many places and most of them are covered in evergreen trees, so they are VERY green. The sky is a much deeper blue than in Washington and there are quite a few puffy white clouds. The sky REALLY DOES look big. The hills here have relatively few trees. There were no safe places to stop for a photo where the hills were really green.
7/26 - I was on the road by 8:30 - rocking across Western Montana with Neil Diamond and The Eagles and doing the samba through Central and Eastern Montana with Brazil 66 and Chill Brazil. The scenery changes as you proceed east beyond Butte. You climb quite steeply (and descend as steeply a bit) and are soon cruising along at between 4,500 and 5,500 feet. The hills and valleys change as well, and there is quite a bit of farming and ranching there.

I stopped in Billings and found a Starbucks. I had a free drink card and had the biggest mocha frappucino they could make - with whipped cream. One of the advantages of my soft tonneau is that I can quickly and easily put the top up when I stop. It takes less than a minute to unsnap the two forward wings and fold the tonneau back on top of the trunk and raise the top.

I was into Miles City by about 4:45 and got checked into my much better digs. I carry a collapsible bucket and sponge and gave Rico a quick wash to get rid of the bugs, then tucked him in for the night. I've covered almost 1,000 miles in Rico in the last two days and the car is phenomenal. Cruising at a reasonable speed (4,000 RPM - about 75 MPH) yields about 28.5 MPG. Interestingly, kicking it up to 4,400 RPM (or about 80 MPH) drops the mileage significantly - to about 24. I had thought it was a shame that Montana reinstated a speed limit. Without one I would have been tempted to make short work of this state. I suspect Rico could cruise all day at 120. I shudder to think what that would do to the mileage. Fuel is substantially more expensive in North Dakota, so I guess I'll have to keep it down.

7/27 - As you head east out of Miles City I-94 snakes through rolling hills following the Yellowstone River. I wouldn't call it beautiful, but it is pleasant enough. Once past Glendive it becomes a little greener. The shot below was taken in Eastern Montana. Please excuse the odd angle. Steer with your left, hold the camera with your right, rest the lens on top of the windshield, point the camera in approximately the right direction, and take the shot. I had hoped it would do a better job of showing the road 'snaking', but the shot was taken a few seconds late.
I had driven across South Dakota and was prepared for North Dakota to be similar - boring. I was pleasantly surprised. Western North Dakota is actually rather pretty. I-94 would become a lot straighter further into the state, but it was more bending road and rolling hills, just much better looking.
I pulled into my hotel a little before 5 and got checked in and checked in with Mel. Then I called Rose Mary and got directions to Granite City - almost close enough to walk. A short drive and I was sipping a beer with Rose Mary and Fred and Bob and Rachel (down from Winnipeg in their BRZ). We spent a couple of hours sipping beer and having dinner and shooting the breeze before going our separate ways.
7/28 – I took an off day and went over to Rose Mary and Fred's place. Their son Dan came over a little later with his son Patrick and we sat around munching salami and cheese and crackers and sipping beer. Obviously, no beer for Patrick. Later on Fred grilled hamburgers and we had a pleasant dinner. We had been watching the Olympics off and on and were checking in on women's beach volleyball after dinner. I had heard that one of the competitors had come up with a scheme to sell advertising space on the back of her bikini bottoms. I kept checking in but never saw the advertising. Must have been a different competitor.

7/29 - It had rained in Fargo overnight so my top was wet this morning. The sky was clear, but I left Fargo with the top up so that it would dry. I left it up until the first rest stop and kept it down the rest of the way. My first impression of Minnesota was it's GREEN. My second impression was OMG is it ever FLAT. I fired up the GPS Test app on my spare phone. it does a great job on altitude. Western Minnesota was 1,100', give or take about 100' for miles on end. There were some unidentified low-growing green crops and a whole lot of corn.

Minnesota - there was corn everywhere but in the freeway median

Once into Wisconsin I saw a bill board declaring that Wisconsin was #1 in voter fraud. A little further along I passed another that advertised a web site where one could find candidates that can be easily bought. And I wasn't even in Chicago yet!

Between the 560 mile distance and another change of time zones, I didn't get to my digs until almost 6:00. I was really glad I had taken the prior day off. This one was a bit stressful and tiring.

7/30 - Today's drive was much shorter, but I did have to go through the Chicago area. After clearing the Chicago area I still had some time in Illinois before hitting Indiana. The thing that struck me about both Illinois and Indiana was that I had never before seen so many state troopers in such a short distance. They were EVERYWHERE. They were in the median, they were on the shoulder, they were even on the overpasses. Some overpasses had two of them facing in opposite directions so they could get you no matter what direction you were speeding.

Finally I got into Michigan and there are a lot of deciduous trees. It is very green and a pleasant change. I stopped in Battle Creek for fuel and lunch before going on to my cousin's B&B. We sat in the back yard and got acquainted and talked about family and it was a great way to spend an afternoon.

7/31 - I had a much shorter drive today, so took my time getting on the road. When I saw that I was going to get onto toll roads, I reprogrammed my nav app to avoid them. That put me on Ohio Route 2 for a good distance, and that was a pleasant drive through the country. On the way I crossed a bridge that was worth a shot. We have one with similar architecture in Tacoma.

As I had a fairly late breakfast and cousin Joan packed me one of her blueberry scones, I didn't bother stopping for lunch. I ate the scone in a couple of stops and was content. Once I got checked into my digs for the night, I went back out and found a Starbucks and had foursies.

8/1 - I avoided toll roads on the way from Ohio to Falls Church, VA and was initially on two-lane roads through the lovely countryside. The surprise of the day was that I didn't realize I would be going through West Virginia. I had thought my route would take me just north of it. Instead, West Virginia welcomed me.

Maryland was much more mountainous than I had expected. Okay, so they aren't REALLY tall mountains, but it wasn't flat. It was again very picturesque and green. Then I realized that in a few months the trees would be leafless skeletons, and there would be snow on the roads and ice on the bridges. Guess we'll stay in Washington State.

When I got into Virginia I was so busy trying to stay alive that I didn't get any photos. The traffic was horrific and I was trying to navigate to Falls Church without missing any turns. I thought drivers in the REAL Washington were bad. Drivers in the SURREAL Washington are much worse. I had some woman tailgating me and not backing off when I tapped my brakes or waved a hand at her. When I finally mimicked throwing something out of my convertible at her she got the message.

When I got to the hotel I was tempted to get out of Rico and kiss the ground. Instead I got settled into the room and headed for the airport cell phone lot. Mel's plane was just one minute late. I picked her up and got her back to the hotel (after a stop on Trader Joe's for a few supplies) in time for us to get freshened up before Ken and Yoon Hee picked us up for dinner. Dinner and the company were wonderful. After all the communication Ken and I have had over the last several months, it was great to finally meet him.

8/2 - Today we left Rico parked and took the metro into DC to visit a few sites. Dinner tonight should be within walking distance, and tomorrow we'll be in Gettysburg. We look forward to meeting everyone tomorrow.