Chelan and Coeur d'Alene
We left home on June 16th and drove to Chelan, WA. Our route would take us to Coeur d'Alene, ID, Glacier National Park, Calgary, AL, Banff, AL, Vailmount, BC, Kamloops, BC, Harrison Hot Springs, BC and Rosario Resort on Orcas Island in Washington.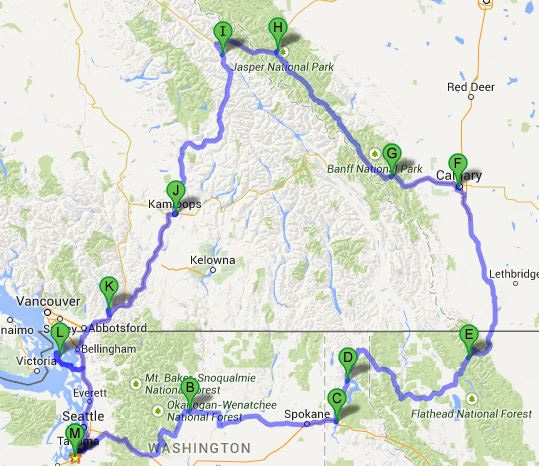 Lake Chelan is a long narrow lake and the town of Chelan is at the bottom. We had planned the trip based on the projected opening date of the Going To The Sun Road in Glacier National Park - more about that later. As it turned out we left just in time to avoid the US Open traffic.

Most of the way up the lake is a little village named Stehekin. About 90 people live there year round, although I have no idea why. There are no roads in. The only ways to get there are by boat or float plane. There is a boat named Lady of the Lake II and it makes a round trip daily providing sight seeing for tourists and I presume carrying provisions for Stehekin. We took the ride on our second day in Chelan and it was very interesting.

At the southern end of the lake you can see beautiful vineyards, but in fairly short order the road comes to an end.
There are other places where the boat stops past the end of the road including Lucerne Landing.
There are private cabins that I assume must be used for fishing and hunting.
There are some roads IN Stehekin but all the vehicles arrived on a barge from Chelan. The bus that takes folks to nearby sights looks quite old but is likely a replica.
It's a beautiful area and was well worth the day-long boat ride. We were in Stehekin for about 1 1/2 hours - long enough to have lunch and look around a bit. Below is the view from the boat looking at Stehekin and north. You can't see the part of the lake that continues past Stehekin.
The next stop was Coeur d'Alene and we arrived just in time for their annual car show called Car d'Lane. They have a parade of all the entered cars that are supposed to be at least 25 years old. There were a couple of fairly new Camaros that obviously did not meet that requirement, but we're talking about Chevy owners. We didn't bother getting any photos, although there were some very interesting cars in the parade. The parade went right past our B&B so we could sit up on the second floor balcony and watch them go by. We did take a walk down to the lake and watched a guy launch a gorgeous Chris Craft. Got a shot of the lake but not of the boat.
The next stop would be Glacier National Park.