San Pedro de Atacama
Wednesday - March 2
We had set both of our cell phones to function as alarm clocks to wake us up at 4 AM for our 4:30 AM pick up to get us to the airport. We also requested a wakeup call from the front desk for 4 AM. I woke up and reached for my cell phone to open it and see what time it was and before I could turn it on it made alarm clock noises at me. What timing! We got up and got tidied up and dressed and went downstairs. Our pick up arrived right on time at 4:30 AM. It was about a half hour ride to the airport and we got there and got checked in on LAN Chile for our flight to Calama.
Once in Calama, we collected our luggage and went to the Europcar counter. We got our rental car checked out and hit the road for San Pedro de Atacama. It would be about a 1 1/2 hour drive. I had programmed my nav app to take us directly to where it thought our hotel was located. San Pedro de Atacama is mostly dirt streets. We learned later that the Mayor keeps it that way purposely.
As we wound our way through town trying to follow the nav app instructions, I turned on to another small street. Before I had gone one block a nice policeman motioned me over and in Spanish, of course, attempted to explain to me that this was a pedestrian street and that I was not allowed to drive on it. I tried to explain to him what I was trying to find and he simply motioned where I had to go to get off of this pedestrian street. We made a couple of loops and in the process we spotted a Europcar lot. We pulled in and asked directions from the man at the desk. He got out a map and showed us on the map how to get to our hotel. A few minutes later we pulled into our hotel's parking lot.
Although it was before check in time, they were able to get us into our room. We were both very tired having awakened so early, so we took a power nap. Mel found a good restaurant for lunch on TripAdvisor, and we looked on the accompanying map to see how to find the restaurant. We walked into town and never did see the restaurant we were attempting to find. I am convinced that any map that shows you the location of a specific place in San Pedro de Atacama, is going to be off by at least a few blocks. We spotted another restaurant that appeared to have a number of customers, so we went in and had lunch. It was not great but it was decent.
The house numbers in San Pedro de Atacama are random, at best, so finding a specific place is dicey. They may be 17, 19, 4, 22 and 8 right in a row. We never could make sense of them. Given the small size of the town, you'd think we'd be able to find everything quickly, but it took us the full four days to figure out where things were.
We had decided to have dinner in the hotel restaurant, and it was very good. However, the portions were enormous. Neither of us was able to finish our meal. Despite our earlier nap, we got a good night's sleep.
Thursday - March 3
After breakfast at the hotel, we were picked up at 9 AM for a tour of two archaeological sites. The guide on this particular tour was not that good, his English was somewhat limited and he was difficult to understand.


The foundations of an early habitat



I stitched together some Atacama scenery
When we returned to town after the tour, we had the driver drop us off in town. We had lunch at a local pizzeria, then walked back to our hotel. As it was a nice hot day, we decided to go for a swim in the hotel pool. Little did we know that the hotel pool's water was very cold . The most we were able to get into the pool was our feet up to about the ankles. We concluded that, although the days were pleasantly warm, the overnight temperatures dropped a lot and cooled the pool to the point that it didn't stand a chance of warming up during the day.
We again had dinner in the hotel restaurant.
Friday - March 4
This was a free day for us so we decided to try several things in terms of local sites. We had read about a hot spring and saw a sign on one of the tour agencies in town that indicated that there were tours that they took to this hot spring. We concluded from that that it was probably open, although we had had conflicting information on that score. We drove out to the Hot Spring and had no difficulty finding it. Much of the drive was on dirt roads but most of them were not too bad. When we got there we found that it was indeed closed and locked up.



The road to the spa, including the spot we had to ford (rental car - who cares) and a sign for dangerous curves
Our next destination was a lake where they have pelicans. The road out to that lake was much worse than the one to the Hot Springs.



The salt flats are very rough crystal clumps that are gathered to form the edge of the dirt road

The ever present peaks - beautiful
We did indeed see pelicans and took photos of some of them, including two of them that were just gliding in for a landing. We didn't realize that the tour we had scheduled for the following day was going to take us to the same lake.



The plumage is beautiful but the bird is not


The little bird is a sandpiper and there are many of them
It was really interesting to watch the flamingos feed (there are three species and you are supposed to be able to tell them apart by feeding habit, beaks and leg colors). We wondered 'where did the salt water come from' and 'where did the shrimp come from'. The shrimp that they feed on are tiny (there is a display in the visitor center with an aquarium with some of the tiny guys swimming around). We were at least 100 miles from the Pacific, but here is all this salt water, right in the midst of the driest place on earth.
We next drove to another lake that is reportedly so salty that people bob around it like corks. Again the road to that lake was terrible, and when we got there we found that they wanted a ridiculously large price just to go bob around in the lake. We decided to not do that and instead returned to town and to our hotel.
That evening we walked back into town and had dinner at a restaurant that had very good reviews. The food was okay, but nothing spectacular.
Saturday - March 5
After breakfast in the hotel, we went into town and found our way to the plaza near the church. We went in and took a look at the church. It has very interesting architecture and much of the wood used in the ceiling is from the cactus. When you look at it, it has a number of holes in it. You would not think that it would be very structurally sound, but apparently it is. The church is the second oldest church in Chile and was built during the Spanish Colonial Period (17th Century).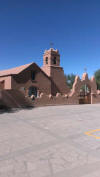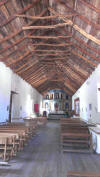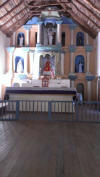 The church is quite interesting
We had a cup of coffee at a restaurant on the plaza and just watched people go by for a while, then we walked to a museum that is dedicated to meteorites. That museum is really very well done and very interesting. After visiting the museum we walked back to our hotel.
We had another tour scheduled for this afternoon, and there had been some confusion about our pickup time. We were finally able to get that resolved and were picked up at 3 PM by Carlos and his driver, Alejandro. They took us first to the village of Toconao, where we were able to see the church and do a little souvenir shopping.


On the way to Toconao we stopped to look at some very vicious thorn trees and their seed pods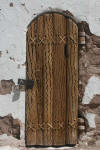 The top of the bell tower and the tower door in cactus wood
From there we continued to the lake with the pelicans. We next went to the salt flats, and then on to a place in the salt flats where there are two small circular lakes. One of them is set up so that people use it for swimming and there were a large number of people there doing so. We have no idea how cold the was. Carlos and Alejandro had set up sundowners and we had a snack before they took us back to our hotel.


Some folks get a running start and jump in
Here is a link to a video of the Eyes of the Salt Flats (Ojos del Salar):
https://www.youtube.com/watch?v=ZMlifqOigUs
It had been a long day and we were rather tired, so we had dinner in the hotel restaurant. We had an early wake up the next morning for our drive back to Calama and our flight back to Santiago.