Santiago
Monday - February 29
Our landing in Santiago was very smooth, but the airport was quite chaotic. There were large numbers of people trying to get through the immigration check and then through the customs check. We had an escort waiting for us and he had a sign with our last name on it. We were able to make eye contact with him so we could meet him outside the terminal building and he could escort us to the place where the driver would bring the van around to pick us up for the ride into Santiago and to our hotel.
We were quite surprised that as we were driving into Santiago from the airport along the river, there were incredibly poor looking shanty towns along the river bank. It reminded us of some of the things we have seen in South Africa.
Our hotel is very nice, if a little dated. The room is very adequate and the location is good. We were both quite tired after the overnight flight, so we decided to take a power nap before heading out for lunch. After our nap we went down to the desk to get directions to a restaurant named Tiramisu that we had located and that was reported to have the best pizza in all of Chile. It was a walk of about 2 km and should not have been all that long, but by the time we got back to the hotel it seemed as if we had had a very long walk. The pizza was very good, and the tiramisu we had for dessert was enormous.
After lunch, on our walk back to our hotel, we stopped at a wine shop that was one of the largest we have ever seen anywhere. We picked up a bottle of Chilean Sauvignon Blanc that we could take back to our hotel and put in our fridge. We also stopped at a bank to get some local currency. Chile uses the peso and the exchange rate is approximately 670 pesos to the dollar. As a result, if you get 100,000 pesos it is about $150. We continued our walk back to our hotel, and again stretched out to get a little rest before heading down for dinner.
We had located a restaurant which is just outside the front door to our hotel and had excellent reviews. The restaurant is named Liguria, and we had a waiter who spoke good English and could help us with the menu. Mel had a white fish, we believe it was hake, and it was excellent. I had a chicken cooked in a red wine sauce that was unbelievably tender, and it was accompanied by rice that had been cooked so that it was green and had wonderful flavor. We had a bottle of Chilean Chardonnay with our dinner and it, as well, was excellent. The servings are quite large so that we could not finish our dinner. We did however enjoy it very much.
We are now back in our room, and preparing to turn in for the night after a very nice first day in Chile. Our Chilean adventure has started out well and we are very excited to see how it proceeds from here.
I wanted to record some observations to give readers of this travel journal a little better sense of the country of Chile, its people, etc. I am actually recording these observations from one of our last days in Chile.
Chile - The Country
Chile is approximately 2,700 miles long and only averages about 112 miles wide. At its widest point it is only about 220 miles wide. It has a very diverse geography and climate. It is bounded on the west by the Pacific Ocean and on the east by the Andes Mountains. At the far north is the Atacama desert, the driest place on earth and the only place on earth which when seen from the space station appears brown rather than green or blue or white. The central part of the country is very fertile valleys that produce tremendous crops of fruits and vegetables and is very well-known for the production of its wines. When you get to the southern part of the country you run out of solid land and have a series of islands and fjords and frankly not a place that seems very hospitable. The only way of getting around in that area is by boat or by plane. At the extreme southern tip of Chile, you have Tierra del Fuego.
The place that we are staying during these last few days is only about 600 miles south of Santiago, but at 7 o'clock this morning the sun still had not come up. We are here in the very end of their summer, almost fall. In the very far northern part of the country we had some quite hot days with temperatures close to 90. The climate in Santiago was not quite so hot so the temperatures there were more like mid 70s. Where we are now, daytime highs are averaging in the mid to upper 60s.
One thing that seems to be a problem throughout the country is that people get dogs as pets and then tire of them and turn them loose on the street. The result is that there are stray dogs all over the country. They have not been a particular problem for us as they were for Mel's cousin who got bitten by one of them, but they obviously leave a mess all over the streets and sidewalks. We have heard that the country is trying to do something about the problem, but the results so far seem to be pretty ineffective. The dogs seem to be generally healthy, because the Chileans leave out food and water for them, although some of them had obviously had accidents of some sort as they limped as if they had been hit by a car.
Roads and Driving
Many of the roads in Chile are quite good, with Route 5 (the Pan-American Highway, which is in much better condition in Chile than it is in Costa Rica) being the main north-south highway. Route 5 is a 4 lane divided road in most places I believe and speed limits are 120 km/h in many places. There are places on two lane roads where the pavement is not very good. It is not uncommon to see a sign that reads Camino en mal Estado, which means the road is in bad condition. There are also a surprising number of dirt roads. Driving in the cities is not usually difficult, but traffic can be heavy at times, and one has to watch for pedestrians. You will find cars from all over the world here. We have seen a surprising number of vehicles that were made in China. No interest in having one of those. It can be difficult finding a place to park, and when you do there will probably be a gentleman there who collects for the cost of parking. We have not yet figured out just how that system works.
The People
Chilean people seem to typically not be particularly tall. Obviously there are exceptions. They are almost all very friendly, polite, and kind. In the cities, many people are very stylishly dressed. Men's suit coats appear to have been influenced by the British, as they will typically have the double vent in the back rather than a single vent like what we typically see in the US. Women's skirts are not uncommonly quite short. We noticed that people in Santiago tend to be more nicely dressed and slimmer than those in the south. Here they tend to be more casually dressed and it is not uncommon to see people carrying quite a few more pounds than are attractive.
We have also noticed that the women here seem to really like bright red lipstick. With their complexion and their dark hair some of them carry it off better than others, but it is still not appealing to our eyes. When we were in Poland in 2010, both Mel and I observed that many of the younger women were stunningly beautiful. We have seen some attractive women here, and even some I would call pretty. However, I can't say that I have seen one who struck me as truly beautiful. The one possible exception was in Santiago where we saw a lady who was a member of the Carabinieros, the state police force here. She was in uniform and was perhaps the only one we've seen who really carried off the bright red lipstick well, and was very, very pretty.
The Food
We have had some excellent meals here in Chile, but we've also had some that were at best mediocre. The one thing we have observed is that their bread simply does not appeal to us. We assume they must like it or they would change it if they didn't, but we have yet to see any bread, rolls, etc. that we found really appealing. Breakfast in our hotels has been an interesting experience. We have actually found a substantial amount of good fresh fruit in most places. However, the standard fare is rather watery scrambled eggs and sausages that are made from meat so finely ground and relatively flavorless that they fill an empty spot and that's about it. Chile produces excellent wines, and we have found that even a relatively inexpensive bottle of Sauvignon Blanc is reliably good. There doesn't seem to be a Chilean cuisine – rather they have adopted cuisine from many cultures. About the only thing that is truly Chilean are empanadas (which we found too bready for our taste) and curanto found on the island of Chiloe'. Mel's one experience with that dish was more than enough – it was ghastly.
Tuesday - March 1
We had breakfast in the hotel this morning, and then were picked up by a guide who took us on a 3 1/2 hour tour of the city of Santiago. He's very knowledgeable and has a lot of information about the history of the city and the buildings in the city and the plus was that he's a solid Republican.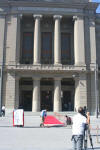 The Supreme Court - they were rolling out the red carpet for someone and the guy to the left was apparently unhappy about something


The Presidential Palace - the president does not live there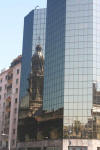 Santiago - the old and the new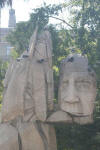 A statue dedicated to the Mapuche people



The race track - club house, workout, and a horse and rider on the way to a workout

Wooden sculptures atop Santa Lucia hill
We really like this city and feel that we made a mistake allowing only two nights here. I suppose if we ever come back we'll have to spend more time in Santiago. It will be early to bed tonight because we have a pick up at 4:30 AM for a flight to Calama and a continuation of our tour of the country of Chile. For the next four days we will be in the Atacama Desert in the north of Chile.