A Week on a Narrow Boat from England into Wales
Saturday, August 23, 2003 – Acton Pigot to Wrenbury Mills
After breakfast, we packed up the car and headed to Shrewsbury (pronounced Shroesbury) where we checked e-mail at the library and bought our non-perishable groceries for our narrow boat.
Then we drove to the hamlet of Wrenbury, where we met Mike and Pauline Schoefield at the Dusty Miller pub for lunch. Mike is another of TTF's Morgan buddies and was very helpful when TTF was converting Moggie from propane to petrol. Additionally, they are avid narrow boaters. They had owned a sort of time-share narrow boat for years and are in the process of having one built which they will own with one other couple. We had a nice lunch, then Mike drove us to a couple of shops to pick up our perishable grocery items. Then we drove two cars up the canal, where we left Mike and Pauline's car as they accompanied us up the canal for a few miles on the boat. We returned to the boatyard in Wrenbury at 3:00 and our boat, the "House Sparrow", was ready to go. TTF got instructions from the engineer, who assisted us through the first obstacle – a liftbridge.
The Llangollen Canal is not nearly as wide as the Grand Union canal, and most of the locks are single boat locks – long enough for a 70' boat, but only one boat wide. The canal passes through beautiful farmland – which is quite green, although much of England is not green this year, having been through a very dry and hot summer.
Mike and Pauline obviously know their canals so they made great guides. Mike also knows his pubs – he regularly buys "The Good Pub Guide" which is an independent guidebook to pubs in the UK, so you can be pretty well assured that you are going to have a good meal. They also have hotel and Britain guides. www.goodguides.co.uk.
The first few miles of the canal from Wrenbury westward only has four locks, which Mike and Pauline assisted in operating. We tied up the boat near a place called Povey's Lock and I put together a dinner, of sorts. Turns out our boat only has plates and cutlery for three, so we had to improvise a bit. However, we had a nice chat and then Mike and Pauline hiked down to Willeymoor Lock to get their car – Pauline is a nurse and had an early shift the next morning.
Although we only had plates and cutlery for three on this boat, it is generally better equipped than the boat we rented in 2001. It has a 'hip bath' which is better than the tiny shower we had on the Mr. Mistofoles. We had learned a lot on our first trip – for example, gloves are essential because your hands can get really messed up operating the locks and never, never wear clothes you want to keep nice, because the locks can be greasy!
After dinner, TTF and I did the washing up, worked on the diary and then crashed – although it hadn't been a particularly long day, we had done a lot and were quite tired. Mike and Pauline gave us a book "The Ups and Downs of a Lockkeeper" which was pretty funny – especially the story of the fellow who was shown a postcard of his boat, him and a scantily clad young woman who was not his wife. Whoops.
Sunday, August 25, 2003, Povey's Lock to Ellesmere
The Llangollen Canal is so much smaller than the Grand Union that it actually takes a lot more skill, because if you meet a boat coming the opposite direction and there happens to be a boat moored nearby, the going is very narrow.
This canal doesn't have nearly the number of locks as the Grand Union but the majority of them come in the early going. Today we had our first encounter with staircase locks, which are a bit intimidating. Basically, they are three locks (four gates) right in a row. In order to preserve water, British Waterway wants the boaters to fill each of the locks, then have them go up (or down) in succession. This isn't always easy as there may only be one boat going up and one going down at a given time. In our case, when we got to the locks, there was one coming down and he was in the middle lock. So, I helped him open the downward gates, and he went into the lower lock, then we opened the last gates and he exited. Tom entered, I filled the downward gate, then opened the gates for the middle lock, then filled it so he could enter the top lock. By the time all this filling and emptying was finished, I was beat! It wasn't that hot, but I had on a sweatshirt and there is a fair amount of physical activity getting the paddles and gates opened and closed.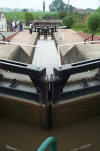 Looking down the staircase locks from the top lock
The rest of the day was uneventful and peaceful. We were in the heart of Shropshire farming country so there were many miles of fields with hay or straw and a few fields with animals. It is so peaceful in the English countryside, even though it isn't grand or breathtaking.

Rolled straw in a Shropshire field

The Llangollen canal is much narrower than the Grand Union

There were VERY large oak trees along this stretch of the canal
We stopped at a town called Whitchurch – it was close to lunchtime and we needed to buy a coffee pot (this is always a problem for us – the British drink Nescafe, the Italians drink an unbelievably strong brew made in tiny pots and we love our coffee, only we want it done our way.) Anyway, Whitchurch was having its annual canal Bank Holiday (this weekend was August Bank Holiday in Britain). There were several boats tied up along the canal going into Whitchurch – people were trying to sell raffle tickets, souvenirs, etc., in an effort to make money to re-dredge the canal and put in a marina. At a few 'p' (pence) at a time, it will take a long time to raise the money, but we admired their ambition – there must have been a fine canal going into Whitchurch at one time, but it was all filled in now. I played a Brownie game of putting marbles through a little hole in a flowerpot and lost 20 p in the process, but it was for a good cause.

These folks had taken their 'watchdog' along with them
We walked the so-called ½ mile into town, but it seemed more like 1 ½ miles! Although it was Sunday, and Bank Holiday, we found a Woolworth and Tescos, so we were able to get our supplies as required.
We continued up the canal until we got to Ellesmere. The 'mere' or lakes here were pretty, but the town itself wasn't much. TTF tried his hand at a 'winding' (pronounced like the weather wind) hole and smacked the bow of the boat against a brick building on the wharf. Anyone who laughs at someone trying to maneuver one of these boats should only try it himself. Because they are very long and the spaces are very tight, it takes a fair amount of dexterity.
We tied the boat up for the night and then walked the short distance into town. We had dinner at a pub/restaurant called the 'Black Lion'. It didn't start off that propitious – the bar was a bit smoky and the clientele sort of the lower class types that are the brunt of the jokes about the British lower classes – men in sleeveless T-shirts and shorts, women in too tight blouses, short skirts and over processed hair. As it turned out, our starter of prawns in garlic and lime were excellent and my lamb shank was quite good. The wine was reasonably priced and the wine list was fairly extensive, so who's to tell?
TV reception in this area is non-existent (although we found out the next day that we didn't have the antenna plugged in, may have something to do with the problem!), so we read and turned in early.
Monday, August 25, 2003, Ellesmere to Chirk
We only had a couple of locks to go through today, but the most exciting part of the day was toward the end – Chirk tunnel and aqueduct.

This is a view back down the tunnel we just came through
Most of the day was spent in quiet English countryside – there were fewer farms devoted to hay and straw and more raising livestock than the previous day. In several places the canal was really narrow and we had a couple of occasions when someone was trying to get under a bridge and sort of lost control of his boat because someone else was coming the opposite direction. I have a great deal of respect for TTF's piloting skills- there is rather a strong current in this canal so steering requires constant adjustment. I've given my hand at steering a few times and have a lot to learn before I'll feel comfortable taking the tiller for any length of time.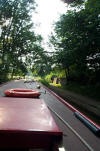 Bicyclists use the towpath, as do hikers, joggers and others
Because the canal is narrow, we took our time, but didn't make any stops, except to tie up for lunch. We had planned on mooring for the night east of the Chirk tunnel and aqueduct, but couldn't find a suitable mooring place. Eventually we ended up by-passing Chirk and mooring along the towpath to the west of the town.
The Chirk aqueduct is spectacular – it is over a beautiful green valley just as the canal enters Wales. Next to the canal aqueduct is a railroad viaduct that is very beautiful. The terrain is much rougher in this part of the country than in the gentle part of Shropshire and there is less given to farming simply because it is rougher.

There isn't much to steering when the trough is only about a foot wider than the boat

The side of the trough opposite the towpath doesn't even come up to the gunwale of the boat

The railroad viaduct can be seen in the distance
Immediately after the aqueduct is the Chirk tunnel. By the way, both are only wide enough for one boat, so you have to make sure that no one is coming the opposite direction. On the aqueduct that isn't a problem, but in the tunnel it is very difficult. The lights on the boats are pretty dim and the tunnel is 459 yards long. One must remember that steering a boat backwards is chancy – because the boat is tiller steering, there isn't a lot of direction. I learned a lesson about the tunnel, though – turn on some inside cabin lights before entering the tunnel, because once inside if you have to go from bow to stern, it is really dark and the risk of injury to body is very high.
We had wanted to go into Chirk for a look around, but there weren't any suitable mooring places, so we ended up just outside a marina and next to a golf course. We were a little disconcerted when a cat jumped onto the gunwale and looked into our window just to check things out. We were accustomed to people walking past and looking through the window, but never before a cat checking on us.
We had to laugh about our dinner. Saturday I had purchased Indian take-away at the Safeway in Wrenbury. So, here we are two Americans, one of French-English descent, the other of Scots-Italian descent, eating Indian takeaway on a boat on a canal in England, close to Wales and recording our experiences on a laptop made in Japan, while listening to French music on the BBC drinking Sicilian wine.
Tuesday, August 26, 2003 – Chirk to Llangollen
We pushed off around 9:00 – our journey wasn't far, but was spectacular. First we went through the 191 yard Whitehouse Tunnel, then made our way through some fairly narrow stretches to a lift bridge. Just beyond the lift bridge was the truly spectacular Pontcysylite Aqueduct. This is another of Thomas Telford's projects – the bridge crosses a deep gorge of 126 feet across the River Dee and is 1007 feet long. It is basically a cast iron trough barely wide enough for a boat – there is a tow-path and fence on one side, the top edge of the trough doesn't reach the gunwale on the other side (the top edge of the trough is about the width of a railroad rail – not wide at all – and there is no fence. All the way along I was hoping that they regularly inspected the aqueduct, for a tumble to the bottom of the valley would be fatal.

You can see the edge of the trough and one of the seams in the lower left corner of this picture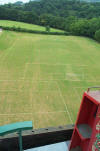 There is a soccer field down in the valley – WAY down
Once over the aqueduct, we made a sharp turn and followed the canal through beautiful countryside – very green and hilly, not at all like Shropshire, which has many gentle hills and lovely farms – it is a bit wilder here and the vegetation seems to grow with abandon. There are several places where the canal is only wide enough for one boat, so the captain has to honk the boat horn to make sure that on-coming boats know he is approaching. In a couple of places the canal is so narrow for long stretches that boats queue to enter the canal.
At noon we got to the little village of Llangollen (pronounced Langothlen – go figure). It is a busy and charming town, although I imagine that in the 1800's it was pretty grim as were so many of the mining/industrial towns of this part of the world. Today it is a bustling tourist point and there are many little shops, hotels and B & Bs to serve to tourists. However, it isn't 'kitchy' like so many tourist towns in other parts of Europe.
We were fortunate in finding a place to moor and fill the water tanks – in theory, we weren't supposed to moor quite so close to the water point, but we were just barely over the line. Mooring is at a premium in Llanglollen. This is the end of the line for the canal – beyond the town the canal isn't navigable for boats greater than 10' in length. There is a winding hole at the end of the canal, which would be a challenge for a really long boat, but sufficient for a boat the size of House Sparrow. Later in the day a couple of boats left their mooring spots, so we were able to secure a more 'legal' spot along the canal.

Llangollen has this lovely river flowing through the town
I walked into town to get groceries. There are a couple of butchers and bakers (even a candlestick maker!), a greengrocer and a Spar, selling all sorts of miscellany. I was able to buy a whole roasted chicken, a couple of pork pies, two current tarts, two bottles of Montepulciano d'Abruzzo, some potatoes and raspberries as well as some lamb kebobs – since we didn't know where we'd be Wednesday, I felt it best to stock up while there was a chance.
Later TTF and I walked backed to town, wanting to check the Internet, but the library's network was down – we strolled around the town and along the canal for a while, then I remembered that I needed a few more provisions, so headed back to town while TTF went back to the boat.
We had a quiet dinner on board the boat, then took a stroll down the canal to see what was up – there were only a few mooring places left, so we felt glad we had secured good mooring early on in the day.
Wednesday, August 27, 2003 Langollen to Chirk.
Today was a day of adventures and misadventures. Misadventure #1 was when I discovered we had only tepid water for our shower –we had forgotten that we had moored so early yesterday that the water, heated by heat from the boat's engine, cooled in the interim. It was warm enough for a quick shower, but nothing luxurious and no washing of hair or Tom shaving.
Misadventure #2 was when we reached the Pontcysylite Aqueduct. I wanted to moor so I could tramp down to the valley floor and get some pictures of the aqueduct looking up. We had seen a couple of signs indicating that British Waterways was doing some work on the convenience station, but had no idea that what they had done was filled in the winding hole so once you made the turn left to the station you couldn't turn around. These boats don't back up with any precision at all. We had to walk our 45' boat out of the inlet and try to turn it around while others were making the same mistake and turning into the inlet. Fortunately, there was an 'old salt' who pulled up on the bank and helped us get House Sparrow turned around.
Misadventure #3 was as we were approaching the Chirk tunnel. Someone coming the opposite direction told us that British Waterworks was periodically closing the tunnel for surveying. The result was that boats were let through the tunnel in groups. One of those in a group we encountered obviously didn't know how to steer his boat and ran aground. He freed his boat and motioned us to pass on his right (one normally passes on the left), which TTF proceeded to attempt. At the last minute either he changed his mind, or his boat decided that passing on the right wasn't quite done and he switched to his left. TTF made a bee-line toward the bank to avoid hitting him and promptly – ran aground – while the fellow in the oncoming boat cheerily made his way up the canal, leaving us mired in muck. TTF tried mightily to free us with the pole provided for that purpose, but to no avail, Fortunately a Good Samaritan came along and I tossed a woman on his bow our bowline. She hung on to it long enough to get us free.
As we approached Chirk tunnel, we saw that boats were mooring on the bank, so we pulled alongside. We had a short wait, then seven of us proceeded through the tunnel. All was well until we got to the end, when another inexperienced boater coming the opposite direction was not able to hold his boat (they are a bit like a willful horse, I have to admit) and found himself in the middle of the on-coming traffic. Eventually all was righted and we headed toward our mooring point, which was just north of a bridge south of Chirk.

We stopped to take a shot of the aqueduct and the viaduct side by side

From this vantage point we were able to get a shot of the shadows cast by the viaduct
It was 3:00 by this time and we hadn't had lunch yet. We had a couple of pork pies and some custard pie (not exactly a balanced meal, but we were really hungry by this time). First we set off to the village to check e-mail at the library. It was a longer walk than what we had expected, but we found our way and took care of business. We stopped at the local Tourist Information/souvenir shop/dry cleaners to get information about the nearby Chirk Castle. The woman there gave us directions, and we headed off toward the castle. I wanted to see the gardens, which had won an award in 1999. On the way we passed the Cadbury factory – the air smelled of Fudge Brownies. YUMMMMM.
It was only a short stroll to the 'white gates' of Chirk Castle.

It's a long way from these lovely gates to the castle
Unfortunately, the gates are only the gates to the grounds and give no indication as to the distance to the castle and the gardens themselves. We spoke with a woman who had just left the grounds and she told us the shortest way was taking the 'exit' for cars. Since I only wanted to see the gardens, which were opened later than the castle, we thought we had plenty of time. Well, Chirk Castle is far removed from the road, and the gardens are around the castle. It took us a steady ½ hour of walking to get to the castle, by which time it was too late to go into the gardens. It took us another 25 minutes of walking to get back to our starting point, and we still had about a mile to get back to the boat. All told, we walked about 7 miles today and by the time we got back to the boat we were beat. I love to walk, but prefer to have a bit of control over the distances we cover.
Thursday, August 29, 2003 – Chirk to Bridge 44 on the Llangollen Canal
We got a late start, which in retrospect was a mistake. Once we got underway, there was a bit of a sprinkle, which was bearable until around noon when it turned into an honest-to-goodness rain. We moored for a while and had lunch and the rain let up a bit, so we started on our way. We wanted to make it to Platt Lane Bridge, east of Ellesmere, which would put us in good striking distance to return the boat early on Saturday.
The rain kept on coming and TTF donned the waterproofs that were provided with the boat. There were two pair – Large and Extra Extra Large and the trousers on the EEL were such that the waist elastic was all stretched out, so they were useless. TTF therefore wore the EEL top and the L bottom and I wore the large top. We had a nice big umbrella that was also provided with the boat, so I held the umbrella over TTF and he navigated the boat in the wind and rain. Conditions were really miserable. We came to Ellesmere but didn't stop because the towpath was completely flooded and we were still quite a bit short of our goal.
We passed some of the most remote areas we've ever seen in Britain. It hadn't seemed so remote on the way out because, although not hot, it was sunny. However, in the pouring down rain, with a mist rising over the canal, we felt as if we were cut off from all civilization. There weren't any pubs where we could pull over – just seemingly miles of woodlands.
It was about 6:00 when TTF noticed that the boat was severely overheating. We pulled the boat off to the side of the canal and he checked two things that could be causing the overheating – low oil or low water. As it turned out, the oil was fine, but for some strange reason, the water was low. We gave the water tank two quarts of water, which seemed to be enough, then started out again. Things were alright for a few minutes, then the engine started overheating again. We were close to Bridge 44 (Platt Lane), so pulled off again. At least close to the bridge the towpath was in pretty good shape. Away from bridges and locks, the towpath is grown up with nettles and thistles, so getting off and tying up is very painful.
The boatyard has an emergency telephone number, but we didn't have a cell phone with us (next time we go to Europe we are going to make sure we have a cell phone!). Fortunately, there was a farm right next to the bridge and TTF asked the farmer if he could use the phone to call the boatyard. The farmer was most obliging, even offering TTF a drink while he sorted things out. The boatyard told TTF to check the weed hatch for tangles around the prop, that they can cause the boat to have to overwork and heat up the engine. However, this wasn't what was going on in this case. TTF checked the water again, and it was down, so he added a couple more quarts.
Dinner was a strange mixture of what we had on hand, but it worked, and we gratefully tumbled to bed early – it was so nice to be warm again after 7 or 8 hours of being really cold and miserable. We've done a lot of traveling in our 30 years together – by airplane, train, boat, bicycle and car but this has got to have been one of the worst experiences we've ever had.
Friday, August 29, 2003 – Bridge 44 to Wrenbury
Neither of us slept particularly well – we were both fretting about what Friday would bring. The nice farmer had told us to expect more rain and we still didn't know what to expect from the boat.
We got up early and looked out – the sky was blue and clear overhead, with clouds in the distance. We hurried through breakfast, wanting to be on our way as soon as possible, just in case the bad weather blew in. TTF checked the water for the boat, which was down a bit, and refilled it. We cast off before 7:30.
The good weather held out all day long – it was by no means balmy warm, but it was pleasant and when the sun did come out from behind the clouds, it was glorious. The boat behaved nicely all the way – TTF didn't push it, so we had a leisurely journey. We covered 13 miles and about 12 locks and a few lift bridges in seven hours, including a stop for lunch.
The canals weren't terribly busy, which was a good thing. We had to go through the staircase locks again, and fortunately, there wasn't a queue. We had heard that last weekend some boats queued for 4 hours to get through.
Along the way we talked to boaters and hikers at the locks. The canals are heavily used – boaters, of course, but also hikers and strollers on the towpath, the occasional biker, although generally the towpath isn't smooth enough for bikers. There are often fishermen (I can't imagine eating a fish caught in these waters!) and the livestock drink the canal water (they must be heartier than humans). I asked the lockkeeper at the staircase locks about British Waterways – they get their funding from the boat taxes as well as town council governments (which makes sense, the canals are great for tourism in the towns alongside).
At about 2:30 we moored close to the boatyard in Wrenbury. We walked into the little village to get some bottled water and cheese for tomorrow's lunch. We made dinner reservations at The Dusty Miller and had a celebratory glass of wine before returning to the boat to pack up for the journey home. The barkeeper explained the difference between a village and a hamlet (useless trivia, but interesting). A village has shops, a hamlet may have a pub, but no shops.

A sky without rain falling out of it looked awfully good
Dinner at the "Dusty Miller" was excellent – I had a seafood salad of sorts – a piece of cold salmon, some smoked halibut and some small prawns in a cocktail sauce and a 'crab mayonnaise' along with lots of green salad. TTF had a 'fillet steak' with all the trimmings.
Saturday, August 30, 2003 – Wrenbury to Amport
We turned in the boat well before 10:00 and headed south. We thought we had reservations at the Amport Inn – TTF had called them from the US before we left. We wanted to stay near Monxton because we wanted to have dinner at the Black Swan (known locally as the Mucky Duck).
The drive to Amport was uneventful for the most part – although once we got within two miles of the hamlet, we couldn't fine that darn place. We drove around on the little country lanes for about ½ hour before finally spotting a sign pointing to the hamlet.
Monxton doesn't have any inns or B & Bs, which is why we had to stay in Amport. We found the Inn (Amport is nothing but a wide spot in the road), but when we told the bartender we were there for lodging, she was completely taken aback. It was OK, though, as they didn't have any guests, so all the rooms were free.
Our room was a bit of a disappointment – the toilet seat had a huge crack in it and there was no shower curtain. We learned later that the Inn had recently gone through a change in owners and the new owners were trying to refurbish the place and improve the food.
We decided to walk over to Monxton and make sure we had dinner reservations at the Mucky Duck. We had learned about this pub in 2000 when we found that our insurance agent was born in Monxton and she recommended it.
The pub hadn't changed much – was still as charming as we remembered it. We then continued our walk through the charming village – there are a lot of houses with thatched roofs and beautiful little gardens. Walking past one of the houses, we noticed that the owner was trimming his roses and that in the rear of the house there was construction. We stopped and asked him about thatched roofs, and he invited us into the garden to look at how they are made. We chatted with him and his wife for about an hour – had a nice cuppa. They are both military (nearby Andover has a military base) – their names are Alan and Cathy Barbone. He's a pilot, I couldn't quite understand what Cathy does. They are adding to their house, and there are a lot of heritage considerations the homeowner has to go through to make sure that the house is in keeping with the original architecture.
They told us about a public footpath back to Amport, so we headed out across the fields as they directed. We chanced upon a man walking his dog (his first question "do you come this way often? Followed by "you aren't from around here, are you" – something about our American accent). Actually, I think we had met him in 2000 when we attended service at the little church in Monxton. He was very nice and told us all about how Monxton used to be at the crossroads for Roman troops going between Old Sarum, Cirenchester, Worstershire and Winchester. He found a Roman coin in his garden once, and people plowing the fields in this area often turn up Roman coins.
We went back to our digs and relaxed a bit before dinner. At the Mucky Duck we had a very nice meal – things there are a little different than most places – they have a blackboard that is the menu, you place your order at the bar and they bring it to your table. Dinner was excellent – I had scallops in a citrus sauce and TTF pork medallions with homemade chutney.
The menu in the Mucky Duck is on the wall

The dining room is very comfortable and quite large for a pub

This is the Black Swan from the outside
Sunday, August 31, 2003 – Amport to Seattle
We had to get on the road early because we weren't sure what to expect at Heathrow. The drive was fine – it only took about an hour and there weren't any delays. We returned the car and went to Terminal 3. What chaos! We needed to turn in our VAT refund on the car parts (₤113, so worth a wait). Some of the people applying for refund had huge fistfuls of receipts. It took an hour to get through the queue. After that, going through check-in and security was easy.
The flight to Chicago was on American Airlines, on a 777. It was as comfortable as could be, but was 8 hours long – just one hour shorter than flying Heathrow to Seattle. We went through customs in Chicago, which was also chaotic, then had a 4 hour flight to Seattle. However, we got to Seattle just a bit before the bus to the Lakewood Towne Centre departed, so our timing was pretty good.
So now, we are back in Lakewood trying to readjust to the routine and planning our next trip – to New Zealand in January 2004 along with Moggie and 14 other Morgans and their owners.