Ireland with TTS (Tom The Son)
Saturday and Sunday, August 9 & 10 – Seattle to Cork
Saturday dawned raining! Who'd a thunk it? We had planned on walking to Gravelly Lake Dr. then taking the bus to Lakewood Towne Centre, but fortunately our neighbor had offered us a lift to the center and we were very grateful.
The first leg of our flight was via American Airlines to Chicago. Uneventful. The bit of' extra 1egroom was nice. The second leg was on Aer Lingus to Dublin, which left from the International Terminal. The tram between the two is efficient and quick. Once inside the International Terminal, I was struck by how many different airlines there are - Royal Jordanian Airlines, for example, is one I've not seen before.
The flight to Dublin was about as one can expect - boring- I found the crew a bit surly, which hadn't expected, having heard for years of the famous Irish hospitality.
Once in Dublin, we picked up the car, complete with a few scratches here and there. Tom asked the attendant about them, but was told that all they really cared about was the major stuff- such as when two cars meet and do considerable damage. We also found out that our Visa collision insurance isn't good in Ireland - it has the second most dangerous roads in Europe (Greece being first in the dubious distinction category!). We found it interesting that the hub caps were secured in place by plastic ties. That wasn't particularly reassuring - we wondered what we were going to encounter!
We headed out toward Cork. At first I was really impressed with the roads. That didn't last long. Once outside the immediate environs of Dublin, we found the roads narrow and very bumpy. There is only a bit of 'dual carriageway' near Dublin. The 'N' roads are the most common -two lane, with hard shoulders. Frequently drivers of slower vehicles will drive on the shoulder to let people pass. Sometimes there is no shoulder and the road backs up for miles.
We ran into one of those back ups - fortunately it was for the traffic going the opposite direction. Turned out there was a hurling match in Dublin that day and fans from Cork were flocking to Dublin, since the Cork team was in the championships. The backup was about 20 miles. Bumper-to-bumper, stop and go - but mostly stop. Hurling is a Gallic sport - TTS gave us a brief overview - it is sort of a cross between La Cross and Rugby. The Irish are trying to encourage traditional sports - probably part of the desire to foster a national identity .Anyway, this match was a big deal for the fans (incidentally, it ended in a draw so those poor people in that long queue will have to repeat the journey two weeks later).
We arrived in Cork only about an hour later than we had planned (at 2:00 p.m.) and found TTS's digs without much problem. He was ready and waiting for us. We strolled around the Cork center for a while and had lunch at a little cafe. Then we wandered around a bit more. Cork is really torn up - they are putting in new sewers. In 2005 they are going to be the European Cultural City and they are expecting visitors from all over the world. Sure is a mess right now!
We drove out to our B & B - Maranatha House, just outside of Blarney. No, we didn't stop to kiss the stone - not interested in communicable diseases. Maranatha House is a beautiful country house set on a several acre farm. Our hostess recommended a pub a few miles up the road for dinner - Blair's Inn - we were glad we got there a bit early - by the time we had finished our dinner the place was packed and the poor owner and staff were running ragged. I had seafood casserole, TTF had lamb shank and TTS had a nice stuffed pork loin. Having tasted each of the dishes, I think that TTS had the best meal. I had forgotten that meals in this part of Europe come with copious plates of vegetables, potatoes and frequently chips. Obviously more than enough food.
We took TTS back to his digs and returned to ours. Having been up for 32 hours, TTF and I were whacked and ready for bed.
Monday, August 11 – Cork to Tralee
We had arranged for TTS to have breakfast with us, so went into Cork to pick him up and returned to Maranatha House. Breakfast was the typical Irish breakfast (too much!) of cereal, toast, juice, eggs, bacon, sausage and tomato. TTS had gotten out of the habit of breakfast, but he helped me with part of mine.
Our destination was the Ring of Kerry. This is a world famous drive around County Kerry, through small picturesque villages, past farms and to the West Coast and along the Atlantic. It is beautiful, no doubt. I had expected the coast to be taller cliffs than what we encountered. We passed through several lovely little towns, with lots of flowers. The weather has been exceptional for the past few weeks. While Europe, even England, was sweltering in record-breaking temperatures, here in Ireland the weather was extremely pleasant - in the 70s and 80s, with little rain.

Looking toward Galway from the Ring of Kerry
However, driving the Ring of Kerry was a fright. There were dozens of tour buses everywhere we went. Since the roads are narrow, TTF had to be especially vigilant. He was particularly glad when we got into areas that weren't quite so twisty and crowded.
We had booked a B & B in Tralee through the TI in Kenmare. It isn't a particularly nice town - not nearly as pretty as Killarney or Kenmare. However, it is at the northern end of County Kerry and from there we planned to go to the Burren area, which is something TTS had read about and really wanted to see.
We had dinner at a pub in Tralee, the Brogue. TTF had something that probably wasn't that great because he couldn't remember it, and TTS had shrimp in a whiskey sauce, which was quite good. I had salmon. Again, there were the copious vegetables and fries ('chips') to go along.
Our lodgings turned out to be not as quiet as we had hoped - someone came in late and was a bit noisy and there was some sort of diesel delivery vehicle early in the morning that woke us. However, we survived!
Tuesday, August 12 – Tralee to Lisdoonvarna
Another Irish breakfast and we headed out to County Clare. In Tarbert we took a ferry across the River Shannon to Killimer. It was interesting - we had our first encounter with a rude tourist, who jumped the ferry queue. While we were waiting for the ferry, he pulled out from behind our car and went several cars up. Neither TTF nor I felt like putting up with that, so we walked up to the car - the driver was out walking around, but I said something to the passengers.
Turns out they were from Italy, but the driver, who was Irish, must have been showing off. I told one of the passengers that 'jumping the queue isn't done.' When the driver got back to the car, the passenger insisted he get back in line behind us. I thanked them and chatted a little with the (female) passengers in the back. I tried to practice my Italian, but my Italian was rusty already, so wasn't very successful. Besides, their English was much better than my Italian. They were from Turin and had just gotten to Ireland. They had just been in London where the temperature was 34 degrees C.

Our Mondeo is the blue car on the right
Once across the Shannon, we headed toward the coast to the Cliffs of Moher. We couldn't get over how many tour buses there were. We got to the parking lot at the visitor center and the place was packed. There were tacky vendors selling their wares along the walkway (not as bad as Pisa, but there can't be any place in the world as bad as Pisa!) and there were buskers also along the pathway up to the cliff viewpoint. Some of them were really bad. One woman playing the violin kept hitting a flat when it should have been a natural note - really grated on the ear. Many of the tourists were Italian -we heard more Italian than English!
However, the Cliffs of Moher are justly famous - they are evidence of the Burren, which we saw later that day. They are quite tall, with waves crashing against them and the top is covered in green grass, so they look like a picture postcard.
We drove next to a little town called Doolin. This was home to a pub that was named (something like) Musical Pub of the Year in 2002. It is a tiny town - in addition to the pub and a lot of B & Bs, the pier for boats going to the Aran Islands is located there. However, there aren't any restaurants, and we read that the pub was really packed, so we decided to try our luck at the next town up the road, Lisdoonvarna. What a charming town! It is a spa town, so it has plenty of accommodations and restaurants, but no TI. However, they had a desk in the spa where there was a list of B & Bs In the town, so we made mental note of a couple of them, then went in search. We found a nice B & B, St. Enda's on Church St, run by Mary Finn, an older woman, and her stepdaughter. We were the only guests, so the place was very quiet. It must get really cold here - the bed had four blankets and a bedspread. Needless to say, we removed most of the blankets, as it was warm,


Poulnhabrone Portal Dolmen – ancient burial chamber
We were now in Burren country. It is fascinating - I wish we had more time here. Basically, this area was formed by limestone and continual rain and geological upheavals over the centuries. There are many varieties of wildflowers, as well as wildlife. However, the ground is very poor - there are rocks everywhere. There is some farming in the area, but to create even a tiny field means stacking up rocks - so there are intricate and numerous rock walls all over. There is a very old site, called Poulnhabrone Portal Dolmen - which is an ancient (bronze age) burial chamber, as well as an old castle close by. The starkness is haunting. There is an excellent interpretive center in Kilfenora - they had a film that explained the formation of the Burren as well as what flora and fauna were there.

One of many rock walls in The Burren
We had noticed what appeared to be fuchsias all over Ireland. They are rampant and quite large. Turns out that in the late 1700s someone brought fuchsias over from South America. They have taken to the mild, damp climate of Ireland and are a weed now.

TTF & TTS in front of wild fuchsia
Another flower we've seen a lot is like a freesia, but always orange. I asked Mary Finn what it was and she told me it was an 'orange blossom' flower. OK, how's that for originality?
Mary recommended the Royal Spa Hotel for dinner and Irish music. We walked down there around 8 p.m.; the music was scheduled for 9. Since it was a pub, it didn't have a lot of selection, so we each had a steak with chips. The music consisted of a little accordion and bodhran, which is a small, hand held percussion instrument - it is like a tambourine, but without the jangling bits. The music was lively and a couple of the people in the audience joined the little twosome.
We walked back to the B & B and settled for the night. We had a big day planned for Wednesday.
Wednesday, August 13 – Lisdoonvarna to Bunratty
First off, we didn't have much cash on hand and secondly, we didn't have accommodations near Dublin. A bit of a problem, as we planned to spend Thursday and Friday evening near Dublin and needed to get money for necessary expenses.
However, we wanted to see some of the Aran Islands. The closest, and smallest, is lnisheer. A ferry from Doolin to Inisheer leaves regularly in the morning. The return is a little less regular - the first being at 3:00 p.m. We couldn't understand how ferries can leave every half hour from the "Mainland" and return only beginning at 3 :00 p.m. Oh, well, this is one of the further outreaches of Ireland, so we didn't question it.
Given that we were to meet TTS's professor (Rod) and his wife (Beverly) at Knappogue Castle for a medieval dinner, we had a bit of a challenge. We had got to get to/from lnisheer, book rooms in Dublin and get money.
The ferry trip to lnisheer was brief, although not as quick as advertised. It was supposed to take 20 minutes, but in actuality was closer to 35. Although we didn't go out to 'high seas' the little channel was surprisingly rough. However, close to 11:00 a.m. we arrived at the pier on lnisheer. I had a vision (a regular failing for me) of a romantic little village with sweet cottages. Seems the same vision I had in 2001 when we went to the Isle of Sark.


Harbor, hillside and homes on lnisheer
lnisheer was most certainly not romantic - no paved streets, the houses weren't charming, but they were stout, for this is a very harsh environment. I asked at a little cafe if there was an ATM on the island and was met with a sort of 'you must be crazy' look. TTS, TTF and I walked around a large part of the island and were pretty much ready to leave in 1 1/2 hours. But the ferry didn't leave until 3:00 p.m. We had a lunch at one of the three cafes/pubs on the island. I ordered seafood chowder, which was pretty poor. TTS and TTF had chicken nuggets and chips.


Some of the MANY rock walls and the 'castle' on Inisheer
Why would anyone go to this island? It is extremely important in Western history - it, along with a few other Celtic outposts, was one of the few refuges from the abuses of the invading Danes and other Nordic people in the Middle Ages. It was one of the outposts of Celtic, and Christian, civilization. I read a book years ago called "Civilization" that explained how close Western Civilization came to extinction thanks to the various invading armies. There were a few outposts that saved civilization, and this was one. Lindesfarne, in Scotland, which we visited in 1995, is another.

TTS & Mel beside a TALL rock wall
We returned to the 'mainland' and had a quick drive back to Enis, where we got cash and confirmed reservations for accommodations for that night. Then we headed to Knappogue Castle. We arrived right at 5:00 p.m., just on time. Rod and Beverly were waiting for us. We three found a closet in which to change clothes, and then we went into the banquet.
Normally, a banquet of this type would be the last thing in the world the three of us would want to attend, but TTF and I wanted to meet Rod. As it turned out, we had a great time. Although the food wasn't consistently interesting, the entertainment was excellent. There were several young women who sang, a harpist (the harp being the national symbol of Ireland) and a step dancer. Additionally, there was an MC who told jokes and was very engaging. One poor guest was proclaimed to be a troublemaker and his penance was to sing for the gathering. He was an Aussie and he broke into an enthusiastic rendition of "Waltzing Matilda". Everyone who knew the words joined in. Some people who didn't know the words joined in (including a particularly 'happy' Belgian sitting next to me). It was great fun. TTS was impressed that his father knew the words. At our table there was a woman and her daughter from the States - they had just spent two weeks in Doolin, where the mother was one of the entertainers in the pub there (I think it is called O'Connells'). One menu item of note was the soup - a tomato and herb soup - warm, that I would love to make, but don't have the recipe.


The MC and the singers in Knappogue Castle


The step dancer in Knappogue Castle
The banquet over, we followed Rod and Beverly to Bunratty .We three had accommodations nearby for the night in a B & B called Bunratty Woods. We had a round of drinks at "Durty Nellie's", then parted company. It was a thoroughly enjoyable evening.
Bunratty Woods was very nice - rustic but comfortable. Although there was a bit of road noise, by the time we went to bed, we were quite oblivious.
Thursday, August 14 – Bunratty to Skerries
We were so lucky in weather - thus far, only beautiful weather, not too hot, not too cold. We spent the morning wandering around the folk park of Bunratty Castle. It is a collection of buildings from around Ireland, the intent to demonstrate the way people lived in various circumstances - the farmer, the poor farm laborer, the prosperous merchant. It was very well done - they had assembled buildings of striking contrast. While being a prosperous merchant or farmer wouldn't be too bad, being a landless farm worker of the 19th century would have been a horrible existence. None of us had ever seen a peat fire before. The odor isn't unpleasant - it is very earthy. However, it leaves a lot of pitch, so the fireplaces are quite dark. Additionally, the thatch roofs are charming, and quite heat-efficient, but the insides of the homes are really dark - the combination of the creosote, thatch and small windows. We decided that we wouldn't be happy in such darkness. Thatch, though, must be a terrific roofing material, because it is actually hollow, like reeds. There is plenty of insulating quality. Of course, it is highly flammable, so that is a distinct disadvantage!


Cottage with thatched roof in Bunratty Folk Park

Haystacks in Bunratty Folk Park- now we understand 'under the haystack fast asleep'
After we visited the folk park, we headed toward Dublin. We stopped for lunch in a small town called Rosecreas. Interesting. We went into a pub and asked if they served lunches. Yes. When I asked about the chicken salad, I found out that what they actually did was go to the shopping center behind and pick up the food from Tescos. We are every bit as capable as picking up food from Tescos as they are! Anyway, we trooped over to Tescos and had a spot of lunch and continued toward towards Dublin.
We stopped at a town to get reservations for lodging. Well, lodging in the Dublin area was a challenge. Several calls and we had lodging at the Redbank Inn in Skerries for one night (including dinner - the restaurant was recommended by Frommers) and Friday in Swords in a B & B.
It took most of the day to get to Skerries. Roads in Ireland aren't great and the closer to Dublin one gets, the heavier the traffic. If only the capacity of the roads increased proportionally to the traffic, it wouldn't be so bad.
We finally arrived in Skerries about 5:00 p.m. We took a tour of the Skerries Mill - this turned out to be really interesting. The sponsors have tried to recreate a flourmill of the mid-19th century. It is very well done. There were a couple of hands on exhibits where you could try your luck at hand milling grain. It isn't easy - to think that just a few hundred years ago in this country , and today in some third world countries, people had to go through such a labor intensive process before they could even make their daily bread! Most interesting were our fellow tourists. I couldn't figure out why they were all male. Eventually I learned from one of them that they were a group of Jesuits who were meeting in retreat. The gentleman who shared this information with me was retired and an avid musician. While our tour guide told the rest of the group about the flourmill, he and I had a wonderful discussion about various pieces of classical music. He was particularly fond of opera, one of my great loves (although my taste is limited to Verdi, Puccini and other Italian masters, his was a bit broader, including that awful Wagner).
The tour over, we checked into the Redbank. What a beautiful place to stay - it is actually a former bank and the wine cellar is the bank vault. The rooms were charming and spacious. Dinner was very special. We were seated in a sort of parlor, where we had little snacks - a few cold vegetables and baked potato skins. We ordered from the parlor. When our dinner was ready, we were escorted to our table. I had a chevrie appetizer and fresh scallops. TTF had an enormous filet mignon for dinner. TTS had a pris fixe menu which included a selection from the fantastic dessert cart - he had a fresh strawberry cheesecake. However, about halfway through our meal, a party of six trooped in the little 'private' dining room we had been enjoying, shut the windows and proceeded to take the attention of the staff. It got beastly hot. Our waiter was a charmer from Brittany and did his best to make sure we were suitably served.
We retired to our room, tried to catch up our diary and financial log and get a good night's sleep before we headed into Dublin for the day.
Friday, August 15 – Skerries to Dublin
Predictably, breakfast was enormous. However, we three tried to pace ourselves after the huge dinner from last night. We packed up and headed to Swords, where we deposited our luggage at the B & B. Then we took the bus into Dublin.
We found the city to be under construction, especially in the center. The European Union has dumped billions into Ireland in the past 10 years and the result is a lot of construction, a lot of high tech jobs, higher prices and, supposedly, the most 'hip' city in Europe. We didn't like it. It is littered, crowded, little by way of architectural and historical interest. We took a walking tour of Trinity College, which was interesting enough, and went through the exhibit for the Book of Kells. Now, that was interesting! What a beautiful manuscript. To think that it escaped the tender mercies of the Awful Cromwell and the previously invading Danes is a miracle!

Tower in Trinity College - Dublin
There isn't much too see in Dublin. TTS and I went through the National Museum, which has some terrific gold jewelry pieces, but that's about it. The museum is entirely devoted to Irish history , which is nice - it has a theme about it. We were too late to see much else, and we aren't shoppers. We stopped by Dublin Castle - it isn't all that interesting, but there was a sand sculpture competition in the courtyard, so TTF snapped some pictures of the models.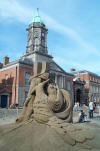 Sand sculptures in the courtyard of Dublin Castle
We returned to Swords by bus and had dinner at a little (noisy) Italian restaurant after we got the car filled with petrol. Tomorrow back to Mother England.