A Week in London and Other Parts of England
Saturday, August 16 – Dublin to near Battle
We left the B & B early to make it to the airport. TTS was really worried that we provided enough time. As it turned out, he was right – traffic on the road and at the airport meant we didn't have a lot of slack.
TTS flew to Gatwick, TTF and I flew to Heathrow, picked up the car and drove to Gatwick to get TTS. We had not flown British Midlands much before, but we were very impressed with the service. Might have been because they had a trainee on board, in addition to the regular staff, so they had more than the normal complement of cabin attendants.
Eventually, we all regrouped and drove to the Battle area. TTS had never been to this area before, but TTF and I had just been there in 2001 when we stayed in nearby Sedlescombe. TTS and I toured Battle Abbey, although we arrived a bit late, so we were rushed. TTF and I first toured this area in '75 or '76 when it was just an outpost with a volunteer guide. Now it has a museum and recorded tours. Battle Abbey is on the site of the Battle of Hastings, 1066, the last successful invasion of England, by William the Conqueror against Harold, the last Saxon king, supposedly killed by an arrow through the eye. The altar of the Abbey (probably dissolved under Henry VIII, so many of them were) is supposed to be the site where Harold fell. Interestingly, I learned that 20 years after the Battle of Hastings, 80% of the land in England was under the ownership of the Normans. I suspect that one of the reasons that England hasn't been changed into little 2 ½ acre parcels with a mobile home and a small barn, like our area of Washington, is that the hereditary landowners still own a lot of the land. While not exactly egalitarian, it has preserved that wonderful English countryside.
We drove to Crowhurst to look at the 1000 year old yew tree, but it was fenced off in the churchyard. I took a photo of one of the graves there – it was really interesting with cobwebs hanging off it. "From dust thou art and to dust thou shall return."
One of the reasons we decided to stay in this area was there is a terrific restaurant in Westfield called the Wild Mushroom. Robert and Venetia Saunders took TTF and me there in 2001 and we had one of the best meals ever. However, this year we didn't make plans in time and they were booked for dinner when we wanted to go, even though we contacted them two weeks in advance. Our hostess suggested dinner at the Pilgrim, right across from Battle Abbey. Dinner was good, but not up to the Wild Mushroom. I had lamb cutlets (very nice), TTF and TTS each had venison. My starter was a bit of Stilton cheese wrapped in filo and baked and served with a mixture of olive oil and balsamic vinegar. The Pilgrim is an old half-timbered restaurant. It is heavy with atmosphere. We had never had Sicilian wine before, but we had a very nice red wine – the 'wine guy' told us that Sicilian reds are excellent and we concur! He also told us that the whites aren't so good. We shall have to try a white to see if he is right.
Our B & B, the Four Winds, owned by Judy and Ian Stewart was near Westfield, the town that the Wild Mushroom is in. It was very quiet and the beds were very comfortable. I had noticed that many of the beds in Ireland were particularly hard, so it was nice to have a firm bed, but with a bit of forgiveness to it! We liked Judy – she's a gardener, tennis player, art collector and travels regularly to Italy.
Sunday, August 17 – Westfield to Sheen
Having slept very well, after breakfast we headed to Brighton. TTF and I had been there twice before – in the 1970s and again in 2001. We wanted TTS to see Brighton Pavilion, one of the most interesting buildings we've ever toured.
Brighton, the town, is a mixed bag. It has some universities, some wonderful Regency hotels and spas and some very seedy areas. We didn't have a lot of time, so we just bustled into town, parked the car and went directly to Brighton Pavilion. We were lucky – we got there at 11:29 and a guided tour started at 11:30. The tour guide was very knowledgeable.
The Pavilion started out as a country house in the early 1800's when George, Prince of Wales, visited there, prior to becoming Prince Regent. He enjoyed the area and bought a farmhouse. Later, he expanded it greatly – the outside is "Indian" (as in the country) and the inside is Oriental – Chinese, primarily. He spent millions on the place. He died without heir, so his brother, William, came to the throne. He also died without heir, and Queen Victoria ascended the throne. She only visited Brighton a few times, then decided to close it up. She ordered all the furnishings removed, so the place was stripped to the walls – including wallpaper. At one time the place was slated for demolition, but the towns people decided that they wanted to keep it, so they were able to put together the money to buy the place from the Crown at a fraction of the original cost. What a bargain they made. Although they had to spend millions to get it back into shape, they have a wonderful resource – a great tourist attraction, a place for community activities, and a wonderful heritage. In the process of restoration, the various monarchs, including Elizabeth II, have either loaned or given much of the original furnishings back to the town, so it looks a lot like it did back under George IV.
Tour over, we headed up the motorway to Chartwell, the home of Sir Winston Churchill. TTF and I were there in 2001 and we were very impressed with how homey it is. We also admire Churchill greatly and wanted to share the experience of seeing his home with TTS. We were very surprised at how busy the place was. They had initiated a 'timed entrance' scheme (the home is smallish compared to the great castles in Britain) so we had lunch, then waited for our entrance time. We walked around the gardens, somewhat the worse for wear, as it had been very hot here lately, although it wasn't too bad the day we were there. We went through Churchill's painting studio. I had remembered his palette as dark, but didn't find it so this day. Although our trip through the house was a bit rushed, it is a beautiful house filled with memories of one of the greatest Britons ever. Without Winston, the English would be speaking German today.

Chartwell – Home of the great Winston

These look like lavender but aren't – what are they?
The reason for the rush was that we had a dinner invitation near London from one of TTF's Morgan buddies. So, TTF drove like a maniac over country road, city road and motorway to get us to Sheen, near London, in time to check into The Victoria and get to dinner at the home of Achim and Sarah Gloger. It was a stressful drive, traffic being heavy, but we got to our digs 20 minutes before we were supposed to be at dinner. TTF called the Glogers and let them know we were on our way. They live about 4 blocks from The Victoria. This is a nice old pub, but modernized, so that the beds are incredibly comfortable with Egyptian cotton sheets and nice large towels and real showers. The only problem is that it is in the flight path for Heathrow, so the jets start landing about 6:00 a.m.
Dinner at the Gloger's was a treat – the food was good, the wine was plentiful and the company was intelligent, well-traveled and witty. I love meeting people who have been a lot of places, done a lot of things and are articulate to boot. Achim is a German born American. Sara is British. The sons, Max and Sebastian are American-British. We had discussions about Morgans, politics, films, TV and taxes in Britain. It was a grand evening. I learned from Sara that the conservatory that I would love to have built onto our house – to keep things cooler in the summer is a Dumb Idea because they don't give you value for space. Better learning from her than putting it on the house and finding out!
We walked back to The Victoria and crashed. Monday we planned to go to London and see things we hadn't seen before (by and large).
Monday, August 18 – London
We had been on vacation for over a week and hadn't done laundry, so the first order of march was to find a place that would do our wash. We found one place that opened at 9:00 and claimed to have a laundry service, but on checking with them, they didn't really do laundry except for shirts and trousers. TTF and I were particularly frustrated because the people there didn't speak very good English. We found this to be the case in a couple of places in London- immigration to London is a problem. There are thousands of immigrants, many of whom don't have a good command of the language and aren't able to help the customers of the shops where they work. TTF and I drove to Richmond, the town next to Sheen, and found a place that did laundry (all of it) and the counter person spoke English! We have found in our travels that the cost to do laundry in a Laundromat in Europe is very high and for little more you can have it done rather than sitting in the Laundromat wasting your vacation (assuming you can easily find the establishment).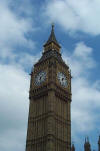 Most people call this 'Big Ben' – actually, Big Ben is the bell inside the clock. I wonder what the clock is named?
We took the train from Sheen to Waterloo Station in London. From there, we took the Underground (Tube) to Westminster, home of Parliament. We had tour tickets of Parliament – it is opened for tourists in July and August when the houses aren't in session. Our tour guide was wonderful – he pointed out the symbolism of the interiors (parts were supposed to reflect the various stages of the British Monarchy – Saxon, Norman, Plantagenet, Tudor, etc.) We went through the room where the Queen prepares prior to delivering the speech that opens Parliament (the speech is written for her by the Government in power outlining what they plan to do in the next term). There is much pomp and ceremony and the MPs are summoned to the House of Lords to listen to the speech, so she addresses both houses. Actually, the House of Lords has a little bit of power even today – they can hold up bills, although Commons can revote them and force a passage. The Parliament was bombed in WWII and parts of the original castle were burned in a fire in the 1800s – the present day structure for the most part, was rebuilt after the fire.
The anti-chamber outside the House of Commons has statues of four prime ministers who were supposed to be great orators of the 20th Century (Churchill and Lloyd George, I can't remember the other two). Tradition has it that if you rub the foot of one of the statues you will be blessed with the gift of oratory – the MPs apparently do this before they make a speech. Just for luck, we all rubbed Churchill's foot – not that any of us ever had cause to give speeches.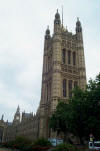 Views of the Houses of Parliament – we love going through place like this – there are fascinating little details of history that you never read about – for example, the death warrant for King Charles I is on display there – our guide told us that one tour a woman knelt to pray next to the warrant – for she felt King Charles was a saint. One old woman in our group was incensed at such an affront – "Cromwell's the man" she said. All of this happened mid 1600's.
By the time the tour was over, it was after 1:00, so we had a little lunch in the cafeteria and then took the Tube over to the British Museum. TTF was tired by this time, but TTS and I went on an overview tour – saw the 'top sites' – the Rosetta Stone, Elgin Marbles, an Assyrian frieze from before Christ and some Egyptian mummies. There were also the remains of a man who had died about 10,000 years ago – a ritualistic killing, they have decided. His remains were found in a bog in England. The bog preserved the remains very well – so well that the farmer who found the remains thought he had found the body of someone recently killed.

The front of the British Museum – you could spend a few weeks here

A frieze from the Acropolis in Athens – part of the Elgin Marbles in the British Museum

This horse, part of the Temple of Athena, represented the setting sun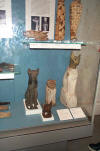 Cats were important to the Egyptians, so I took a photo of a cat sarcophagus
After the tour, we went over to the Museum Tavern, right across the street. While sitting there, we struck up a conversation with an Italian couple, from Palermo. TTF and I were very pleased – we were able to hold our own with them in Italian.
We had dinner at an Italian restaurant near Russell Square, then took the tube to Tower Hill – we had tickets for the Keys Ceremony at the Tower. This ceremony has been held every night, rain or shine, war or peace, for over 700 years. Basically, it is locking the Tower for the night, but being British, it is filled with symbolism and tradition. The Ceremony is only about 20 minutes long, so we were on our way back to Sheen by 10:00.

The Tower – I love this place – I learn something every time I come here – I think this was my 5th visit – 2000 years of British history on 50 acres
The public transport in London is, by Seattle standards, absolutely wonderful. A day ticket of £4.50 allows you all day transport on London Underground, nearby trains and the buses. Sara Gloger referred to it as a "Victorian system", which is true, but it is much superior to what we have in the States. Although this is only the second visit to London for TTS, he has become a real veteran in navigating from one place to another via the Underground. Unfortunately, the buses aren't as easy to figure out, so we spent a lot of time on the Tube.
Tuesday, August 19 – London
Back onto the train and Tube to London – we decided to do a London Walk – these are excellent ways to learn London – TTF, Matt and I did "Legal London" in 2000 when we had a few days layover in the UK when returning from Spain. The walk we took was "Hidden Places of London". The City, London proper, is quite small – only one square mile. Tucked in this area is a bit of land owned by the Bishop of Ely, in Cambridgeshire. There is a lovely Catholic church there, St. Etheldreda's, which was damaged in WWII, but has been restored. We also visited St. Bride's – once the church of Fleet Street, which was where the newspapers in London used to be situated (they've moved, but I can't remember where). The tour was good, but not as interesting as "Legal London" which was a real hoot. However, we did learn a bit about Dr. Johnson ("when a man is tired of London, he is tired of life, for there is in London all that life can afford"). Dr. Johnson was the person who compiled the first ever dictionary (of any language). He had a cat, Hodge, to which he gave oysters for his meal. "A very fine cat, indeed." Doesn't Hodge look pleased?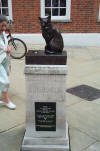 Dr. Johnson's cat, Hodge – "A very fine cat, indeed" – doesn't he look pleased
Afterwards, TTS and I went into the London Silver Vaults. It turned out the BBC was there filming a mystery story. The Vaults were originally built so people could store their silver there when not in use. Over time, little shops were set up for selling silver as well as storage. It is now mostly little booths that sell silver.
After a quick lunch, we went to the West End to see the (something like) 20,210th performance of "The Mousetrap" – we had lucked out – there is a matinee on Tuesday. TTF and I had seen the play in 1975 – it first opened in 1953. It has been playing at St Martin's Theatre since 1973. Although the performance wasn't sold out, it had a good house and the audience really 'got into' the play. It was a thoroughly good British play with excellent scenery, a terrific plot and a fair amount of humor. We weren't all that impressed with Trotter, the policeman, but the rest of the cast was first rate.
We had a small dinner at an Indian restaurant in the West End (The Empress of India). The food was good, but the staff was a little grumpy because we didn't order a huge dinner.
Back onto the Underground and over to the Tower for another London Walk, this one "Jack the Ripper". This is a very popular walk – there were two tour guides and probably 125 people all together. It started near the Tower to illustrate a point that we didn't realize – The City of London (the magical mile) has its own police force – and one of the five murders was committed within The City. There was a lot of professional jealousy between The City police force and Greater London police and they did not cooperate on the murder investigations. As a result, valuable time, and evidence, was lost.
Our guide, Andrew showed us where the first murder took place, then explained facts related to the second murder, which was some distance away. He also explained the horrible living conditions in the East End, or White Chapel, in the latter part of the 19th Century. The people were desperately poor – the filth was unimaginable to us. Many people didn't have places to sleep, so they rented a spot in a doss house, which provided ropes for them to lean on to sleep! The life expectancy was about 35. Prostitution and alcoholism were rampant.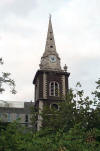 The prostitutes' church in White Chapel – close to the sites of the Jack the Ripper Murders
What was surprising is that just a few blocks from the Tower there is, even today, a neighborhood (near Petticoat Lane) that is still very poor and unsavory – obviously not as bad as that of the Victorian era, but still, not very pleasant. However, because The City is prosperous, many of the old buildings nearby have been renovated into 'high end' flats. One of the developments is in a former doss house, in a 'listed' building, which means the developers can do what they want with the inside, but the outside must be true to the original character. At one place there is one of these high-end flats in a listed building, with Mercedes and BMWs parked outside and directly across the street there are 'council flats', which are public housing for the poor.
In the same area is an open-air market, Spitalfields. During the day it has food stalls, under cover. This market has been there at least since the reign of Charles II (1682). There also is a street called Brick Lane that apparently has lots of Bangladeshi restaurants that are supposed to be quite good.
Andrew's description of the Jack the Ripper crimes was pretty graphic. However, even today, it is not known who committed the crimes, although there are a couple of hundred suspects. The conspiracy theories (that it was a member of the Royal Family, for example) abound, but aren't the most credible suspects.
After the walk, we headed back to Sheen, part of our journey this time on a new Waterloo line that goes directly to Waterloo station and is very modern and clean.
We retuned to The Victoria and had a drink before retiring – TTS was to return to Florida the next day.
Wednesday, August 20 – London to Herefordshire
Up early and out before breakfast to get TTS to Gatwick. Since it was a weekday morning, traffic was predictably heavy. It took 1½ hours to go 35 miles. We dropped TTS off, then headed west toward the Cotswolds.
It took a fair amount of time, but we eventually ended up near Ledbury, a very charming market town. We stayed in a B & B in the country – part of it was probably 16th or 17th century half-timbered, the rest was a bit more modern.
We came across a 'castle' that looked appealing, so bought tickets and went inside. The gatehouse leading to the castle, Eastnor, looked very old from a distance, however, the castle itself appeared to be newer. As it turned out, both were 19th century – the family who still owns the place had this medieval looking place built, with a great hall that was supposed to look like something out of the middle ages. TTF was able to tell that the 'old stones' of the gatehouse were really sheetrock disguised to look like old stones! However, it was interesting in that Jeremy Brett (star of the excellent Sherlock Holmes mysteries produced by the BBC) and Nancy Reagan had visited this place. One of the highlights was a great maze – there were a few boys who were about 9 or 10 years and were having a grand time racing in and out of the maze. The adults and younger children took things a bit more slowly and there were a few little girls who got lost and were in a bit of a panic.
We next drove to Ledbury and walked around town for a while. It is a thoroughly enjoyable, 'black and white' town, with a particularly good market place in the center. We had dinner at The Olive Tree in the center of town – nice Italian place with good atmosphere and good food. We drove back to our digs and settled in for the night.
Thursday, August 22, 2003 – Ledbury to Acton Pigot
We became very aware that we were in the country when we were wakened at dawn by the "Bloody Cock" (rooster) who decided to crow while perched on a planter outside our opened bathroom window. When that didn't roust us, he moved beneath the bedroom window, also opened. I had forgotten how persistent roosters could be – why can't they just announce the morning once, and then get on with breakfast? Instead, this one kept up for at least an hour.
Ah well, we couldn't sleep, so we got up, showered, and had breakfast, which included toast made from homemade bread. On the way out of the 16th century part of the house, TTF forgot to duck and cracked his skull on the door jamb – hard – the cat which was out on the patio just outside jumped at the sound. A bit of blood and a very bad headache ensued. There aren't many compensations for being 5 ft. tall, but I rarely have a problem if I forget to duck.
We had an appointment to visit the Morgan factory in Malvern Link, about 10 miles from the B & B. We arrived exactly on time, despite rooster and low doors. We spent about an hour walking around the factory, TTF talking with the workers as questions came to mind and taking supposedly forbidden photographs. We bought a few things in the office- a couple of shirts, coasters and a card, then headed toward Shrewsbury. We had reservations at a place called Acton Pigot for the next two nights.


The two rows of cars in Despatch

Glad I wasn't driving this one

Yep – they still build 'em on sawhorses

That's a familiar number plate


They still have wooden frames – completed frames are stored in a rack


Body panels are still adjusted to fit using tin snips

Family resemblance is evident in the frames of the traditional body and the Aero

Spending your days in the Morgan factory is a dog's life

Upholstery is still done the old way

You are entering Malvern Link, home of Morgan
Along the way, TTF wanted to stop at Heart of England Morgan and make inquiry about some parts for Moggeee. After that, we had lunch in a pub – I'm not sure what they were doing in the kitchen – probably moving kegs, but it sounded like they were tearing down walls. I had a little tart made of Roquefort cheese and leeks and TTF had fish and chips, but passed on the 'mushy peas.' I know this was just a pun at the old way of English cooking, but he wasn't about to test it.
We had obtained a map of the 'black and white' villages in Herefordshire – it is a driving route through the countryside to look at some of the picturesque villages of the area. We followed the route for part of the way, but it was getting a bit late and we needed to get to our B & B. We took photos of several of the villages – they are very beautiful. We also stopped at a small animal and owl farm. We actually were able to pet a couple of the owls – their feathers are exquisite.
We had pretty good directions to Acton Pigot, but really didn't know where it was. We followed the directions and found ourselves on little country lanes, progressively narrower as we went. Occasionally we met a large tractor on the lanes – this is the heart of farming country and the tractors are huge. Protocol is that the car pulls over (these are one-track lanes with a few wide spots) because the tractors typically are pulling wagons and can't back up so well. We passed one tractor that was driven by a fellow talking on his cell phone. The 21st Century comes to Shropshire!
At this point I was wondering how in the world TTF had every found this B & B. Turns out one of his Morgan buddies had recommended it (it is listed in a book which also has a website www.sawday.co.uk). It was 'way out in the country. The house itself is about 17th Century and is a real treasure. We rang the bell and were quite surprised when it was opened and a rather large retriever (dog) sort of strolled out into the yard quite nonchalantly; followed by nobody. A few minutes later, our hostess came to the door. She didn't seem to realize what a clever dog she had.
Although our room wasn't en suite, we had nice fluffy bathrobes and the place was very quiet – no 'bloody cocks' tomorrow, we were quite sure.
We had dinner at a nearby pub, The Swan. We shared a ravioli starter and each had monkfish with a wild mushroom stuffing, which was quite nice. Then we returned to Acton Pigot for a good nights sleep.
Friday, August 22, 2003 – Acton Pigot
Hildegard, our hostess, told us about a group of museums nearby called Ironbridge. We've been to the UK about 8 or 9 times and had never heard of them.
We drove over – only a short distance from our B & B and were amazed. They are a World Heritage Site and are fascinating. This is where the Industrial Revolution began. The River Severn is deep enough to be navigable by fairly large vessels. This, coupled with natural resources to make iron, resulted in a lot of industry – this area is very close to The Midlands, which today is the heart of the manufacturing area of England. The Iron Bridge, crossing the River Severn, was the first of its type anywhere in the world. It was designed and built by Thomas Telford.
We didn't have the time to explore everything. There is a tile museum, which is closed for renovation but will reopen in 2004. There is a museum of the Severn valley gorge, with explanations of how the industries developed and sort of an overview of the other museums. We stopped at the clay pipe museum, but it didn't open until the afternoon, so we couldn't go in it.
TTF wanted to go back to Heart of England Morgan and pick up some parts for Moggeee, so we drove there and got the parts, then drove back to Ironbridge. On the way we came to one of the most charming villages we've ever seen – Bridgnorth. It is a Britain in Bloom village, so it had lots of flowers about. Additionally, it has some great buildings spanning the last 350 years. The town was burned by the Royalists during the Civil War, so none of the buildings predates 1640 something. We stopped at an Estate Agent to find out if there were furnished places to rent, as we'd love to spend time in this part of England (Shropshire, Herefordshire, Worcestershire). While there are places, generally they are rented for a minimum of 6 months.
After Bridgnorth, we went to the little Victorian village that was part of the Ironbridge complex. Many Victorian era buildings have been moved to this site and shops and businesses of 1903 have been set up on the site. There is a Lloyd's Bank right at the entrance where you exchange 21st century money for early 20th century money – they only have four coins, but they are alike in every way to the coinage of 1903 except they don't show the Sovereign on the coin. They are legal tender in the village. There is a blacksmith, a bakery, a printer, a machine shop, a basket weaver, photographer, school, dentist, doctor, candle maker and a sort of 'toiletries' shop that sells soaps and remedies. I had heard of carbolic soap before, but never seen it. I had thought it was a terribly harsh soap, but the people in the shop told me it was actually quite mild – and it was used for everything – bodies, hair, floors, dishes, clothes – you name it.
The candle maker gave a demonstration of his craft making tallow candles. They actually are very hard, unlike the molded candles of today – they are dipped, then dried for a very short time, before they are dipped again.
The printer makes the bags that the wares from the village are wrapped in for the customers. He uses a press that was invented in Philadelphia and then built in the UK. The dressmaker has 'the latest fashion' from 1903 – very pretty.
Once again we found that we had shorted ourselves – the village is absolutely fascinating and worth a full day of itself.
We returned to Acton Pigot after stopping in Shrewsbury for an ATM since our hosts don't accept Visa. Along the way we got lost (I told Tom, England's a small country, how lost can you get – well, you can get very lost on these little one lane tracks!). At one point we came to a place in the road marked 'Ford' – as in 'ford the river' – our little Focus probably couldn't make that crossing, so TTF backed the car up and returned to the main track. Eventually we found our way back.
We had dinner at the B & B – Serrano ham and melon for starters, a nice tarragon chicken and fresh veg for the main course. We passed on the 'pudding' (dessert).