Lazio and Campania
10 September 2013
Unusual start to the trip – we went to SeaTac Airport by bus without incident, passed through security quickly (late afternoon flight – much less crowded than in the morning). We got to our gate S10 and heard a woman yelling "I've got nothing to hide". Well, she certainly didn't – she was stripped bare to the waist and putting on quite a show to the delight of the men in the area. She certainly was well endowed.
We were hungry, so left the free show for a bite to eat. By the time we returned, Lady Godiva had been taken away. She wasn't on our flight. That was a relief.
The flight itself was pretty miserable because of screaming youngsters. Tom offered to throw them out of the aircraft.
11 September 2013
Our first experience with Terminal 5 at Heathrow. Not impressed – we landed at Terminal 5 and were leaving from same, but we had to go through security again – although we didn't go through passport control or customs. Very poorly arranged – and this is a new terminal.
The flight to Fiumicino was uneventful. Upon disembarking we noticed immediately how many Muslims there were in the airport (based on observing the women's dress). We were beginning to see some of the changes in Italy since we were here last in 2008.
We had planned on renting a car from Renault Eurodrive as we had in the past, but we were contacted by Renault about three weeks before departure that a freak hailstorm had hit their parking area in Italy and severely damaged all of their fleet. They placed us with Europcar, which is a fairly decent company to rent from. We paid the same as we would have from Renault, but the insurance wasn't as complete.
We picked up our car and headed to Pomezia – at first everything went well, but we had a terrible time finding our hotel. Our GPS took us very close to the hotel, but we couldn't believe we were in the right area – it just looked like a dead end road, so we disbelieved the GPS, to our error. The traffic in the early evening was typical of Italy – frenetic. Eventually, after stopping at a McDonald's and two different hotels to ask for directions, we found the hotel, which was actually quite nice, despite being just off what appeared to be a dead-end road.
Dinner in the hotel, then blissful sleep.
12 September 2013
We left Pomezia and headed south to Caserta. I have been reading a book about the Allied invasion of Italy and the push to free the country. After freeing Sicily, the Allies landed at Salerno, then made their way slowly, painfully up the boot. There was a lot of action in this part of Italy. After Naples was freed, the Allies moved into Caserta and took over the Royal Palace as their headquarters. Well, it was certainly large enough, with over 1,200 rooms. Caserta is just a bit north of Anzio and Montecassino, scenes of some of the most horrific battles.
Traffic in Caserta was….terrible. We are sensing a trend.
We had dinner in the hotel – it was quite good, but another thing we are seeing is that because the Italians are now eating their main meal in the evening, and that meal is the typical antipasto, first and second plate and a dolce, there are more obese people in Italy than we've seen before, and they aren't all Americans.
13 September 2013
Breakfast at the hotel – our last two breakfasts have been an improvement over the dry roll and coffee we've had on previous trips. Now there are a few cheeses, sometimes scrambled eggs, sometimes fresh fruit.
We were just across the street from the Royal Palace at Caserta – what an enormous building. We did a self guided tour of the rooms open inside (probably 50 out of the 1,200). The opulence is just unbelievable. This was modeled after Versailles and built in the late 1700s. Considering how desperately poor this part of Italy was then (and in many cases, is still) we found the opulence quite offensive and to a certain extent, a bit boring – we've seen the same sort of frescos and furniture in Versailles and in palaces in Germany. Windsor, in England, isn't quite so over the top (and it is still a living palace). I can better appreciate why there were so many revolutions in the late 1700s to mid 1800s in Europe – and why America became such a beacon to the huddled masses.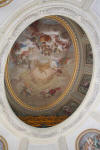 The Royal Palace, us, and a fresco.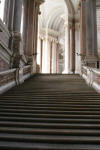 The allies had to deal with a whole lot of these staircases.
The English Gardens were said to be amazing, but they aren't like the English gardens we are used to, which are typically wild and full of riotous color. These really are more like the formal gardens around Versailles, and not to our taste at all.
It was very disturbing to us that some of the grounds around the palace were full of litter and the lawn was very weedy. I am not sure if it is a function of the economy, or lack of pride in the grand monument or too many 'clandistini' (illegal immigrants). Probably a combination. We've also seen a lot of litter along the Autostrade. While some of the areas in the US have a lot of litter, we seem to be doing a better job. Maybe it is because some of the people who are serving time in the US for various crimes have community service requirements which includes picking up litter. At least it is a useful pastime.
We checked into Mami Camilla's, our lodging for the next four nights. We had stayed here in 2005 when we attended cooking and language school. What a change. The landlord has taken over a large part of the grounds and is building a gymnasium where the hotel used to be. Now the facility is more like a hostel. It is 'OK' but had we known of the changes we would have opted for something more comfortable.
We had lunch at La Terrazza, which is just a few blocks from the B and B. What a magnificent view of the Bay of Naples. Vesuvius behind it and the Sorrento Bay to the south – absolutely amazing. Food was very touristy and the service was terrible. Welcome to tourist Sorrento.
For dinner we went to the Mami Camilla cooking school, which has moved to Plano di Sorrento, a few kilometers north of Sant'Agnello, where we were staying. The dinner was very good, with a small pizza antipasto, a pasta with fresh tomato sauce and a main of chicken breast with mozzarella, tomato and basil. Dessert was a tiramisu. Very reasonable at €18.
14 September 2013
We made arrangements to meet our language exchange partner, Antonio, in Sant'Agnello and took the bus to Sorrento. We had a pleasant walk about for five hours. At several points we chatted with Brits whom we came across in our strolls. Sorrento has long been a destination for Brits, and there are no shortages here. Antonio listened mostly – he is more familiar with American English and finds the British English a bit baffling, both in accent and vocabulary.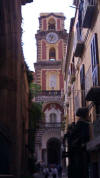 The tower (we've lost track of what it is) is lovely. We are looking down to one of the swimming areas.
After our tour of Sorrento, we came back to our B and B and tried to check the internet. In five minutes I found that I was plat du jour for the mosquitoes and had to retreat inside. I walked into the center of Sant'Agnello and got some money from the ATM and insect repellent.
We had dinner at a nearby hotel – all the guests seemed to be English. Dinner was OK, nothing spectacular. However, they did have a Vernaccia di San Gimigniano, which is very hard to find in the US and a delightful, dry white wine.
15 September 2013
We had thought of going to Napoli today, but it is too large, too confusing to do so from Sant'Agnello – another time. Instead we drove to an 'outlet mall' north of Napoli. It was huge – and crowded. Apparently the new Sunday pastime for Italians is shopping. The stores were very high end for the most part – Prada, Church's, Valentino. I saw a pair of shoes that were just what I want – very classic loafers – but the outlet mall price was close to $300. Geez. We couldn't find one men's purse to replace Tom's aging bag.
We drove across the autostrada to a large shopping center that had a Carrefours and bought a few supplies.
On the way back to Sant'Angello we were both a little tired and missed our turn – we didn't realize it until we were all the way to Salerno – about 30 miles south of our turn. So, we had some unplanned sightseeing. The towns in this area are gritty and unattractive. I cannot imagine living in one.
Back at Sant'Agnello we decided to try one of two restaurants. One, Il Rifugio, was supposed to be only a few blocks from our lodging, but we couldn't find it. The other was closed because it was Sunday. We ended at one that is named after a very famous Italian actor, Toto. The food was quite good, although way too much. We each ordered a mixed grill, then one plate of risotto limone and one plate of broccoli rape'. We should have only ordered one mixed grill. Live and learn – we are still trying to find the right combination so we don't overeat but don't go hungry.
16 September 2013
Today we went to Capri. We had booked a 'tour' through an agency in Sorrento. We were picked up at our B & B, driven to the marina and then got on the boat. We were told early on that the sea would be rough – that was an understatement! There were eight passengers and one crew on the boat and we were all soaked by the time we got to the island. Because the waves were so big, we couldn't go to the famous Blue Grotto – in fact, we couldn't go to that side of the island at all. We did see the White Grotto and the natural bridge.
We had taken our swimsuits, assuming we'd have a place to change, but none was provided, so we stayed on board while some of the other passengers went for a swim.


The water is an incredible color. You can jut see the boat that had come through the 'window'.
Capri is lovely, but the harbor area is really noisy with motorini and cars. Tom and I walked up the hill toward the summit of the island (but didn't go all the way). The view was stunning. I would like to go back for an overnight and get out to the Bagni di Tiberius and see the Blue Grotto.
The trip back wasn't nearly as wet, but the captain had to frequently turn the boat into the waves to keep from getting swamped.
We took a shower upon return, but the water in the B & B is very unreliable – you really can't count on having a steady stream of water at a consistent temperature.
Dinner was at a family owned restaurant "Donna Rosa" on the Via Marion Crawford. It was the best meal we've had thus far. I had a chicken breast in orange sauce – the chicken was so tender you could cut it with a fork. Tom had a veal cutlet in white wine. We shared an order of stuffed zucchini flowers (much better than the ones I have made- very crusty) and a couple of arancini. The waiter was the son of the owner, Rosa, who did the cooking.