Basilicata and Puglia
24 September 2013
Leaving Sicilia – we really like Sicilia, but the problems there are enormous – the economy, the corruption and added to that, the problems with the clandestini (illegal immigrants) as problems in Africa and the Middle East increase.
The drive to Messina was uneventful and we only took one wrong turn (amazing) getting to the ferry. Upon arriving at the mainland, we had amazing good luck getting to our accommodations for the night – a beautiful olive farm in Calabria. I think this once may have been a feudal farm and the building in which we are staying was part of the housing for the workers. That being said, it has been renovated to a very high standard. We had dinner in the restaurant on the grounds.
We have been struck by the number of wind mill and solar farms in Italy – well, there is a reason – they are a money laundering scheme for the N'Drangheta and Cosa Nostra. Turns out they get handsome subsidies from the EU for building the farms even if the landowners don't want them – they resort to their usual extortion to force the landowners into giving up their property. What a sad tale.
Our lodging was absolutely beautiful – an olive farm with olive oil production. The grounds were immaculate and there was a very large swimming pool (too cold to swim). Our room was nicely appointed. We had a pleasant meal in the hotel restaurant. However….about midnight there was a large party that was in the 'other' restaurant – and it really got swinging. Tom leaped out of bed, went to the balcony and started yelling 'You morons, turn that music down." It didn't do any good, so he got dressed and stormed out of the room, heading to where the 'DJ' had his set up. I didn't witness the scene, but Tom told me that the DJ looked like he thought Tom was going to throw him and his equipment in the pool. Our waiter from dinner came out and tried to mollify Tom, offering him different accommodations, but it was late and Tom declined. The music was turned down.

This barrel was obviously just for display, but we wondered if the ones they use are this large.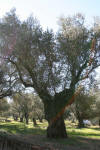 The olive trees are beautiful but we would not want one in our yard. What a mess!
25 September 2013
I guess Tom's scene at the pool was well noted as we weren't charged for the room, only the dinner.
We drove out to Matera, which is in Basilicata. This is one of the most interesting towns we've ever seen – the original inhabitants settled here by building homes in caves. Eventually they added to their homes with exterior structures build over the caves.
We had a very nice B & B in the heart of the 'old town'. Ah, but it would be so much better to be a goat in this town, for it is straight up and down with lots of steps.
We walked around a bit after we checked in, found the Tourist Office and booked a walking tour for the next day, and settled on a restaurant for dinner.
Although getting to and from our B & B took a lot of hill climbing, it was one of the most comfortable lodgings we've had so far on this trip.
We had dinner in the old town – during dinner the music was "Pink Martini" – imagine coming nearly halfway around the world to end up listening to music from Portland.
26 September 2013
We had breakfast on the terrace overlooking Matera – very beautiful. Then we had our walking tour with Luigi. This area has been inhabited for 6,000 years. As recently as 1953 there were people living in the caves, but the Italian government moved them out of the caves and provided them with modern housing. Our tour included a visit to one of the caves, which was furnished with original furnishings donated by the family that once lived there. It was crowded – there were 11 people, plus the mule, chickens and pig.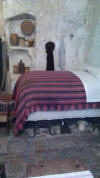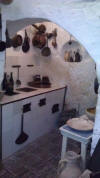 This would have been very tight quarters.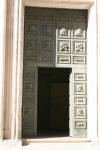 This church with the bones was really interesting.
One of the things that made habitation possible was a series of cisterns that collected rainwater.
There were four churches built into the caves, but in the 1700s they were deconsecrated and turned into wine storage areas. The temperature was perfect for the job.

That's a whole lot of rocks.
Our drive to Cisternino was reasonably uneventful – a few wrong turns. We checked into our trulli – the owner wasn't home, but her mother, who speaks no English, showed us around. Well, we wanted to be able to speak Italian.
We drove to Martina Franca for groceries – turns out that the shops in Cisternino are closed Thursday afternoons. We remembered the store from 2008 when we stayed in Martina Franca. The produce is pathetic, but the salumi, cheese and chicken were quite good. Here in Italy they trim your meat for you, then weigh it, so you don't end up buying the waste product.
The truli is quite nice – a largish living area, nice bedroom, well equipped kitchen and a bath with a shower. There are screens on the windows (just as there were in the B & B where we stayed last night – amazing additions).
27 September 2013
We had a quiet day today, just walking around Cisternino a bit and learning the lay of the land. We found a walking street where there are several shops, including a nice pasticieria and a salumeria, not far from that an enoteca. The 'supermarket' in Cisternino is pathetic. We also found a fruttivendolo and a place that sells fresh pasta.
We tried to find the spa at Torre Canne, but we couldn't figure out how to get into the spa facilities – it appeared to be a medical center, not a spa. Oh well!
28 September 2013
Today we drove to Locorotondo – what a beautiful little town – one of the prettiest we've ever seen here in Italy. The centro storico is quiet, clean and filled with flowers from the balconies – there is a contest to determine who has the prettiest flowers in the old center.
We had a great massage in Cisternino.
29 September 2013
We had read about the 'Greek towns' on various websites, so we decided to drive to them – they are in the heel of the 'boot'. Well, it was a severe disappointment. Along the way we saw terrible litter – worse than any we've seen in Puglia.
I think that the 'Greek towns' have died out and are becoming plain old ordinary 'Italian towns.'
30 September 2013
Shopping day – what a chore! I can see why Italy's economy is such a mess. It takes hours to do the shopping and you have to fit it into the shops' schedules – open around 8:30, close at 1:30, open again at 5:00 and close at 7:00. What a waste of time. So, we hit the salumeria, the fruttivendolo, the macelleria, the enoteca. We also went to the pathetic excuse for a supermarket – crowded and insufficient. Makes you long for a Carrefour.
After putting the supplies away in our trulli, we went to the World Heritage Site, Alberobello. No one know the story behind the trulli, although there is some thought that one of the local lords was behind it – they are easily built and easily dismantled. If the tax man was expected, the people dismantled them – voila' lower taxes. Trust an Italian to figure out a way around paying taxes. The trulli are charming and there are 1400 of them in Alberobello.
We had an email from the tour guide with whom we were booking a tour, so we met him, his wife and a friend in the pedestrian area of Cisternino for light refreshments. We've booked a tour for tomorrow.
1 October 2013
Tour day – and a long one – we were picked up at our trulli at 9:30 By Giovani Fasano, the guide, and David Buffalino, the driver. We drove to Lecce, where we had a break, then onto Masseria (large estate) L'Astore where wine and olive oil is produced. We toured the underground olive press area (imagine living underground for 6 months of the year – with olives pits, donkeys and unwashed men). After we enjoyed light refreshments, including a wonderful sun-dried tomato concoction – cherry tomatoes, capers, olive oil.
From there to the town of Gallipoli, which is not the 'soft underbelly of Europe' of WWI fame. Rather it is a charming town on the instep of Italy. A beautiful beach, nice centro storico and a very nice lunch at a restaurant that specializes in seafood (makes sense). We had four or five different antipasti (all seafood based) and then a nice pasta dish (spaghetti with fresh tomato and pesto and a little bit of fish).
From there to Lecce, which is such a beautiful city – we walked around for a couple of hours. It has a fabulous cathedral, beautiful buildings in the centro storico, and is very lively, being a university town. We loved it.
Tom at long last found the bag he has been looking for since we got here, so, even though it was rather expensive, he splurged.
In actuality, we are doing very well on our budget for a couple of reasons – we over-budgeted and food is cheaper here than we expected.
2 October 2013
We drove to a town, Grottoglie, which is the center of ceramic production. Well, we couldn't find the museum, couldn't find the centro storico and the town is ugly! So we left, drove to Ostuni.

In Ostuni
In search of lunch, we drove around and found a parking spot then walked to a little restaurant and were very surprised to run into David, our driver from yesterday. After we had lunch, David walked with us to the centro storico. Tom and I walked up the hill to the cathedral (beautiful) and through some of the old area of town. Ostuni is quite lovely. The patron saint (can't remember his name) is credited with saving Ostuni and Lecce from the plague. Turns out that he ordered Ostuni to be painted with a lime based paint (hence the name "white city") and that had the effect of killing off the pests.
3 October 2013
We booked a 'rickshaw' tour in Bari. We had no idea what to expect, except that we knew that Bari had been a very important site in WWII – in fact, an attack by the Germans is referred to as 'Little Pearl Harbor".

Our stupid GPS had us going on tiny little roads that eventually led to dead ends, so we were late making our appointment, but once we got there, we found the city to be enchanting. The old town is beautiful and lively – the homes are three stories, with the kitchen on the ground floor and the sleeping quarters on the other floors – there is no 'living room' so people tend to live in the streets. They actually take their little braziers into the streets to cook some of their meals. The streets in the centro storico are narrow and meet at odd angles. The folks who live there have front doors, but during the day they don't close them when they are home – they may only have a curtain over the door.
The women make orecchiette (pasta shaped like ears, hence the name 'little ears') and put them on racks to dry outside their homes.

One of the most interesting sites in Bari is the Basilica. It is the resting place for the bones of St. Nicolas. The ground floor is a Catholic church. The crypt is an Orthodox church. While we were there, there was an Orthodox Mass in the crypt. St. Nicholas is a very important church for the Russian Orthodox and Bari is a pilgrimage site for them.

People attending te Orthodox Mass
We had the best gelato ever at a place called the Antica Gelateria Gentile (Gentile is the family name of the owners). It had a thicker consistency than a milk shake, but thinner than a gelato. It was so good that after lunch we went back for seconds. Tom says that when we go back to Bari he wants to stay within walking distance of the Gelateria.

Near the gelateria
Lunch was….confusing. We went into an Osteria. The owner directed us to a table, recited the menu and then we had to try to remember what he had said and place our order. The lunch had four plates of anit-pasti – prosciutto, cheese, olives, tomatoes, cucumber, potatoes (cold, with olive oil). Then the primo piatto – pasta with fresh tomato sauce. Tom gave up at that point. I had a bit of fresh seafood – gamberi and calamari – it was beautifully cooked. Then a piece of melon. Optional was a sweet, wine and coffee. There was no way we could eat all of that. Especially since we had to go back to the gelateria!
Bari is beautiful and interesting – not a gritty port town at all. We want to go back.