Le Marche, Abruzzo and Lazio
4 October 2013
Away from the trulli and on to San Severino Marche where we were to stay with our Italian conversation friends, Claudia and Giovanni and their two children, Martina and Gianluca. The drive from the coast to San Severino Marche was really beautiful – sort of wild and remote. Driving that road in the winter would be rather an adventure.
Our hosts were exceedingly kind and generous to us – almost embarrassingly so. Although we had brought them some gifts, they didn't begin to show our appreciation adequately.
We took a stroll around San Severino Marche – it is a very pretty town.
Claudia prepared a nice dinner – and wouldn't allow us to help at all!
5 October 2013
Our hosts took us to some caves a few miles from their home. They were very beautiful. We took a guided tour, in English. None of us could tell if the guide was a man or a woman. It was a little strange.
We went to an agriturismo for dinner. These places are very common in Italy. The menu is usually a set menu, but the food is good, ample and the prices reasonable.
6 October 2013
We bid our hosts goodbye and then headed toward what we thought was a World Heritage Site, Castel Del Monte. Hah! There are two places with that name in Italy and our stupid GPS took us to the wrong one! The drive was positively scary. The roads kept getting more and more narrow, we were climbing into the mountains and the fog was closing in on us. Eventually we made our way through a very desolate part of the mountains – no signs of habitation anywhere, then came to the small town of Castel Del Monte, which was just a few streets and shops, a church, but not the World Heritage Site we had planned to visit. Whoops. Oh well.

The WRONG Castel Del Monte
We drove on to our lodging for the evening, which was an agriturismo in Sulmona, in Abruzzo. The owner looked like a devotee of Vladimir Lenin. Our room was OK, nothing special. Dinner was a little strange – everyone who was staying at the farm ate in the dining room and you had to pay extra for chicken – the fare was vegetarian. Generally the situation in South Africa, after Mandela, has deteriorated to the point that whites are not safe.
7 October 2013
Vladimir Lenin told us about a town that was on our route to our next destination, Arpino, which is where Cicero was born. It is another lovely hill town, with narrow streets and difficult parking.
From there were drove to Sermoneta. We had reservations at a B and B which was at the foot of the hill where the old town was located. The lodging was very nice – the innkeepers didn't speak any English, but we were able to cope. We drove up to the old town and walked around for a while – so beautiful.

Sermoneta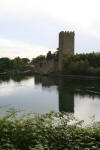 A nature preserve we passed
We had dinner at a restaurant near our B and B (but not within walking distance). Because we wanted to have wine with our dinner, we arranged for the innkeeper to take us to the restaurant and pick us up, laws against drunk driving in Italy being very strict.
8 October 2013
We weren't all that far from Rome, where we were catching a flight back to England. However, we needed to fill the car with fuel and had a terrible time finding a filling station and getting back onto the Autostrada – I'll bet we wasted a half hour going up and down the freeway trying to get filed up and back to the airport. It is the Italian way.
The flight was to Gatwick and the first thing I thought when we disembarked was 'this country works'. Italy is beautiful and we love the people, the language and the culture, but it is so dysfunctional!
We took the tube to Wimbledon and then walked a few blocks to our B and B, which was lovely and very comfortable. My cousin Nicholas picked us up and took us to his house, where we had a gathering of Nicholas and wife Patricia and their son Anthony and daughter Alexandra (and her two children), cousin Robert and his daughter, Sally Ann and son Phillip, and Phillip's girlfriend.
9 October 2013
Nicholas picked us up at the B and B and we went for a nice walk in a very large park that was once a royal hunting estate. Afterwards, we had a cup of coffee at a tennis club, then Nicholas took us to the underground station so we could take the tube to Heathrow. The usual 3:00 pm flight back to Seattle. The usual 9 ½ hours in a metal cigar shaped tube. I wish someone would invent a transformer like in Star Trek.