Journal Pages
Click a pic

Getting There
September 24
Tom and Mel's 2014 glorious adventure started with a delayed flight. British Airways flies a 777 back-and-forth between London Heathrow and Seattle every day. The plane sits on the ground for about three hours before starting its return journey. Our plane was delayed leaving London because of runway maintenance. As a result, our flight was delayed by about two hours.
September 25
The flight was, what can you say about a flight, nine hours in a cigar tube. We arrived in London and were contacted by Marilyn's cousin Nicholas, who picked us up at the airport and took us to our hotel where we would have an overnight stay. We were able to spend a few hours with Nicholas over a cup of coffee and chitchat which was pleasant. The hotel was fine and the next morning we took the bus back to the airport and caught our flight to Marseille.
September 26
A representative of Renault Eurodrive was waiting in the airport and greeted us and took us to the place where we were able to pick up our rental car. Our Renault Megane was an incredibly well-equipped car. This is, I believe, the fourth time that we have rented from Renault. You get to choose the model of car and the drivetrain combination, the colors and options are whatever is there. The car has a four cylinder diesel engine and a six speed manual transmission and is surprisingly peppy. It also gets incredible mileage. It has a built-in navigation system, automatic windows, mirrors that tilt in and out automatically when you start and stop the car, and uses a contactless key card.

Our Renault and one of the French ferries
We went to a supermarket to do some shopping before boarding the ferry to Sardinia. We also stopped to get fuel. Unfortunately, because the French don't use the word diesel, I made a mistake and put gasoline in the diesel car's tank. We were able to board the ferry, but would later have to send the car to the garage to be repaired. Our cabin on the ferry had twin beds and a compact bathroom with shower. It was adequately comfortable. We went to dinner in the ferry's restaurant. It was nothing to write home about and their credit card readers would not work. We had to pay cash. Of course, even though the ferry was going to an Italian island, none of the crew would speak either Italian or English (being French, what can you say?). We had a rude awakening the next morning when we heard announcements, but couldn't understand what was being said. We were in a port at 7:00 am, even though we weren't supposed to get to Sardinia until noon. Where in the world were we? We were still in bed, so jump up, got dressed, ran around looking for someone who would tell us where we were and if we were supposed to debark. Eventually we learned we were in Corsica (Corfu in French) and would resume our journey to Sardinia in an hour. We went to the restaurant for breakfast, which was one of the worst meals we've ever had anywhere. So much for great French cusine.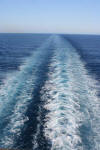 The wake from our ferry