Sicily
October 4
We arrived in Palermo at 7:00 on Saturday morning and headed for our digs in Pozzallo on the south coast. Our hostess met us and led us to the house just outside of town. The house was built about 150 years ago and is large. There are three bedrooms, two bathrooms, a living room, a kitchen and a dining room. There is a garage and a patio in back. It is very quiet so we sleep very well. We did some grocery shopping and settled in for the night.
October 5
The forecast for Sunday called for a good chance of afternoon thunderstorms but the morning was sunny and warm so we decided to catch up on our laundry. The washer is an odd affair that has a drum like a front loader but loads through the top. They are very slow, but we were able to get everything washed and hung out to dry. And dry they did. There was a town we wanted to visit so off we went. The sky got darker and darker and finally opened up. It poured so hard the wipers could not keep up. The roads were like rivers, even though they ran fairly steeply uphill. The lightning and thunder were spectacular with one incredible bolt that seemed to strike not far ahead of our car. We gave it up as a bad deal and headed back to Pozzallo, where we found an osteria that was open for Sunday lunch. While the storm raged we had a pleasant meal, including splitting a cannolo, the justly famous Sicilian pastry filed with sweetened ricotta and pistachios. The storm continued well into the evening before abating. The last hurrah was a lightning strike that was not far behind the house, and it was a humdinger.
October 6
We did one more load of laundry Monday and set off for places we were not able to see the prior day. We went first to Ragusa and saw its gorgeous cathedral and then continued on to Scicli. This is the town where the Italian film series Inspector Montalbano is filmed and it is yet another beautiful Sicilian town. We stopped for a light lunch before working our way back home. Many of the streets in the towns are VERY narrow and I found myself being thankful that I wasn't driving them in my Mustang.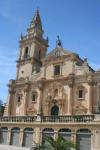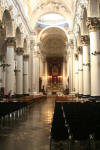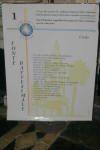 Ragusa Cathedral exterior, nave and the Apostle's Creed in Italian


Scicli Chiesa Madre and a plaque on the town hall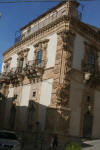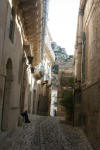 A lovely building and Via Penna - it's tough to shoot straight standing on slanted cobblestones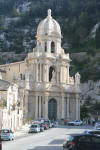 The Church of San Bartolomeo and a cliff dwelling hillside
Scicli, Modica, Ragusa and several other towns in this area were destroyed by an earthquake in 1693 . When they were rebuilt over the next 100 years they were done in a style called Sicilian Baroque. They are almost all built from a honey colored sandstone and, being in the Baroque style, are very ornate.
October 7
Tuesday we went to Siracusa, stopping on the way at the beautiful Baroque town of Noto. We had been in Noto in 2005, but the town was covered in scaffolding then. The scaffolding has now been removed and the town is absolutely beautiful, at least the old center of town. We walked around the old town for a bit, had a cup of coffee, went into the beautiful Cathedral, then headed to Siracusa.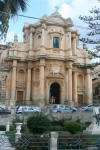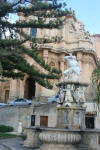 Noto info sign, the Chiesa San Domenico and a fountain in front of the church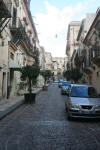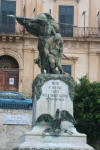 A lovely street, a war memorial and a bride out for a photo shoot



The Palazzo di Ducezio, the Cathedral and a door panel on the Cathedral


A streetside cafe and parking (fold your mirrors)

Ruins in Siracusa
The most interesting part of Siracusa is the old city, which is located on the island of Ortygia. When we were there in 2005 we found parking to be almost impossible. Either we did not spot the large parking lot back then or it is an addition in recent years. So thankfully, we were able to park the car and walk to the center of the old town. On the way we passed through an open air market, where there was an abundance of fresh fish, pastries, fruits and vegetables for sale. We stopped and had lunch at an open café. Then we walked around hoping to find the tourist information office which the map said was just a few hundred meters from our lunch spot, however we never could find it. So then we decided to take the free bus out to Castello Maniace. We waited for some time but the bus never arrived. It was getting hot and we were getting tired so we gave up. Then we decided to go to the archaeological park, but the admission price was rather dear and we only had an hour before it closed. I think if we go back to this area we are going to have to plan things a little more carefully. There is so much to see and do.