Journal Pages
Click a pic

San Severino Marche
October 18
Saturday we drove to San Severino Marche where we had one night with our friends Giovanni, Claudia and their two children, Martina and Gianluca. The drive was very pleasant once we got past Perugia. Perugia is very famous for its language school, but the traffic is terrible. San Severino Marche is further east, in the hills in Le Marche and is an attractive town.
Claudia had prepared a nice lunch which we all enjoyed – pasta, pork tenderloins wrapped in bacon and sage, roasted potatoes and fruit. After lunch, we drove to Pioraco, a town about 20 km from San Severino. Pioraco has a paper mill (based on its size, I'm guessing they make fine papers, not kraft paper), which was built next to the river. There is a lovely path that takes you close to the river's edge, then meanders alongside for a while. It is very pleasant.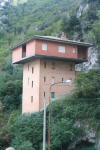 These shots are from the walk in Pioraco
We returned to the home of our friends, and had a nice chat, then it was time for dinner. As it turned out, we had arrived on the 17th wedding anniversary of Giovanni and Claudia. The special way to celebrate was to go to an agriturismo which wasn't too far from their home, but would be impossible to find again! It was called Agriturismo la Collina dei Ciliegi de Leonida Appignanesi – now that is quite a name! Being a Saturday night, the place was packed – long tables with families and friends seated around. We couldn't get over the amount of food that was coming out of the kitchen. The wait staff had to really hustle. There aren't any menus – this is what is being served. The antipasti were cheeses, prosciutto, bruschetta – and probably a few other things. There were two primi piatti – a ravioli dish and a fettucine type dish. The secondo piatto was a huge platter of grilled meat – all jumbled together, with contorni of fried zucchini flowers (yum) and chicory (greens) which are abundant this time of year (and are very good). The meal took 2 ½ hours from the time we ordered until we finished, and we didn't have dolce. When the children got bored, they would get up and run around, which was fine, no one was pretending this was a white tablecloth, fine dining establishment. Most tourists never venture into agriturismi – they are too far off the beaten path, but the food can be amazing and it is a very authentic Italian experience.