Botswana - Chitabe Trails
Tuesday, March 27 through Thursday, March 29 - Zambia to Chitabe Trails in Botswana
We had received a note that our driver would be picking us up at 11:00 am, so we had plenty of time to get ready. His name was Solomon and he was right on time - and not the least bit shy about talking about conditions in Zambia and the fears they had with Zimbabwe next door. I have been surprised that every one of the people we've spoken to about Zimbabwe acknowledge that the confiscation of the farms from the whites in that country was a huge mistake. That country used to be called the Bread Basket of Africa, yet now the people are starving. The cronies of Mugabe who were given the farms don't know how to farm and they are ruined now.
Our drive to the Zambia-Botswana border was about 45 minutes. We expected a normal border crossing - foolish people! Solomon pulled up at the crossing, which was actually the Zambezi River. There were many trucks on the bank of the river waiting to clear customs, and apparently a group of motorcycle riding tourists who were coming into Zambia - there was too much traffic for him to get to the river's edge, so he left me in the van while he and Tom walked to the immigration office and got our passports stamped for exit. Then he helped us carry our luggage to the river bank, where there was a 16' aluminum boat waiting for us (at least it had a motor so we didn't get rowed across to Botswana!). Our boatman explained that there are four countries that meet at this point (Zambia, Botswana, Zimbabwe and Namibia) but that there is only a crossing into Botswana. As he approached the river bank on the opposite side, he revved the motor so the boat went onto the bank and we clambered out. There we were met by another van and driver, who loaded our luggage and took us to Botswana Immigration. A quick stamp of the passports and a step on the disinfectant mats and we were off to Kasane Airport, about 45 minutes further on.
Once at the airport, we were met by Alexi, our dashing pilot - a tall, blond Greek (not what you normally expect a Greek to look like). He explained that our flight was 45 minutes and we would land at Chitabe Trails on the Moremi Game Reserve, although first we needed to stop at another reserve and pick up two other passengers. It was a great flight in a little Cessna 206 (a six seater). We landed at the reserve on a gravel and dirt runway. A Land Rover and driver were there to greet us. He drove us over the trails to our camp, dropping off the other passengers at the nearby Chitabe Camp.
Chitabe Trails is a lot smaller than Zulu Nyala - only five tents, with a central lodge area in the middle. The tents are thatch roofed and have hot and cold running water, romantic mosquito nets and both indoor and outdoor showers. They are connected by raised wooden walkways. We were told that we should not leave the tent at nights because the animals roam free - if we have an emergency, they have provided an air horn for us and we must turn on the lights so the staff will know which tent.
The routine at the Wilderness Safari camps (by the end of the trip we will have stayed in three separate camps run by this company) is generally the same. You are wakened between 4:30 and 5:30 depending on the camp. You dress and pack up your gear for the day, then walk to the lodge (by then it is light enough that there isn't a problem with the animals).
There is a light breakfast - muffins, coffee, fruit and cereal. Then you load into the vehicle for a game viewing drive. You never know what you are going to see - sometimes the viewing is very rich, other times a little sparse. The rangers are well informed - they are able to identify plants, birds and animals with equal ease and seemingly can answer any question. Partway through the drive, you stop for a bit of coffee and maybe a bit to eat, then return to the camp around 11:00.
You have a few minutes, then brunch is served. Sometimes it is a cold meal, other times a mix of hot and cold dishes. After that, you have free time until 4:00 when you return to the lodge for a light tea, then into the trucks for a couple of hours, including 'sundowners' on the reserve. Upon return to the lodge, you have dinner, then are escorted back to your tent (except at Sossusvlei, where there aren't as many dangerous animals).





We'll need to buy a book to ID all these birds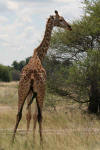 Several giraffes, and one that must have recently given birth - note the blood stains

Not even a mother could love a Warthog's face




A family portrait, a lone male, and the M on the rump

This is a Large Spotted Genet - the spots are large, not the animal


We saw a Mongoose and a snake - not together

A Steenbok - somewhat smaller than an Impala


Sometimes you saw evidence of critters, and sometimes critters (a millipede)
Rather than try and go into detail about each drive, I'll record only a couple of incidents. Our ranger was Newman, a native of Botswana and a very experienced guide - he had an uncanny knack of figuring out where things would be. The first two days we were at Chitabe Trails, we rode with Lisa and Peter, whom we had met at Zulu Nyala. On one drive, Newman got word that there was a leopard which had been sighted on the reserve. He drove to the place and there were a couple of trucks already there. She was sleeping soundly, having just finished her dinner of ververt monkey head (she didn't eat the body!) She was oblivious to us - despite engines starting and trucks moving around, she didn't stir, only flicking her tail occasionally so we knew she wasn't dead.



The unfortunate Ververt and herself - very large front paws
Newman also heard about a male leopard being sighted. In this case, he was up and roaming around when we saw him - but he ignored us completely.
Finally, we had another elephant encounter - it was very frightening. Three females were guarding a couple of little calves. They were very agitated with us and made mock charges at our vehicle. Poor Lisa - being blind, she couldn't tell what was going on - and we had been told to keep quiet when any animal appeared to be agitated, so we couldn't describe to her what was happening. With her acute hearing, though, she was able to tell that they were very close and they were not happy. At one point, one of the adult females, charged across the path in front of us - she actually did some fancy footwork, sidestepping her front feet to she could face us while she was moving from our left to right, raising her trunk and bellowing.
Lisa and Peter moved to Vumbura Plains on Thursday (our next stop). Thursday evening Newman went to great efforts and located the male lions known at Chitabe Trails - they were sleeping but roused themselves long enough to give us a powerful demonstration of their communication methods - we had no idea that they were able to bellow so loudly and that it carried so far.


And then a yawn - some choppers
The next morning we found the two males again. There was a giraffe very near, but he was being very careful.


He has some scars, and large and powerful front legs and paws