South Africa - Zulu Nyala Tented Camp
Saturday, March 17 - On to the Tented Camp at Zulu Nyala
Up early for a cab ride to the Cape Town airport, then a flight to Johannesburg (2 hours) followed by a long drive to Zulu Nyala, on the eastern side of South Africa, not far from the Indian Ocean.
It was a long drive - about 6 1/2 hours - had we been able to get to Zulu Nyala another way, we would have, but the schedule just didn't seem to work out for us. It was interesting, though - we passed many towns and villages with lots of Africans walking about, shopping or just hanging around talking to their companions. Several of the towns had little settlements with the same kinds of make-shift houses we saw in Cape Town. Many women carry their babies on their backs, using a scarf to tie the infant to them. Many women also are able to carry loads balanced on their heads.
For lunch we stopped at a little town called Bethal - the streets were filled with people shopping. We found a Wimpies where we felt we could at least get something to eat that we would recognize. The usual self-appointed car park guardian came up to us to watch our car in exchange for a tip. We've learned that tipping is a way of life in South Africa - it seems that everyone has his or her hand out. I suppose a small tip doesn't hurt us financially and may be helpful to them, but I'm getting a little weary of it.
Back on the road - past what appears to be rich farmland, although the corn crops are dried up and left without being harvested. We've heard that there is a terrible drought in South Africa. Perhaps the farmers couldn't afford to water the crops and had to abandon them. Several of the farms had rather large herds of cattle. There were a lot of power stations along the way - nuclear? I couldn't tell.
We had fairly good directions to Zulu Nyala, but we had forgotten which place we were staying in first - the tented camp or the game lodge, so we went to the game lodge - up a long, rutted and rocky road - only to find out that we were staying in the tented camps, much closer to the main road. We drove back down, but along the way managed to get a flat tire which was a slow leak - it didn't get really flat until the next day, but it was bad enough that the garage on the reserve was not able to repair it. During the six days we were at the reserve, we saw many flats- the roads are primitive at best. I'd like to have the tire sales commission, I think it must be a handsome income!
The tented camps are permanent structures with plumbing and electricity. They have pole frames which are small logs and concrete floors. The only problem is that in the wind the canvas flaps terribly. More on that later.
We had dinner in the boma, a reconstruction of a typical Zulu meeting house - it was very large, which was necessary because there were a couple of bus loads of French and German tourists. Dinner was buffet style. The French are incapable of queuing, so getting dinner was a challenge - you had to shoulder your way in just like they do. While I generally like the French in France, they are terrible when outside their own country - rude, demanding, loud and many smoke the most foul smelling cigarettes ever created.
Buffet dinners generally can be rather bland because they are mass produced and we found the meals at the Heritage Tented Camps generally to be that way. While some of the dishes were good, it sort of reminded me of the Elks' Club in Tacoma - large servings of food indifferently prepared.
Tom and I went to bed early, but Margaret and Jay stayed for the Zulu dancers and met a couple from Michigan, Marge and Rod, with whom they became quite friendly over the course of our stay.
Ah, bed - it had been a long drive and Tom and I hadn't slept that well in Cape Town. However, a huge windstorm started in the night - howling through the trees, with big gusts that caused the tent canvas to flap with a sound like a nearby thunder clap. Branches and debris dropped on the tent roof. Restful? Not at all!
Sunday & Monday, March 18 & 19 - The tented camp at Zulu Nyala
We met our ranger, Johnnie, at 6 am for our first drive. The wind was still howling, but on the reserve it wasn't as bad as at the tented camp. Johnnie has been a ranger at Zulu Nyala for about three years. He took us in his trusty Land Rover over what appeared to be impassable trails, but he has enough experience that we didn't get stuck anywhere. The highlight was the white rhinoceros, a misnomer - in Afrikaans the name would be wide lip rhinoceros, because their lips are wider than that of the black rhinos. White rhinos are grazers and, as such, usually have a head-down appearance. Black rhinos are browsers and have a head-up appearance.
For the sake of brevity, I am not going to describe each drive - over the course of our stay, we often went on two drives a day, one in the morning, one in the evening. Each drive was different, even though we saw the same animals many times. Since a picture is worth a thousand words, I'll let the photos serve as the descriptions, with a couple of exceptions.
After we got back from the drive, cleaned up and had breakfast, we noticed that the French and Germans had cleared out and we had the entire camp between the three American couples. Therefore, the staff was particularly attentive to us.
We got connected to our e-mail and I learned that my mother had died on Friday, March 16 at 10:10 pm. God rest her soul, she had a long life, but she had been so changed the last few years that it was hard to see in her the person before me the mother whom I knew.
Both Sunday and Monday we had morning and afternoon drives, with the late morning and early afternoon free. I have inserted the photos from the Sunday drives first, and have labeled everything even though many are obvious.


Golden Orb spider - Johnnie used the grass reed tweezers to capture it for us
Then those from the Monday drives.

Johnnie, Margaret, Jay, Marge, Rod, Mel and Tom




Impala - females, a young male, and an adult male



Nyala - females, an adult male, and a rare adult male colored like the females
The wind died down Sunday afternoon and the temperature started to climb - it was back into the 90s by Monday.
Johnnie took us to see the two small lodges previously used for trophy hunting expedition guests (no longer allowed on the reserve). Tom and I thought that little Nyati, which has six bedrooms was absolutely charming and so private (and no busloads of French or German tourists!) so we decided, along with Jay and Margaret and Marge and Rod that this would be preferable for our last three nights to the big game lodge. We checked with reservations and Nyata was available. This turned out to be an excellent decision.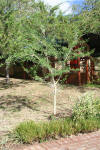 A thorn tree with our tent in the background

Johnnie's Land Rover - one rugged vehicle
Monday evening we had dinner at the tented camps, in the lodge - as it turned out, there were a few dozen French tourists with a most obnoxious tour guide who was extremely demanding of the staff (down right rude). We were really glad that we had made the decision to move to Nyati.