South Africa - Franschhoek
Tuesday, March 13 - Knysna to Franschhoek
After a light breakfast, we loaded up the car and headed toward Franschhoek, which is very close to Cape Town geographically and miles apart in feeling. We retraced our route from Cape Town a large part of the way, but stopped in a little village called Albertina for lunch - it wasn't much! The food was passable, which is about the best that can be said. After lunch, we continued on our way until we headed north, over some small mountains, into wine country.
While Albertina was Afrikaner country, Franschhoek and the surrounding countryside are Huguenot (French protestants who left France in the late 1600s to escape religious persecution). The Huguenots established vineyards and produced wines for the Dutch (and themselves, I'm sure) and the resulting products are wonderful. We have not been able to find good South African wine in the US, so we had become a bit skeptical about the products, but two days in this part of South Africa have convinced us that these are wonderful wines.
The valley in which Franschhoek lies is quite spectacular - it really is a bowl, surrounded by small mountains. It was quite warm while we were there, but not oppressively so.
We checked into our little B & B, La Cabriere, which is amidst vineyards, with views of the mountains around. The rooms were very comfortable, although the little swimming pool looked very cold. The gardens were very pretty and well kept.
Our hostess, Claire, had recommended a couple of restaurants to us and made reservations at Reuben's, which is the up and coming place in Franschhoek. Actually, this little town is the up and coming place in South Africa (with property prices skyrocketing). Many well-heeled Europeans are coming here to enjoy the lovely climate and surroundings, to escape the dreary European winters and enjoy the great wine and food. As a result, there are many excellent restaurants in this small town.
Our meal was excellent. Tom, Margaret and I had a fish called kingclip, which was a nice white fish, although the flesh was a bit soft for Tom's taste. Jay had a guinea hen wrapped in prosciutto. For dessert, Margaret had a beautiful mango creme. Our wine was a Sauvignon Blanc from a local vineyard, Graham Beck. It was every bit as good as the wonderful Sauvignon Blanc from Marlborough, New Zealand (our favorite white).
Wednesday, March 14 - Franschhoek
We had breakfast by the pool, then walked into the town center of Franschhoek - we wanted to look at some of the shops and visit the Tourist Information office. Along the way we stopped at the Huguenot Memorial, which had nice gardens. This is a bustling little town with a lot of construction and, fortunately, you don't see the terrible poverty that is so prevalent in some of the other parts of South Africa we've seen thus far. Some of the vineyard owners have constructed sturdy, albeit small, dwellings for their workers. They probably even have electricity and running water!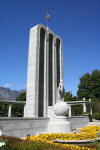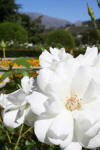 The Huguenot Memorial and grounds
We stopped for a drink at Reuben's and the hostess recommended the Mount Rochelle vineyard for lovely views and a nice lunch, so after a stop at the supermarket and Tourist Information office, we took the short drive up the hill to this beautiful property. The grounds were well maintained, with spacious paddocks for horses and tidy vineyards. The main building where the wine tasting room was located looked like a small French country estate. From the grounds we could see Franschhoek below. We tasted a few of the wines, but found them not to our liking, but had a light lunch under an awning, protected from the hot sun. It was thoroughly wonderful.


The surrounding hills from Mount Rochelle
Since we had enjoyed the Graham Beck wine so much the night before, we headed to that vineyard next. It couldn't have been more different. Instead of gracious, 18th century style buildings, this property was very modern - lots of stone, glass and chrome. The grounds were beautiful with interesting art work scattered here and there. We tasted a few of their wines, but none were as good as the Sauvignon Blanc of the night before.


The cheetah statues outside the winery
We drove back to the B & B, cleaned up and relaxed a bit, then headed to dinner at the Grande Provence, another vineyard. It was very elegant and the food and service were good. Jay had a concoction of ostrich, lentils and potatoes that was very elaborate, but he said the meat was rather flavorless. Tom and I each had an entrecot (fillet of beef) with beautiful vegetables - it didn't have a heavy sauce which is so common in French cooking - rather, the sauce was no more than a broth, so the flavor of the vegetables came through wonderfully. For dessert we each had a panna cotta (cooked cream, an Italian specialty) with raspberry sauce. Oh my gosh, was it ever good!
Back at the B & B we packed up as our next stop was Cape Town.