Our Favorite Images of Africa
During our month in southern Africa we took some 1,250 digital images. Of those, 501 are included in the pages of this journal. We selected the images on this page as our favorite images of Africa.

While in Knysna we visited an elephant sanctuary where we saw this mother and two month old baby. We never knew that elephants cross their hind legs, but we saw an older one do so. It doesn't get much cuter than this.

We also visited Birds of Eden. I believe it is the largest aviary in the world and you walk along raised walkways, sometimes within a few feet of some spectacular birds. This one with the great eye makeup is a Knysna Lourie.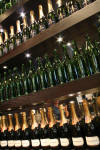 Our next stop was Franschhoek in the wine country northeast of Cape Town. We took this shot at the Graham Beck winery. It is very modern and makes some wonderful wines.

From Franschhoek it was back to Cape Town and a visit to the penguin beach to the south. These two had just come out of the water and the guy on the left looks like a real happy camper.

We flew from Cape Town to Johannesburg and drove to Zulu Nyala - a safari camp in KwaZulu-Natal. There we saw these two giraffes 'necking' or something.

This adult male impala is one of the most beautiful animals we saw. The locals refer to them as McDonalds because there is one around every corner and they have markings on their rumps that look like the letter M.

We went out on game drives in open Land Rovers and saw a lot of animals, including this mother zebra and nursing foal. We learned that even if you could tame a zebra it would be useless because its back is too weak to be ridden or used as a pack animal. Still, they are striking animals.

On one evening stop for sundowners (drinks and snacks out of the vehicle) we captured this image of a snag at dusk. The sundown that followed was spectacular.

We went back to Johannesburg and visited Soweto - an abbreviation for South Western Township. Soweto was the site of uprisings (over the requirement to have school taught in Afrikaans) that eventually led to the end of apartheid. The muffler man caught our eyes.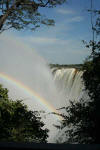 From Johannesburg we flew to Livingstone, Zambia and were transported to the Royal Livingstone Hotel on the banks of the Zambezi river and just up from Victoria Falls. We were treated to a number of rainbows on a morning walk to see the falls. We also got soaked and fried one our lenses.

This, believe it or not, is the site of the border crossing from Zambia to Botswana. It looks like a cross between an uneven dirt parking lot, a wrecking yard, and a flea market. We were driven here from the hotel, handed over to a fellow in a 16' aluminum outboard motor boat that was beached at the left of this shot, taken across the river and beached on the Botswana side, and handed over to another driver. It was a hoot!

We were flown to Chitabe Trails in a six-seater Cessna. On one of our game drives we came nose to trunk with this elephant. It is rather unnerving being that close to something that large.

We had hoped to see a leopard and our guide finally found this female. She had caught a Ververt monkey the night before and was snoozing near the remains, oblivious to everything except the insects buzzing around her head.

Later we saw this male that was on a mission and strolled right past our vehicles. He was much larger and darker than the female we had seen earlier. He never even looked our way.

Next up was a pair of male lions we found sleeping along one of the roads. They finally roused themselves and treated us to some very impressive yawns. Then they started a roaring contest and we were stunned by the volume these guys produced.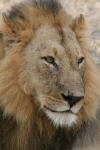 We saw the same two lions the next morning at a different location. They were ignoring a nearby giraffe that was not ignoring them, so we assumed they had dined recently. Is that the king, or what?

Our next stop was Vumbura Plains, also in Botswana. Just across the pond from the camp we found a pride of lions. We had been told that animals see our Land Rover as one large object and don't distinguish individual people inside. B...s...! Sure looks like this guy is making eye contact with me!

The birds in Africa are incredible. This is a Lilac-Breasted Roller. I would never have thought to put together such a color scheme, but then I'm a fairly conservative dresser.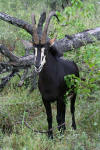 We had not previously seen Sable antelopes and found that the younger ones are much lighter in color. This fellow looks like a reasonably young mature adult male, but he also looks like he is smiling for the camera.

We don't recall the name of this stork-like bird, but he is very impressive. His long beak is brightly colored and his wings, when open like this, are gorgeous.

This male kudu is an adult, but not that old. His horns will eventually make three complete twists. If he doesn't survive, one of them may end up in a safari camp and be used to wake up the guests at 5:50 AM. Kudu horns are REALLY loud!

The sunsets were spectacular. We often got to see them while sipping sundowner drinks out of the vehicle. This one was in Botswana and was a real treat.

This sunset was in Namibia. We had traveled by charter and commercial flight to Windhoek, and then by another charter to a desert camp at Sossusvlei. It was very stark, but the sunsets were still great.

The highlight of this area is the sand dunes that are hundreds of feet tall. In the early morning they are lit on one side and in shadow on the other. The contrast is quite spectacular.

It's a long drive to get to the dunes and a long walk to climb the peak line. The sand is very soft and climbing is hard work, even if you get started before it gets too hot.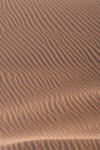 The wind and animal tracks make some very interesting patterns in the soft sand of the dunes. Even little beetles and geckos can make some distinct patterns.

We went down the shadow side of the dune into Dead Vlei. By the time we reached the vlei we had a cup of sand in each shoe. The dead trees in the vlei and the very light color of the floor provide a stark contrast with the red sand of the dunes.

We had seen weaver bird nests in other areas, but they were individual nests hanging from tree branches. In the Namibian desert there are communal weavers that build these huge structures in trees. They may be half the size of a VW beetle. Each nesting pair has their own entrance to their area of the nest.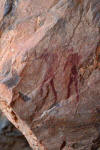 On our last morning at Sossusvlei we were taken to see cave paintings left by San people over 20,000 years ago. The two figures were perhaps 9" tall and were still quite distinct.

Some of the more interesting creatures were the smaller ones, although this spider is large for his type of critter. He spins this very unusual zigzag pattern in his web. We've no idea what the purpose might be.
We hope you have enjoyed these photographic highlights of our journey. The entire trip is described in much more detail with many more photos and is accessible via the menu at the top of the page.