South Africa - Knysna
Saturday, March 10 - Cape Town to Knysna
Our self catering apartment didn't include breakfast, but a nice young man walked us to a funny little establishment about six blocks from Primi Oxford House - it was an Italian bar and deli where they served pastries, sandwiches and salads and had a lot of take away meals. We each had a cappuccino and a roll, which was surprisingly reasonably priced - about $10 for the four of us. Then we headed back to Primi Oxford House and out toward Knysna.
I'm not sure what I expected, but it certainly wasn't what we found - Cape Town is really beautiful (we did expect that) and very bustling, but on the outskirts are some settlements that are far worse than anything I've ever seen before. Shacks, made of plastic and metal with black plastic roofs. The settlements have electricity, but you can tell that people take their power from the poles to the little shacks with wires that resemble extension cords. The settlements are huge, and are on either side of the road leading out of Cape Town to the N2, the main route along the southern most coast of Africa.
Once well clear of Cape Town, we passed several small towns - some looked quite prosperous, others quite poor. There was a lot of road construction, but not in progress as this was Saturday. Occasionally we would catch a glimpse of the Indian Ocean. There were several spectacular views of wide, blue bays with beige beaches which appeared to be very pristine. I think we didn't realize how long the drive would be - it took every bit of six hours.
We stopped for lunch in Swellendam, a tidy colonial town with lovely Cape architecture. We found a little place for lunch, sitting outside, under an awning which became a familiar sight to us - sticks about 2" in diameter, running horizontal about 7' off the ground - they made us look like zebras with the sun shining through them.
Margaret had a lamb and water lily bredie, Tom and Jay had a bobotie and I had a chicken potpie, which wasn't like the frozen Swanson's of old - rather it was more like a Cornish pastey. Everyone tasted the bobotie and bredie and voted the bredie the best. My pie was OK, not great.
Continuing on to Knysna, we passed more small towns, more lovely views of the ocean and a lot of farmland. It is very late summer in South Africa, so the crops have been harvested. The weather is generally warm, but we learned that it is highly changeable. Saturday was in the 90s, Sunday in the 70s.
Knysna is a tourist and holiday destination. It has a couple of golf courses, some nice shops and a beautiful inlet, with hills on either side - atop the hills, like crown jewels are beautiful homes with wonderful views of the inlet and town. Jay's sister, Charlotte, and her husband, Dennis, live in one of the houses near the top of the hill in a community referred to as The Heads. We were very fortunate - we found the road to the Heads, pulled off and called Charlotte - we were only five minutes from her house, so she loaded up her three dogs and came down to fetch us. Good thing - the neighborhood has very small streets, with switchback curves leading to the top.
Charlotte and Dennis moved to Knysna from Los Angeles four years ago - Dennis was raised in South Africa. They have a beautiful home, with a lovely kitchen fit for the professional cooks they are. They bought the home and did extensive renovation and remodeling to make it their own. It is comfortable and has all the modern conveniences.
We had dinner Saturday at Charlotte's and Dennis' home - Charlotte made a lovely salad and Dennis barbequed a couple of chickens. There was also fresh corn on the cob (remember, it is late summer here), lots of very good South African wine and a wonderful dessert of strawberries, blueberries raspberries, meringues and frozen yoghurt.
This is our first full day in South Africa and rather surprisingly, none of us are really suffering from extreme jet lag. I think part of this is because, even though there is a ten hour difference between South Africa and home, the trip over was so long that we were exhausted by the time we got here.
Sunday, March 11 - Knysna
What a beautiful day! The view from Charlotte's and Dennis' home is spectacular. After we had a light breakfast, we headed into the little town of Knysna. There's a nice little waterfront shopping area where we spent some time, then went to Isle du Pain restaurant, owned by friends of Charlotte and Dennis. We had a super lunch - sandwiches on wonderful homemade bread.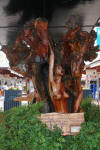 This carving was sculpted from a single tree trunk
Our next destination was an elephant sanctuary - elephants who have been injured or held captive elsewhere have been brought to this sanctuary where they will be safe. The highlight was the little baby, born January 1, 2007 - my goodness, was he ever cute.


Momma and Baby New Year - note the crossed rear legs
Feeding the elephants was fun, but I'm not wild about getting covered in elephant slobber.


The three-year-old is not so large - note the crossed legs again
Back at Charlotte's and Dennis' we rested a bit, then headed into town for dinner at a little (really little) restaurant called Firefly. It had turned cooler, but we ate outside, in an area surrounded by a windscreen, so it was quite comfortable. The food was beautifully presented, especially the starters - here is a picture. The main courses were variations on Thai and curries - wonderfully prepared. For dessert there were a variety of homemade ice creams - Margaret's licorice ice cream was voted best.


The starters and Charlotte, Jay, Margaret Mel and Tom - Dennis took the photo
Monday, March 12 - Knysna
Monday was a bit warmer than Sunday - we drove to Plettenberg Bay where there was a collection of little craft shops with lovely fabrics, pots, jewelry and artwork in a little center called Old Nick's. From there we went to a beautiful polo grounds, Kurland, which also has a small hotel (only 12 rooms), fabulous gardens and a beautiful restaurant with impeccable service. It was pure colonial - one could have imagined being in India. Charlotte writes restaurant reviews for the South African magazine "Wine" so she took lots of notes about the food, the service and the wine list. I had a little focaccia with a variety of toppings. Jay and Charlotte had a curried butternut squash soup which was very tasty - just a swirl of yoghurt to give it a pattern. Tom had a 'hamburger' - but it was pork.
Our next stop was Monkey World - like the elephant sanctuary, people have brought monkeys who cannot live in the wild here - many were previously pets. I lost track of how many species. There were over 400 specimens. There was one alpha male who had to be extremely vigilant else one of the younger males would take his position - poor fellow - he was getting old and was rather nervous from being constantly on guard. We saw a lot of little squirrel monkeys, which are indigenous to Costa Rica - we had seen a small troop of them of our first trip to Costa Rica, but Monkey World had many more - or at least many more were visible.



Capuchin monkeys, the alpha male and his backup


The Gibbon eyes the Capuchins, then chases them


Lemurs, one with short tail and one with long tail

Margaret, Jay, Charlotte and Dennis on the bridge
Next we went to the Bird Sanctuary, Birds of Eden, which was next to Monkey World. The sanctuary was a large (multi-acre) net that you walk into and the birds flew around within the net - an over-size bird cage. As it was getting later in the day, the sun wasn't straight over head, so parts of the sanctuary were a bit dark because of the trees and foliage and at first we didn't see that many specimens. However, as we followed the wood pathway higher into the canopy, we saw hundreds of birds - many of them quite unafraid of us - one tried to tear a hole in the jacket worn by another visitor (not one of our party).

There is a road leading out of Knysna, heading south. A few km. outside of town is another settlement of Natives. It is rather disturbing to drive along this road - the conditions of poverty in the settlement are terrible, and many men just seem to be 'hanging out' by the roadside - occasionally one or two will dash across the busy road so drivers have to be particularly careful. A little further along there are native homes, not as close together as in the settlement. These have some small gardens and there are people who harvest the flowers and make bouquets - they stand beside the road holding them out for people to stop and buy. The thing that is disturbing about this is that the shoulders of the roads are generally used as the slow lanes for the cars - the drivers in South Africa are a bit maniacal, so you can easily envisage that a car would not be able to avoid hitting one of the flower sellers because there is another car in the traffic lane next to him.
We had the opportunity to meet Dennis' boyhood friend, Michael, and his wife Julie, who live just up the road from Charlotte and Dennis - we had cocktails at Michael's and Julie's, then dinner at Charlotte's and Dennis'. It was really nice - good food and the opportunity to meet people who have lived in this country for quite a while.