South Africa - Kruger National Park
Thursday, April 5 - Back to Johannesburg again
Another flight - this time from Windhoek to Johannesburg - about two hours aboard a South African Airways flight. Once again, we were very impressed with the service, cleanliness and crew of SAA.
We were booked into a Hilton at Sandton. We have learned that Johannesburg has many suburbs, some very nice, some rather seedy. Sandton has become the financial capitol of Jo'burg (which in turn is the financial capitol of Africa).
The Hilton was nice, but a fairly typical hotel like one finds in the US - not at all like the Peech, which has a lot of character and really makes you feel like you are in Africa.
Friday, April 6 - Johannesburg to Kruger
We got up early to meet our driver, who took us to the Budget office at the airport. Once we had gotten the car, we headed toward Kruger National Park and our next lodge, the Drifters, located on a private game reserve, Balule, adjacent to the park. Kruger itself is vast, but becomes mind-boggling when you realize that there are many private reserves around the park, plus there are national parks in Zimbabwe and Mozambique which are also adjacent to Kruger - the whole area set aside for wild-life is about the size of Massachusetts.
The drive was about 5 1/2 hours and the traffic wasn't bad at all, however the rest stops were absolutely packed. When we had booked the trip we didn't realize that we would be traveling on Good Friday and further didn't realize that Good Friday was the start of a four day holiday in South Africa. We regretted this oversight upon our return Monday, but more about that later.
En route, we went through a 'mountain' pass with hills on either side - they were really interesting in that they looked to be either moldy or partially covered in green slime. This, we learned, was limestone that had become discolored. It was very striking.
The Drifters is at the innermost part of the reserve, so it is right next to Kruger. We had a 10 km drive from the main road to the gate of the lodge, then we parked the car and were driven further into the reserve, about another 5 km. The roads in the reserve itself, other than the main access road, were absolutely terrible!
The Drifters is very small - only six tents. They are roughly comparable to the tents at Zulu Nyala - not nearly as nice as the tents at Chitabe Trails or Vumbura Plains.


The dining balcony and the common rooms at the Drifters
The only other guests were a family of four from Achen, Germany (father and mother, both physicians, and teenaged son and daughter). We had a game drive in the evening, but didn't see anything of substance. I didn't like the vehicle - it was a Land Cruiser (Toyota) and didn't have projecting footholds for easy alighting and disembarking.
Our guide was Dean, a nice young man, a native of South Africa. Additionally, there were the camp managers, Fiona and Ellery, and a couple of young men who served meals and probably had other responsibilities, but we weren't sure.
The food at the Drifters was very good. Plated service, prepared by Fiona. The first night we dined with the German family. The father was extremely opinionated. I made the mistake of asking him if he was shooting digital. We were treated to a long discourse about the digital cameras and how they really aren't taking photographs (I couldn't figure out what we were taking if they weren't photographs). Then he launched into a long discourse about the evils of SUVs (what got him going I don't know). Finally, he held forth about the terrible pollution in Los Angeles (where he had visited twice over the course of 20 years). I wondered what he would say if I started talking about the terrible pollution in the Ruhr River valley, but held my tongue.
Saturday, April 7 - The Drifters Game Lodge
Dean awoke us early with the blast from a kudu horn. Up and to the lodge, very light breakfast, then out for a game drive. We didn't see much, probably because it had rained over night and the animals were taking shelter.
Back at the lodge, we had breakfast, then went back to our room to rest and clean up. The German family packed up and left. We weren't sorry. We spent most of the day reading and working on the journal and photos, but at 4:00 went for a game drive with Dean. The weather had cleared and we saw a lot more animals than we had previously. Dean stopped for 'sundowners' near a pond. While we were out of the vehicle, Dean suddenly told us to get back into the Land Cruiser - there was a certain urgency in his voice. As I said, getting into the Land Cruiser because it didn't have as many toe holds as the Land Rovers was a real challenge for me. While I was struggling into the vehicle, I looked over my shoulder - there was a very large bull elephant approaching and he was not happy that we were between him and the water hole. It is funny, but adrenaline kicked in and I was able to clamber right up!
The elephant gave wide berth to our vehicle - he wasn't much interested in us (thank God).




Our guide said, 'Get back in the vehicle!'
Well, that was an exciting way to end the day. Back to the lodge for dinner, then to bed. Tomorrow we are not going on a game drive, opting instead to visit the very famous Kruger National Park.
Sunday, April 8 (Easter) - Kruger National Park
We had a light breakfast and then hit the road early. The park opens at 6 am and Ellery thought it might be very crowded because of the Easter holiday. Apparently they only allow a fixed number of day guests into the park at one time - very sensible.
Dean drove us to the lodge gate - on the way we spotted a lion resting in the grass. Apparently he had a kill nearby - we could smell it but not see it. Dean radioed to the guides at some of the other camps and soon two more vehicles showed up with tourists wanting to see the lion. Before we left, one of the other guides radioed Dean - they had spotted a pair of binoculars near the lion - had we dropped them? No. Wonder if they belonged to the lion's dinner?
We had been told that the animals saw the vehicle and its passengers as just one large object - they didn't 'see' individual people (meals?) inside. Well, this lion made eye contact with each of us. Did he see it as one large object with three sets of eyes, or had we been fed a line?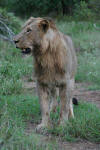 He had just had dinner the night before and made eye contact with us
The park was about an hour drive from the Drifters. On the way we saw road signs warning of elephant crossings. Where does the elephant cross the road? Anywhere he wants!

Where does the elephant cross the road? Anywhere he wants.
Once at Kruger, we kept to the required speed limit of 50 km per hour - stopping whenever we saw something interesting, but only getting out of the car in the camps or at designated, posted viewpoints. The park exists for the animals and they have free range to roam where ever they want. While in the park we saw one elephant - very distressed because he wanted to cross the road and we were in the way. Just past the elephant was a herd of cape buffalo equally anxious to cross the road. We also saw the ubiquitous impala (they are called "McDonald's" because there is one on every corner and they have a marking like an M on their rear). There was a large troop of baboons, many giraffes and zebras as well as several new kinds of birds.



A fascinating spider and two ghekos - one with neon blue tail

This little guy is a dwarf mongoose


A very rare horn bill and some vultures?


A peeping giraffe and some hippos


A big impala herd and one curious female


The jackal is actually rather handsome

The female kudu is sort of plain



The male waterbuck had lost part of one horn - the female displays the white ring around the rump. Our guide referred to it as a toilet seat.


The wildebeest has a face only a mother could love, and the profile is not much better
Most interesting to us was the elephant museum at one of the camps. They had the tusks of several elephants who had lived in Kruger (they were called the Magnificent Seven because of their tusks - they all died of natural causes at a ripe old elephant age - around 55 years). The museum is small, but very interesting.
Kruger has several camps where you can rent a little rondaval or pitch a tent - they are fenced to keep the animals out. Generally, they are nice, but not luxurious by any means.
We took our time going through the park - you could spend many days here though (but we didn't have many days as Monday we were to head back to Jo'burg).
On the way back we stopped at the Cheetah Project, near a little town called Hoedspruit. We hadn't had lunch and it was late, so we ordered a salad and a dessert. We were late enough that we couldn't go on a tour, but we watched a film about the project. They are breeding cheetahs and releasing some into the wild, while others are sold to zoos. We saw a couple of these beautiful creatures in a large enclosure nearby - pacing. They are so incredibly beautiful.
One of the staff, Isaac, drove us from the lodge gate to the lodge. We saw the lion again in the same spot we had seen him earlier. The smell of his kill was stronger. We went back to our little tent for a while. Tom looked out to the waterhole below the tent. There was a very large elephant digging in the sand next to the waterhole (apparently the water in the hole is rather strong of lime and he wanted fresher water). After he dug a while, he decided to start grazing - right below our tent. Had he wanted, he probably could have reached out and pushed our tent (with us in it) over. Fortunately, he was more interested in eating. We have learned the elephants are giant eating machines with an incredibly efficient digestive system. They eat, then they poop. Munch, munch. Plop, plop.
Fortunately, the elephant meandered away, allowing us to go up to the lodge for dinner. I came as close as I could to running up the stairs to make sure I put distance between myself and our visitor.
During the night we heard the lion - and answering calls from the other side of the camp.
Monday, April 9 - Kruger to Johannesburg followed by the flight to Seattle, arriving Tuesday, April 10
We wanted to get on the road reasonably early, but for some reason had a hard time getting everything packed, so we were about 1/2 hour later in getting started than we had planned. That proved to be unfortunate, because the drive back to Jo'burg was stressful.
We encountered slow traffic once we got in the mountain pass area. In South Africa there are vans that serve as taxis, used almost exclusively by the blacks. The drivers pick up as many passengers as can fit into the vans. I suspect that they don't provide door to door service, but probably drop people off much like a bus. However, these taxis tend to break down and they are slow. The taxis and the many vehicles pulling trailers slowed the traffic quite a bit. At one point we were stopped at a police checkpoint - we were waved through the checkpoint, but it did slow us down a little more. We were doing pretty well until we got to Belfast. We stopped there to have a cup of coffee and use the restroom. While we were waiting for our coffee - not more than 15 minutes, the traffic built up to the point that it wasn't moving at all - and stretched for a fair distance. A man at the cafe suggested that we take an indirect route to the motorway - backtracking to some extent, but by-passing the traffic jam. We took his word and found ourselves on a dirt road going through some fields. At last we made it back onto pavement. The traffic on this road wasn't as bad and we made pretty good time. We stopped for 'petrol' in Middleburg, found the motorway and headed in the direction of Jo'burg.
The traffic came to a dead stop several km. after Middleburg - another police check-point (what they were checking for we couldn't tell). Then the traffic broke loose again, only to be stopped again by yet another police check-point. This time they were handing out plastic cups and an admonition to drink water not whiskey.
Eventually we got to the airport, two hours ahead of the flight. That proved to be only adequate as the check-in procedure was not very smooth. However, the plane left on time, with one stop, in Dakar, Senegal (primarily for refueling, the prevailing winds being against us for the flight across the Atlantic). Only one or two people disembarked, then we were instructed to remove our carry on luggage from the lockers. Teams of inspectors came aboard to make sure there was no left luggage (a security precaution). Then they inspected each vacant seat to see if someone had left behind anything in the pockets or tucked into the tray table. Finally, they came through the cabin and sprayed for something - we couldn't be sure what!
We were an hour late getting into Washington, DC - however, we were able to make our connection to Seattle.
All in all, it took us about 40 hours from the time we left the Drifters until we got home. In retrospect, we probably should have spent Monday evening in Jo'burg.
Last week we were in Namibia where the temperature was about 43 degrees Celsius. Tuesday we arrived home where the temperature was also about 43 degrees - Fahrenheit.
So, our trip with two years of planning was at an end. We saw so many wonderful things, met so many wonderful people, ate good food, had wonderful adventures, saw things to make us laugh and things that brought tears to our eyes. Africa has so much to offer, but there are so many problems - poverty, AIDS, corruption, ignorance. We read an article while on board one of the flights that maybe the solution to some of the problems is to discontinue the massive foreign aid which is poured into Africa every year - simply because so much of it goes to the corrupt governments. There is logic to this, but I doubt that anyone in a government from a developed nation would have the guts to say this publicly - the outcry would be enormous.
Despite all of the problems, we would love to go back to Africa - we left so much on the table.