Colle di val d'Elsa and Various Day Trips
August 3, 2002 – Saturday – Orta to Colle di val d'Elsa
Today TTS is going to fly to Milan (Malpensa Airport) and then we are going to drive to our apartment near Colle di val d'Elsa.
As we are getting ready, the skies open up with a heavy mountain downpour. Fortunately, just as we are ready to leave, it abates to some extent, so we are able to get the luggage to the car. Tom leaves the luggage and me under a balcony near the parking lot while he goes up the hill to get the car.
The only mishap is that we come out of a tunnel and directly on the other side is the off-ramp to Malpensa – no warning at all ("You have just missed the road to Malpensa" is what the sign should say). However, there are other opportunities, so we get to the airport a few minutes late – TTS is waiting just where we expected. It is so good to see him!
At first I am worried that we are going to get to the apartment early, as we make really good time. However, at 11:00, two hours after we pick up TTS, we hit stop and go traffic. We cannot see what is causing the backup. Cars pull off to the side so men and boys can take a 'pi-pi rustique' (including Tom – these are desperate times). At one point we come to a man who is handing out bottled water – he works for the Autostrada company – Tom asks him how far is the backup – he tells us Bologna – that is miles ahead! We pull off near Modena for lunch – it isn't a touristy place – the waitress doesn't speak much English. We have pizza – it has a very thin crust here in Italy – it is delicious.
We try driving on the side roads, but that doesn't buy us much. We don't get through Bologna until nearly 5:00 – Tom calls Carla at Mensanello to let her know that we are going to be late.
We cruise pretty well from Bologna to north of Firenze, then hit another wall of traffic. We had forgotten that this is the first weekend in August and all of Italy is going on holiday.
We finally get to Poggibonsi around 7:00 – Tom calls Carla again to let her know that we are going to be there shortly. TTS and I run into the Coop (supermarket). It is a madhouse! Everyone is running around as if they are stocking up for an oncoming invasion. They are all talking (loudly). Thank heavens I had read a bit about shopping in Italy – in order to get a shopping cart, you have to insert a €1 coin in a device that is attached to the cart and links to the cart in front of it. This prevents cart theft – you have to return the cart to the line and insert a point from the cart in front into the device in order to get your coin out. In the produce section, you must put on a plastic glove, weigh your selection and then print a bar code that has the price (you punch a button with the code to get the right price). It is so loud and crowded in the market that I am not able to think – I don't make rational purchases – I just want out!
Mensanello is close to Poggibonsi – it only takes about 20 minutes to get there. It is a beautiful, very small, village on top of a hill – our apartment is in a farmhouse about ½ mile from the village. We are on the top floor – the farm workers live below – they are Portuguese and today are celebrating Roberto's birthday. They have banners hanging from the trees wishing him happy birthday.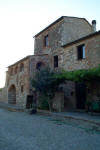 Our apartment is in this old farmhouse – Roberto and family (Portuguese) live in the apartment below us. He works on the farm. The rest of the building (three apartments) are rented for agriturismo.
The apartment has three bedrooms – two letti matrimoniali and one with two twin beds. The kitchen is small, but adequate, although it doesn't have a microwave. The kitchen is in a room with a table and six chairs and a sofa and small television. The apartment doesn't have window screens, so the insects come in, since this is a farm. The bathroom is pretty large, with a shower in the corner.


Combined living room/kitchen in apartment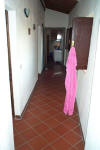 Hallway in the apartment – we take to hanging our 'beach' towels on the shutters to let them dry

The other essential room – small, but we manage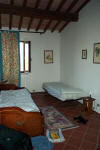 Tom and Matt share this room – just like when they were 3 and 4 years old – except now they are a great deal tidier and they don't fight

Looking down the stairs from the apartment

The grounds around the house – here's our Laguna – we put 5,500 km on it in four weeks

View from the back of the apartment looking to the 'village' of Mensanello

View from the front of the apartment across the fields of the farm
We unload the luggage and then go into Colle in search of dinner. We stop at one restaurant, which is very busy and are ignored for 15 minutes. We walk out. On the way back to the apartment we see a rosticceria – we buy a roasted chicken and potatoes, some pasta and some little rice dumplings. We return to the apartment and warm them and that is dinner. It is actually quite good. Cleaning up is a bit of a challenge – we don't have a kitchen sponge and only one dishtowel.
Tom and I head to bed – we have to get up at 5:00 a.m. to go to Roma and pick up Matt and Fran.
August 4, 2002 – Sunday – Colle di val d'Elsa
Tom and I start out about 6:00 a.m. for Roma – Fran is supposed to land about 7:40 and Matt an hour later. The traffic is light – thank heavens – and we have only a few missed turns – we get to the airport about 9:00 a.m. – Fran is waiting for us but Matt's plane hasn't landed yet. It finally lands about 9:30.
The drive back to Colle is pretty quick – the mountain roads in Toscana are very twisty – Fran is nearly sick from the motion. We see a couple of really pretty hill towns – Orvieto, Monteriggione, and Montepulciano.
Italy shuts down on Sunday – we don't have food for a meal and there isn't a shop opened anywhere. We have to go out to dinner – we pick a small restaurant in Colle. We decide to order a couple of antipasti, two pasta dishes and two orders of veal marsala. The food is 'OK' – I'm getting spoiled by excellence. What passes for OK here would be considered very good in the US.
We are all tired, so head for bed reasonably early. Hopefully tomorrow we'll be able to get groceries.

Part of the 'old town' of Colle di val d'Elsa – the village nearest the apartment
August 5, 2002 – Monday – Colle
TTS and Matt sleep in – Tom, Fran and I go to Colle to do the grocery shopping at the local Coop.
First, Fran needs to cash some travelers checks – it takes more than ½ hour – Italian banks are slow! Tom checks e-mail – nothing going on. Then we head to the Coop. This turns out to be an ordeal – we don't know the language all that well, we don't understand what some of the food is, we can't find a lot of what we want. It takes 1 ½ hours to get the shopping done – and then we don't get everything done. They do not sell matches in the grocery stores – you have to go to the tobacconist. Some of the food is very reasonable (the vegetables, for example, and prosciutto), but meat is very expensive. We are really tired by this time, so head home where we have a cold lunch of crackers, prosciutto, cheese and grapes. It actually is quite delightful.
Later we go over to Poggibonsi to see if we can get some of the rest of the supplies. We really want to buy a carafe for coffee, but the Italians don't appear to have any interest in anything except espresso. Then we stop in the old town of Colle – it is perched on the hill overlooking a valley. I think it is 1200 era. It is beautiful and quaint. We walk through several of the streets – the town is pretty much shut down, as it is nearing 7:00 p.m.
Matt and I need to get some money – but the link to the Visa Internet is down – we try a couple of ATMs (Bancomats) but have no luck.
Fran cooks a wonderful dinner – bread, fresh green beans in marinara sauce, pasta with marinara, a little more prosciutto. Yumm.
August 6, 2002 – Tuesday – Colle
We had planned on going to Orvieto today, but the open-air market is in Poggibonsi, so Fran wants to go there instead.
TTS and Matt decide to go with us. Fran and I are expecting fruits, vegetables and meats. We are very surprised that the first several blocks of the market are clothes. I find some washable silk sleeveless tops for €4 and €5. Tom finds two all cotton short sleeve sport shorts for €20 each. Finally we come to the food part of the market – lots of fresh vegetables and fruit, including zucchini blossoms. Also a number of cheeses, including some wonderful pecorino sienese. Fran buys some salami that is called finocchiano – flavored with fennel seeds. We also buy fresh gnocchi.
On the way back to the farm, we finally come across a bakery. We have been very disappointed with the bread – it is hard and tasteless. Part of the reason bread is tasteless is that way back when there was a salt tax – to avoid the tax, people started making bread without salt. I buy a focaccia that looks pretty good.
Lunch is the focaccia with salami or prosciutto and fresh mozzarella or the pecorino. Fran and I have a sliced tomato, which is wonderful.
Lunch over, we drive to Monteriggione. What a beautiful little town – it is perched on a hill and has the medieval walls very well preserved. We walk around for about an hour – it so very quaint and picturesque. We take a lot of photos.

Monteriggione – this town is on the road to Siena – it is very small, but the medieval walls are still intact (TTS would call this a 'gated community')

Inside the town of Monteriggione – in Italy you often see laundry hanging out of windows – we find that clothes dryers are very rare – even Mensanello doesn't have one – they have washing machines where they launder the towels and bed linens for the apartments, but they hang the wash to dry
On the way back, we drop laundry off at a lavanderia. It will cost €45 to do three or four bags of laundry, but it would cost €5 for one load without a dry if we did it at the farm. We'll pick up the laundry tomorrow.
Back at the farm, Tom and I decide to go and pick some rosemary and sage from the main farm. We find Nonna sitting near the pool – we ask her if we can have some of the herbs, she is delighted to let us. She proudly introduces us to her nipote (nephew) who has just returned from then US where he studied English on a four-week program near San Francisco. We have a good chat with nipote interpreting. At the end of the conversation, Nonna gives us two fresh tomatoes from her garden. Then we get back to the farm and find the woman downstairs trimming basil – she thrusts a huge handful to me, which makes me ecstatic – it is my favorite herb – she advises us to make pesto from it. The she retrieves four fresh zucchini from her kitchen and gives them to us.

Everything is fresh except the aged wine – bread, tomatoes, mozzarella, basil. Why do the tomatoes taste so good here?
Fran cooks a roasted chicken (with the fresh rosemary and sage) and roasted potatoes, I fix the gnocchi, Fran makes a fresh salad and I fix one of the zucchinis. This is a wonderful meal.
TTS, Matt and I walk up to the farm to offload the garbage, then afterwards we sit around and watch a bad US cowboy film, dubbed in Italian. What a country!
August 7, 2002 – Wednesday – Colle
Today we make our trip to Orvieto – we had planned on doing this yesterday, but the market called. The drive is through Siena and we don't have a great map. However, we manage pretty well until we miss a turnoff and end up going about 15 miles out of our way. All in all it takes us 2 ½ hours to get to Orvieto – very frustrating, as it should not be all that far.
Orvieto is perched on a hill – the top of a mesa, really, overlooking the plain. The lower section is newer housing and businesses, the mesa is very old. It is very dramatic – you can see why people settled here, it would be very easy to defend. Additionally, the town is known very well for its white wine, which has a distinctive taste fostered by the volcanic soil.
At the bottom of the mesa is a funicular that takes you to the top. From there, you can get a small bus that takes you to the Piazza del Duomo. We get a little snack, and then join an Italian language tour of the famous Orvieto caves. We can't understand very much, but the bottom line is that the caves were used for producing and storing olive oil and wine and were also a crematorium. They were dug by hand many centuries ago.

Part of Orvieto's underground city – this is the columbarium that is buried in the rock under the city
The Duomo is absolutely beautiful both inside and out – the outside has beautiful mosaics on the front (unfortunately, many covered by the inevitable scaffolding), the interior with a small chapel with incredible frescos. The alabaster windows are rare and beautiful.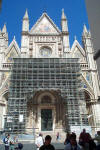 The Duomo at Orvieto – scaffolding is inevitable in Europe but this is extreme!
We take the bus back to the terminus for the funicular, and then get back to the parking lot. I decide to use the 'loo – there is no toilet paper (carta igenica) in the gabinetto. On the way out I refuse to tip the attendant because of this – she sure is upset with me. Maybe I'm glad I don't speak Italian so well – I'm sure she questioned my parentage!
We make a mad dash back to Colle and collect the laundry - €40 for the lot – given that we would pay €15 for laundry only, then have to figure out how to make them dry, this seems like a bargain.
August 8, 2002 – Thursday - San Gimignano
Today we drive to the nearby medieval village of "San Jimmy" – what a wonderful site this is – there are either 14 or 15 towers of an original 70 remaining - it is very touristy, but none-the-less charming. Everyone but Fran goes into the torture museum, which is really quite good, then we wander the streets a bit – Tom and I buy an apron (why didn't I take one with me, I should know better by now) and for lunch we have a slice of pizza from a storefront shop. This town is very beautiful.
We get a big kick out of the prison we pass on the way back to Colle – either the prisoners or wardens have done their laundry and hung them out of the windows, just like everywhere else in Italy.
We want to take Fran out for her birthday, which is tomorrow, so on the way back we stop at a little farm that is supposed to also have a restaurant – it appears to be closed for remodeling. Oh, well, there are a few other places that the Cadogan Guide recommends; we'll try one of them.
August 9, 2002 – Friday – Firenze
Today we drive to Firenze. We have scouted out a few parking lots in advance, but quickly discover that our map is inadequate – it is of only the center of town, and there is a lot more town to get lost in. Finally we find a good parking lot and abandon our car.
We have no idea where we are relative to the center, so we stop at a Tobacconist. As it turns out, we are only a few blocks from the Piazza Liberta, and from there just a bit to the Academia. We walk toward the center – we have reservations at the Uffizi at 12:30. We pass the Academia – the line is really long. Given the line, we march on toward the Uffizi.
We had prebooked, but I'm not sure it bought us anything –we had a wait in line for 45 minutes. Once we finally get in, it is relatively leisurely, except room 16, which has a long line (and we can't figure out why) - we bypass that and get through the rest of the exhibits. This is one of the great museums of the world, I would like to have several hours, but the rest are tired, and I am hungry. We leave the museum and head toward a square – here we have a pizza lunch – we are all hungry – it is nearly 3:30. It tastes good and it feels good to sit.
After our pizza we walk across the Ponte Vecchio. What a madhouse. There are dozens of jewelry shops, some completely out of the question because of price. The biggest problem is that there is too much to chose from. We leave without buying anything. We stop at a Rick Steves recommended gelateria, then Tom and the sons hike back to get the car –as it turns out it takes well over an hour for them to collect the car and return to get Fran and me – we are all pretty tired by the time we head back to the apartment.

The Ponte Vecchio ('old bridge') in Firenze – before Lorenzo the Magnificent, the shops were mostly butchers – he replaced them with jewelers and goldsmiths – even today most of the shops are jewelers and goldsmiths. The retreating Germans in WWII blew up all the old bridges in Firenze, except the Ponte Vecchio – Hitler specifically ordered that it be saved. After the war, the people in Firenze reconstructed the old bridges to be exactly as they had been before.
The weather has been changeable at best – we had expected hot and dry – instead it is warm enough, but with terrific thunder and lightning storms. Firenze is no different, although we don't encounter any storms while we are waiting for Tom and sons to collect us – that would be unthinkable!
Because we are tired we pick up a chicken from the rosticceria, along with some really good little rice things that are made into croquettes – nice dinner for €10.50 for five.
August 10, 2002 – Saturday – Colle
Well, we had planned on going to Siena today, but the weather is awful. It is raining and thunder and lightning. Matt, Tom and I go into Colle to get the shopping done – today being Saturday, we know we have to prepare for the weekend. We had planned on going to the food and wine festival this evening – it has never been rained out before, but today is an exception – as Roberto downstairs says 'Fa tempo brutto' – bad weather. The festival has been postponed until Tuesday. Just as well. We celebrate Fran's birthday (a day late) by going out to dinner in the old town in Colle. We had first checked out a highly rated restaurant - €70 or €80 per person for a complete meal – that is far beyond our budget, even if it is highly rated. We end up at a very nice little restaurant in the old town. Tom, Fran and TTS have gnocchi in a tomato, sausage and mascarpone sauce for starters. I have Tuscan bread soup, which is wonderful, though very hearty. Matt has tagliatelle in a Bolognese. Seconds are veal for Tom, Fran and TTS, shrimp for Matt and prawns for me. Turns out the seafood is served pretty close to the way God created them – shells and all, so I'm a little disappointed – a lot of work for not much 'stuff.' However, the meal is wonderful. For five, including service, wine and cover the total is €131.
Tomorrow is Pisa and Lucca. I sure hope the weather is better!
August 11,2002 – Sunday –Colle
The weather is better, though certainly not what one expects in August in Italy. We drive to Pisa – except for seemingly going in circles for about a half hour, which is just part of the route, we don't get lost.
We've been warned by the guidebooks that Pisa is really tacky – souvenir stands and vendors pushing junk everywhere. We find a parking place close to the Field of Miracles and walk inside the city walls. Tacky and pushy don't begin to describe the goings on – there are a lot of African men selling sunglasses and watches. There are permanent souvenir stands set up against the wall. You can buy the Tower of Pisa in nearly any color. It is a shame that this circus atmosphere pervades such an incredible place.
we check out the internet and go through a very nice little museum about the crystal industry.

Not only the tower, but the baptistery at Pisa leans.

The Cathedral in Pisa is really beautiful with wonderful gargoyles. The front of the cathedral leans forward a bit.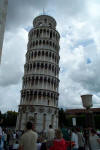 This doesn't need a label – it really does lean!
We have lunch at a pizzeria that was recommended in Rick Steves book – it is quite good. Then we go over to the Campo and look at the tower, baptistery and Duomo. The buildings are beautiful – there are hundreds of tourists, many trying to get gimmicky pictures of their companions holding up the Tower. The gargoyles on the Duomo are particularly interesting. The Baptistery also leans and we are told that the Duomo façade leans out a bit, but it is hard to tell. A few minutes of this circus is enough for all of us, so we hop into the car and head for Lucca, about 30 km away.
What a difference 30 km makes! Lucca is quiet, clean and beautiful. The old city is surrounded by walls, but the top of the walls were made some years ago into a broad street for walking, biking and other muscle powered activities. The old quarter is clean, with occasional graffiti only. The exterior of the Duomo is very beautiful, but the interior dark, so it is hard to see any detail. Tom and I immediately fall in love with Lucca – there are very few tourists and we love the quiet.
I've read in the guidebook that the village where Leonardo da Vinci was born is just a bit out of our way, so we decide to go there. It is supposed to have a few museums that might be interesting. Matt is the navigator and does very well until we come to a small town that has a detour – our road is completely blocked off and the villagers are walking down the center, many of them dressed in black. At first we think they are headed to the Day of Unity celebration that we've seen posters for, but later we learn that they are going to the funeral of a young man who was killed in a motorcycle accident. At any rate, we have no idea of how to get to Vinci, but a couple in a small Peugeot and another couple in a large Mercedes ask a local man which way to Vinci. He gives them directions, and since we want to go there too, we decide to follow. What a detour – back and forth, hairpin turns, straight up a mountain, and the Italians are driving like there is no tomorrow. Tom is in heaven. He turns off the air conditioning to get some low-end torque and races off after the other cars. The small car is in the lead until we find that we are in a very small, mountain top village, which is essentially a dead end. All the Italians jump out of their cars and get directions from a local man. Back down the mountain, the Mercedes in the lead, followed by the Peugeot and Tom. We missed a turn on the way up, the Mercedes finds it, and we head off again – the road gets progressively smaller and bumpier. The views over the valley below are spectacular. Occasionally we meet a car coming the opposite direction – we all hold our breath as we pass – it is a very long way down the mountain and there are no safety rails. The 'Vinci Grand Prix' is one of the high points of the trip for Tom.
Finally we see a signpost for Vinci – we assume we are almost there, but we have several more km to go – the Mercedes misses a turn, but we see it, so now we are in the lead. Tom has been having a ball and doesn't miss the opportunity to charge off with the other two cars behind. We arrive in Vinci. The driving here is a little more sane – we are in populated areas.
We get separated from our companions once we reach Vinci – parking is difficult, like everywhere in Italy. However, we park the car and do manage to bump into the couple in the little car – they had a baby in the back of their car – I'm surprised he wasn't carsick with all the ups and downs, twists and turns. Fran says she wasn't sick because she was so terrified.
Vinci is pretty – it capitalizes on the Leonardo connection, of course. One of the museums is filled with wooden models made based on his sketches. He was interested in everything – under water apparatus, flying machines, boats, armaments, equipment for moving heavy objects. I liked his bicycle best – it was obviously very functional and not a lot different from what we have today (although I don't think it had brakes).
We have an uneventful drive back to Colle – we've had enough adventures for the day! Tom and TTS fix a very good chicken tetrazini and Fran cooks some fresh carrots and a cold cucumber salad. Another really good meal in Italy!
August 12, 2002 – Monday – Colle
Fran opts to stay at home today, so Tom, TTS, Matt and I go to Siena after checking e-mail in Colle. We have the usual problems finding parking – clearly these old towns weren't built with the automobile in mind. We park by the stadium and walk in.
Siena is built on three hills – the streets are all up and down, or else they are stairs. For the most part, cars are not allowed in the center (inside the city walls). Siena has a very interesting organization in the contrade – there are 17 of them – they function as neighborhoods and social organizations. Twice each year (July 2 and August 16) ten of the 17 contrade participate in the Palio – this has been going on since middle ages. This is a wild horse race around the Campo in the center of town. It has a couple of right angle turns, as well as some hills. It is preceded by a parade of people in medieval costume, including the famous flag throwers. Today Siena is preparing for the Palio, which will be this Friday – the bleachers around the perimeter of the Campo have been set up and the dump trucks are bringing in sand to dress the race course (about a foot thick). Tomorrow the qualifying trials begin – the city will be closed to vehicular traffic.
We check out the beautiful Baptistery – black and white marble in stripes, just like the Duomo. It has a superb font, with reliefs by Donatello and Ghiberti. Then we hike up the hill (naturally) to see the Duomo – the façade is not unlike that of the cathedral in Orvieto, with beautiful mosaics. Inside there are beautiful marble floors, although the most interesting parts, the mosaics that form pictures are covered in a heavy cardboard to protect them. The pulpit is of Carrara marble, carved by Pisano. The whole structure is wonderful.
<![if !supportLineBreakNewLine]>
<![endif]>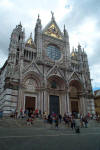 The beautiful Duomo in Siena – the interior is spectacular with some of the best Renaissance art in Italy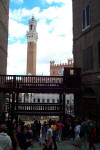 The Municipio (Town Hall) in Siena – it is on the Campo, which is where the Palio is run – the crowds are heavy this day, so we don't get a chance to go inside. The city is preparing for the Palio, which will be run four days from now.

Another view of the Campo in Siena

And yet another view of the Campo – the workers are spreading sand on the perimeter of the Campo for the horses to run on during the Palio – notice that there is a 90 degree turn at the far side of the Campo – also, the Campo isn't flat, so there are hills that the horses have to run on – this while the riders are bareback.

The remainder of the Campo – here you can see the hill a little better. You've got to be crazy to race in the Palio!
We stop for lunch at a self-service place that is noisy, but the food is reasonable. Then we walk around the Campo a little – we watch the people preparing the surface and try to look in a few shops (a little difficult because of the bleachers in the way). Getting out of the Campo proves to be a challenge – again, the bleachers are in the way and you have to push your way through – if you blink, the people coming into the Campo push their way through and you can't get out – and you can't reason with the people coming in. I blinked, unfortunately and was held up for five minutes. Finally a young man behind me said he'd push his way through – he and TTS charged forward and the tide was turned and we were able to get out.
We found that there is live coverage on TV of the preparations for the Palio, so there probably will be live coverage of the actual event as well. That might be more sane than trying to go to Siena.
August 13, 2002 – Tuesday – Colle
The weather has improved considerably over the past few days. Tonight is the food and wine festival in Colle that had been postponed from Saturday evening.
Getting five people up, breakfasted and showered in a one-bath apartment is a challenge. However, we eventually get on the road. Today we go to Volterra – it is another Tuscan hill town. The drive is spectacular – there is so much land in Toscana that is open – you don't think of Europe as having so much open space, but here it is. The hills are cultivated as much as can be – which means there is a lot that isn't cultivated because of the terrain. After some miles of twisting and turning, we arrive at our destination. Volterra is beautiful – although parking is a typical pain, the village is clean and has a lot of interesting shops, mostly specializing in alabaster artwork. We have lunch at a little restaurant, and then check out some of the shops. Then we head back to Colle. There ry in the Colle area – the industry is relatively new – it was started by a German in the 1800's. It has had its share of ups and downs, most recently meeting the 24% lead crystal standards that were set by the European Union. However, now it is thriving.
Our evening is something to remember. The food and wine festival in Colle. We had been told that it would start about 7:00, even though the signs said it would start at 8:00. However, we get to the Piazza del Duomo at nearly 8:00 and there isn't much going on. Eventually people start trickling in. We buy our tickets, which entitles us to a wine glass and a little carrier that we can stick our glass in and carry around our neck. There are eight vintners represented – we first try Podere San Luigi – the wines are absolutely incredible! They serve food, for an additional charge – they have a tagliatelle, some antipasto, sausage and bread and Tuscan soup. I have the antipasto, TTS the tagliatelle, TTF and Matt the sausage and Matt has the tagliatelle – always hungry is that guy. We try several of the wines and have a delightful conversation with the owner of the Belvedere – it is a farm close to Mensanello. The owner speaks very good English. The 'band' plays – a keyboard and an accordian – and Tom and I enjoy a few dances on the cobbles in front of the Duomo. This is Italy at its best!
August 14, 2002 – Wednesday – Colle
Today we drive to Lake Trasimeno, Italy's fourth largest lake, located in Umbria. This involves traveling along a route through Siena – in addition to the traffic from the Palio and the August holidays, there is a lot of construction. Our trip is painfully slow. Once we pass the A1 – the main north-south Autostrada, connecting Firenze and Roma, the traffic moves much more quickly.
This area is surprisingly undeveloped – I had expected to see the typical collection of hotels and other buildings along the shore of the lake – instead it is surprisingly rural – and truth be told, not all that interesting. We have lunch in a little place near San Feliciano, then head back to Colle – tomorrow is Feragosto, the biggest holiday in Italy and we've read that the entire country shuts down.
We get our shopping done, certain that tomorrow we wouldn't have any options. For dinner we go back to the little restaurant in Colle where we had dinner on Friday. For a change, I have bass in crepes – it is served in the same sauce as the gnocchi – tomato and mascarpone – very rich and absolutely wonderful.
August 15, 2002 – Thursday - Colle
Well, today is Feragosto – we hang around the apartment in the morning watching the news – there are websites to help you survive the ordeal. The Palio is broadcast several hours a day – the horses have been blessed (they are taken into the chapels of the contrade – if they poop on the floor, it is considered good luck) and the track is getting closer to being ready.
Early in the morning we hear a kind of 'whooshing' sound outside – we are delighted to look out over the farm and see hot air balloons 'taking off' from the little hangar below the apartment. A little while later we see an airplane from the airstrip doing aerial acrobatics – what a sight!
The five of us go up to the pool for a few hours – the water is cold and feels so good, once you get used to it. All of us get a bit of a sunburn, but it is a nice change for those of us (read: everyone except Fran) who have no color.
I have read about a beef festival in Cortona, so we head off there. The route is the same as to Lake Trasimeno except for the last few miles. We have no idea when it is supposed to start, so we get there about 4:00 – the festival is supposed to start at 5:00. It is held in a garden at one end of the town. Cortona is quite beautiful – I had thought that hill towns were generally towns built on top of hills – little did I know until Siena that there are hills within the towns as well. I feel pretty lucky – I find a really nice photo book of Toscana for only €15 at a stand just outside the park where the beef festival is held.
Although the festival was billed as starting at 5:00 and the man who sold us the tickets told us it would start at 7:00, it actually appears to begin about 6:30. The process is that the 'butchers' cut very large steaks from prime ribs. There are very large grills and about nine people who tend the steaks – some throwing them on the grill, others turning them, others feeding the grills. What a job! The smoke is terrible and the heat is tremendous.

The 'Sagra della bistecca' – beefsteak festival in Cortona

This is cooking for the masses!

TTS, Fran and Matt at the Sagra in Cortona
We get in line and retrieve our dinner – the steaks are very thick, but not at all well done – the accompaniments are either beans or tomatoes, there is bread and there is wine and water and peaches. I find that the meat is very salty. We pack up what we can and head home.
The Palio festivities are still on the television - I don't think any of us realized what an event this is. Sagras: We learn as we go that Italians celebrate everything edible with a sagra (festival): funghi (mushrooms), zucchini, melanzana (eggplant), pesce (fish), bistecca (beefsteak), aglio (garlic), etc.
August 16, 2002 – Friday – Colle
TTS and Matt are going to Roma today – they will spend two days there and then fly home. We take them to the piazza in Colle where they catch a bus at 7:20 a.m. – for €16 each they get to Roma – we couldn't drive there for that.
Tom, Fran and I start packing as tomorrow we are going to the south of Italy. Then we go to San Gimignano – I have wanted to replace the olive oil soap that I bought in Orta – there is supposed to be a soap shop in the village. The traffic is awful – but once we finally find a parking spot, we go into the village and brave the pedestrians. Fran pokes around a few shops and Tom and I find the shop – the owner has dozens of kinds of soap, including the kind I want. I don't know what the fragrance is, but it is subtle and fresh.
Back to Mensanello, we get into our suits and go to the pool – we are more cautious today – put on some sunscreen – a few hours at the pool then back to the apartment to watch the Palio. The costumes and flag throwing exhibitions are wonderful. Finally, time for the long awaited event. Much to our surprise, it takes about 45 minutes to get the horses lined up – it seems that they are ready to go, when one jumps out of line – then they walk around a bit and get the horses calmed down, then try to line them up again. At one point a horse needs a shoe reset. We are glad we didn't go to the actual event. The crowds are tremendous. The only way we'll see the Palio in person is if we can afford the bleachers, or a hotel room with a balcony overlooking the Campo.
Finally the race is run – it only takes a minute or two – la Tartaruga (the turtle) wins. I walk out to put something in the car – the little boy and girl downstairs (their speech alternates between English and Italian so we can't tell what nationality they are) are playing Palio.
Tom spends quite a few minutes trying to chat with Roberto downstairs. His sister lives in Greve a Chianti – he says the best wine is made there – he also says the best pizza is made in Naples.
Tom and I are pretty well convinced that we'd like to come back to this part of Italy and study the language – there is a pace here that we love – we like the scenery and the people. Although Lucca is the city we like the best, Siena is more central and is probably the better choice.
I miss TTS and Matt a lot – I find that I enjoy having them around even more now that they are adults – they are well informed and interesting people.
Our hotel is on a fairly busy corner, and there is a train track nearby, so we might not get a great night's sleep. Ah, well – I think we are both getting used to running on low sleep.
August 1, 2002 – Thursday – Baveno to Orta
As predicted, last night was not very restful – the hotel is on a busy street and the train station close enough we can hear the train announced. We decide to move two days early – we are not sure where, but just about anywhere has got to be better than the Hotel Alpino in Baveno. We check out and are on the road before 8:30 a.m. Yesterday a young man at the TI in Stresa said we might enjoy a town called Orta on Lago d'Orta, west of Lago Maggiore. We figure we can drive over there, check it out, if it isn't what we want return to Stresa.
It takes less than an hour to get to Orta. The first thing we see is a very strange hotel – it looks from a distance like a mosque. It turns out to have once been the summer home of some rich guy who had spent time in Arabia. We get to the TI at 9:15. The clerk gives us a book with hotels in the area – there aren't many in Orta – and we can't afford the one we've just seen. The town is closed, for the most part, to vehicles, except for loading and unloading. We park the car and walk into town. From there, things get ever so much better!
First, we stop at a souvenir shop to ask directions to the in town version of TI. The nice lady doesn't speak much English. However, I notice a sign about apartments to rent. Thinking they must rent for at least a week, I inquire (in my broken Italian). She responds (in her broken English). Finally we realize that the apartment is available and is €72 a day for a furnished apartment including kitchen. Her son and his wife are the owners. She gives the daughter-in-law a call, and Tom explains that we are interested in renting. Her husband will meet us in 10 minutes. We are rather excited – this town is charming! The apartment is only a few meters from the town square – the price is right – can this be true? Have we found Italy at last?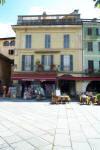 Souvenir Shop in Orta – the owner's son rented us the apartment we stayed in
It is interesting that there are some German and French tourists, a few Brits and maybe an American or two, but mostly Italian. As best we can tell, this village hasn't been discovered by Rick Steves. We are glad. We have no intention of telling him! And – not a 'click and run' (tourists on large tour buses – they hop off the bus, snap pictures of their friends in front of monuments, then hop back on the bus.) in sight.
The balcony of our apartment has the white chairs and table
While somewhat Spartan in furnishings, the apartment is as promised – fully furnished with a small balcony overlooking a small square. We make arrangements to rent it for the two nights. We trek up to the car to get our suitcase and settle in. It isn't even 11:00 and we have found a place that is just what we had thought Italy would be like!

Living room of the apartment in Orta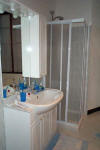 The 'loo' in apartment in Orta

The bedroom in apartment in Orta – simple, but comfortable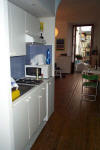 The kitchen in apartment in Orta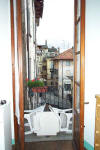 From our balcony we look down to the little village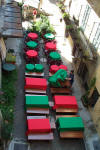 Just below our apartment is a little restaurant – very patriotic table linen!
We walk around town, looking at restaurants and shops. There is a small island – Isola St. Giulio, a few hundred meters from the town of Orta. Boats will take you there for only a few €. We walk around long enough that it is time for lunch. We buy a piece of pizza for each of us and a mineral water for €6.25, which we take back to the apartment to warm. We sit on our little balcony and have lunch, watching the world (a very small portion of the world) go by. After lunch, we venture out to shop for more food supplies. I buy some olive oil soap and we inquire about a coffee funnel (no luck). We stop at one shop and buy some pane for colazione. We also need olive oil – the shopkeeper tries to trade us up to olive oil that is €17.70 a small bottle. He also tries to sell us some salami with truffles. No thanks – we can't afford that. We buy some parmareggio (grated) then head to the next shop. There we buy some ravioli and bottled pesto. Next, we buy wine, butter, orange juice, eggs and ground pepper. Our list is almost filled, but the fruit seller is closed for siesta. We go back to the apartment and I take a half hour nap – I am awakened by the whistling of the street cleaner on the street below the apartment (we are on the second floor – European – of a really old building).
We are ready to go out to the fruit stand when a terrific thunder and lightning storm blows up – "Il giorno fu pieno di lampi"! The rain is incredible. The storm lasts about an hour, then gradually everything clears. We go out – first to the fruit stand where we buy a cantaloupe, lettuce and garlic. Then we stop at a news stand and buy a USA Today – we have been pretty isolated from the world since we've been in Italy as there aren't any English language television or radio stations that we have found and we don't speak good enough Italian to understand what is going on in the world. We go back to the grocer's (salumari) and buy some wonderful local cheese and some prosciutto crudo. Back to the apartment.
We decide to walk to the TI at the end of the little peninsula that Orta is on – the one in the village is not very complete. Once there, we spy an ad for a place at Omegna that sells household goods. What the heck – we need a coffee funnel – we make the drive to Omegna and stop at a 'supermarket' where we buy coffee and a half chicken breast for tomorrow night's dinner. After a fair amount of driving back and forth, we find the household goods place, but no coffee funnel – apparently you can only get espresso makers in Italy.
Back to the apartment – we have some of the wonderful local cheese (Passito), a half a cantaloupe with prosciutto crudo and the ravioli with pesto. What a wonderful meal. I have never had a better melon. Tom had purchased some local pinot grigio for €3.90 – and it is very acceptable. Tomorrow we will explore more of the town and go out to the little island. I think we are both feeling that the explore Italy part of our vacation has finally started. To think that we are only 1 ½ hours from Milano – we may as well be several decades back in time. As I write this at 8:30 in the evening, I can hear the birds, some children playing below, the clink of cutlery on plates in the outdoor trattoria and in the very far distance, a motor – probably a boat on the lake. No trains, no trucks or cars or motor scooters. What bliss.
August 2, 2002 – Friday – Orta
We both sleep very well – I think we are exhausted from four consecutive nights of marginal sleep. For breakfast we fix scrambled eggs and some toast made from the local bread – it is filled with nuts and raisins. We have blood orange juice – I don't think you can get that in the U.S. It is really quite good, but different from the juice we get in the U.S. Tom tries his hand at coffee using the Italian coffee maker – it is pretty strong, but tasty. After washing up, we head out – we first off need to find an ATM (Bancomat) and get some cash so we can pay for our apartment.
The first Bancomat doesn't work, so we climb the hill to another bank. The banks here are very cautious. You cannot just walk in – the teller has to buzz you in – and at one bank, you have to pass one at a time through a revolving door. Mission accomplished, we walk down the hill into the center of town.
I haven't described the town. The town is built on a small peninsula that juts into Lago d'Orta. I have no idea how old it is – some of the buildings must be hundreds of years – many have facades that are crumbling. Many of the buildings have carvings above the windows, or frescos painted on them. Most of them are a sort of yellow color, with slate or tile roofs. For the most part they are four or five stories high and built one against the other, with an occasional alley between. There is a 'major' street that runs parallel to the lake shore – here are the shops, post office and some real estate agents. Just a block from our apartment is the town square – on it is a building called the Palazzo della Communita, sixteenth century. One block away from the water and you start to climb – steeply – the most picturesque walk is up to the church – the Chiesa dell'Assunta, fifteenth century. The roads and walkways are of stone, set in a pattern, some flat tiles making for better footing.

Orta – the Palazzo della Communita

Orta – another view of the piazza – with hotel on the end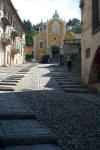 Orta – from the piazza looking UP to the chiesa (church)

Orta – from the chiesa looking DOWN to the town and lake

Orta from the parking area – in the background you can see the Isola de San Giulio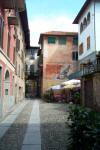 The streets in Orta are really narrow – you'd have trouble driving your urban assault vehicle here!
We spend a delightful morning walking around town – we go up to the Chiesa and while inside hear a child talking to (we assume) his Nonna. He wants to eat – NOW. We walk outside and find that the boy and Nonna are in an archway leading to a private garden – they are behind a little wrought iron fence. I walk over, apologize for my poor Italian and ask if I can take their picture – Nonna misunderstands me – she thinks I want to photograph the house, but eventually I nearly make myself understood – I get a picture of the little boy, but Nonna backs away.
We walk back to the waterfront – I catch the men who pilot the boats to the Isola de San Giulio bantering with the carabinierie. The hand gestures, the loud voices are as Italian as can be.
We are continually reminded that Americans are a rarity here – in most places in Europe, the locals can tell an American accent from English – not here. What a refreshing change. We are often mistaken for Germans (next to Italians, the most frequent tourists).
I send a few post cards to the US, and then we decide to take the boat to the island. It costs €6 round trip for the two of us, and only takes a few minutes. We spend nearly an hour strolling around the island, taking several photos. There is a restaurant on the island and the prices are very reasonable, so we decide to stop. The restaurant has a terrace overlooking the lake, and is sheltered by some very large kiwi vines. What a pleasant atmosphere. I order an antipasto that is mixed vegetables, including grilled eggplant, zucchini and peppers. I also order a tortellini in brodo (broth). Tom orders tortellini in cream with prosciutto. The food is excellent – we hadn't planned on having such a large lunch, but we'll make up for it by having a very small dinner. We have a ½ liter of the house wine, which is light and refreshing. But the best part is watching three Italian men in their 70's or so having lunch. We cannot believe how much they eat – first they split two plates of antipasto. Then they have two or three 'primi piatti' (first plates) of pasta. Then they have 'secondi piatti' of scaloppini, patate fritte and insalata. Between them they have 2 ½ liters of wine. We are finished and they are still going – we assume they have dolce e caffe as well. Where do they put it all? This is the traditional 'main meal' in Italy – but neither of us realized that people still did this – we thought that such a meal was reserved for people who did manual labor for a living.

This little boy is German – he and his family must be spending their summer holiday on Isola de San Giulio
After lunch, we walked around a bit more, looking into the basilica – this island still has a monastery on it. The basilica is really beautiful. I can't look at a building like this any more without wondering what it would be like to sing in it.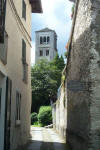 On the Isola de San Giulio – the campanile (bell tower) of the basilica
We return to the town and call TTS who will be leaving Florida today for Milan – we expect to pick him up early tomorrow morning and head for Colle di val d'Elsa where we have an apartment for two weeks. He is ready to go – we ask him to bring the coffee funnel with him.
Next, we decide to walk up to Sacro Monte – there is a cemetery there, as well as a monastery that is still active. The big draw is 21 little chapels built to teach people about the life of St. Francis of Assisi. It is quite a hike – the day, while not uncomfortably warm, is still hot enough. We wander around the grounds for a couple of hours, taking a few pictures as we go. We don't see all 21 chapels – I'm not sure if we get off the beaten path or what happened. The chapels have life-size statues in them, depicting various events in St. Francis' life. They were built to help explain his life to people who cannot read.

Isola de San Giulio from Sacro Monte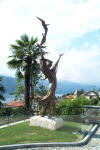 Modern statue of St. Francis on the way up to Sacro Monte
Back down at sea level, we buy another international calling card, and Tom calls Fran and Matt to make sure they realize that it is hot here and they should dress accordingly. Then we fix dinner – a simple salad of lettuce, olive oil, balsamic vinegar and cheese, and some chicken breast sautéed in olive oil and butter and dressed with lemon juice. We enjoy this on our little balcony, listening to the cacophony of birds and people all around us. What a wonderful day. And more are to come.