Preparation and Getting to Vienna
Preparation
The old saw is that 'getting there is half the fun.' While neither Tom nor I would agree that the flight and related travel are fun, there are aspects of planning a trip – especially one like this – that really are fun, particularly now that there is so much information on the Internet. Tom and I are experienced travelers and we are well past the point of staying in hotels and only eating in restaurants – and we are not afraid to adventure out beyond the tourist areas.
This is a record of two trips – the first, the awesome experience of traveling to Europe with Choral Union and performing in some of the most sophisticated venues on the Continent. The second, four weeks in Italy, two of which will be on a farm in Toscana with our sons and Tom's sister, Fran – we will cook our own meals and try to learn as much about how Italians live as we can.
We found the farm through the Toscana tourist web site – it is what is called Agriturismo – staying on farms that raise traditional crops – the buildings from the farms, most likely former quarters of farm workers, are rented to travelers and are subsidized by the Italian government.
The car we will rent is another Internet find. Basically, we 'buy' the car for the requisite period, then 'sell' it back at a guaranteed price. Renault, in this case, then sells the car into France as a used car, thus avoiding the extraordinarily high VAT on new cars.
Never underestimate the imagination of people trying to avoid taxes!
The Music: We will be performing in Vienna, Bergheim (Austria), Interlaken, Geneva and Albiate (Italy). In all but Geneva, we will be singing:
Otcenas (Janacek)

There is Sweet Music Here (Chatman)

O Nata Lux from Lux Aeterna (Lauridsen)

Mass for a New Millennium (Nance)

Encore piece – Elijah Rock (Hogan)
In Geneva we will be singing the Janacek, part of Richard Nance's Mass and premiering a piece called La Luce delle Tacite Stelle by Valerie Kikta, commissioned by the World Harp Congress. The music is varied and challenging.
Altogether, there are approximately 82 Choral Union members and family traveling. We will meet in Vienna on July 17. And so----
July 16 and 17, 2002 – Tuesday and Wednesday – Lakewood to Vienna
The BIG DAY has finally arrived – months of planning and rehearsal are going to be put to the test.
We have Ashley Nelson take us to the Lakewood Mall Park and Ride, where we catch the bus to the airport – this is very efficient and cheap compared to Shuttle Express ($4 for both of us, plus the $5 I give Ashley, versus $45 or so for Shuttle Express (plus tip)). The Nordgrens and Margaret Barrett also catch the bus there, and Lori Olsen and the Giddings catch the bus at the 512 P n R.
There are about 30 Choral Union people on the flight to Amsterdam. Some people have a lot of luggage – we are betting that by the end of the trip they will wish they had 'packed light.' We have two carry-on size bags that convert to backpacks and a garment bag for our performance dress that we check. Tom has the computer case and a fanny pack, I have a small soft side back pack, the camera bag and a fanny pack. That's all for six weeks.
The flight to Amsterdam, via Northwest, is uneventful and about as good as can be expected, given the length. Schipol Airport is clean, efficient and modern. We are able to draw some cash from the ATM and then stash our luggage in a locker. It is really funny watching people try to figure out how to use the locker – as I walk past several people they are all reading the instructions out loud. How many members of Choral Union does it take to open a locker?
We take the train into town – a 20-minute ride. Since Tom and I have been to Amsterdam before and we have limited time a few of us just walk around a bit. Amsterdam is very dirty and the drugs are very open – people rolling joints openly on the streets. Amsterdam is also known for the open sex shops. Frankly, we would not choose to visit Amsterdam again, although biking in Holland would be wonderful – it's flat!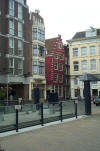 Leaning 'skinny house' in Amsterdam
Iit used to be that houses were taxed by their width, hence they are very narrow (more ways to avoid the Tax Man!). They lean so that furniture can be drawn up by a winch attached to a beam near the top and taken in through a window.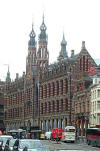 We particularly like this old building, which is now a shopping mall
We return to Schipol well in time for the flight to Vienna – by this time we are all pretty tired. The trip to Vienna is aboard a KLM flight, and likewise uneventful.
The other Choral Union folks arrive via SAS shortly after us. We load onto two buses and head to the hotel. We are engulfed by a torrential downpour – lightening, thunder and HUGE raindrops. I'm glad we aren't trying to schlep our luggage on public transport through all of this.
The hotel we are staying in is called the Renaissance Wien. It is large and quite nice – part of the Marriott Hotel chain. Our room is good – two twin beds shoved together to make a king size bed, with down comforters.
Dinner is in a park called the Prater. It is a large amusement park, not unlike Tivoli in Copenhagen. Dinner is entirely forgettable – a soup, turkey cutlet and rice, plus an imitation "Sacher Torte." However, we are delighted to see Ben Harris at the restaurant. He had been in touch with some of the Choral Union people and knew we were going to be in Vienna – somehow he found out where we were having dinner. He has been in Europe for some time and has sung in some operas in smaller Italian houses. He has lost 90 pounds and looks great. We hope that he is able to continue to pursue his dream.
We tumble into bed about 10:30 and sleep surprisingly well.