Stresa and our performance in Albiate
July 27, 2002 – Saturday – Stresa
We have a 9:30 departure for Italy today. Although the itinerary calls for a two hour drive, the drivers think it will be closer to five or six hours.
The drive is uneventful – this part of Switzerland is not particularly interesting until we see Mont Blanc. It is truly spectacular. The tunnel under Mont Blanc is about 13 kilometers – I believe it has just reopened after a fire last year. Once we emerge on the other side we are in Italy. The first thing we notice is that the roofs on the houses are made of a very heavy irregularly shaped slate. Although this part of Italy is not particularly beautiful, it is nice, with a lot of picturesque ruins along the route. We stop at a motorway rest area – there is a Pans there – the same chain that we patronized a few times in Spain. Tom gets his first experience ordering in Italian – he does remarkably well.

A view of Mont Blanc from the bus

Getting ready to leave France and enter Mont Blanc – Italia on the other side
The road into Stresa is steep and curvy – we are told that Theo, the driver of the other bus, frequently says 'Mein Gott' when approaching a particularly difficult stretch of road – bet he said it a few times on the way to Stresa. He got lost – went almost all the way to Milano before he got turned around, so his bus was almost an hour behind ours.
Tom and I check in and find that our room overlooks the main road in Stresa and has a small balcony. A man and woman are enjoying a late afternoon wee nip on their balcony next to us. They give us a wee drammie of their brandy – they are from Lancashire and are in Italy for an 11-day holiday.
Tom and I walk around the town for a while, and then settle for dinner at an outdoor café. We each have gnocchi with pesto that is very good. Stresa is a busy tourist area – and there are a lot of places to relax and enjoy a glass of vino while watching the world go by. We head for bed early, as tomorrow will be a busy day.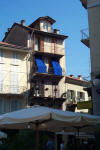 This building in Stresa struck us – this is Italian air conditioning
July 28, 2002 – Sunday – Stresa
Breakfast is the poorest we have had yet – coffee, a few breads and cereal and blood orange juice. We got spoiled in Vienna, which had such a rich offering.
After breakfast we walk around for a while, then board the buses for a trip to Como. We have our 'farewell' lunch there at the Villa Olma (Elm), a 17th Century lakeside villa that is now owned by the city of Como. The lunch is big, if nothing else! Starters are some pickled peppers in mayonnaise (very heavy to mayonnaise), some risotto in vinegar and oil with some vegetables, farfalle in marinara sauce, gnocchi in marinara and veal in tuna sauce – I don't think that anyone enjoys everything that is offered. There is wine with the lunch (for a change) and Macedonia (mixed fruit) for dessert. The lunch is punctuated by lots of toasts to the soloists, Dr. Nance, the 'crew', the accompanists, etc. The highlight is Vic Hansen conducting Tassos in a parody of the Chinese harp piece we heard in Geneva – it is a stitch! After lunch, we look around the villa a bit, then load the buses for Albiate, where we are scheduled to sing our final concert.

View of Lake Como from the villa of Palazzo Ulmo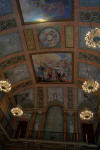 Inside the Palazzo Ulmo – the buildings are slowly being restored – they are now owned by the city of Como and are somewhat a gift horse since they are expensive to maintain and restore
Albiate is a very small village – this is the 393rd year of their music festival of San Fermo. It is a BIG DEAL for them. The church is beautiful – lots of statuary and frescos. The acoustics are good – the organ is apparently quite good, as well. However, it is really HOT! We warm up and Richard and Suzanne get the organ set.
The hotel had packed sack lunches for us (no mayonnaise, since they have been on the bus all day). Before we know it, it is time for the performance. We find out it is also being broadcast on the local radio station. The church is nearly packed. We've never sung better, although most of us are really suffering from the heat. After the performance, we are invited to a late night (light) meal of spaghetti. They have set up several tables in the schoolyard connected to the church. We eat spaghetti, drink bottled water, sing and are sung to by our hosts. What a wonderful experience. Tom and I try our Italian on several of the hosts – one woman in particular is very friendly – her name is Anna Maria and she speaks even less English than I speak Italian. This has turned out to be the best experience of our trip. We get back to the hotel by 1:00 a.m. – several of the people have to go to the airport at 3:00 a.m., so they won't have time for anything other than a shower. We have to get up about 6:00 a.m. for the trip to the airport, where we will pick up our car and head for Levanto, in the Cinque Terre area.