Vienna and our concert in Stephansdom
July 18, 2002 – Thursday – Vienna
Breakfast is included with our room. It is the best breakfast buffet we have ever had – Continental, English, American and Asian selections. After breakfast we stroll to a konditori and buy some mineral water, then to a market to buy some wine. I had forgotten that you need to provide your own shopping bags in Europe. I cannot remember the German word for bag, but I still remember the Danish word ('posser').
The day starts out with a bus tour of Vienna. I don't remember being so impressed by the architecture in previous visits, but this trip I am enthralled with the beautiful buildings – they are varied and interesting. We have a brief stop at the Belvedere, a country palace overlooking the city, and then we have a one-hour tour of Schonbrunn.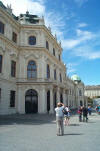 Garden and view from the Belvedere Palace – old Vienna in the background, rear view of the Belvedere, front of the Belvedere
Tom and I had been here in 1998, so we remember a lot of it. After the tour, we stay on the bus that takes us to the center of Vienna and drops us in front of the Opera House. We find one of Rick Steves' recommendations for lunch – a little sandwich place somewhat removed from the tourist track. The sandwiches are open-face sandwiches that are presented beautifully. You point to the ones you want – three make a nice lunch, then order your drink from the cashier. Lunch for two comes to €6.42.
After lunch we stroll to Stephansdom, where our first performance is to be held. Facing the platz is a sign advertising our concert. In the front of the cathedral is a booth for ticket sales. I think it is finally hitting us – we are going to sing in one of the most prestigious venues in Europe!


Banner in front of Stephansdom, Vienna – can this really be happening to us? And a poster for our concert
Tom and I walk around the cathedral a bit, then stroll around the town a bit more. We stop at the Italian Tourist Office, located near the Opera House – we practice our Italian a bit with the man who helps us getting maps and brochures. He is from Mercogliano! He is in raptures that Tom's nonna was from the same town.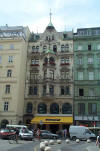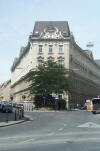 The architecture in Vienna is wonderful – these two buildings are examples

F

or dinner we stop at a small restaurant (Under the Three Axes) and have our obligatory schnitzel. Yum. Then we meet up with the rest of the choir at Stephansdom for our rehearsal. It is a bit stressful. The organ is sharp and it is a challenge to tune the instruments. Added to that, we have to position the risers and move some chairs, which cuts into our rehearsal time – we only have two hours total.

July 19, 2002 – Friday – Vienna

After breakfast we take the underground to the city center. We decide to visit the museum of music. The first couple of floors are about the physics of sound, which I don't fully understand. However the upper floors have a great exhibition of lives of Haydn, Mozart, Beethoven, Schubert and Mahler. The fun part is a virtual conductor – we don't have the opportunity to try it, but enjoy watching a couple of children try – they select a piece from about six choices, then stand in front of a video of the Vienna Philharmonic and try to conduct it. If they are conducting well, they can get through the entire piece. If they are conducting too fast or erratically, the orchestra responds accordingly, until the Concert Master gets up and walks out in disgust.

We stop for lunch again at the sandwich shop, then head back to the hotel. We take a nap, and then practice our music. We have a bowl of soup at the restaurant across the street, and then change into our performance dress for the bus ride to the cathedral.

Earlier in the day a crew of people have gone to the cathedral to set up, so the instruments are tuned and ready to go. The organ is not sharp – probably because it isn't as humid as the day before. We warm up in the Sacristy – which is covered in scaffolding and plastic. Richard reminds us that in this same building, Haydn had been a choirboy, Mozart had conducted some of his works and Beethoven had worshipped. It is amazing that we have made it here and are being allowed to sing in such a place. Richard also tells us that only six performances a year occur in this venue. This puts a bit of pressure on us!

Interior, Stephansdom, Vienna – here Haydn was a choirboy, Mozart conducted his concerti and Beethoven worshipped. The idea of a choir from Tacoma, Washington, singing here is incredible. What a wonderful blessing.
The performance is nearly flawless – the rehearsal had been very stressful and we were all nervous that things wouldn't go well. However, we rise to the occasion, inspired no doubt by the wonderful acoustics of this Gothic Cathedral. Our fortissimos rise and reverberate throughout the building; our pianissimos can be heard as a whisper. The soloists, even if they are nervous, do splendidly. Richard's Mass is received very well. Our encore, Elijah Rock, is a big hit. It is hot in the cathedral, especially in performance dress, but the discomfort is minimized by the joy of the experience. I've never seen Richard so happy as when he is conducting his Mass – clearly we are meeting his expectations and it is something of which he is very proud.
The trip back to the hotel is a chance for us to relieve the tension – we are so happy to have done so well and to have shown some of the most discriminating audiences in the world what we are made of.
After we get back to the hotel, we change, then several of us (Heather Sewell and her mother, Marjeanne Stone, Suzanne Montgomery (our organist), Lori Olsen, Angie Alexander and the Nances) go to a small Italian restaurant near the hotel – it isn't a fancy place, but the owner is delighted to have us – he doesn't speak much English, so we try our Italian on him – the waitress only speaks German, so there are some challenges communicating with her. I have 'carciofini' – artichokes, prosciutto and cheese in a béchamel sauce. It is very good, but also very rich. Tom has a pizza – very thin crust, which I believe is more authentic. The owner gives us a sample of grappa Italian liquor. I'm not sure if it is because we are Americans or because we tried to speak Italian. Anyway, it is an insurance policy for a good night's sleep!