Interlaken and our performance in the Schlosskirche
July 22, 2002 – Monday – Salzburg to Interlaken
Today is mostly travel – we start out just after 9:00 a.m. and head to Interlaken. Our route takes us through a small part of Germany, including past the Chimesee – that is where Ludwig of Bavaria was held at the end of his life, and died by drowning.
We stop at one of the rest stops for lunch. These are very nice – they have a lot of fresh food, including salad and freshly cooked main dishes. Tom and I split a half a chicken and some salad and the customary bottle of mineral water.
Eventually we get to Zurich – it is dirty and uninteresting, with a tremendous amount of graffiti. We are caught in the rush hour and it takes about ½ hour to go over one bridge.
The views begin to improve tremendously as we proceed to Interlaken. The roads are good, although they twist and turn as one expects on mountain roads. The villages are tidy and the houses have many window boxes. The mountains make a spectacular backdrop for the lakes lined with their villages.
We arrive at Interlaken about 8:30 p.m. and check into our hotel – ours appears to be a hold over from Edwardian times, as are many of the other hotels. Some of the rooms come with bidets (not ours), although we have a small balcony. Interlaken is a very pretty, although obviously touristy, town.

Hotel Royal St. Georges, Interlaken
Tonight is a group dinner. This is a vast improvement over the one we had the first night. The room is beautifully appointed, and the tables nicely laid out. Starters are a clear pancake soup (very Swiss) followed by beef stroganoff, with nice vegetables and homemade noodles. Dessert is a 'burnt cream' although it is different than the kind we are used to. Tom and I split a ½ liter of a California Cabernet Sauvignon. We are really tired, so we head straight to bed.
July 23, 2002 – Tuesday – Interlaken
The breakfast here isn't nearly as good as we've had previously, but it isn't bad. After breakfast we board the bus for a trip to Trümmelbach Falls. The drive is beautiful – we can see Jungfrau most of the way. These falls drain three mountains – Jungfrau, Eiger and Monch. Each second 20,000 liters of water fall. They are spectacular – there is a tram that takes us about 1/2 way up the mountain, from there we walk to the top, stopping along the way to take photos. Most of the falls flow through the mountain, rather than in front of them, so you go through a series of caves to see them. I think many of us are struck by the awesomeness of it – man cannot begin to build something of such magnificence.

One of the many parts of Trümmelbach Falls
Another view of Trümmelbach Falls

The valley below Trümmelbach Falls – this looks like a postcard

The floor of the valley below the falls. So clean, so pristine – I expect to see Heidi come around the hill any minute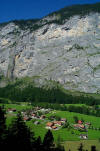 A little village in the valley below the falls
Our next stop is Grindlewald, at the foot of Jungfrau and Eiger. Tom and I were here in 1976, when we visited Chuck Butzberger's cousin, Freidi. She took us here for lunch. The village has grown a lot, and caters to tourists, parasailers, and skiers. Tom and I find a bakery where we get quiche, which is warmed for us, and a nice pastry. We sit on the park bench and enjoy our lunch, which cost us 14.70 Swiss Francs, compared to 20 SF per person for a salad in a restaurant.
There really isn't much to do in Grindlewald in the short time we have, so we just walk around town a bit. We load on the buses and return to Interlaken. I spend some time doing some wash in the hotel sink – there is a Laundromat about 15 minutes from the hotel, but we don't have enough time to go there.
The Schlosskirche is about a block from our hotel, so we walk to the rehearsal. Our rehearsal is well attended by a Polish choir that is touring. The acoustics are very tricky – the sound tends to bounce off the walls several times. You can hear the instruments much better than in the other venues. The organ has manual stops, so between each movement Suzanne has to set them, which can take several seconds.
After the rehearsal, we return to the hotel to shower and change, then meet in the front of the church for the performance. This is Melina's last performance with us – she is performing at the Harp Congress closing concert, so she can't travel to Italy with us. Patricia Wooster is to be our harpist for Richard's Mass and we will have another harpist for the other pieces in Geneva.
We warm up outside and in the process, unknown to me, an insect decides to attach itself to my shoulder. I don't realize this until I am in the church ready to sing (naturally, I am in the front row because of my height). I am in agony trying to figure out how to dislodge it surreptitiously. I can feel it crawling around my neck while I am singing. Eventually it decides to go away on its own.

Too bad this turned out so dark – this is the performance in Interlaken
The rest of the performance is fun – it isn't as hot as the others, so it is more enjoyable to sing. We aren't quite as inspired as we were in Bergheim. We finish with Elijah Rock, which brings the house down. Much of our audience consists of a boys' choir from Estonia. After the performance, we stand outside the church and the boys sing for us. Their song (in their native language) is about their homeland. Their proud mothers stand behind us – what a wonderful thought – 15 years ago this would not have been possible.

Estonian Boys' Choir singing for Choral Union
Most of us meet at the Hotel St. Georges for a photo on the beautiful staircase. Afterwards, we go to a restaurant in the same hotel we had dinner last night for a late meal. Tom and I share a table with John and Joan Harstad. John's grandfather was a founder of Pacific Lutheran University – Harstad Hall, the original building, is named for him.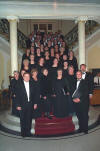 The lighting isn't all that good, but here we are – Choral Union, fresh from our latest triumph
Tomorrow is an early day – we will travel to Geneva and begin preparations for the World Harp Congress.