Levanto and Orta
July 29, 2002 – Monday – Levanto
Morning comes awfully early – we only have a few hours' sleep, and then have to be ready for the bus to Malpensa. We are supposed to pick up the car at 10:30 at gate 5. We don't really understand what the procedure is, but after we ask around a bit, and make several false attempts, we find out that we are supposed to meet the driver at the arrivals exit marked #5. We are on time, but he is late – we have a few moments of anxiety, but finally connect with the driver, who speaks some English – between his English and our Italian, we get the instructions for the car, then are on our way. We stop for 'benzina' - very expensive here – then need to stop for money – we get off the autostrada and wander around for a bit, finally coming to a Bancomat.
The car is as ordered – a new Renault Laguna four-door sedan with hatch back, 1.6-liter engine and five- speed. It is silver – a good color (thank goodness it wasn't aubergine). The clutch is a little odd. It engages very near the top. It is fine once you get the hang of it. It is really very well equipped. The stereo system is an AM/FM tuner with in-dash CD player and a stalk for controls. It has a trip computer, climate control system with separate controls for driver and passenger, and it will speak to you – in French, of course. Performance is quite good and mileage is excellent – a nice feature with benzina at €1.05 a liter.
I am very tired, so have some trouble staying awake on the drive. However, we have good directions and a good road map. The autostrada is very good – although there are a lot of tunnels along the way, which means you cannot see all of the scenery. We go through Genova, and then eventually take the exit for Levanto. Our B & B is in a little (VERY little) village called Dosso. It doesn't even have a church. The room is nice, although a bit expensive (€85 per night). It is high on a hill overlooking Levanto and some other villages. We get maps and directions and head to Levanto. The first priority is laundry – we've been on the road two weeks and have made due with washing in the sink. It costs €20 for two loads of laundry, wash and dry. We find another outdoor café and have a nice meal of pasta with walnut sauce, and then we drive back to the B & B (called l'Antico Borgo). The road is nothing if it isn't narrow!
Unfortunately, the local dogs are up and barking nearly all night long – we don't sleep particularly well.
July 30, 2002 – Tuesday – Levanto
We have breakfast on the patio overlooking Levanto – the view is wonderful and the food is quite good. I particularly enjoy the zucchini frittata – Tom isn't a big zucchini fan, but he likes the pastries.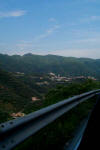 Far below the road is the village of Levanto

The farther village is Dosso where our B & B is
We have heard a lot about the Cinque Terre so are prepared for a great day. First, after some false attempts, we find a parking spot at the train station. We buy a one-way ticket to Riomaggiore. The trains run pretty often, and the idea is to either walk or take trains between each of the villages. Riomaggiore is pretty, but not much to be seen. This, unfortunately, proves to be the case with all five of the villages - they don't live up to their reputation. We find the villages to be crowded with tourists, sometimes dirty and always noisy. Dutiful tourists, we visit each of the villages in succession, stopping at Manarola for lunch (pizza, which is quite good). Next we take the train to Corniglia – the town is up on the hill and we are too tired and hot to walk up there. We buy an ice cream and sit on the train platform. While we are waiting, a light sprinkle comes up – it feels really good. Next we go to Vernazza. This is the only town that has anything by way of a beach – we dip our feet in the water – it feels really good, as the day is hot. Finally, on to Monterosso. This is the only one that is really a village of any size. I am particularly put off by the toilets in every place we look – either they are dirty or they are the darn Turkish toilets (feet straddling a hole). We decide that Cinque Terre isn't for us, and since we are unhappy with our accommodations, we decide to move on to the next destination, which is Baveno, next to Stresa. Tom calls Davide at the hotel in Baveno to make sure that we can check in a day early.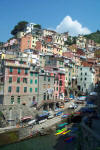 Riomaggiore – the first of the Cinque Terre
We have dinner at the same restaurant in Levanto as the night before. We both have an insalata mista and veal con funghi. It is very good, and reasonable. We return to l'Antico Borgo and tell them that we are checking out early.
July 31, 2002 – Wednesday – Levanto – Baveno
We get on the road by about 10:00 and head back up the autostrada to the Lake Maggiore area. The road is quite good, although we are a little apprehensive about the tolls, not knowing what they will be. As it turns out, they aren't that bad – if they were more expensive, the roads wouldn't get used, I suppose. We pass though Genova, which doesn't have much to offer. We are not supposed to check into our hotel until 2:30 but the trip is quicker than we had anticipated. We get to Baveno about 1:30 – our room is ready – it is really small and dark – not the nicest we've ever had by any means.
We walk around town a bit – the heat is once again pretty bad – mostly the humidity, if truth be told. We take a look at the 'public' beach, which is really quite nice. We stop at the TI and get information about the boat trips around the lake. They are not too expensive and look interesting.
We drive back down to Stresa and walk around a bit. Tom has decided that he wants to get some sport shirts, which might be a little lighter than the polos he brought with him. Shopping in this area is very limited, so we don't find anything. It is too early for dinner, so we drive up to Varese, just a few kilometers from Baveno. A thunder and lightening storm blows up – it was probably predictable, given the humidity. Varese doesn't have anything to offer, so it is just a drive through. We return to Stresa and have to wait until 7:00 for the kitchen at the restaurant to open. We have cappuccino at an outdoor café while waiting. We dine at a place called Trattoria Stornello. It is a nice restaurant, but we learn that at least one waiter is less than honest. Tom orders an insalata verde. He gets an insalata mista (€3 more). He sends that back to the kitchen so he gets what he ordered. Then our entrée comes with vegetables and fries, which we also did not order. When the check comes, the charge is for the insalata mista and there is a €3 per person charge for the vegetables. Tom tries to tell the waiter that if there is going to be a charge for something, it should be on the menu, but he is dismissive. We decide that the Rick Steves' graffiti wall is a good place to warn other tourists about this place. We plan to go to an Internet bordello tomorrow and post a warning, then, if possible, print the warning so that we can let the people at the restaurant know what we have done.
Our hotel is on a fairly busy corner, and there is a train track nearby, so we might not get a great night's sleep. Ah, well – I think we are both getting used to running on low sleep.
August 1, 2002 – Thursday – Baveno to Orta
As predicted, last night was not very restful – the hotel is on a busy street and the train station close enough we can hear the train announced. We decide to move two days early – we are not sure where, but just about anywhere has got to be better than the Hotel Alpino in Baveno. We check out and are on the road before 8:30 a.m. Yesterday a young man at the TI in Stresa said we might enjoy a town called Orta on Lago d'Orta, west of Lago Maggiore. We figure we can drive over there, check it out, if it isn't what we want return to Stresa.
It takes less than an hour to get to Orta. The first thing we see is a very strange hotel – it looks from a distance like a mosque. It turns out to have once been the summer home of some rich guy who had spent time in Arabia. We get to the TI at 9:15. The clerk gives us a book with hotels in the area – there aren't many in Orta – and we can't afford the one we've just seen. The town is closed, for the most part, to vehicles, except for loading and unloading. We park the car and walk into town. From there, things get ever so much better!
First, we stop at a souvenir shop to ask directions to the in town version of TI. The nice lady doesn't speak much English. However, I notice a sign about apartments to rent. Thinking they must rent for at least a week, I inquire (in my broken Italian). She responds (in her broken English). Finally we realize that the apartment is available and is €72 a day for a furnished apartment including kitchen. Her son and his wife are the owners. She gives the daughter-in-law a call, and Tom explains that we are interested in renting. Her husband will meet us in 10 minutes. We are rather excited – this town is charming! The apartment is only a few meters from the town square – the price is right – can this be true? Have we found Italy at last?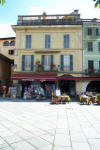 Souvenir Shop in Orta – the owner's son rented us the apartment we stayed in
It is interesting that there are some German and French tourists, a few Brits and maybe an American or two, but mostly Italian. As best we can tell, this village hasn't been discovered by Rick Steves. We are glad. We have no intention of telling him! And – not a 'click and run' (tourists on large tour buses – they hop off the bus, snap pictures of their friends in front of monuments, then hop back on the bus.) in sight.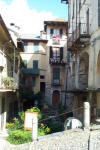 The balcony of our apartment has the white chairs and table
While somewhat Spartan in furnishings, the apartment is as promised – fully furnished with a small balcony overlooking a small square. We make arrangements to rent it for the two nights. We trek up to the car to get our suitcase and settle in. It isn't even 11:00 and we have found a place that is just what we had thought Italy would be like!

Living room of the apartment in Orta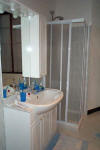 The 'loo' in apartment in Orta

The bedroom in apartment in Orta – simple, but comfortable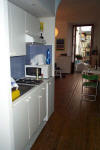 The kitchen in apartment in Orta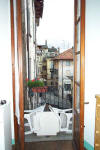 From our balcony we look down to the little village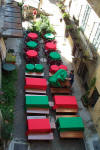 Just below our apartment is a little restaurant – very patriotic table linen!
We walk around town, looking at restaurants and shops. There is a small island – Isola St. Giulio, a few hundred meters from the town of Orta. Boats will take you there for only a few €. We walk around long enough that it is time for lunch. We buy a piece of pizza for each of us and a mineral water for €6.25, which we take back to the apartment to warm. We sit on our little balcony and have lunch, watching the world (a very small portion of the world) go by. After lunch, we venture out to shop for more food supplies. I buy some olive oil soap and we inquire about a coffee funnel (no luck). We stop at one shop and buy some pane for colazione. We also need olive oil – the shopkeeper tries to trade us up to olive oil that is €17.70 a small bottle. He also tries to sell us some salami with truffles. No thanks – we can't afford that. We buy some parmareggio (grated) then head to the next shop. There we buy some ravioli and bottled pesto. Next, we buy wine, butter, orange juice, eggs and ground pepper. Our list is almost filled, but the fruit seller is closed for siesta. We go back to the apartment and I take a half hour nap – I am awakened by the whistling of the street cleaner on the street below the apartment (we are on the second floor – European – of a really old building).
We are ready to go out to the fruit stand when a terrific thunder and lightning storm blows up – "Il giorno fu pieno di lampi"! The rain is incredible. The storm lasts about an hour, then gradually everything clears. We go out – first to the fruit stand where we buy a cantaloupe, lettuce and garlic. Then we stop at a news stand and buy a USA Today – we have been pretty isolated from the world since we've been in Italy as there aren't any English language television or radio stations that we have found and we don't speak good enough Italian to understand what is going on in the world. We go back to the grocer's (salumari) and buy some wonderful local cheese and some prosciutto crudo. Back to the apartment.
We decide to walk to the TI at the end of the little peninsula that Orta is on – the one in the village is not very complete. Once there, we spy an ad for a place at Omegna that sells household goods. What the heck – we need a coffee funnel – we make the drive to Omegna and stop at a 'supermarket' where we buy coffee and a half chicken breast for tomorrow night's dinner. After a fair amount of driving back and forth, we find the household goods place, but no coffee funnel – apparently you can only get espresso makers in Italy.
Back to the apartment – we have some of the wonderful local cheese (Passito), a half a cantaloupe with prosciutto crudo and the ravioli with pesto. What a wonderful meal. I have never had a better melon. Tom had purchased some local pinot grigio for €3.90 – and it is very acceptable. Tomorrow we will explore more of the town and go out to the little island. I think we are both feeling that the explore Italy part of our vacation has finally started. To think that we are only 1 ½ hours from Milano – we may as well be several decades back in time. As I write this at 8:30 in the evening, I can hear the birds, some children playing below, the clink of cutlery on plates in the outdoor trattoria and in the very far distance, a motor – probably a boat on the lake. No trains, no trucks or cars or motor scooters. What bliss.
August 2, 2002 – Friday – Orta
We both sleep very well – I think we are exhausted from four consecutive nights of marginal sleep. For breakfast we fix scrambled eggs and some toast made from the local bread – it is filled with nuts and raisins. We have blood orange juice – I don't think you can get that in the U.S. It is really quite good, but different from the juice we get in the U.S. Tom tries his hand at coffee using the Italian coffee maker – it is pretty strong, but tasty. After washing up, we head out – we first off need to find an ATM (Bancomat) and get some cash so we can pay for our apartment.
The first Bancomat doesn't work, so we climb the hill to another bank. The banks here are very cautious. You cannot just walk in – the teller has to buzz you in – and at one bank, you have to pass one at a time through a revolving door. Mission accomplished, we walk down the hill into the center of town.
I haven't described the town. The town is built on a small peninsula that juts into Lago d'Orta. I have no idea how old it is – some of the buildings must be hundreds of years – many have facades that are crumbling. Many of the buildings have carvings above the windows, or frescos painted on them. Most of them are a sort of yellow color, with slate or tile roofs. For the most part they are four or five stories high and built one against the other, with an occasional alley between. There is a 'major' street that runs parallel to the lake shore – here are the shops, post office and some real estate agents. Just a block from our apartment is the town square – on it is a building called the Palazzo della Communita, sixteenth century. One block away from the water and you start to climb – steeply – the most picturesque walk is up to the church – the Chiesa dell'Assunta, fifteenth century. The roads and walkways are of stone, set in a pattern, some flat tiles making for better footing.

Orta – the Palazzo della Communita

Orta – another view of the piazza – with hotel on the end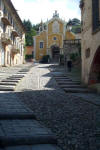 Orta – from the piazza looking UP to the chiesa (church)

Orta – from the chiesa looking DOWN to the town and lake

Orta from the parking area – in the background you can see the Isola de San Giulio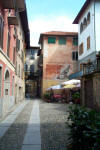 The streets in Orta are really narrow – you'd have trouble driving your urban assault vehicle here!
We spend a delightful morning walking around town – we go up to the Chiesa and while inside hear a child talking to (we assume) his Nonna. He wants to eat – NOW. We walk outside and find that the boy and Nonna are in an archway leading to a private garden – they are behind a little wrought iron fence. I walk over, apologize for my poor Italian and ask if I can take their picture – Nonna misunderstands me – she thinks I want to photograph the house, but eventually I nearly make myself understood – I get a picture of the little boy, but Nonna backs away.
We walk back to the waterfront – I catch the men who pilot the boats to the Isola de San Giulio bantering with the carabinierie. The hand gestures, the loud voices are as Italian as can be.
We are continually reminded that Americans are a rarity here – in most places in Europe, the locals can tell an American accent from English – not here. What a refreshing change. We are often mistaken for Germans (next to Italians, the most frequent tourists).
I send a few post cards to the US, and then we decide to take the boat to the island. It costs €6 round trip for the two of us, and only takes a few minutes. We spend nearly an hour strolling around the island, taking several photos. There is a restaurant on the island and the prices are very reasonable, so we decide to stop. The restaurant has a terrace overlooking the lake, and is sheltered by some very large kiwi vines. What a pleasant atmosphere. I order an antipasto that is mixed vegetables, including grilled eggplant, zucchini and peppers. I also order a tortellini in brodo (broth). Tom orders tortellini in cream with prosciutto. The food is excellent – we hadn't planned on having such a large lunch, but we'll make up for it by having a very small dinner. We have a ½ liter of the house wine, which is light and refreshing. But the best part is watching three Italian men in their 70's or so having lunch. We cannot believe how much they eat – first they split two plates of antipasto. Then they have two or three 'primi piatti' (first plates) of pasta. Then they have 'secondi piatti' of scaloppini, patate fritte and insalata. Between them they have 2 ½ liters of wine. We are finished and they are still going – we assume they have dolce e caffe as well. Where do they put it all? This is the traditional 'main meal' in Italy – but neither of us realized that people still did this – we thought that such a meal was reserved for people who did manual labor for a living.

This little boy is German – he and his family must be spending their summer holiday on Isola de San Giulio
After lunch, we walked around a bit more, looking into the basilica – this island still has a monastery on it. The basilica is really beautiful. I can't look at a building like this any more without wondering what it would be like to sing in it.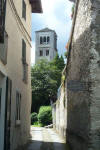 On the Isola de San Giulio – the campanile (bell tower) of the basilica
We return to the town and call TTS who will be leaving Florida today for Milan – we expect to pick him up early tomorrow morning and head for Colle di val d'Elsa where we have an apartment for two weeks. He is ready to go – we ask him to bring the coffee funnel with him.
Next, we decide to walk up to Sacro Monte – there is a cemetery there, as well as a monastery that is still active. The big draw is 21 little chapels built to teach people about the life of St. Francis of Assisi. It is quite a hike – the day, while not uncomfortably warm, is still hot enough. We wander around the grounds for a couple of hours, taking a few pictures as we go. We don't see all 21 chapels – I'm not sure if we get off the beaten path or what happened. The chapels have life-size statues in them, depicting various events in St. Francis' life. They were built to help explain his life to people who cannot read.

Isola de San Giulio from Sacro Monte
Modern statue of St. Francis on the way up to Sacro Monte
Back down at sea level, we buy another international calling card, and Tom calls Fran and Matt to make sure they realize that it is hot here and they should dress accordingly. Then we fix dinner – a simple salad of lettuce, olive oil, balsamic vinegar and cheese, and some chicken breast sautéed in olive oil and butter and dressed with lemon juice. We enjoy this on our little balcony, listening to the cacophony of birds and people all around us. What a wonderful day. And more are to come.