Sorrento, Day Trips, Montepulciano and Back to Seattle
August 17, 2002 – Saturday – Sorrento
Today we are going to Sorrento – we have heard that Italy becomes 'more intense' as you go further south, so this will be an adventure.
Tom is in the shower – the cleaning lady knocks at the door – I am able to communicate with her that we plan to leave about 10:00 – she's pretty alarmed about that – she needs to be in the apartment by that time – OK, we'll leave at 9:30 – va bene. I feel pretty good that, although I don't understand every word, I get the gist of what she is saying without any problem.
We get packed up and head off – the route to the Autostrada is miles and miles of traffic – very slow going. Finally, we are headed south – I am rather surprised to find that there are hill towns all along the route. We stop here and there and use the facilities and fill up with benzina as required.
We enter Napoli about 3:30. This is a truly ugly city – we go through quickly as possible. The route into Sorrento is very busy – two lanes and a lot of traffic. Eventually we find Sorrento and our apartment. It is very pleasant – someone must live here and rent out a few weeks a year – while the view of the Bay of Napoli is not as obvious as expected, it is still there – really close – and we are in the heart of the town- it is pretty noisy with Vespas and what not – we'll try to sleep, but it may be a challenge.

Our bedroom – Fran has a sofa bed in the living room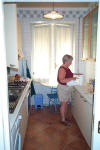 The other essential room – and we have a clothes washer!

This staircase is on a hospital that you can see from our apartment – it reminds us of some of the truly ugly vehicles you see in Europe

This is one of the truly ugly vehicles – it is a Fiat Multipla

Another view of a truly ugly vehicle. It's even worse from the front.

We think this blob on the dashboard is R2D2, but we aren't sure!
Tom and I do some shopping – there is a pathetic supermarket about 50 meters from the apartment. We buy the essentials. After delivering them to the apartment, we go to the main part of town – we find a fruttivendolo, pasticeria, macielleria and 'house hold' store and are able to get all that we need.
Fran makes a nice sauce for the tortellini, we have meatballs and patties and carrots. What a nice meal!
There is no question this part of Italy is intense – the noise is incredible. Well, we'll get through this, too – there is a lot to see and do.
August 18, 2002 – Sunday – Sorrento
We decide that today we will explore Sorrento and try to go to the beach – yesterday was a long drive and Tom deserves a rest.
We all stroll toward the center of town – Fran does some window shopping along the way, and Tom and I head to the Foreigners' Club, where the Tourist Information Office is located (it is closed, but they have left some bus and train schedules out for people to pick up – that is what we needed, anyway, so we got what we wanted). We also stop in a shop that sells wooden inlaid pieces – I hadn't realized they were a product of this area – Tom's mother had a set of nesting tables with inlay (Fran has them now) and Tom and I have a little box of inlay that belonged to his mother – she must have gotten them here.
Some of the pieces are exquisite – others are real junk.
Fran is interested in a drink made here called limoncello – it is lemon juice, sugar and alcohol. A little will go a long way! The woman at the wooden inlay shop gives us a sample of their version – it is good, but not something you would sit and sip.
We have lunch at the restaurant in the building with the Foreigners' Club – the deck overlooks the ocean. Unfortunately, the fog, mist, smog – whatever it is – obscures the view to Napoli, which is supposed to be wonderful.
We walk back to the apartment, then Tom and I walk down the road to the nearest beach – it is inside the small marina. It doesn't appeal to us at all – the boats and swimmers are all jumbled together – I'm not fond of bathing with diesel fuel. On the way back, we take what we think will be a shortcut – ends up going through a campground. It is solid tents and trailers – most unappealing. Also, we end up being rather further from the apartment than we had expected, but once we get to the top of the hill coming up from the beach, the walk is easy.
Tom and I still want to go to the beach, so we head out on foot to Punto de Capo – the beach Rick Steves recommended. He said it was a 40-minute walk from the center of town – or you could take a bus. We decide to walk – it is a long walk, up hill until you get to the turnoff – then a long walk downhill, then down some rugged paths to a little cove or lagoon – it is beautiful, although there are a few plastic cups floating in the water that detract. However, the water is very pleasant and we enjoy our swim in the Mediterranean. We are pleased as we are walking back to find that there are people a lot younger than us who are huffing and puffing as they make their way up the hill to the main road – we aren't quick, but we also aren't out of breath. Something to be said for being reasonably fit.
TTS and Matt are flying back to the States today – we check the airlines' websites to make sure the flights got off on time (they did).
None of us slept well last night – this place is noisy! At about 5:30 a.m. the garbage truck came by – a good thing because the garbage was overflowing. However, he sure made a lot of noise. Our apartment is above a road that goes down to the little marina – the Vespas, motorcycles, Apes, cars and trucks are continuous. There is a dog nearby that barks a lot. Altogether, we are not that impressed with Sorrento.
August 21, 2002 – Monday – Sorrento
Today we are going to attempt to trace Tom's mother's roots. We get out of house fairly early and brave the drive to Nola, where she was raised. We have no idea what to expect.
Nola is about the size of Sorrento, but obviously a poor town – the streets are rutted and many of the buildings dilapidated. On the main square in town is the Duomo, but there is a wedding going on, so we don't go inside. Opposite the Duomo is the Municipal building – we go in there thinking we might find someone who can tell us about a Tourist Information Office or give us an idea of where we might look for family records. We can't find anyone who speaks English. There is one woman (toothless) who tries to help us, but our Italian isn't good enough to make our mission understandable to her. The only clue we find is a list of people who died in WWI. There were two men listed who had the name Mercogliano (Emma's mother's maiden name), so we speculate they may have been related.
<![if !supportLineBreakNewLine]>
<![endif]>

Sign on the town hall in Nola – To the unknown soldiers of Nola

The Duomo in Nola – we can't go inside, there's a wedding in progress

The town hall (Municipio) of Nola

The Honor Roll of soldiers lost in WWI – there are two Mercoglianos listed – they most likely were related to Tom's grandmother
We give up on Nola and drive to the town of Mercogliano.
This town is really pretty – tall trees line the streets – there is a convent or something at the top of a high hill overlooking the town. The TI is closed, so we can't get any information. We stop for lunch at a restaurant on the main street – we have a most enjoyable meal – made more so by the waiter who tries his best to communicate with us in English. I have pappardelle with porcini mushrooms – they are wonderful. Fran has orechietti with mozzarella and Tom has a vitello cutlet. The waiter brings us a small glass of limonetta – icy cold.
We decide to drive back to Sorrento through Salerno and the Amalfi Coast. This is a world famous drive – known for the roads and houses built on precarious ledges and the hectic traffic. The towns along the way are beautiful (and crowded) and the traffic is just as bad as we had read – I can't imagine driving a tour bus on this road. Since we are going north, we are on the inside lane – I'm glad – I don't think I could look if we were on the outside. Every so often the traffic stops because a bus is trying to negotiate one of the hairpin curves and has to cross both lanes of traffic. The people on motorcycles dart in and out of the traffic with reckless abandon – they must be crazy!
Back in Sorrento, unscathed, we decide that really the only thing left that we want to see is Pompeii – we just don't like Sorrento, it is too noisy and the streets in this part of Italy are all littered, detracting from the beauty. It is a bit of a splurge, but we decide that we are going to see Pompeii tomorrow and then leave to go back to Tuscany early – hopefully we'll be able to find lodging up there that is quieter.
Tom and I walk to a pay phone and call TTS and Matt – they are both at work, their journey back reasonably uneventful. We also go to the 'supermarket' to buy a few supplies – there we learn that the price marked on the shelves is not necessarily the price you pay – you are charged what is in the scanner, even if it is different than the price on the shelf. Guess it is the Italian way, but I feel ripped off since the wine we buy is marked €3.85 and we are charged €4.25.
August 20, 2002 – Tuesday – Sorrento
We have learned that the garbage gets emptied every morning about 5:30 or 6:00 – it is probably necessary because the population in Sorrento doubles this time of year, but it sure makes sleeping difficult.
We walk to the train station to catch the little commuter train to Pompeii – on the way we call the agency through which we booked the apartment to tell them that it isn't working because of the noise and that we are leaving tomorrow. The owner is supposed to come by tonight or tomorrow morning by 9:00 a.m. to give us our deposit back.
We catch the train to Pompeii. We witness a brazen theft. At one of the short stops, a man gets on our car on one end and walks toward the back – at the end of the car, he grabs a necklace worn by a woman and rips it off her neck, then dashes out the back of the car, onto the platform and away. I suppose if he could have, he would have grabbed a purse instead, but the suddenness and the audacity unnerves us – it must have hurt, because the woman let out a very loud scream. Of course, by the time we realized what had happened, the train doors had shut and we were underway.
However, we get to Pompeii without incident. While we are waiting in line we are approached by a guide – he is the one recommended by Rick Steves. For €10 each (in addition to the cost of admission) he will take people on a tour of the site, highlighting the most interesting places. We decide to try that (he gets paid at the end, so there isn't any risk) and find that it is well worthwhile. The site is fascinating. It is very large – they aren't doing any excavations now, as the archeologists are attempting to come up with ways of preserving the remains, especially from the pollution. Pompeii must have been rich – the buildings were covered in marble. They had sidewalks and 'zebra' crossings, plumbing in the houses, very sophisticated steam baths and ovens that look a lot like the wood fired pizza ovens in use today. Because it was a port, there were a lot of merchants who lived there. There were also a number of prostitutes – not unusual in a port – many of them were slaves. The plaster cast remains of some victims are especially moving – these people died in absolute terror.
It is hot and dusty in Pompeii – the guide tells us that it is usually a bit more crowded, but it is crowded enough to us. The sun is very intense – our feet are developing very dark sandal tans – stripes where the foot straps cross over our feet.
We are very glad that we went on a guided tour – the site is immense and there are things that we wouldn't have been able to find, or understand even with a guidebook. I thought that I understood that only 20% of the city has been excavated – if I'm correct, there is a lot more to be done.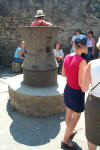 A grain mill in the bakery in Pompeii. No, this guy is not inside the grain mill. It only looks that way.

This is the oven in the bakery – today's pizza ovens look a lot like this!

This fountain is modern day, but the concept is the same as the day Pompeii was buried

Pompeii had running water – here is a lead pipe that has become somewhat unburied over the past 2000 years

This is the main street of Pompeii – the raised stones toward the front are 'crosswalks' ("zebra crossings") – people would step on them to avoid stepping into the mud.

The main street in Pompeii, looking the other way – you can see it was a fairly large city

This mosaic is in the floor of one of the houses – we find it interesting that they could achieve such perspective with mosaic

This is a replica of a little statue that was found in the House of the Faun. The house was one of the nicest in Pompeii – the owner must have been very wealthy.

The Allies landed in Salerno, about 60 km south of Pompeii – this area was the scene of intense fighting. Here (dark spot in the middle of the picture) is the fragment of a German bomb that landed in the ruins.

It takes a little looking, but at one time this little carving was painted red and was used as a pointer 'this way to the brothels'
We catch the little train back to Sorrento, and then walk back to the apartment. We are hot and dusty and tired. The shower feels so good!
August 21, 2002 Wednesday- Sorrento to Montepulciano
Up and at it early – we get packed and are ready to leave before 9:00. The owner, Manuela, shows up about 9:15 - we settle the bill and head out for Southern Toscana. We don't have any place to stay, but we have decided that the car is preferable to Sorrento.
The drive is long – we don't get off the Autostrada until 2:30 – but the traffic isn't all that bad. We pass a few places and decide that we'll try the hotel we were planning on staying at on Friday – as luck would have it, they have rooms for Wednesday and Thursday as well, so we are set.
This part of Toscana is particularly beautiful – it is clean and tidy and there are many hill towns dotting the countryside. It is 'love at first sight' for Tom and me. It isn't at all 'touristy' and there are many roads that beckon you to take a look.
The pool at the hotel is the nicest we've seen – it has a shallow part, a jetted part and a fairly large part suitable for laps. There are some Belgian children playing and they are a bit obnoxious, but otherwise, it is a good afternoon.
This area is known for the cantine (wine tasting rooms) and some of the enterprising owners have put together restaurants as part of the wine tasting room. We have dinner on a terrace overlooking Montepulciano – the sunset on the countryside bathes everything in a honey colored glow. Our dinner is quite good, although we are a little cool, the temperature having dropped a bit after the sun went down. However, we are all so happy to be here, rather than in noisy Sorrento.

Montepulciano as seen from a nearby cantina
August 22, 2002 Thursday – Montepulciano and Environs
Today we are going to explore this lovely little town. Unfortunately, Tom has come down with a bit of a head cold and sore throat, so our first stop is the 'farmacia'. The clerk there speaks some English and gives him an over the counter medication (which proves not to be very effective).
We start walking. The parking, like many towns in Italy, is at the bottom of the hill, and the town itself is atop the hill. Halfway up Tom and I spy a language school. This would be a wonderful place to study Italian – the dialect here is pure (Tuscan is considered the BBC dialect of Italian, thanks to the writings of Dante and others in the Renaissance). We get a brochure – the cost is pretty reasonable, and the instruction can be from two weeks to four weeks, with additional private lessons (the normal curriculum is four hours a day, five days a week). Of course, because you are living in the community, you have the opportunity to speak the language all the time.
At the top of the hill is the town square – a small, unfinished cathedral, a pretty town hall and some other nice buildings on it. It is quite a climb, though – not something for someone who is not fit. We start back down the hill and Fran and I do a little shopping on the way – I find a shop that has nice soaps. The shopkeeper doesn't speak much English, but I am becoming sufficiently comfortable with the language that I can make basic requests understood, even though I am sure I am making many grammatical errors. However, I'll never learn without trying.

The Municipio in Montepulciano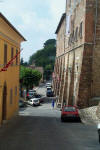 One of the little streets in the town of Montepulciano
After our excursion in the town, we drive into the countryside – everywhere we turn we see more lovely villages and neat farms. We have lunch near a monastery (rather indifferent food) and then go back to the hotel. Tom tries to converse with the young woman at the desk (Louisa) – her English is a lot better than his Italian, but she is patient with him. Tom and I spend a few hours by the pool before we all head to Montepulciano for dinner.
This weekend is the 'end of summer' celebration in the town – the contrade (just like in Siena) have a race through the streets (remember, these are hilly streets) with men pushing empty wine barrels. Tonight the contrade are having money-raising events – one has a traditional dinner, one is selling contrade flags, another is having street entertainment on the main square. It is all very lively. We walk down to a small café near the main gate and have a light dinner. While we are there, the teams practicing for the barrel races go by. They are preceded by police cars, lights blazing (this is important business, after all). The streets at 9:30 are fuller than they were during the day – people watching the practice sessions, young men and women flirting, old people talking – it is noisy and lively, but not the constant buzz of the darn Vespas that we found so objectionable in Sorrento.

These men are practicing for the annual festival in Montepulciano – they roll these barrels up and down the steep hills.
August 23, 2002 – Friday – Montepulciano and Perugia
I have read a lot about Perugia, in Umbria, so convince Tom and Fran that this would be a nice place to see. It isn't that far a drive from Montepulciano, but Tom isn't feeling that well, so it takes its toll on him.
The town, like so many in Italy, is built on a hill, with the newer buildings lower down. This is a university town, as well as the capital of Umbria, so it is quite built up. The first impression is that it is all apartments and modern buildings. However, once we get the car parked, we take a series of escalators to the top of the hill. The town is built on top of an ancient town – you can see in the tunnels for the escalators, the remains of the told town. However, once to the top, the town is quite pretty, with pinkish colored buildings along the main street.
Our first stop is another farmacia where Tom manages to communicate to the clerk that he is suffering from a head cold and is congested. She gives him Actifed, a tried and true American remedy. We go to a little café and have a coffee and he takes a couple of tablets.
We walk to the town square – it is beautiful – the town hall dominates the square – the cathedral is unfinished, some Pope in times past having commandeered the marble for a palace for himself. I really like this square and would like to visit the art museum, which has the best of Umbrian art, but I can see that Fran doesn't like the town and Tom is miserable. We head back to Toscana.
There is a storm blowing up, but we decide to stop at a little town called Montefollonico for lunch. What a charming town – very tidy, with well-preserved buildings. Fran and I have ribollita, the Tuscan bread soup, since it is getting rather cold. It is wonderful.
We finish our lunch under the umbrellas on the deck of the little restaurant – it begins to rain in earnest as we sit there. We dash out to the car and drive back - the lightning and thunder are tremendous. I've never seen an area that can have storms quite as terrific as Toscana.
Tom takes more medicine and a nap – the storm clears and I spend the afternoon reading a book.
We have dinner at a nearby restaurant – the rain has returned in torrents – the electricity flickers a few times. Our dinner is quite good – Tom and I have lamb, mine cooked on the grill, Tom's cooked in balsamic vinegar. Dinner over, we head back to the hotel – we are glad that the drive is short – the rain is terrific.
August 24, 2002 – Saturday – Montepulciano to Milano
This morning we wake to no hot water – not a pleasant start to the day. My hair needs washing, so I go ahead and brave the tepid water.
The drive to Milano is unpleasant – the traffic is awful. We have 'stop and go' for many miles – and some of the drivers are really aggressive (and not always very bright). At one point we stop at a toll plaza – a driver in the next lane absolutely refuses to let us into his lane when we discover that our lane disappears – we are amused when he gets to the paystation and finds that he only has cash in the credit card lane. What a 'bimbo.'
Lunch is also most unpleasant – the Italians don't know how to queue and the people who designed the Autostop have no idea of 'queuing theory'. I am in a pretty foul mood when I got out of the place.
Our instructions to the hotel at Malpensa, the Milan airport, are a little confused, so we end up taking a wrong cutoff – ah well, it is only one and the journey has been long – we arrive at our destination about 4:00. Our hotel, the Hotel Cervo (deer) is very near the airport and quite nice. The town is one of those places that can only be described as 'there is no 'there, there.' I go for a walk, looking for a place for dinner. There is a very dreary cafe about four blocks from the hotel. Later, Tom and I walk back and take a look – it is dingy and smoky. There is a tobacconist next door – she tells us there is another restaurant nearby – I walk there while Tom waits to use the only payphone in town. It is pleasant and the menu looks interesting.
We have to turn the car in today – the agency sends a driver to the hotel. We turn it over to him, and one more part of our journey is over.
Fran, Tom and I walk to the restaurant – we have a wonderful meal – Tom has gnocchi (they call it 'telephone' gnocchi for some strange reason). I have their antipasto buffet – there are about 12 choices, so I sample a little bit of nearly everything – I also order the gnocchi, which is a mistake – it is too much food. Fran has a veal cutlet that is done to a turn. The three of us split a zuppa Inglese – two flavors of custard over sponge cake soaked in a liquor called Alchermes (made from rose petals) – it is wonderful.
Tomorrow we have flights to the US – a long day ahead of us. Too bad it takes so much effort to get to Europe – getting here and back is most certainly not half the fun!
August 25, 2002 – Sunday – Malpensa to Seattle
Not much to say – we get to the airport, get checked in, do a little duty free shopping and then have a two hour flight to Amsterdam. We have a very brief layover there, then onto the flight to Seattle – it is long, but as good as can be expected. We arrive in Seattle at about 3:00, go through customs and head for home.
What a wonderful adventure we have had. There are things we would do differently, knowing what we know now – but all in all, it has been an incredible six weeks. We are so grateful for the opportunity to do something unique like this.