Bonneville Dam and Boise
The planning for this trip started with the decision to attend 2016 S2KDays, the annual gathering of the S2000 Club of America. This year is was to be hosted in Durango, CO. Even though we had sold our S2000 and replaced it with a Mustang convertible, I continued my membership in the club because of some very good friends there.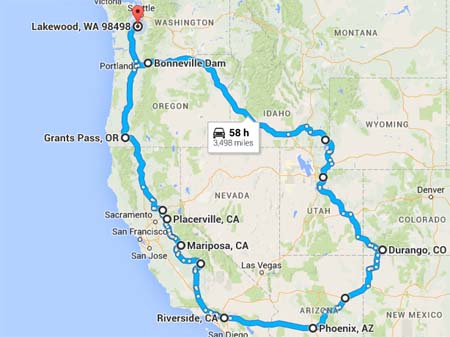 We had never visited the Bonneville Dam and decided to make that our first stop. We got to the guard station (I didn't realize there would be one) and the first thing the guard said was, "Do you have any firearms on board?" So much for our visit to the dam.
We parked the car and ate our lunch, then went into the auditorium, which is just offices now. The ranger suggested we visit the fish hatchery and take a look at Herman the Sturgeon, so we did so. Holy cow, that is one large fish! Herman is over 60 years old, is over 10 feet long and weighs about 425 pounds. Sturgeon are rather prehistoric looking, and for good reason. They have been around since dinosaur days and stopped evolving a long way back. They are cartilaginous fish, that is they have no bones, like sharks.
We got back on the road and continued to our first night's stop in Pendleton, OR. To say that the Howard Johnson is a bit tired would be gilding the lily. At least it was cheap enough and the location was good. We decided to take a walk to the Pendleton Woolen Mill store and got most of the way there but were unsure of the last bit. I spotted a Police cruiser nearby and walked over. The officer asked how he could help and I said, "First of all, thank you for your service to your community." He really appreciated the comment and shook my hand. We asked about the store and he told us it was just straight ahead a few blocks.
We had researched restaurants within walking distance of the hotel and strolled over to Virgil's at Cimmiyottis. We shared a crab cake appetizer and did a split plate of their Osso Bucco. They don't do split plates in the traditional way, they bring out one meal and an extra plate, but they also don't have a split plate charge. The pork shank was huge, so it's a good thing we did a split plate. The food was very good and the prices were fine.
One look at the breakfast offerings and we headed to Starbucks, then on toward Boise. We refueled at the Nampa Costco and then stopped at the Warhawk Museum in Nampa. They have done a very good job and have some interesting airplanes.




P-51, F86, Mig 21, F104 and P-40
From there we continued to our digs in Boise. We had stayed at the Hampton previously and knew it to be very nice and well located, if a bit pricey. We walked into the Basque area a few blocks from the hotel and they were setting up for a street fair. The bass drummer was checking amplification and I think you could hear him in San Francisco. A little later we walked to dinner at Bar Gernika, a little Basque restaurant, and had croquetas and lamb kabobs. Yummm! Fortunately, the sign in our hotel elevator says if you are not in your home zip code the calories don't count. Works for me.
This morning we took the raspberries we bought at the Trader Joe's a block away from the hotel and went down for breakfast. After breakfast we went to the old Idaho State Penitentiary about 15 minutes away. It was opened in 1872 and operated until 1973, when it was closed and then reopened for visits by the public. The youngest inmate was a ten year old who was convicted of murdering a man. He was paroled after just one year. The oldest was an 81 year old who was convicted of horse stealing. Seems like he should have gotten a medal for being able to still do that at 81. There were some 500 escapes over the years, of which about 90 were never recaptured. There were 10 inmates hanged over the years before Idaho changed to lethal injection.

The original cell block that was later converted to a chapel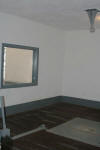 The gallows room - only one inmate was hanged there

The ten who were hanged in the prison
We took Trader Joe's sliced watermelon down to breakfast this morning. Fresh fruit is great. Mel had some work related phone calls to deal with, then we went out to the Botanical Garden. We spent a very pleasant hour there, then continued to the World Center for Birds of Prey in Nampa. That is quite a facility. They have live birds as well as great exhibits. They show a video periodically and have a docent bring in one of the birds. This day it was a kestrel.


The bird's coloring is quite beautiful

The owl was very impressive and had interesting patterns on his breast

The California Condor is not a pretty bird, but sure is big. They have bred a number of chicks.
Shortly we'll head out for dinner at the Bonefish Grill and tomorrow it is on to Montpelier, ID.