S2KDays in Durango, CO
The drive from Park City, UT to Durango, CO was the longest one on this trip at almost 400 miles. We stopped in Heber City, UT (not far south of Park City) to pick up something for lunch and to refuel. We continued on to Durango and an average of better than 31 MPG got us there with fuel to spare. When we checked into the Holiday Inn there were several friends already there.
Then there was the check in process. The desk assigned us room 408 and we took all our stuff and let ourselves into the room. Our first thought was that it was strange that the ironing board was setup. Our next thought was the presence of a bottle of Coke and some snacks on a night stand told the story. We called the desk and Mel went down to get a different room. It occurred to us that there could have been someone in 408 and they could have been armed. Not good. The second room they gave us was next to the ice maker. Finally the third room worked out well. The room was fine but the front desk staff and their systems need a lot of work.
The Monday evening event was a meet and greet with sufficient hot and cold snacks to suffice as dinner. We reconnected with a number of friends from the club before heading up for a much needed rest.
Tuesday morning we gathered in the parking lot and organized into drive groups before heading out. The organizers had planned for three drive groups - slow, not so slow, and not not so slow. Attendance was so good that we had two groups at each speed. The plan was to stop along the way for the usual group photo session. This time the photos were shot by drones. It was very interesting watching the swallows flying around the drone very agitatedly. After the photo shoot, three of the groups headed for Silverton with the plan for them to have lunch there and then continue to Ouray. The other three passed Silverton and had lunch in Ouray with the plan for them to stop in Silverton on the way back down.
As it turned out, road construction and heavy traffic meant that the different groups probably went about the same speed. We got stuck in a long construction delay and while sitting there looked over and saw a beaver lodge.
Our group got to Silverton with plenty of time to wander around before the restaurants opened at 11:00. The first train from Durango gets there about 11:30 and we had been warned to get into a restaurant before the hordes from the train did so. Silverton is a cute little town, but you have to wonder why anybody would choose to live there.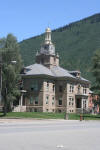 Some lovely Silverton buildings

The trim at the top looks like stone but from the sounds being made by these guys putting a piece back in place you could tell it is metal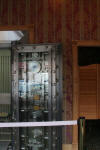 That's a serious looking door on the bank vault
A small group of us stuck together and had lunch at Natalia's. It was okay, but nothing special. Later, our whole group got back together and continued to Ouray. Ouray is also charming, but again, why? Mel had to be back in Durango for a phone call at 3:30 so we head right back down.
Dinner on Tuesday was on our own and we found a restaurant in Durango that had a Tuesday evening special of a half pound of diver scallops sautéed with crimini mushrooms in a wonderful sauce and served with mashed potatoes. We were seated out on the patio and it's a good thing there was a canopy over us. Part way through dinner the heavens opened up and it poured pigs and chickens. Our dinner was delicious and the service at Ted and Sue's was exceptional. We had made reservations and when we showed up they had our table already set with menus on it. They really know how to do it and the place was packed.
We had made reservations for the Durango to Silverton train, so Wednesday morning we were up early. The evening desk person had taken the shuttle keys home with her and they apparently only have one set. One of the guys at the desk piled five of us into his Jetta and drove us to the station. This train is a much bigger operation than we had realized. They run at least three trains up to Silverton and have full crews of conductors, brake men, etc. Seating is assigned and you have the same seats up and back. The seats were okay, but by the time we got back to Durango we were ready to be off the train. Still, it's a fun ride with some wonderful scenery.



The Durango to Silverton train
The train runs along a river with some pretty impressive rapids in places. At one spot we looked down and saw some folks who were rafting on it. Better them than me.
Along the way we passed a newer looking footbridge and what looked like an old mining operation. We also passed a fellow doing acrobatics on a zip line for the entertainment of the passengers on the train. There were a number of remnants of what looked to be an old telegraph line.
Every so often the engine would discharge excess steam and sometimes that would create a rainbow.

The train has to take on water from time to time and we got to see both one of the old water towers that is no longer in use and the new one with the operation in progress.
After all that scenery we got back to the hotel in time for the Wednesday evening group dinner. Reconnecting with old friends and making some new ones as well was very enjoyable. It was unfortunate that the hotel did a pretty poor job on the dinner, but the camaraderie was what the event was all about. Next year's event will be in Fredericksburg, TX.