The Concert Tour in Berchtesgaden
Sunday - July 6 – Prague to Berchtesgaden

Up and out early for our drive to Berchtesgaden, Germany. We have two coaches, with a guide, either Jennifer or Eva. Jennifer has been our guide for each of the other tours. This is the first time we've had Eva and Tom and I really like her. She was born in what was then Czechoslovakia and speaks Czech, English, German and perhaps a few other languages. She's lived in Czechoslovakia, the US, London and Austria. She told us a lot about life under the Soviet occupation - how people who were Christians were denied jobs and housing to convince them to renounce their faith.

Sadly, along the way, there was a terrible accident when a motorcycle driver decided to pass our two coaches (and the car between them) and didn't realize that the coach ahead of ours was going to make a left turn. The motorcyclist passed just before an intersection, in a no passing zone, and ran into the turning bus. A couple of our group went out to see if they could help, but the extent of his injuries was so grave that it was almost certain that he would not live. While we were in the backup, a Medevac helicopter landed in the field next to the road and the medics began attending the victim. Dave Bales, who is a doctor, was certain he had brain stem injuries and would not survive the evacuation, let alone the necessary surgery. We heard later that he had, indeed, died.

We left the Czech republic a few hours later, arriving in Austria. We stopped for lunch at a very nice road side restaurant. Tom and I had medium size plates from the salad bar, one bottle of mineral water each and we split a dessert - the total for this modest meal was nearly $30. I am appalled at the prices in Austria.

Along the way we stopped in a little town (Pisek) where we saw a delightful old bridge (with a dreadful Communist era building in the background) and a lovely sun dial on the side of a home.
We also saw a rather different advertisement for mens' underwear.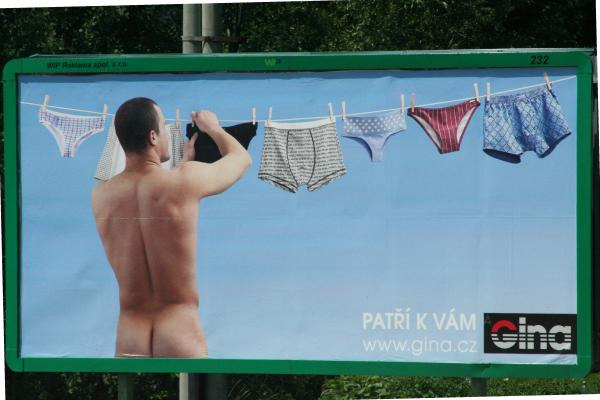 You can tell this isn't Tom hanging out his undies - the hair color is wrong.

After we exited the freeway (autobahn) and headed to Berchtesgaden - oh dear - our coach had air pressure problems, so our driver pulled over to the side and we disembarked. The other coach went on ahead to the hotel, offloaded people and returned to pick us up.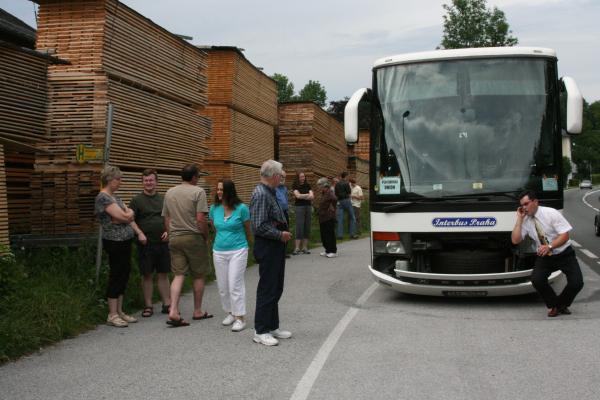 Our hotel was nothing special. It was located a few kilometers from the center of old Berchtesgaden, and was a little 'tired'. We have become very accustomed to non-smoking areas in hotels and restaurants, which the Europeans are beginning to adopt, however, they haven't managed to air out the public spaces yet, so the smell of smoke is still a bit strong. I am sure that the all-seeing European Union will mandate non-smoking areas soon - afterall, the EU knows best, but it hasn't happened everywhere yet.

After we dropped our luggage we changed into concert dress and were taken into the town center for rehearsal and our performance. The little town of Berchesgaden is very picturesque and many of the people dress in traditional costumes - lederhosen for the men, and dirndles (very colorful) for the women,

Our venue was a very pretty church, Pfarrkirche St. Andreas. It was largely Baroque style, with lots of little angels (are these 'putti'? I don't know for sure) and filigree. The concert opened with several pieces by the Vokal Ensemble ChorissiMA, a local group. Their pieces were largely folk songs and Brahms.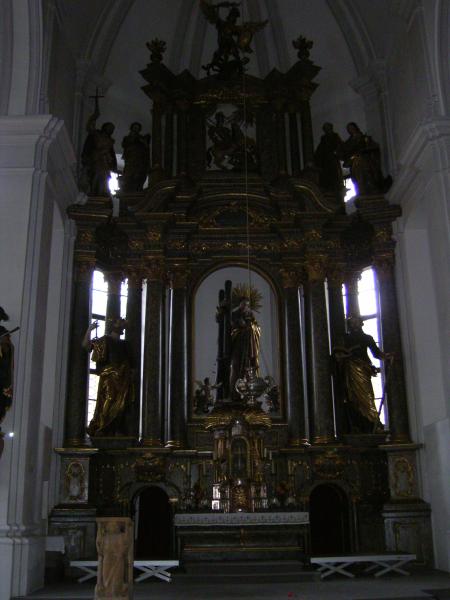 Our concert was very well received - we had an enthusiastic audience and the church was nearly full. Richard cut a few pieces from the repertoire to keep the concert length manageable.

Afterwards, we went to the parish hall for a reception with the other choir. Because we weren't all seated, there was more mingling this time.

Tom and I left after only a short visit in the parish hall - we needed to get Euros (the Czech Republic hasn't adopted the Euro yet) and we were hungry. We passed a little Italian restaurant on the way into the town square. There were a couple of locals sitting at tables outside the restaurant - they were very effusive in their praise for our performance (they could tell we were part of Choral Union because we were still in concert dress). They said the food in the restaurant was very good, so we told them we'd be back after we got some money.

When we returned, we were invited inside - there were about 12 locals inside at tables pushed together. They made room for us and we had a delightful evening chatting with them. Several of them are headed for the US on vacation, the prices in the US being very attractive - a combination of the weak dollar versus the strong Euro and also the price inflation which has occurred in Germany.

Our waitress was a local woman - 24 years old - she spoke excellent English. The owner was a Neapolitan who spoke little German and no English. We were able to converse with him in Italian, which was a lot of fun. Several other Choral Union members came in and we had a lot of fun teasing Salvatore. Our waitress was an interesting young woman - she had bicycled across China to Tibet - imagine! And she did this on her own! Eric Faris, one of our group, was very impressed.

We walked back to the hotel - it was late and very dark, but there weren't any mishaps.

Monday, July 7 - Berchtesgaden

We had breakfast in the hotel - the usual German fare of rolls, cheese, cold cuts and coffee. In a concession to Americans, most places serve scrambled eggs (which I don't care for) and some hot meats (sausages of various descriptions and bacon or ham). Fresh fruit is rare.

After breakfast we loaded into the coach (the new bus hadn't arrived from Prague yet) and drove up to the 'Eagle's Nest', Hitler's so-called mountain hideaway. Our guide was Phillip, who is a history and Spanish teacher in Salzburg. He was very knowledgeable about the Nazi period. In his opinion (and I agree with him), the Nazis could not have risen to power had the treaty of Versailles been more just. However, the combination of the land grab by the French and the horrible war reparations imposed on a weakened country at the close of WWI led to great resentment by the Germans. Hitler was able to play on these resentments and found a convenient scapegoat in the Jews and in capitalism in general. Furthermore, the German people did not have a history of democracy, so their initial experiment with democracy in the Weimar Republic was doomed to failure. I think the younger German people go through a lot of soul searching because of the two world wars. On other occasions when we have met Germans they hasten to try to reassure us that they were not responsible for the wars or for the systematic attempts to eradicate the Jews, Gypsies, homosexuals and physically disabled.

The Eagle's Nest was interesting enough, but it was pouring down, windy and a bit cold. It wasn't at all grand - rather austere.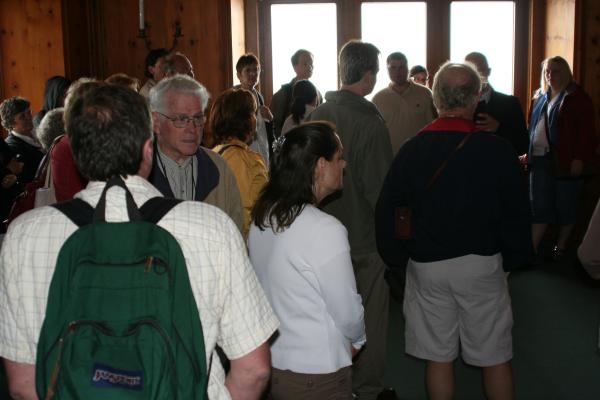 After we left the Eagle's Nest, we were dropped off in Berchtesgaden for lunch. Tom and I shared a very overpriced schnitzel. It tasted good, but one schnitzel and two waters came to over 18 Euros - about $28 - ridiculous! I wanted to buy some cherries at one of the local stands, but they were about $7 a pound.

We walked back to the hotel, where I did a few pieces of laundry, then met the coach for the trip out to the Konigsee. We loaded into a little boat for a ride on the lake. It is a beautiful lake, but it was raining very hard, so wasn't all that pleasant, However, on the way back we sang 'Let Me Call You Sweetheart" to Nathan and Jennifer Gorham who were celebrating their first wedding anniversary. I struck up a conversation with a young German woman from Berlin - she wanted to practice her English - Tom and I tried to explain the difference between American English and British English to her - a bit of a challenge given the noise level and her English competency.

Our replacement coach arrived some time after we returned to the boat landing, so Ivan got out his keyboard and entertained us. At last our coach did arrive and we were back in full force.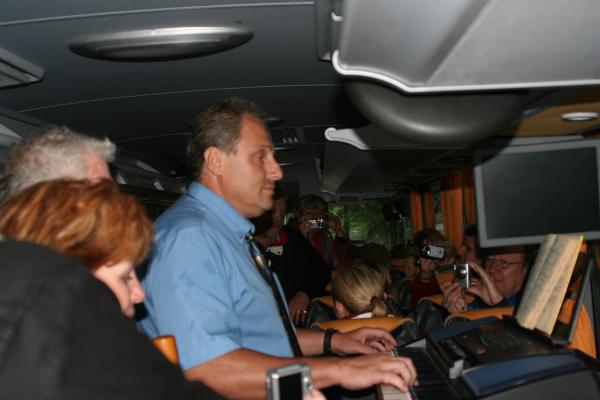 Because of the rain, Tom and I had dinner in the hotel rather than going back to the village. It was good enough, but the wine was pretty awful.

The next day we were scheduled for a tour of Salzburg and a drive to the third country of this tour, Slovenia.