Journal Pages
Click a pic

The Concert Tour in Prague
Throughout this journal remarks by Mel are in regular type, Tom's thoughts are italicized.
Wednesday & Thursday, July 2 & 3 – Seattle to Prague
Shirley Nelson arrived promptly at 2:30 to take us to the Towne Center transit center to catch our 2:50 bus to SeaTac. Check in at the Scandinavian Airlines (SAS) ticket counter went smoothly and quickly and we went through security without undue delay. We had plenty of time before our flight boarded. The flight to Copenhagen passed as easily as flying can pass. Copenhagen airport has grown immensely since we were there in 1976. The connection to our Czech Air flight to Prague was not very intuitive. We had to find the transfer centre, take a number (which was not very obvious), get our boarding passes and sit and wait. We looked for something to eat and found that prices were unbelievable. We had a light lunch and returned to the transfer center to wait some more. Our gate was not posted until about 45 minutes before our scheduled departure, which was still showing as being on time. We were leaving from an A gate that is in the oldest part of the terminal. We got to the gate to find that our plane had not even arrived. It finally did and we finally boarded and left 20 minutes late. That flight was also uneventful (as flights should be) and we were in Prague at last. We were met by the transportation service we had pre-booked and taken to our hotel. We checked in and were soon sawing logs. By this time it was around 10:00 PM in Prague on the third and we had been up a long time and traveling for almost 22 hours. And they say that getting there is half the fun. Yeah, right!
This is the third European tour for Choral Union. We'll be travelling to Prague, Berchtesgaden (Germany), Bled (Slovenia), and Zagreb and Dubrovnik (Croatia). We have about 45 singers and 23 family members. Richard has assembled a wonderful repertoire, a mix of sacred, spirituals, folk songs and Eric Whittaker's "Leonardo Dreams of His Flying Machine." Our pre-tour concert went very well so we hope the tour performances are also well-received.

Tom describes above the trip to Prague - typical of air travel now. Tom and I were in Prague 10 years ago (only 10? It seems a lifetime). That was a mere 9 years after the fall of the Soviet system. Prague was trying to recover after 40 years of Soviet occupation and still showed many of the problems from the Soviet era. The most remarkable to us was that the streets still didn't have street signs (names) - I suppose because the leaders didn't want to risk giving potential invaders any clue of where they were. Alhough there are still immense problems in the country today, I feel an optimism and purpose that I didn't sense in 1999. There is a lot of construction, many elegant shops and a huge number of tourists. I can understand why tourists come to Prague - it is a breathtaking city - there are many old buildings left over from the Hapsburg era, including performance halls, churches, the city hall, and, of course, the amazing castle on the top of the hill.

Friday, July 4 – Prague

The first full day of our tour we walked a couple of blocks to where our coaches were parked and were then driven up to Prague Castle. There are guards at the gate to the castle, but they are not as statue-like as those in the U.K. These fellows fidgeted a little.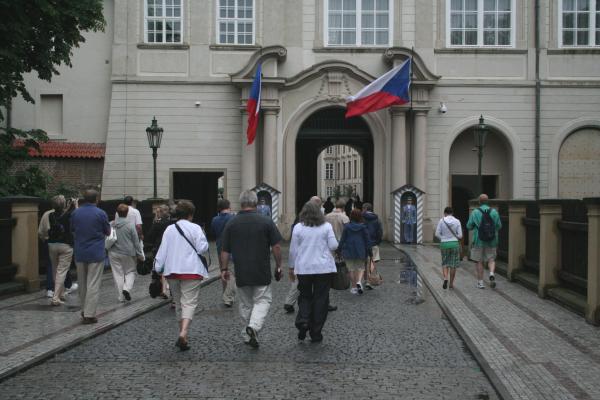 Prague Castle gate

Two local guides were with us and took us on a walking tour around the castle and St. Vitas Cathedral. We found the inside of the cathedral to be very beautiful.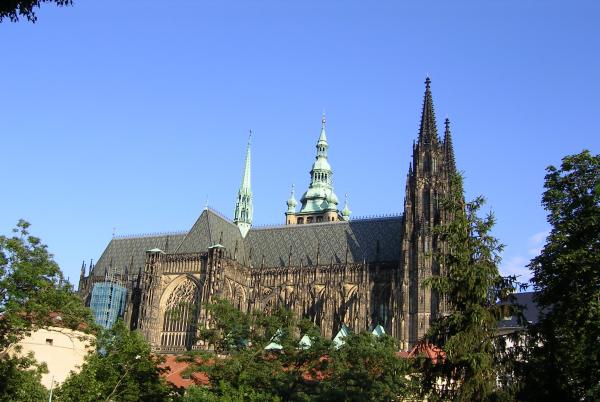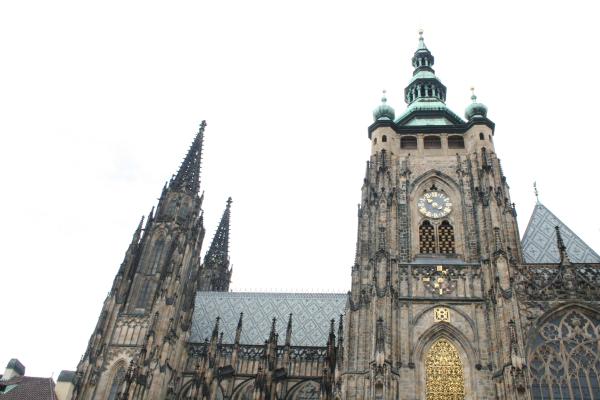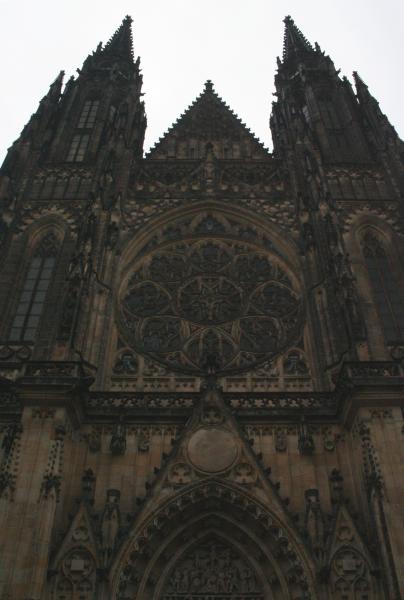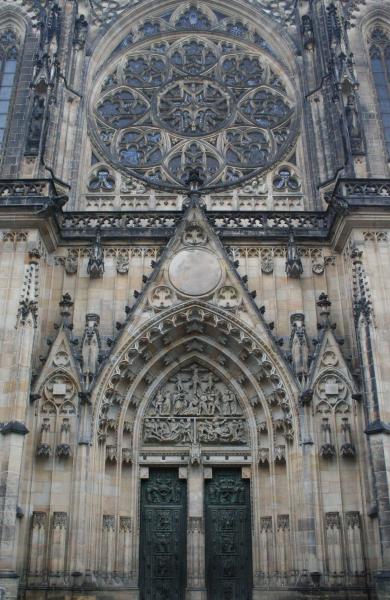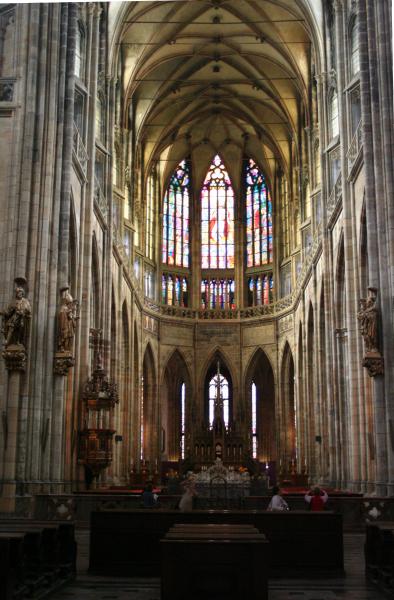 St. Vitas Cathedral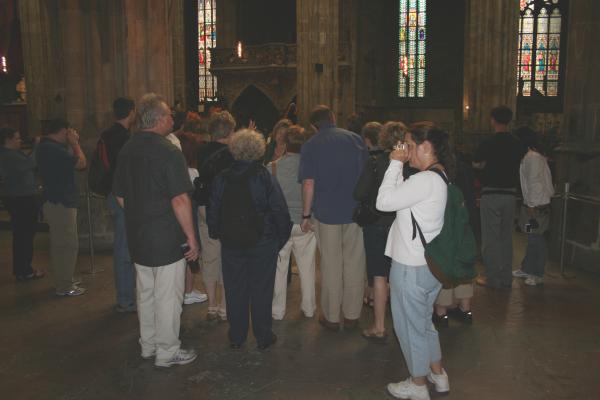 We were able to see the president's flag flying and get a view down onto the city.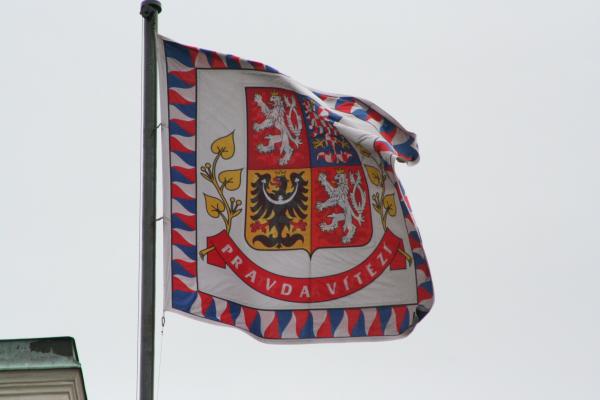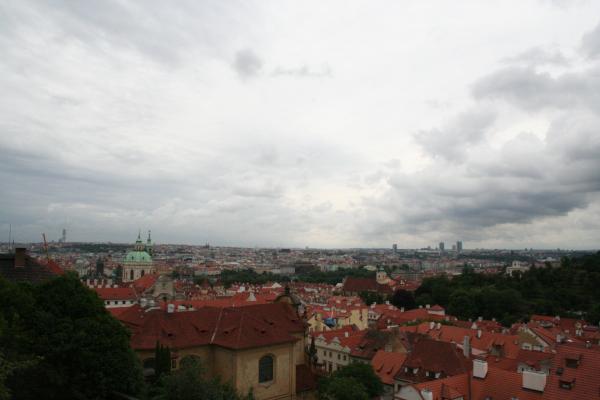 We then walked down the hill, across the Charles Bridge, and into the old town. There was a crowd standing around the town hall waiting for the clock to strike the hour.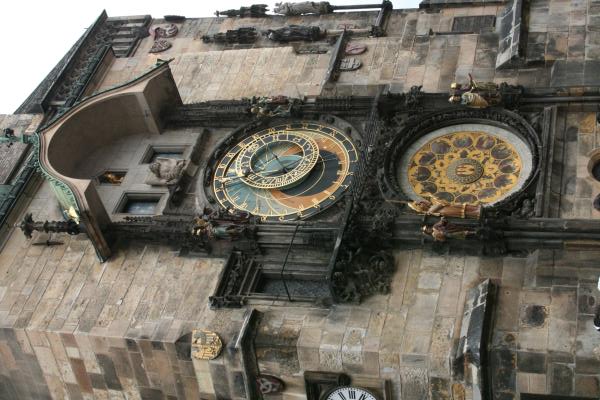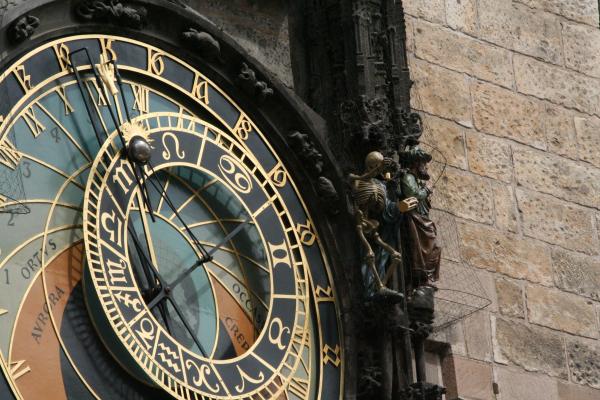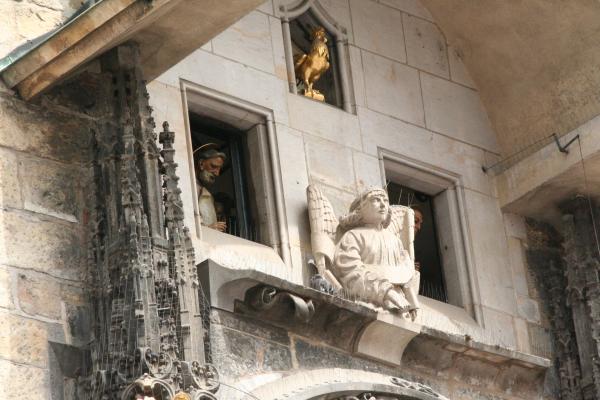 The clock tower

We were then on our own to find lunch and look around a bit before returning to the hotel and then walking to rehearsal.

Rehearsal went reasonably well, capped by singing "God Bless America" because today is Independence Day and Richard's remembrances of Darrel Eide, who was with us on the last tour, but died suddenly about a year ago. Many of us still miss Darrel even today.

After rehearsal we returned to the hotel to freshen up a bit, then were taken by coach to the castle, where we had dinner in what had once been the stable, but is now a very nice restaurant. We had a smoked trout starter, venison with a berry sauce and a flan for dessert.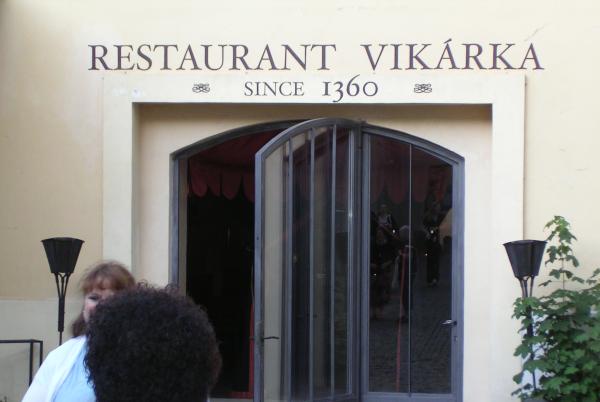 It was a nice start to the trip. We walked back to the hotel down a long hill with many little restaurants along the route. Prague is so lively at night -- the streets have thousands of people wandering in and out of shops and resturants, window shopping and taking in the sights.

Saturday, July 5 – Prague

This was a free day until the evening. Tom and I slept in much later than we normally do - we didn't get to the hotel restaurant for breakfast until 10:00 am. After breakfast, we walked into the center with Jim and Debbie Dion, bought day passes on the public transport and took the funicular up to the castle hill where there are gardens at the top. It was a beautiful day - clear and sunny, with a light breeze. We had hoped to take in the Communist Museum, but ran out of time, because we had to get back to the hotel and dress for the performance. The coaches took us over to the venue - the wonderful Suk Hall in the Rudolfinum, which is home to the very famous Czech Philharmonic. The night's program included singing by the Charles University Singers as well as Choral Union. Before the performance the man who was our contact took us into the performance hall for the Czech Philharmonic - what a beautiful place - very elegant.

Our performance was well-received and we had a larger audience than we had been led to expect. Many residents of Prague have country cottages and in the summer, they leave the city on Friday for the countryside, so there was a lot of speculation that we wouldn't have more than a few people in the audience, Instead, the hall was nearly full and the audience was very appreciative. Afterward, both choirs went to a restaurant where we were supposed to mingle, but the Czechs sat in one room and the Americans in another and there was very little mingling.