Journal Pages
Click a pic

On Vacation in Venice
Sunday, July 20 - Pula to Venice

Up early for a walk to the ferry terminal and the bus ride to Poreč. Croatia got the last laugh - the hotel was supposed to provide us a lunch since we had to leave before the restaurant opened for breakfast. However, the night clerk (who spoke neither Italian nor English) gave our lunch to someone else!

Oh well, it is all part of traveling. We had an uneventful drive to Poreč, loaded on the ferry and were within sight of Venice in two hours. The last hour was very slow - the captain had to reduce the vessel's speed significantly once close to the city.

We lucked out in our lodging - it was within walking distance of the ferry terminal. This was our first experience with staying in a religious institution. We had chosen a place called Centro Culturale Don Orione Artigianelli. It isn't a monastery, but as far as we can tell, it has a mission of helping handicapped people. We aren't quite certain why they have rooms, but the rooms are every bit as nice as the 3* hotels we've been staying in - in fact they are larger and don't smell of smoke. Ours is a double room with a private bath and breakfast (typical Italian breakfast of rolls and coffee) and costs about 1/2 of what a 3* hotel costs in Venice. It is about 1/2 km from the Accademia (art gallery) and within 15 minutes of Piazza San Marco. It is clean, quiet and comfortable.

We were too early to check in, so we left our luggage and headed out for lunch. The restaurant associated with the Centro, Il Ristorante San Trovaso, is very close and very good. Tom had lasagne and I had penne al'amatriciana.

We walked around this beautiful, but sad, city for a couple of hours, then returned to the hotel, completely knackered. It was hot and muggy. I had made arrangements to meet Deborah Anderson in Venice, in front of San Marco, but I failed to bring the note with me of what day, so while Tom tried to cool off in the hotel room, I hiked over to San Marco. What a mob scene! Thousands of tourists and millions of pigeons. It is illegal to feed the pigeons in Venice, but that doesn't stop the tourists. I don't have a high opinion of the former mayor of London, Red Ken Livingstone, but he called pigeons 'rats with wings' and I have to agree - they are horrible. Deborah wasn't in front of San Marco, so I assume the 'date' was one of the other days we are going to be here.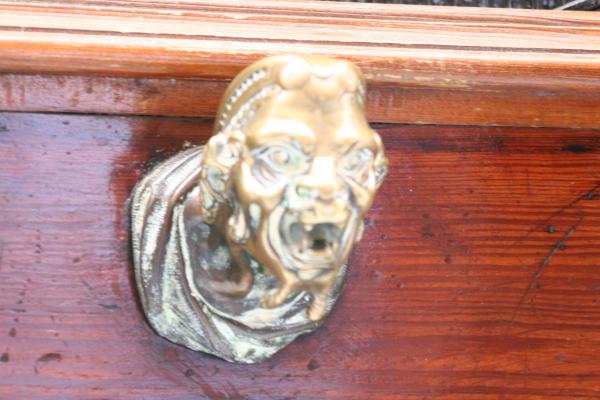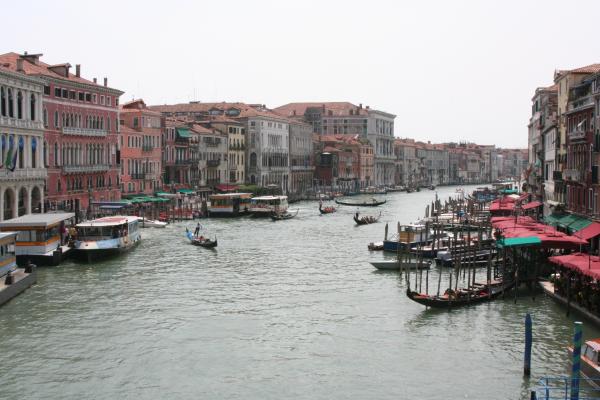 There are certain areas of Venice I'd just as soon avoid because it is so crowded. San Marco is one, the Rialto Bridge is another. You can't walk for all the tourists. We had to come here in July because of the choir tour, but never again, even though I would like to come back - there are many things to see, but the queues are too long to make it a pleasant experience.

We walked out to the Grand Canal before dinner - we just happened to see a regatta - gondolas racing and hundreds of boats running alongside them. What a sight!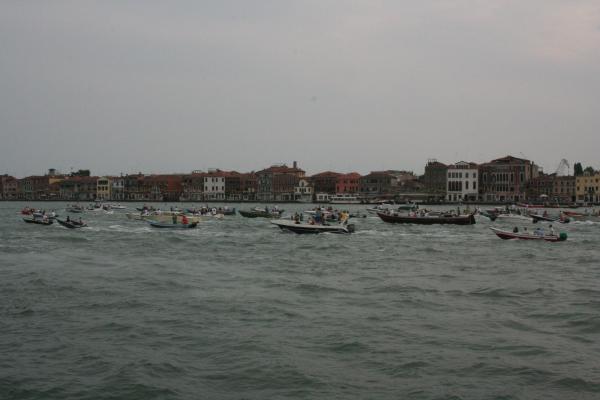 We had dinner at a pizzeria not too far from the Centro - if you shop the menus, you can see significant changes in prices based on where you are - the San Marco area is prohibitively expensive, as are some of the areas along the Grand Canal. However, you can find pretty reasonable places in the little squares and alleys somewhat off the main tourist track. We found one such place and struck up a conversation with a local couple - what a small world - her godmother was from Tacoma! She actually had heard of Tacoma, but had not been there.

Rain had been predicted and the weatherman was right - a fair lightening storm blew in around 11:00 pm and put on quite a show. The benefit, of course, was cleaning the air and cooling things down.

Monday, July 21 - Venice

Tom managed to get connected to the internet this morning and get e-mails, etc. caught up - it is nice to have that facility available again. We had breakfast at the Centro, then headed to Piazza San Marco - I had thought, foolishly as it turned out, that the crowds wouldn't be a bad. The queues were nearly as long and there were thousands of people and millions of pigeons - again.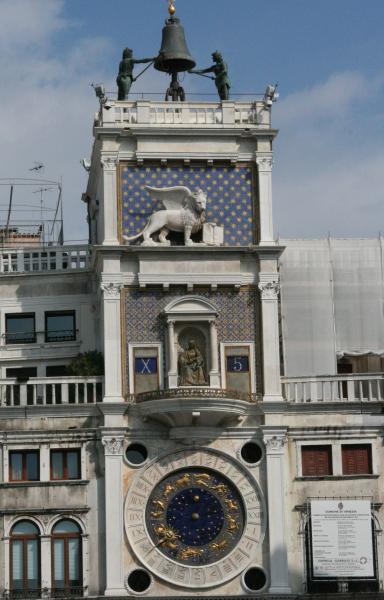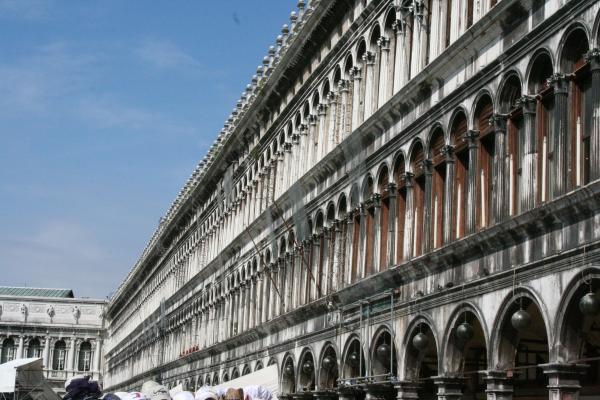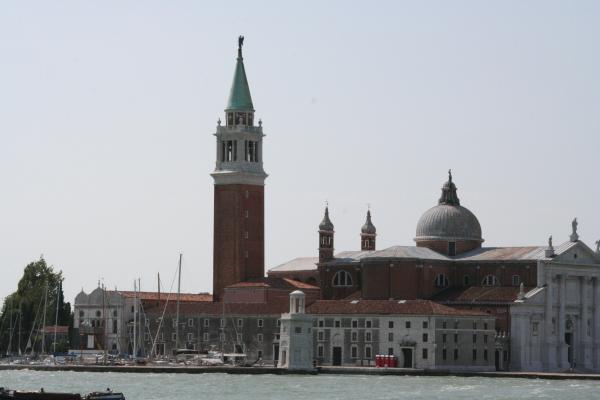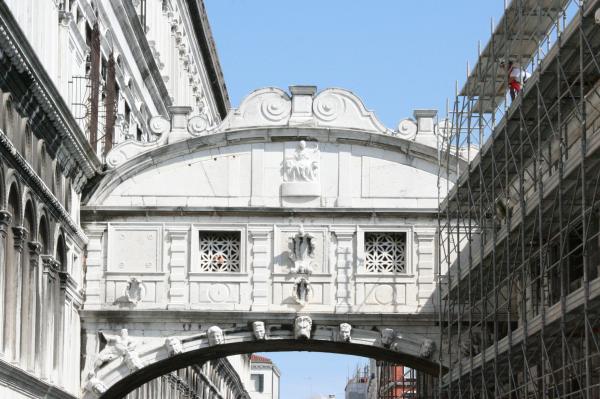 We wanted to get away from the crowds, so we headed to the Giardini Publicci (Public Gardens), an oasis amidst the masses. We found that within less than a km. of San Marco there are few tourists and a much more 'Italian' looking neighborhood, with people out doing their shopping. The gardens were established during the brief period when Napoleon controlled Venice. Compared to public gardens in England and the US, they aren't much, but a patch of green and some trees is welcome after the pavement of the rest of Venice (okay, Venice has water, too, which is lovely).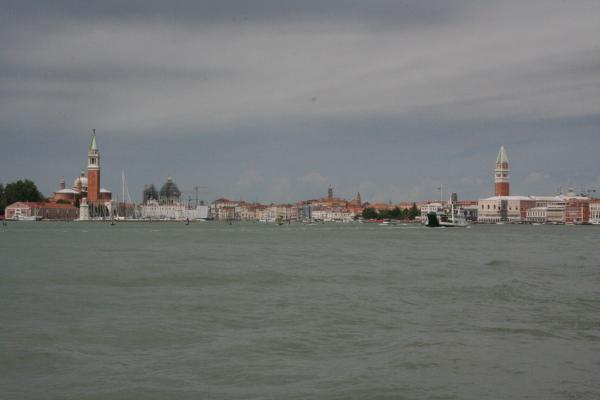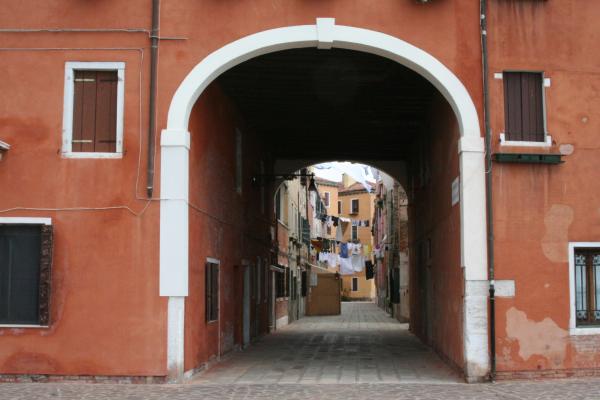 The weather was much cooler - thank heavens, since yesterday was so hot and muggy.

We had a pastry and cappuccino in a bar next to the garden - oh dear, the awful Asian mosquitoes have made their way to Venice - they are small and very hungry - they seem to like my flesh more than Tom's. They leave a particularly vicious bite. I carry After Bite with me at all times when traveling in Italy because of these pests.

For several years I have wanted a Venetian mask as a souvenir. We learned of a place near the Rialto Bridge where the masks are actually made in Venice (what a concept). This did mean going to the dreaded Rialto area and we weren't able to find the place (later we looked it up on Via Michelin and got a better idea of the location, which we'll try again). We also found a restaurant that is recommended by Frommer, very close to the mask shop, so that will be our journey on Tuesday.

We made our way back to the Centro - I had brought my pedometer with me - we clocked 4.5 miles. No wonder we were tired. Tom took care of some business, not the least of which was dealing with National Car Rental, which has put a $9,600 reserve on our Visa. This is because we did not buy their insurance, opting to use our Visa insurance. They haven't actually made a charge for that amount, but their reserve reduces our available credit by that much. Tom also called Auto Europe, the agency through which we booked the car and got a complaint started.

Still unsure of when I was supposed to meet Deborah, I left Tom at the Centro to rest and I walked over to San Marco - no luck - our 'date' must be for Tuesday. Or maybe I couldn't see her for all the crowds.

I walked back to the Centro and Tom and I went out for a gelato and to pick up some water.

We decided to have dinner at San Trovaso - the food is good, the prices reasonable and the atmosphere pleasant. We are getting accustomed to sharing a vegetable plate, maybe having an antipasto and having a reasonably light dinner overall.

Tuesday, July 22 - Venice

here is a lot to see in Venice - far more than San Marco and the Rialto Bridge. We set off rather early for the Ghetto - the word 'ghetto seems to have Venetian roots, for it was here that thousands of Jews were crammed into a small space after they were expelled from Spain in the 1400's. In one of those rare travel moments, as we entered the ghetto, we came upon a funeral procession - the casket on wheels, followed by the mourners and the cantor chanting - it didn't seem appropriate to take a photo, but it was very picturesque.

Venice in the morning is a completely different world. The wholesalers are delivering their product to the the shops - of course, in boats, the garbage is collected, the citizens are out shopping before the hoards of tourists can descend upon them.

For years I have wanted a genuine Venetian mask - but I have been reluctant to buy one, thinking I would probably get something that was made in China. We had taken a look at Fommer's website, which recommended a shop in the Rialto area. The artisan makes his own masks and made masks that were used in "Eyes Wide Shut." We found the shop = very small - but it was closed. Curses! We had a very unsatisfactory lunch at an osteria that Frommer recommended - La Madonna - nearly $50 for two thin bowls of pasta e fagioli, vegetables and a liter of wine, The redemption was that the mask shop was opened after we had lunch and, at last, I was able to buy my mask.

There was an exhibition of models of designs by Leonardo da Vinci in one of the churches - since we had just sung 'Leonardo Dreams of His Flying Machine', I wanted to get photo of his design, so went inside - he had two phases, if you will - one, where he made designs dependent on muscle power and the second phase where he realized that muscles weren't going to power him in flight. I think that the piece we sang was representative of the second stage.

We returned to the hotel and, once again, I made my way to Piazza San Marco - what a crowd, made worse by several hundred feet being roped off for a Joan Baez concert. However - at last - Deborah and I connected!

We walked back to the Centro. Deborah, Tom and I then went out for a drink in a iittle bar and while we were there, we got a telephone call from Giogio, our friend in Milano - he was waiting for us to arrive the next day and - amazing - he had tickets to a performance at La Scala - oh my gosh - I have wanted to see a performance at La Scala for 35 years. We tried to buy tickets to La Scala from the states, but weren't successful - our first day in Milano is the last performance of the season. How Giorgio managed to get tickets - a box, no less, it a miracle.
While we had a drink, it began to rain - it cooled things off considerably. We decided to have dinner together but it was a bit early, so Deborah and I walked to an Enoteca and bought a bottle of wine and some cicchici, little snacks that are like open face sandwiches. We had these and a glass of wine and made our way over to San Trovaso. The cicchici had filled us up, so we had a very light meal, then walked Deborah to the vaporetto stop nearby.