Journal Pages
Click a pic

On Vacation in Firenze
Friday, August 8 - Pienza to Firenze

The countryside around Pienza is beautiful - there are spots where you don't see any cars or utility lines and you could be in the Tuscany of 300 years ago. The area has a lot of hill towns and is known for wine production, especially Brunello and Vino Nobile de Montepucliano. Since we had the time, we avoided the Autostrada from Pienza to Firenze, opting to travel on the smaller roads with views of these little towns along the way.
This worked very well until we got to the area around Arezzo, where the scenery became more crowded and industrial. For a while we stuck to side roads, but it was slow going with one small town butting against another. Our GPS (Antonella) was also suffering from some sort of malfunction - she would just shut off every so often. This is not a big deal unless you are trying to make your way to an unfamiliar address, then it becomes a real inconvenience, at best.

Our destination was the Madonna Del Rosario, a religious guest house in Firenze. Antonella behaved long enough to get us to our destination, where we parked the car for the remainder of the day, plus the following two days.

It has been really hot in Firenze, but I think the heat has relented a little. Even so, in a city with little by way of trees and green spaces, it is darned hot.

We didn't have a good map of the city, but the suora at the desk loaned us the Lonely Planet guide to Firenze - thank Heavens, it proved to be indispensable.

We walked to nearest tourist information office and picked up a good map, so we were set for seeing this city, which is packed with treasurers. We've been here at least three times previously and have seen the major sights - the Duomo with Brunelleschi's dome and the nearby campanile by Giotto and the Baptistry with the "Gates of Paradise" by Ghiberti. We've also been to the Museo de Duomo (amazing) and the Uffizi (one of the greatest art galleries in the world) and Michelangeleo's incomparable "David" at the Accademia. However, there is much we haven't seen - I think that if you really want to do justice to Firenze you need no less than a week, assuming you don't eat or sleep.

Our first stop was a gelateria to get something to cool us off. We spoke Italian with the clerk and she was very pleased - another couple came in, they spoke to her in German and she was rather rude. Maybe it is true that people appreciate the effort of trying to speak their language.

I left Tom close to the Ponte Vecchio while I went off in search of a gift in one of the many jewelry stores on the bridge. The display was dazzling - I had a hard time making up my mind which store to go in. I was surprised that most of the god was 18k, not 14k, so it was a little more expensive.

At last I found a store with jewelry I liked and was in my price range. I stepped inside, behind three American women who were having a hard time making a decision. While the owner waited on them, I looked around the shop. The owner's assistant (or wife, who knows?) came in, apparently from a break. I felt so proud of myself - I conducted the entire transaction in Italian and the woman was so pleased that an American actually spoke passable Italian. It was a real high for me.

We made our way back to our lodgings, stopping for dinner along the way. One of the specialties of Firenze is little crostini with a variety of toppings. We ordered a sample of these for starters - there were four of them - an onion confit, tomatoes and mozzarella, mozzarella and basil and an olive pate. We thought we were hungry, so I ordered a tortellini with cream and prosciutto, Tom ordered a ravioli and we shared a plate of vegetables. We couldn't finish our meal, the portions were too big.

Saturday, August 9 - Firenze

Where to begin? Our guidebook said that the Museo Nazionale del Bargello was not to be missed, so we walked there. Frankly, it was a disappointment - many of the better known works were in restoration, so they weren't on display. One work in restoration, with the work being done in the open, is Donatello's David. I've always thought this statue looked too effeminate to be believable - and when you compare it to Michelangelo's version, it comes up a poor cousin. However, it was one of the first, if not the first, nude statues done in the Renaissance after years of fully clothed statues, so it was rather daring. The collection at the Bargello also includes a couple of very nice Michelangelos (his Bacchus has always been one of my favorites) as well as a goodly number of Della Robbias. One interesting display was a model for the Baptistry gates - one panel by Ghiberti and another by Brunelleschi (there was a competition between these two for the commission of the gates. The two panels on display were the story where Abraham has been told to sacrifice his son, Issac. In some ways, the one by Brunelleschi had more immediacy to it - strange given that Ghiberti won the commission.

We wanted a bit to eat and, being tired, made the mistake of stopping in one of the restaurants in the tourist area. We had the first bad meal of our stay in Italy, proving that even here you can get a bad meal.

Our next stop was Santa Croce. We were totally unprepared for the size and scope of the place. It was overwhelming! It was also under a fair bit of scaffolding (on the inside, interestingly). In Santa Croce there are many monuments or memorials to famous Florentines - Galileo, Machiavelli, Rossini, Michelangelo. In that way it is much like Westminster Abbey in London. In the Museo del Duomo are many works of art, the most famous of which is a beautiful crucifix by Cimabue.

It is almost impossible to believe, but the flood in 1966 did serious damage to Santa Croce, bringing mud, water, debris and oil to a height of 5 meters (over 15 feet). There was a heroic effort to savage priceless works of art, but much was lost. The Cimabue crucifix became a sort of symbol of the effort. Inside the cloister there were photos of the flood. I was in Italy at the time, but that was in the days before the internet and CNN and I didn't speak Italian, so I didn't know what was going on - I didn't realize until some time later that the reason we couldn't go into Firenze was because of the floods.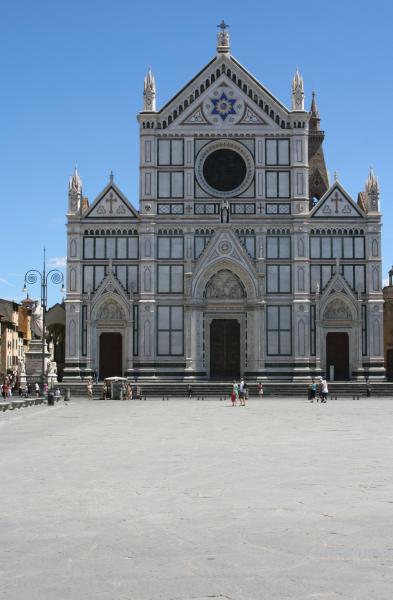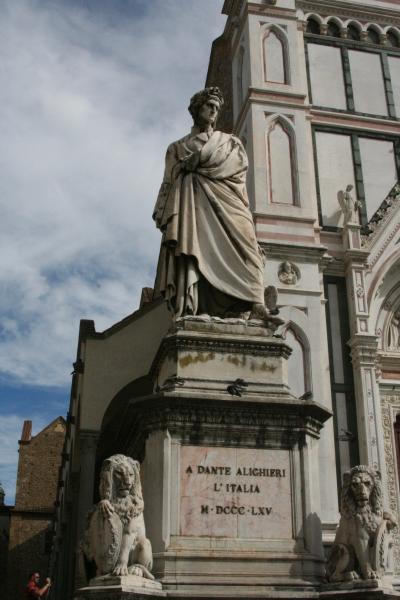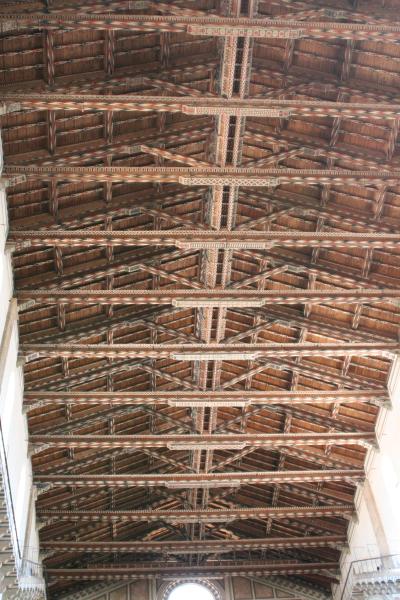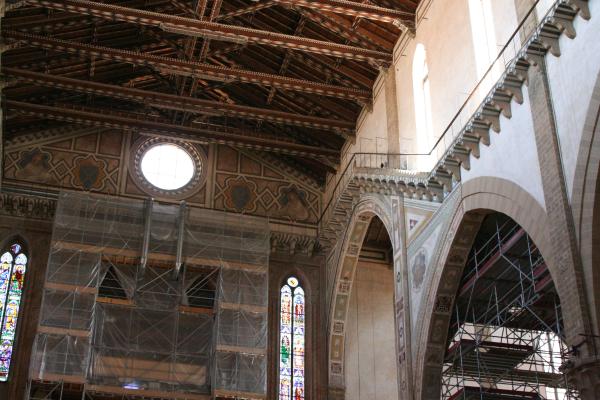 Santa Croce, Dante Alighieri, inside Santa Croce
Tom and I were totally satiated by the time we left Santa Croce - we couldn't have taken in another priceless work of art if our lives depended on it, so we went make to our lodging and rested before heading out for dinner.

We had an acceptable, though not great, dinner not too far from our lodging, then came back well before the curfew of midnight.

Our lodging is clean, quiet and comfortable (and it has air conditioning!) The rooms are rather spartan - white walls, twin beds, a desk, a nightstand and an armoire. We have a private bath in our room (I'm a little fussy about that after Villa Cartoceto). Breakfast is awful - the tasteless Tuscan bread and some jam. Tuscan bread is unsalted and hard - it is like eating unsalted Rye Crisp.

The one problem we have is that there have been two little insects who are fond of Tom's blood (usually they prefer mine). I'm not sure what these guys are - they aren't mosquitoes, but they drink their fill. Tom doesn't seem to have a reaction to their bite, but they are very unpleasant.

We've only seen about six different nuns here - they sit at the desk and let people in from the street. They are dressed in very traditional habits, white. There are two who are youngish, the rest are elderly. They are glued to the TV whenever we see them at the desk - the Olympics have started and they are cheering Italy.

Sunday, August 10 - Firenze

We have adopted a bar nearby where we have breakfast, the offering in the convent being unpalatable. This morning a man, probably in his 30s came in and ordered a large beer - it was just past 9:30. I don't think this is typical Italian breakfast fare.

We stopped at a place that sells Tuscan farm products as I wanted some olive pate - however, the price they charged was ridiculous - about $19 for a small jar. We'll figure out how to make our own.

We then went to an English bookstore, where I bought a book to read on the airplane as well as a duel language book of Pinocchio. From what I've been told, Pinocchio is very important in Italian culture. I'm not sure that I've ever been exposed to anything besides the Disney version.

Next we went into the posh department store Rinascente. We had a cold water and a macedonia (mixed fresh fruit) which tasted wonderful. From there we walked to the Basilica of San Lorenzo - however, being Sunday, it was closed to tourists. Too bad, I had wanted to see this church, which was the home of the Medicis.

Our guidebook said that one of the best gelateria was just a few blocks from San Lorenzo, so we walked up there for a granita. We have become very fond of granite and are going to try to make some when we get home. Most places just use a syrup with ice, but this place uses real fruit, processed to juice or pulp, so the flavor in the frutta di bosco (berry) granita is very fresh and not artificial.

From there we walked over to Santa Maria Novella. The neighborhood is pretty seedy, being close to the train station.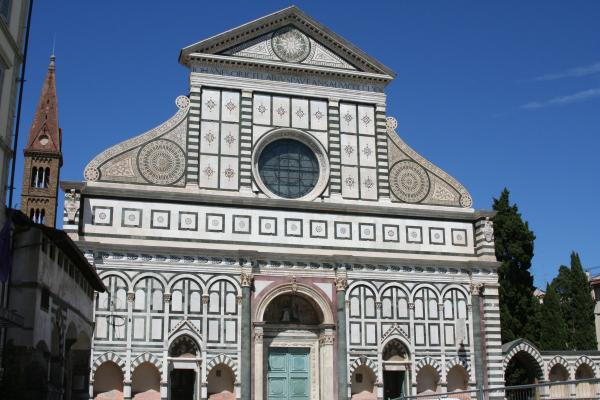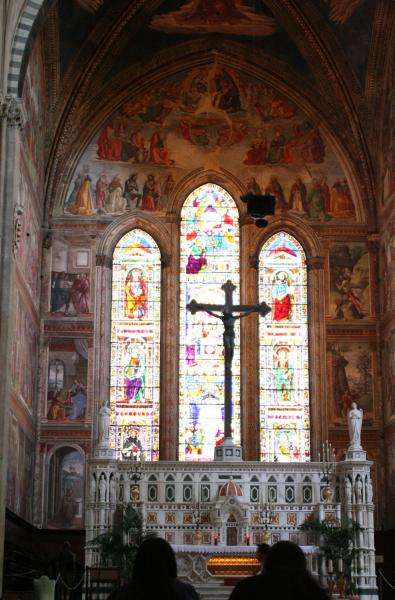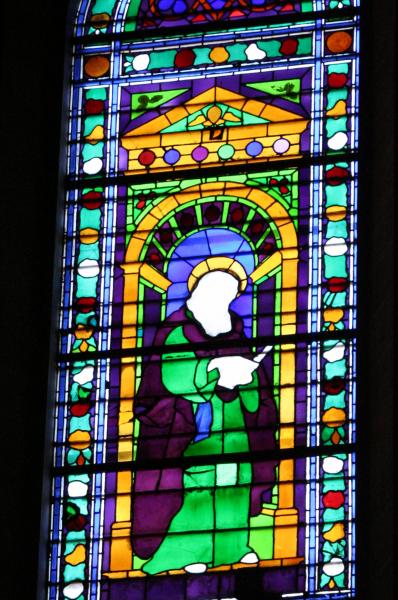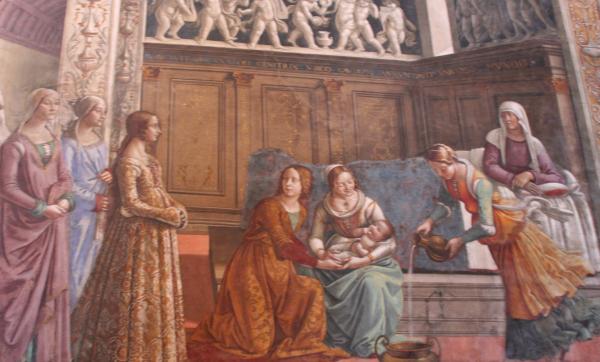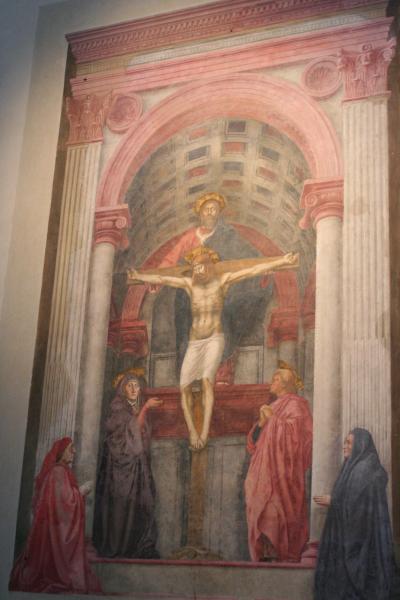 Santa Maria Novella, the altar, window with no face painted, fresco behind altar, Masaccio fresco
Santa Maria Novella is amazing, but not overwhelming like Santa Croce. Inside there are several famous and priceless works of art, not the least the fresco by Masaccio, "The Holy Trinity", that effectively changed the world of painting by introducing the concepts of depth and perspective. The altar piece was quite amazing - it resembled a complete church with cloisters - but I couldn't find out who made it. Behind the altar are frescoes done by the school of Domenico Ghirlandaio (Michelangelo may have worked on these when he was a student of Ghirlandaio). I loved these frescoes! They were scenes of everyday Tuscan life from the 1500s, but were supposed to be illustrating Biblical tales. One mother, holding her little baby, has an expression of such joy. Several of the "Biblical" characters cleverly disguised as Tuscans, look out at the viewer, as if the viewer is on display, not the fresco.

In the choir (now a bookstore) there is a painting by Vasari - he was a contemporary of Michelangelo and is best known for his book "Lives of the Artists" - I can see why he isn't best known as a painter - this one, at least, was pretty mediocre.

Tired, hot and hungry, we stopped at a trattoria on the way back to the convent and had a late, light lunch. As we walked along we passed a store with a display that included a pair of men's briefs on a partial mannequin. The patterns and colors were so outlandish that I could not help thinking if I got into an accident wearing those the EMTs would not be able to stop laughing long enough to stop the bleeding.