Journal Pages
Click a pic

On Vacation in Cartoceto
Saturday, August 2 - Martina Franca to Cartoceto

We were up and out pretty early - Pina and Enrico came by the flat at 9:00 am and we left shortly thereafter.

Thank God - we only had one slow down - not far from our starting point - a very ugly accident - we were caught in about 4 km of backup - little by comparison to the southbound traffic - that backup was easily 12 km.

We had some moments of confusion - Tom had programmed the GPS to take us to the next destination - Cartoceto - I found the place on the map but the mileage the GPS claimed and the mileage I calculated just didn't compute. Finally, about 30 km from the destination I figured it out - there are two towns of the same name about 50 km apart, both in Le Marche. I thought we were going to the southernmost one, but the GPS had us going (correctly) to the northernmost one.

We got to our B & B around 4 pm - Cartoceto is tiny - really tiny - there is a post office, a pharmacy, a 'bar', our B & B and the restaurant the owners operate and that's about all - it takes about 15 minutes to stroll the entire village. Ah, but what views - the countryside here is gorgeous - it is green because of the vineyards and olive orchards and the land is tidy - it reminds us of England, in a way.

From the town walls you can look over the countryside - there are villages, churches and farmhouses scattered about. It is every bit as nice as Tuscany, but without the crowds. Don't tell Rick Steves.

There are a couple of things we don't like, though - only one restaurant in town severely limits the choices (although this restaurant is excellent - more later). The mosquitoes are dreadful - they go after fair skinned people with a vengeance. Our hotel is owned by a German couple - they are very nice, but they both smoke - and they cater to a lot of Germans (who also smoke). The worst part was that we didn't have an en suite room - our bathroom, while ours only, was down the hall - I'm not happy, even though they provide bathrobes - it has been a long time since I've had to put up with that - I assume that I missed that little fact when I booked the room. Above the toilet there is a graphic instructing men to pee sitting down - never in my life have I seen anything like that!

We had dinner at the owners' restaurant - it was quite good - Tom had a penne with sausage and I had tagliatelle with goat cheese and cherry tomatoes. We each had a panna cotta, which was served with chocolate sauce, peaches and plums, then coffee and a liquor made from olives - we are in olive territory, after all.

Sunday, August 3 - Cartoceto

Well, even though I was rather grumpy about the bathroom down the hall (the nerve - well over $120 a night), I have to say the breakfast was the best we've had since we've been in Europe. Fresh watermelon, cantaloupe, prosciutto, bread, rolls and cheese and a curious drink made from bananas, kiwi and a variety of fruit.

We drove to Urbino - what an enchanting town - it is a university town and one of the hilliest towns I've ever seen anywhere - including San Francisco. We parked the car close to the town walls and proceeded to hike - what a hike - it was very rigorous, to say the least. Once we got to the top, we came upon two squares - the first the Piazza Rinascimento and the second the Piazza del Duomo - then the hills again, this time down at a steep angle. One couldn't live here without developing calves of steel.

Our Cadogan Guide said the cathedral was boring because the original had been destroyed in an earthquake in the 1700's. Instead we found it wonderful - clean, open, light and airy. There was a young man playing the organ (we assumed he was practicing) - three keyboards, multiple stops and foot pedals all over - he did a very good job on a piece by Bach.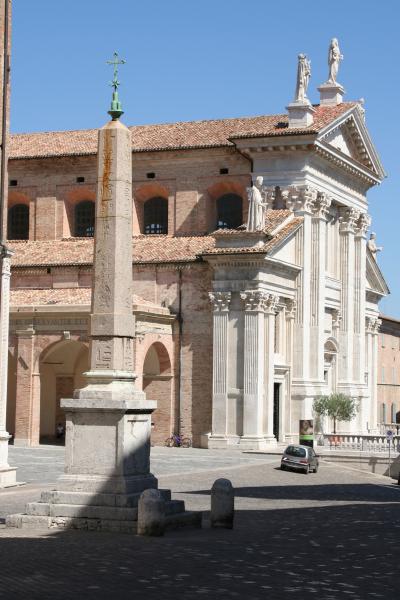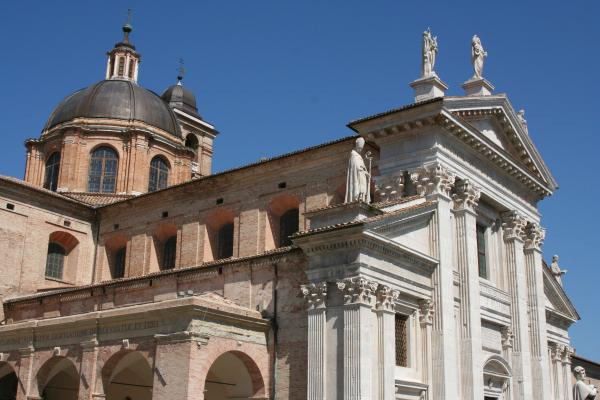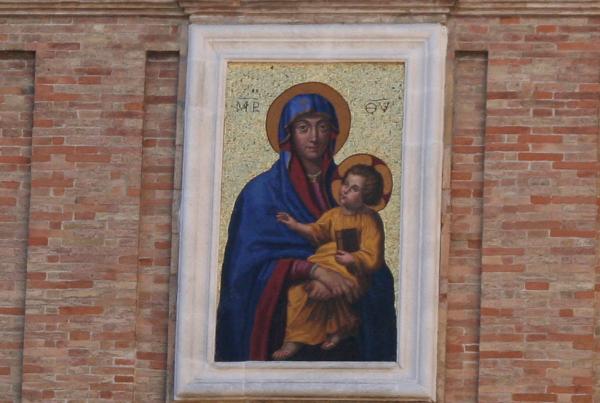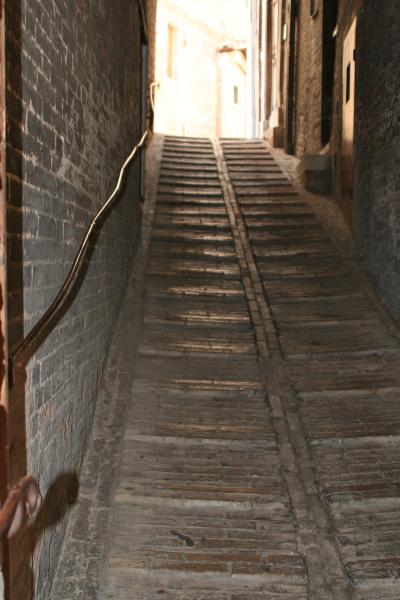 The cathedral in Urbino, a mosaic high on a wall, an odd ascending alley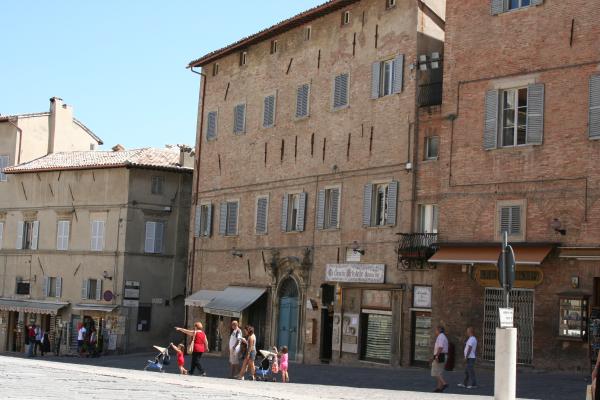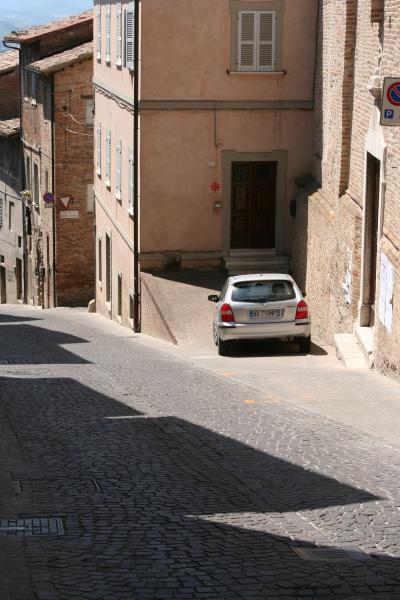 Note the long fasteners for the rods that hold the walls in - this looked like the runaway car emergency ramp

We left Urbino after walking around for a while - what a nice place - clean, beautiful - it would be fun to stay here. we drove to a little town called Cagli - there was supposed to be a polenta festival there, but either our information was wrong or it only takes place in the evening - nothing going on here.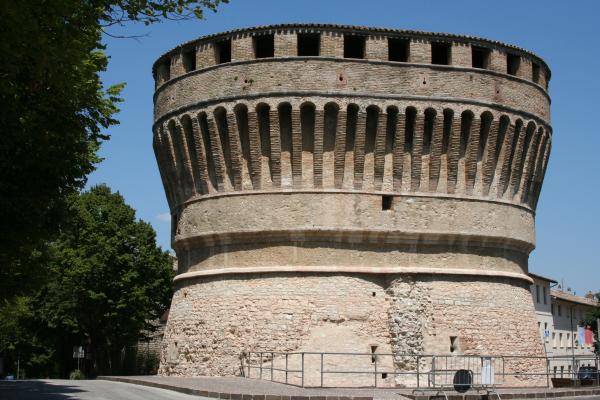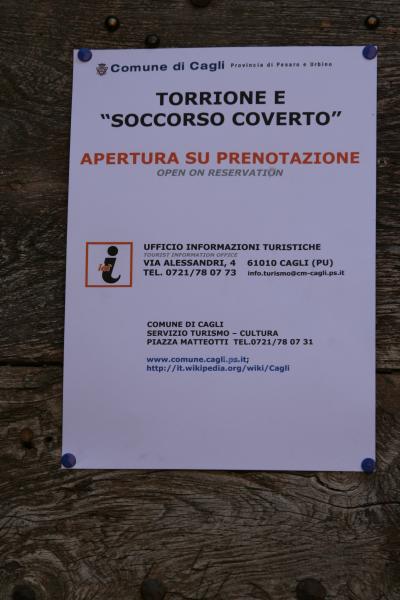 The tower in Cagli

We decided to go to the beach at Fano - big mistake - this is the first weekend in August and all of Italy is at the beach - the traffic was terrible and there wasn't any parking - we were unsuccessful , so we returned to our hotel.

Time for dinner - let's find someplace new - our first stop was a place called Simposium - we thought it might be expensive based on the long driveway - nothing could have prepared us - the antipasti started at about $50 a plate - they even had a wine at $600 a glass! What in the world are these people thinking? Who has a palate so well trained that they can tell a $20 glass of wine from a $600 glass of wine. Needless to say, we found another place and had a complete meal for the price of one antipasto at that place.

Monday, August 4 - Cartoceto

We love Skype - we were able to call Tom and Matt this morning using Skype and get caught up on their goings on.

Breakfast this morning wasn't quite as nice as yesterday's - no fresh fruit. Darn.

We went with Judith, the owner of the hotel, and the young Dutch couple who are staying in the hotel to an olive oil production place - Judith was the interpreter for the Dutch couple (from Italian to German) and we tried to pick up the lecture in Italian - we actually did pretty well, all things given - he didn't have a heavy accent and didn't speak any dialect, so we were able to get the important points. Obviously, he is sold on the Mediterranean diet - lots of olive oil, little meat, lots of vegetables, avoid hydrogenated fats. The olive oil production was quite interesting - the olives are crushed by a very large stone (wheel), then the resulting mush is put on a filter - the filter is put on a piston, then many more filters, also heavy with crushed olives, are placed on top until the stack is about 6 ft. high. A hydraulic press at 400 bar causes the olives to release their oil and the water, which are separated - the water is used for fertilizer. The remnants of the olives are sold - I think they are used for lower quality olive oil and other products, like hydrogenated margarine.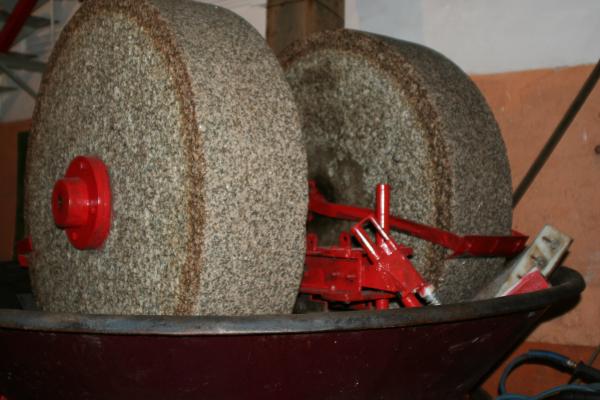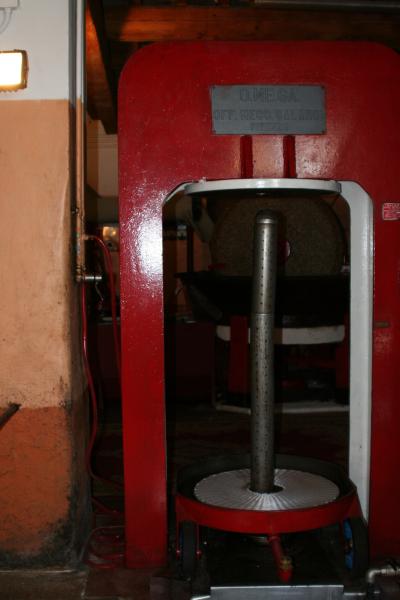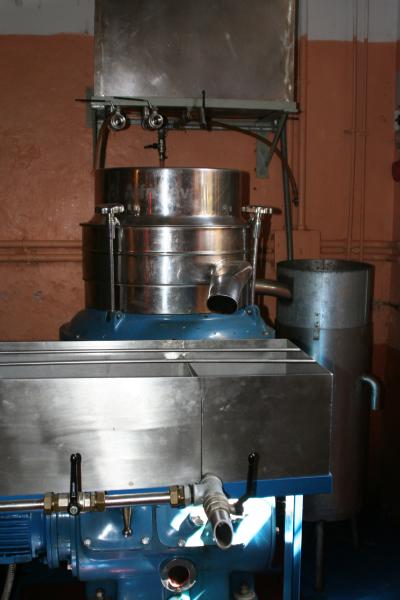 The mill, the press, and the separator

The facility serves meals, so we made a reservation for dinner at 7:30.

From the olive oil place we tried to go to a small town that Axel, our host, had told us about - the GPS was determined that the only road to this little town, Montefelcino, was unpaved - having been victims of her unpaved roads before, we declined - we never did find the town, even though it is only about 10 km. from Cartoceto.

We drove through the countryside - lots of small, medieval looking villages along the way, to a town with a castle that looks Norman - it is called Gradara. It was blazingly hot - we walked around a little, but we were both wiped out from the heat. We returned to the hotel and took a short nap - we had to get out of the hot sun and we were both exhausted from the heat.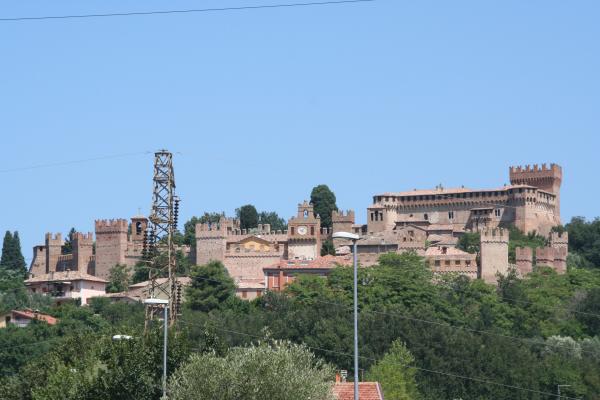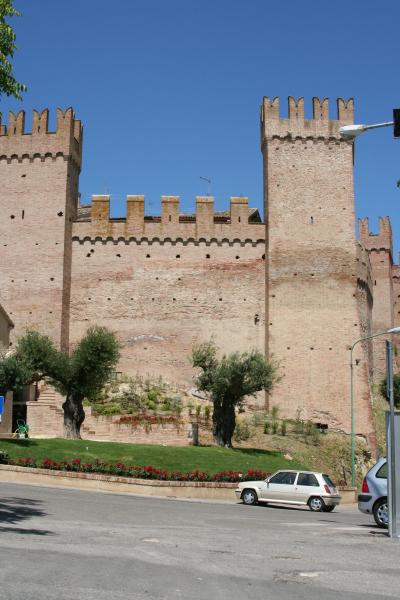 Gradara and a closeup of its walls

Tom had to call the host of our next destination in Pienza - Sgr. Ciacci doesn't speak English as far as we can tell. However, we got the message through that we were showing up tomorrow and staying for three days. I am so glad we've learned a bit of Italian - we'd be sunk without it.

Dinner - what an experience. The Dutch couple joined us - we had dinner outdoors, overlooking the valley below, with the lights of Fano coming on as darkness fell. The dinner was a fixed menu - our host told us (in Italian) what we were having - we translated for Katja and ?????.

First we had a mixed salad with a cheese made from cow's and sheep's milk (soft like a pecorino) accompanied by crostini - one with olive oil, the other with tapanade.

Then we had a caponata - Tom isn't fond of eggplant, but this was exceptional - eggplant, onion, capers, tomatoes, olives in a kind of stew - it was delicious. This was followed by what our host called a 'soufflé' which is about as good a word as you can come up with - it was a little custard dish size serving of a potato soufflé, served on a bed of a sauce made with sweet red peppers (and olive oil). Then we had lovely ravioli, filled with sage and ricotta in olive oil, then a specialty from this area - spelt soup (faro in Italian) that had cannellini in it - it was wonderful. For dessert we had a little tart filled with marmalade and a small scoop of gelato with chocolate. Our wine was the specialty of this area - bianchello - a lovely, dry white wine. We finished with coffee, for which our host gave us some anise liquor to make into caffe corretto. This was far more than we normally eat, but the portions were very small and we took about two hours for the entire meal. As Tom's mother used to say 'eat slow, you can eat more.'

We had a lovely evening - we enjoyed learning about life in Holland these days - and our co-diners were curious about the US without launching into political discussions.