Journal Pages
Click a pic

On Vacation in Martina Franca
Tuesday, July 29 - Lucca to L'Aquila

We were up early, showered and dressed and went to the bar for breakfast. Mel had completed the text for Lucca, so I finished work on the images while she showered. We uploaded the last material while we were at breakfast, so are completely caught up. Having finished packing and checked out, we hit the road. We stopped at a large Carrefour store where we picked up lunch fixings and Mel found the skirt she had been looking for. It took a little doing getting on the autostrada, but finally we were on our way.

Several hours later we were in L'Aquila. The traffic was dreadful. We saw a sign for the Hotel Duomo, one of the places listed in our guide book, and were able to find it. The price was right and they had a parking garage a few blocks away. What an experience! You turn the key in the lock to open the gate into the lot. Then you open the elevator, retract your outside mirrors, and pull your car into the elevator. Down one floor and you are out of the elevator and into a parking space. We weren't sure we were going to be able to get out of the lot, as the gate had closed. We finally spotted a button and pushed it and the gate opened. Our room was quite decent and within walking distance of bars and restaurants. We had a drink and snacks on the piazza and took a little rest before going out to dinner.

L'Aquila means 'The Eagle' - once you get past the dreadful traffic in the new part of town, and past the one-way streets (very narrow) in the old part of town, it is quite a nice place. We think, based on some of the directional signs, that it is a university town. That would explain some of the young people in their weird garb - why do they need all the tattoos and strange hair color to make themselves different?

The man at the hotel desk recommended a restaurant nearby. We were glad we had waited for a very severe storm blew in - thunder and lightening very close and torrents of rain. It was spectacular.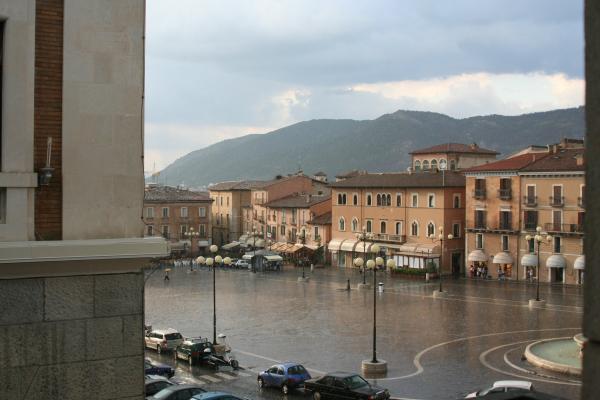 Rain in the piazza

We went to the restaurant after the storm and had a very nice dinner of grilled lamb, which is a specialty of the area.

Some thoughts about the road between Lucca and L'Aquila - much to our surprise, there are many small hill towns in the Abruzzo area - we didn't expect them at all - they are intriguing seen from the road. If one had a lot of time, you could just poke along and stop at these tiny villages and small towns along the way. Somehow, we had thought that hill towns were more a Tuscan thing.

The other thought is that the road between Lucca and Firenze is dreadful - lots of trucks that make the traffic really slow, We found it very slow going. Once onto the superstrada, it was very quick. When we got into Abruzzo we found that the road had a lot of tunnels - some very long - the roads were really quite good, but it must have been an engineering marvel to put these roads in.

We are a little apprehensive about tomorrow morning - we have chosen a hotel just off the Duomo (cathedral) square - there is an open-air market that opens between 6 and 7 am - this might be a very short night!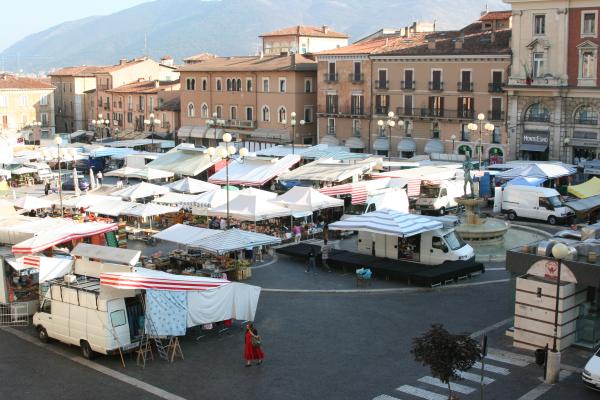 The market in the piazza
Wednesday, July 30 - L'Aquila to Martina Franca
In fact, it was a very long night. There were many noisy people on the piazza below, then the dogs started in later. We had to close the shutters, and that only provided marginal relief. We wound up sleeping until our alarm (Tom's cell phone) went off at 7:00. We showered, packed and dressed, and went down for breakfast. It was pretty mediocre. After breakfast we checked out and retrieved the car (another trip in the elevator) and were on our way.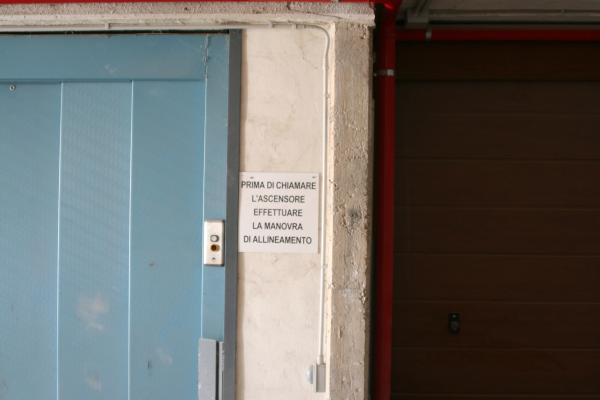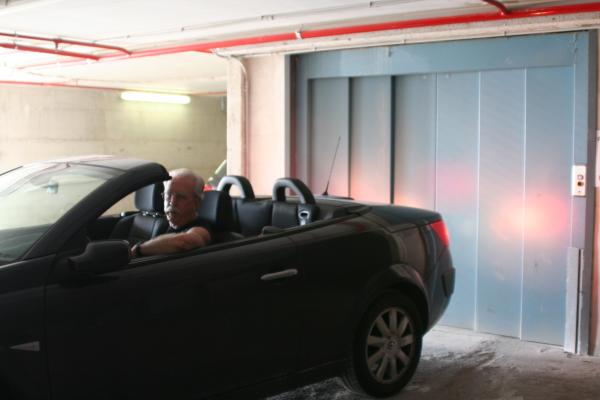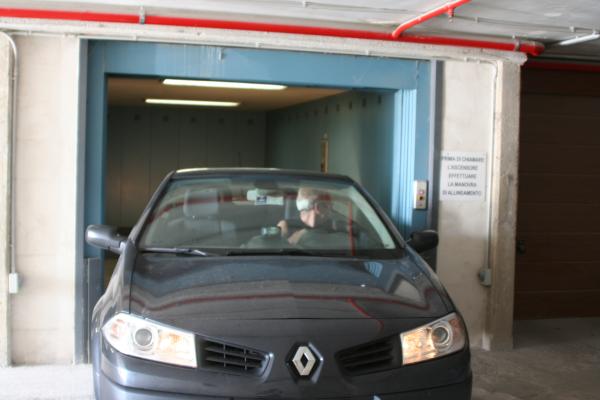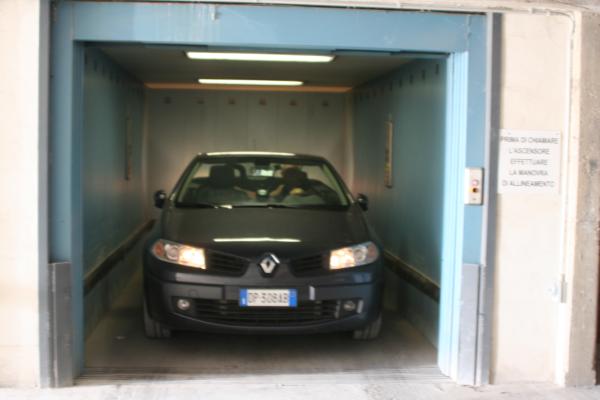 You want me to put my car where?!!

The drive to Martina Franca went smoothly enough except for one wrong turn. The toll plaza where you get onto the A14 has two choices just past the ticket booth. I took the wrong one. Some 15 kilometers later I was able to get off and back on again, this time in the correct direction.

We got into Martina Franca near 3:00 and called our hostess. Pina met us at the apartment and her husband Enrico arrived a few minutes later. We had a delightful chat. They told us about the apartment, the old town, and the surrounding area. We asked for a restaurant recommendation and Enrico had one. He also suggested that they join us. When we told them we sing in a choir they suggested that the following night we get together with some Swiss friends of theirs who also sing.

They left and we napped - much needed. After our nap we walked up into the old town, bought some fresh fruit for breakfast, and had a granita. Then it was back down to the flat for a shower and to get dressed for dinner. It should be delightful. We are having to rely on our Italian totally, as they are not speaking English to us.

Pina and Enrico arrived just after 8:00 and we walked up to the Piazza del Duomo. This time we turned left around the Duomo. Mel and I had gone right earlier. The centro storico (old town center) is really stunning and goes on much further than we had realized. We went out through a sort of gate next to the ducal palace and into another piazza, then turned downhill into the zona nuova (new town) and on to the restaurant.

Dinner was excellent. Pina and Enrico ordered for us all - polpetti (ground beef meatballs that were breaded and fried) to start, then veal steaks and orechietti (ear shaped pasta) in tomato sauce, prosciutto, mineral water and local red wine, and watermelon to finish the meal. We ate too much.

On the walk back we encountered Stefano and Michella (friends of Pina and Enrico) and they walked with us back into the Piazza del Duomo. We all stopped for a coffee before Pina and Michella walked back down to the apartment with us. What a delightful first day in Martina Franca.

Thursday, July 31 - Martina Franca
Fresh nectarines for breakfast - wow! After breakfast we got a load of laundry started and Enrico arrived. He showed us where the Internet cafe is located and we got caught up there, then returned to the digs and hung out the laundry.

We walked up the street to the top of the hill to the Piazza Plebiscito, which is just in front the of Duomo - the marble shone in the sun. The Baroque Duomo (Basilica di San Martino) is a gem - very well maintained, except for a few patches of paint in the dome, with lots of artistic touches (little putti here and there) and beautiful marble floors and altars. It is a lot smaller than most of the cathedrals we've been in - you could fit it inside the cathedral at Milan and never notice the missing space - but it is fitting for the small town (about 50,000 residents) of Martina Franca.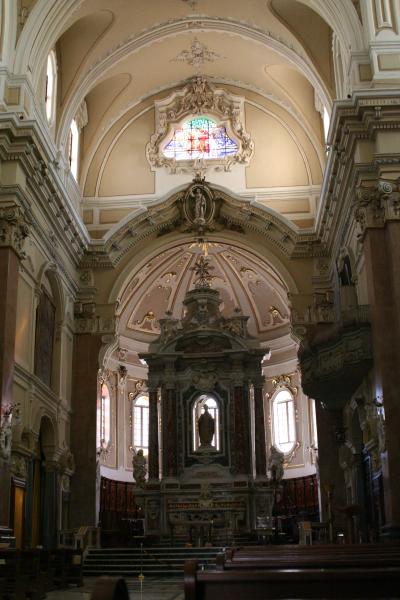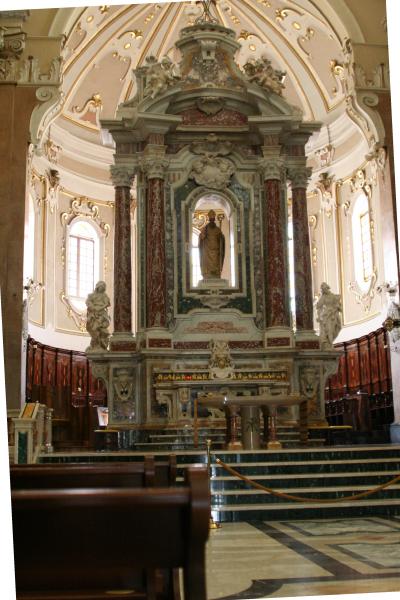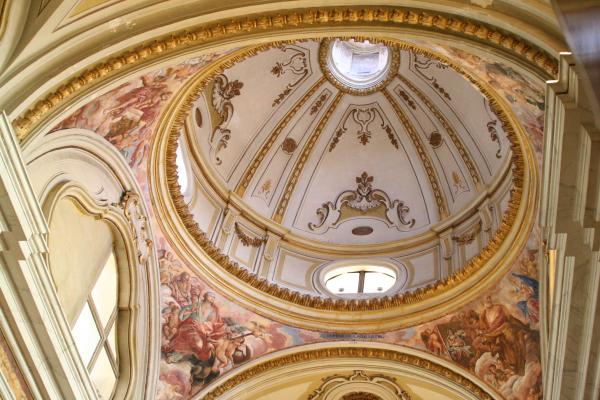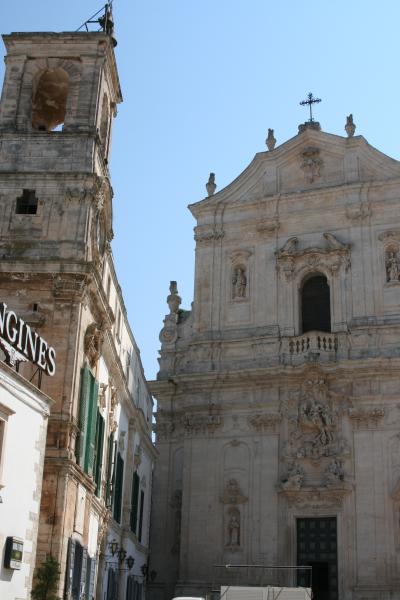 The duomo

We ambled up the piazza to the bar and had a cappuccino and a roll. When we returned to our apartment, we found that our laundry (on a portable drying rack) had been moved - the signora in the apartment above us explained that it had fallen over and she had moved it to a more suitable spot. At least she spoke Italian and not dialect. Later an elderly man walked past Tom and said something - Tom could not catch one word since it was all in dialect, which we are told in this part of Puglia has a strong French influence because this area had been ruled by the Normans many years ago (probably in the 1100-1300's, I'm guessing).

This was to be our day to explore a little of the countryside around Martina Franca. In this area are the unique little dwellings called trulli - they are entirely made of stone and are built without the use of mortar or cement. They have domed roofs and are cylinders - there are no windows and the builders may put several trulli next to each other and cut holes in the walls to connect the rooms. They are now 'protected' by the government, so if you want to renovate a trullo, you have to restore it in keeping with the historical appearance. The English have discovered them and are buying them for summer homes - a nice home of three of four trulli can be bought for $100,000-150,000 and the renovation costs about that much again. By British terms, that is very reasonable for a summer home.

We first drove to the village nearest Martina Franca - Locorotondo - it appears to be walled, but the walls now have been turned into apartments - it is very white, to reflect the heat and there is a marvelous view of the village from the main road.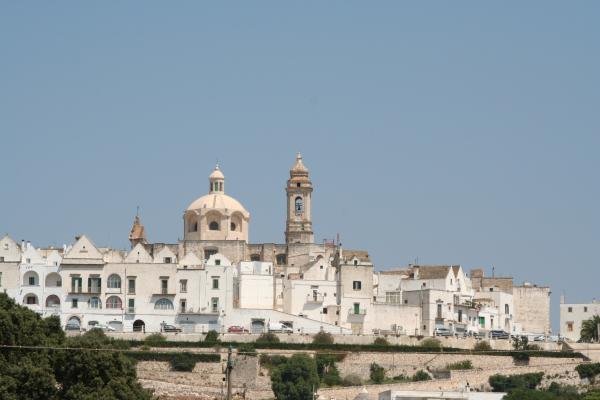 Locorotondo

Our next town was Alberobello ('beautiful tree') which is famous for trulli, but has become a tourist destination and is said to be very expensive. Like so many of the towns in Italy, the outskirts are a conglomeration of modern high rise buildings, various industry, filling stations and general ugliness. Once inside the old town, the towns are beautiful. Alberobello does have a number of very nice trulli, but I think we prefer Martina Franca as a place to stay.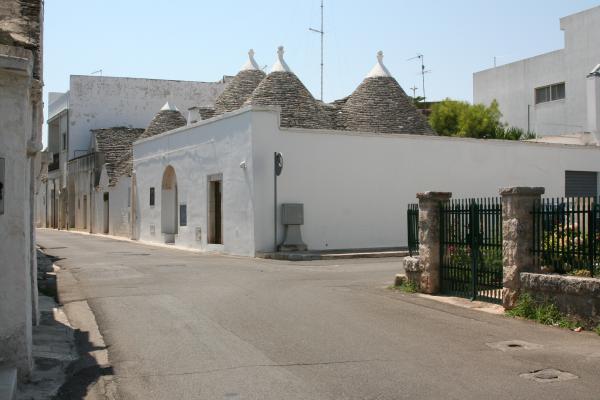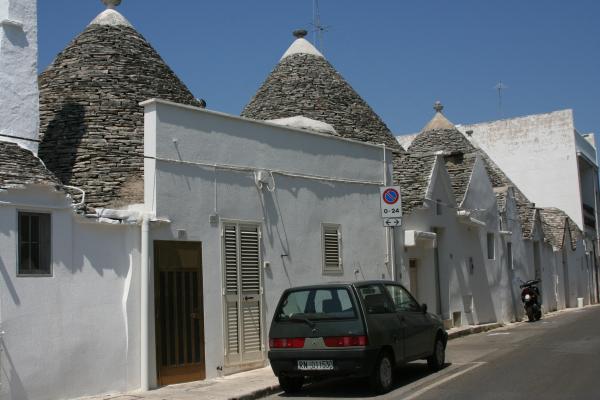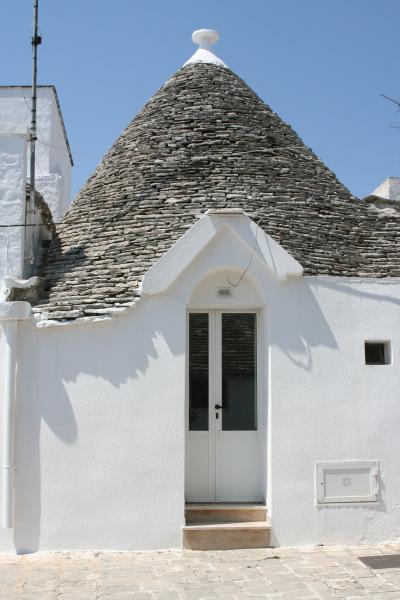 Trulli in Alberobello

We drove further to Le Grotte di Castellana. Along the way we passed a motorcycle-car accident - once again, the motorcyclist came out on the short end of the transaction - the ambulance making its way to the scene wasn't in much of a hurry, so we assumed that the motorcyclist had been killed. How sad, but the roads in this part of Italy (and most everywhere else in the country) are narrow and twisting and the motorcyclists tend to ride as if they are invincible. This area is extremely rocky and the rocks have been employed in building fences, so there is no soft verge to break the crash of a vehicle.

The grotto at Castellana was discovered about 70 years ago - it is a long series of underground caves formed in the limestone - there are many shapes of stalactites and stalagmites so you can let your imagination soar- a camel, a Madonna, a snake. There are also many colors - pinks, reds, greens and blacks. It is quite beautiful, and the air is cool - which was welcomed, because it is quite warm in the summer in Puglia.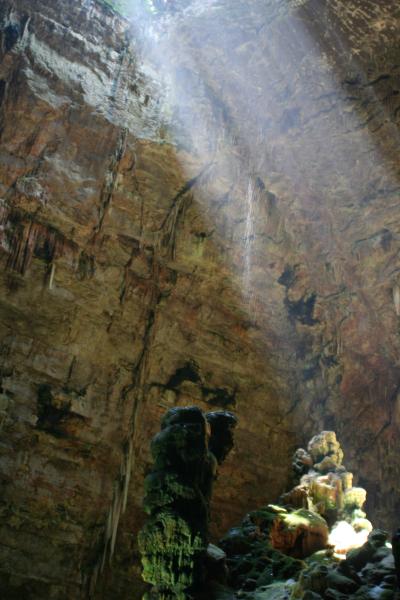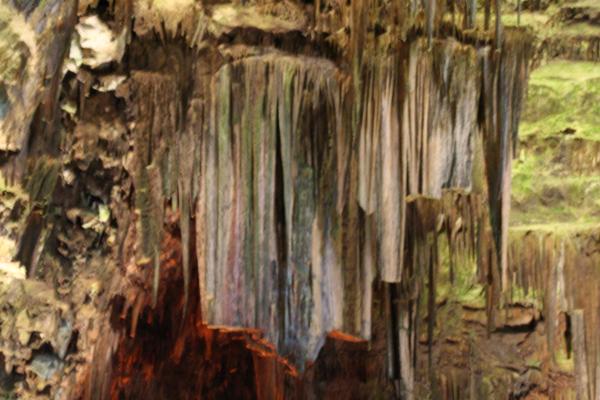 Inside the grotte

We made a side trip to Torre Canne to see what access to the beach is like, then returned to Martina Franca. Mel went for a stroll up into the centro storico while I worked on getting financial records caught up. She took a few more photos while on her walk.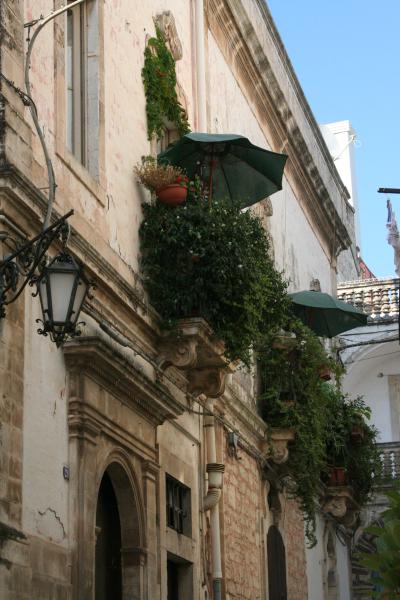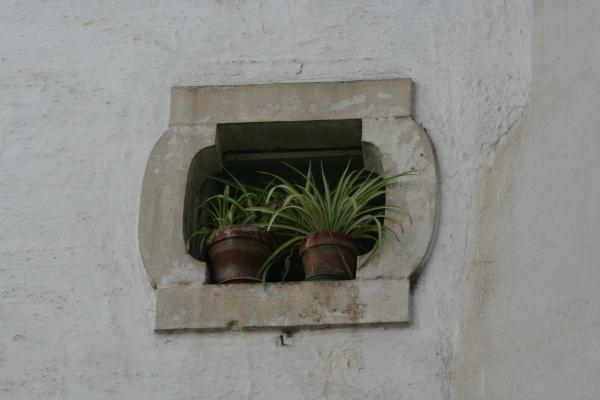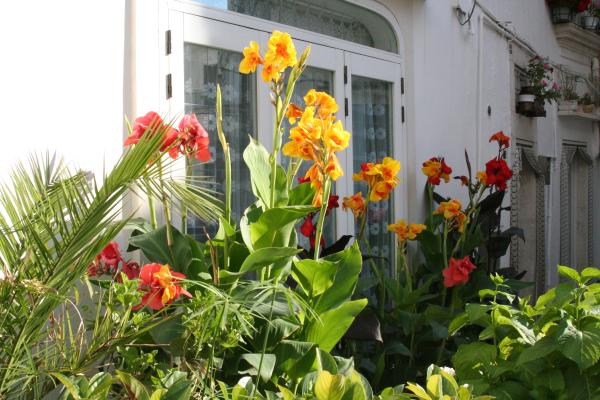 In the centro storico

At about 7:30 Pina and Enrico returned and took us to the trulli home of their Swiss friends, Peter and Sylvia. Their home is really lovely and we got to see the inside of a trulli home. The connected rooms seem to go on and on. They have a caper plant in their garden and Sylvia showed us some caper berries, the fruit that forms if the flowers are left unplucked.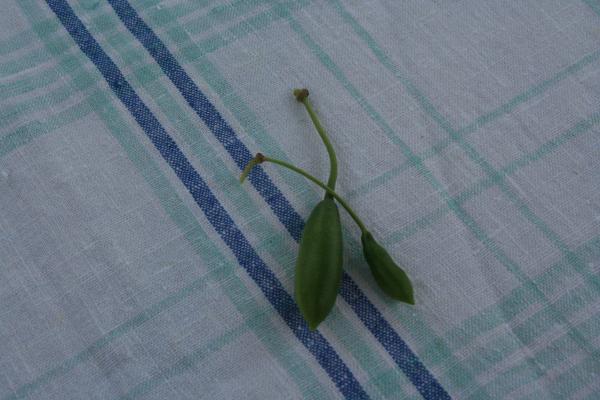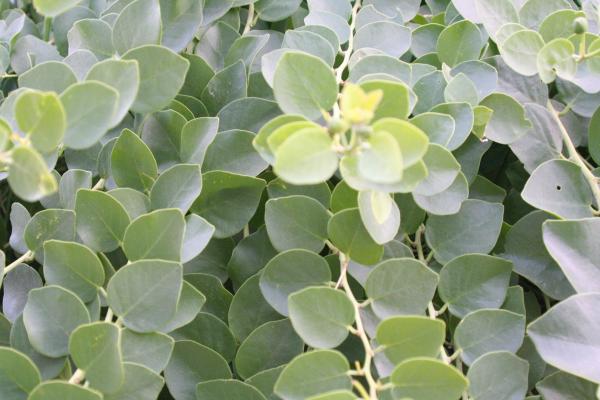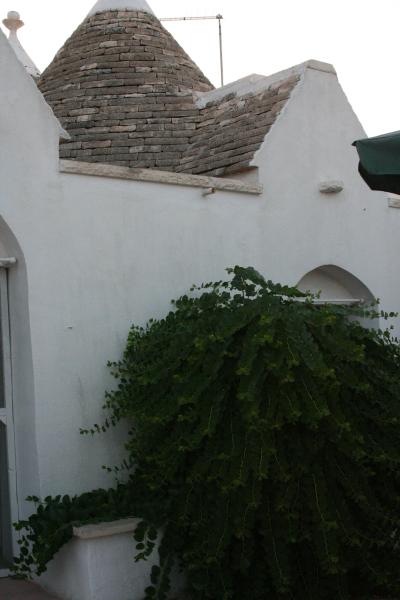 Caper berries, the plant, and their trulli

Sylvia and Pina got busy making dough for the pizzas while Peter got his wood fired oven going. It is quite a production. When the inside of the oven becomes white you know it is hot enough. At that point Peter moved coals to one side and scrubbed the surface with a wet towel on the end of a long broom. Mel spread sauce on the dough while others added olives, capers, gorgonzola and mozzarella. It only takes a few minutes for the pizza to bake in that very hot oven. We sat down to a wonderful meal and much chatter - almost all in Italian.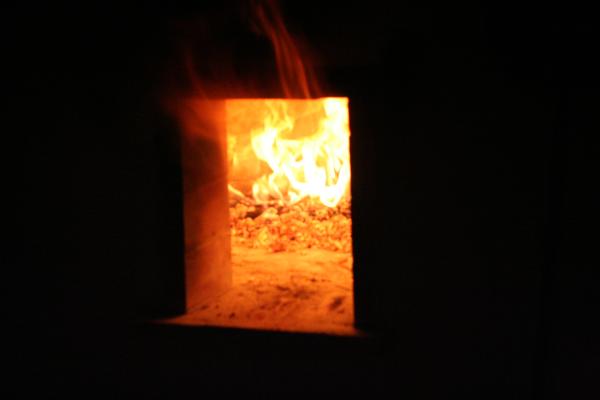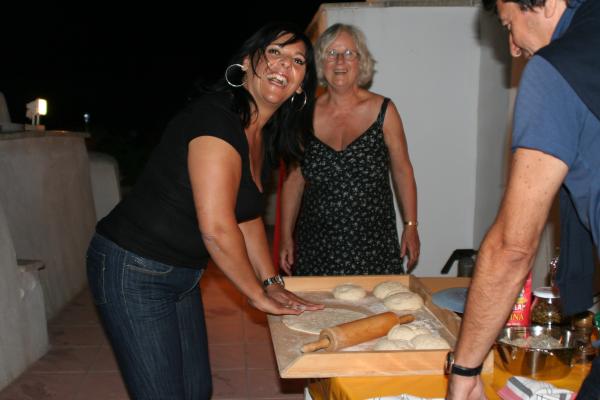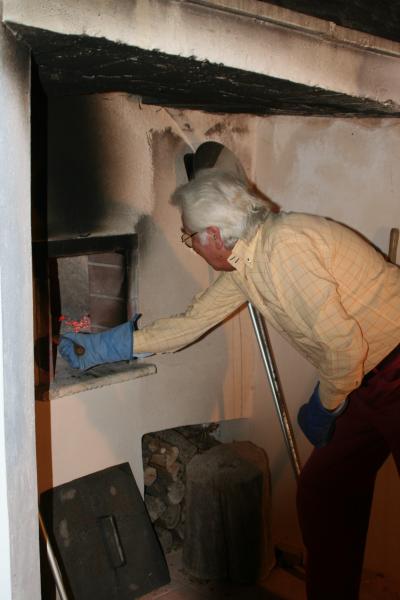 The oven and preparations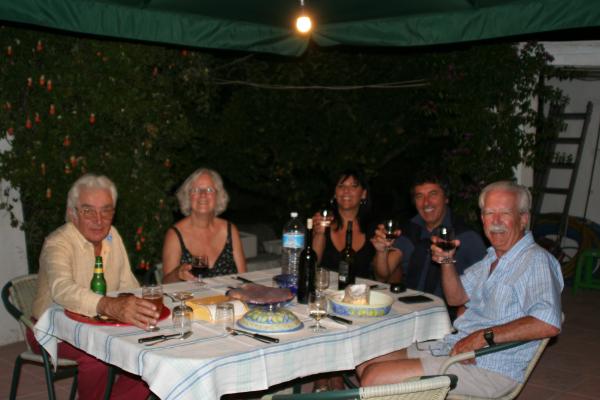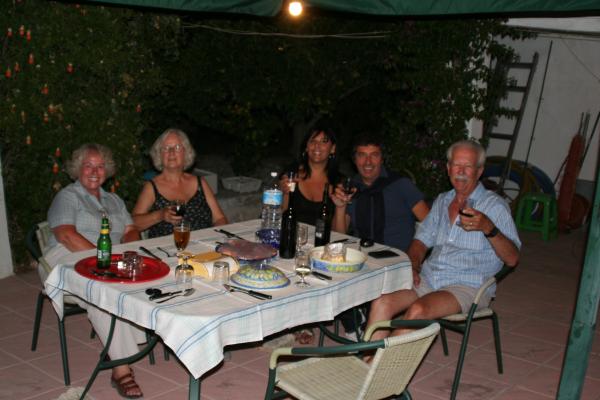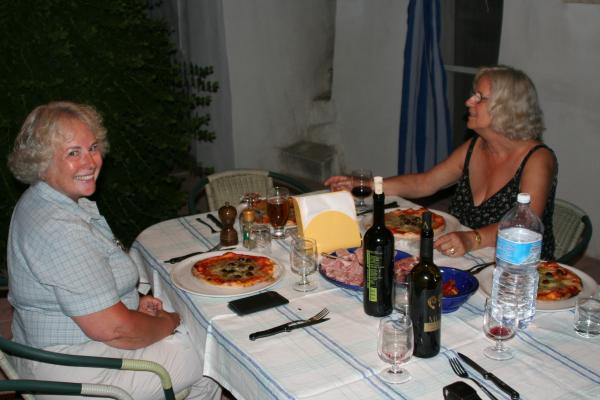 We six at dinner

One of the things I found interesting about the pizza oven is that in days past, this was the only one in the area, so people would bring their bread dough to bake in this oven.

Seventy years or more ago, this was a very poor area - we are in the heart of the Mezzo Giorno (why it is called that I don't know - it means 'mid-day') and thousands of Italians left for the north of Italy, South America and and the US. Now the emigration has stopped and there is a net influx of people.

Finally it was time for us to head back to the apartment for a much needed sleep.

Friday, August 1 - Martina Franca

We must have been really tired because we slept until 9 am, something we almost never do. We had breakfast in the apartment and then walked around the town a little. Our plans had been to go to the beach, but we learned from the TV news that this was going to be a very busy travel weekend (we should have remembered that the first weekend in August is when all the Italians hit the road for the 'ferie' (vacation). What is wrong with us? There were supposed to be 14 million more autos on the road this weekend than normal - and normally the roads in Italy are very busy. We reconsidered (besides, we had a good parking space, which we would lose the minute we moved the car) and decided to have a very quiet day in the town.

Food thoughts - the food in Italy is generally wonderful, but there are some exceptions - we are not fond of the packaged breads and pastries and the orange juice is unpalatable - which makes no sense since oranges are grown in Italy. Of course, the wine, olives and olive oil, prosciutto and regional specialties are very good. The food is varied, unlike Croatia where everything was predictable (pizza, cutlets and fish). The vegetables are almost always grilled and at this time of year are typically eggplant, zucchini and peppers. Every so often you get carrots and beans.

We have discovered granita - I suppose in the US it is sold as Italian ice - we've had lemon, almond and strawberry flavors - they are wonderfully refreshing - much more so than a gelato.

In Puglia one often has little crackers that are shaped in a circle - they come in different flavors - our favorite is 'finocchio' (fennel) - we aren't sure what they are called - maybe taralli.

At Sylvia's and Pietro's we had capers from their caper bush. She had cured them herself, in salt - they are wonderful, but cured in salt capers are hard to come by in the US.

It appears that the Pugliese diet isn't quite as healthy as that in other parts of Italy - there are many people who are very stout, something you rarely see in other parts of Italy - I think elsewhere it just isn't 'bella figura' to be overweight.
Today we had our 'main meal' at 1:30 - we shared a caprese (I think this was mozzarella di mucca or cow's milk mozzarella) with wonderful tomatoes and arugula. Then we shared a plate of mixed grilled meat - sausage, lamb and veal and I think they snuck in a little liver. We also had a plate of grilled vegetables and some roasted potatoes with rosemary - very nice, but we planned for a light meal in the evening.

In other parts of Italy we've been able to buy whole roasted chickens at a rosticeria, but we haven't had any success here in Puglia. As a matter of fact, the rosticeria also often have risotto, roasted vegetables and virtually everything you need to make a very nice dinner. Failing to find one, we did locate a supermarket (OK, about twice the size of a convenience store) and we got some sausage wrapped with prosciutto, risotto and a salad mix for dinner - we are going to have the sausage for lunch tomorrow as well as dinner tonight.

After dinner we headed up the little hill to the Duomo - there was a presentation of Puccini's Messa Gloria - what a surprise - we thought we were early (about 20 minutes before the start) and the place was packed - we had to sit on the floor. By the time the performance began, the place was overflowing. The orchestra was very good, but they over powered the choir and the choir's diction was not crisp enough for the very live space of the Duomo - we literally couldn't tell what movement of the Mass they were singing. It was a shame, for this is one of the most glorious pieces in the Italian repertoire, We left before the end of the performance - Tom wasn't able to sit on the marble floor for more than three movements.

We thought of our drive to Le Marches the next day with apprehension - would it be miles of backups?