Journal Pages
Click a pic

On Vacation in Milan
Wednesday, July 23 - Venice to Milan

The vaporetto stop was about 50 meters from the Centro, so it was an easy trip to get on the vaporetto with our luggage to go to the Venice train station. I wish we had more time in Venice - there is a lot to see and the city is so beautiful, even though there is a lot of graffiti and a fair amount of litter. I would love to come back. It is hard for me to imagine that most people have one day or less in this city.

Our train to Milano left the station right on time and pulled into Milano only a few minutes late - it was a very impressive trip. The train was clean and efficient (except for the tourists who seem to think they need enough clothes to cover every eventuality so they take an inordinate amount of luggage).

Our friend, Giorgio, was at the train station to meet us, We hadn't made reservations at a hotel, so he called a friend and was directed to a hotel not far from the station - very central and reasonably priced.

Giorgio has impeccable manners and is very knowledgeable about Milano - he has lived in the city almost all of his life, except for a stint in Copenhagen - his family is an old Milanese family, so his roots go back many years.

We had a brief tour of the city, then agreed to meet at 7 pm for our trip to La Scala. The performance was 'La Boheme'.

What can you say about La Scala? It is the premier opera house in the world - and to hear Puccini - my goodness. Beyond that, the sets were by Franco Zefferelli - they were amazing - how they could fit so much of a Paris street scene (act 2) on a stage is just phenomenal. Our box was only a few meters from the stage. The performance was flawless. What made it especially memorable was the people watching - this was the closing performance of the season - a smaller version of opening night - women in beautiful gowns - from quite plain to truly elegant. What an amazing evening.

Thursday, July 25 - Milan

Milano is the fashion capital of Italy - and July is when they have their end of summer sales - the discounts are phenomenal - if you are into Gucci, Dolce and Gabbana, Ferragamo, Dior, Armani, Louie Vouiton. We aren't. However, Tom needed a couple of pair of shorts - the ones he brought were too heavy - they didn't dry well and were hot - so we headed into the Galleria area (near the Duomo) in search of something affordable and not too kinky. We first tried La Rinacente - a very elegant department store - no luck, unless, you want to pay $100 (on sale) for shorts. Several shops later, we found ones that were reasonably priced and not weird. Italy has a youth culture - it is easy to find clothes if you are willing to spend a lot of money and are in your 20s. Beyond that, little luck. What I can't get over is the number of middle eastern women, all ensconced in their garb, who are shopping in the exclusive stores - if you have to hide your $700 dress beneath a robe, why bother?

We had a light lunch, then met Giorgio for a city tour - he took us to the natural history museum - which was excellent, especially the animal exhibits, shown in dioramas of their natural habitat.

We had a brief stop at the Galleria - the fashion capital of the fashion capital. it is very beautiful - and posh - and there is a mosaic in the floor - I think it is a wolf - the superstition is that you take a turn on his testicles for good luck - so many people have done this that his testicles are gone - a hole in the mosaic. Tom, Giorgio and I each had a turn.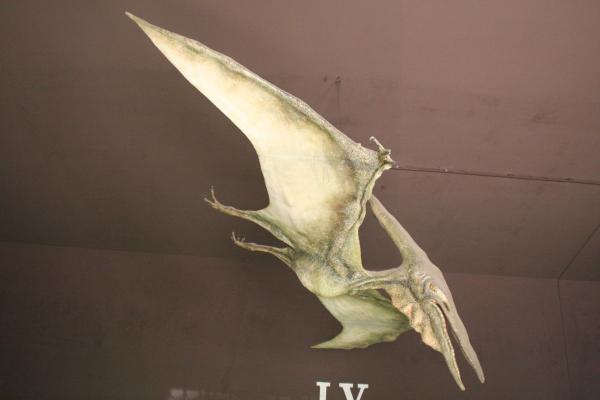 Giorgio left us back at our hotel with the agreement that we would meet for dinner at 8:00. This involved a combination metro and bus ride to a restaurant (Pietre Cavaci) owned by one of his clients .
This isn't a large restaurant, but it is wonderful, with very attentive service, The waiter brought out the specialty of the house for the antipasto - a carpaccio. We've always avoided these in the past, but this was wonderful - flavorful and tender. Then we each had a risotto (rice) with porcini mushrooms - excellent. For mains, I had a sole with butter and lemon, Tom had orata (fish) grilled and Giorgio had a mixed fish grill. The men had patate fritte and I had fried artichokes (they were wonderful). In case we didn't have enough to eat, we had a small dessert that was of Brazilian derivation - a sort of coffee mousse atop gelato with raspberry sauce. Oh yes, a Chardonnay with dinner (and mineral water) and espresso after. Good thing we don't eat this way every night.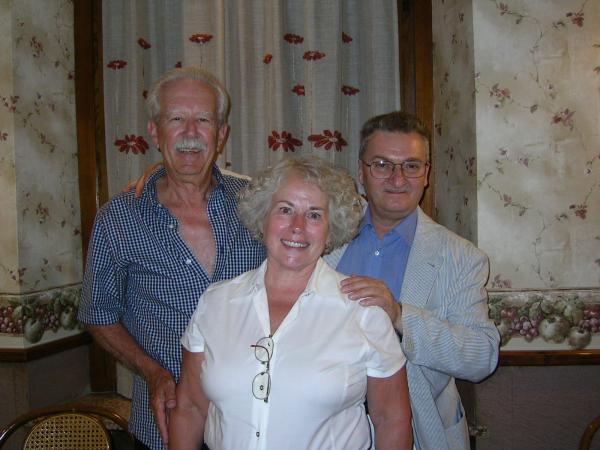 Tom and I took the Metro (which is an excellent public transport service) back to the hotel, with the agreement that we'd meet Giorgio the next day near the castle.

Friday, July 26 - Milan

We hadn't yet seen the Duomo (well, the last time we saw it was 32 years ago), so we took the Metro into the Piazzo del Duomo for a look around. It is going through a restoration - hard to imagine doing a cleaning job on such an ornate structure - so there is the obligatory scaffolding. The exterior of the Milan cathedral is unique - not gothic or Norman or any of the other styles one associates with Europe, it is alive with statues and gargoyles of all shapes and sizes. What we liked the most was the colors and patterns in the marble - it gives the structure texture.

The Piazza Duomo is alive and busy - tourists, demonstrations (political? religious? I don't know) and all shades of Italian law enforcement - the Carabinieri, the Polizia Locale, the Guardia di Finanza - who knows which others. Part of their presence is to keep in check the many street vendors - mostly 'clandestini' (illegal immigrants) who are selling 'genuine' Gucci handbags, 'original' Ray Ban sunglasses, etc. Whenever a law enforcement officer appears, the clandistino picks up his wares and hotfoots into the little alley ways.

We met Giorgio in front of the Castle Sforza - huge, old and imposing. We viewed the Egyptian collection (quite impressive) and then the pinoteca (art gallery) as well as a collection of furniture from about 1400 to 1950 - laid out as rooms would have been. It was very well done.
Giorgio wasn't sure, but he thought he might have to meet a client in Como in the evening, so we left the evening open. As it turned out, his appointment did take place, so Tom and I were on our own for dinner, which we had at a restaurant very near the hotel.

Dinner was excellent - we had a splurge - first of the season porcini mushrooms, sliced, breaded with bread crumbs and Parmesan cheese and fried in olive oil. We each had a pasta dish for mains and shared a plate of grilled vegetables. It was a wonderful meal (not the gourmet treat of the previous evening, though) and we thoroughly enjoyed it.