Journal Pages
Click a pic

On Vacation in Pienza
Tuesday, August 5 - Cartoceto to Pienza
Pienza is a UNESCO site (maybe World Heritage, I'm not sure), set in the countryside of Tuscany. It wasn't a long drive from Cartoceto to Pienza and we could not check into our apartment until 3:30, so we took a route off the Autostrada to the extent possible.

We stopped, briefly, at Todi. According to our guidebook it has been voted 'The Most Livable City in the World" for several years. It is pretty, no doubt, perched on a hill (like so many Italian cities) with old buildings, narrow streets and city walls. We couldn't find a place to park, though, so we had to enjoy Todi's assets from the car. Like all of the Italian cities, it is a nightmare driving - narrow streets, sharp bends, steep inclines. Todi is very clean and has a lovely cathedral. Maybe someday we'll be back.

We did get on the Autostrada a bit - around Perugia. What a mess! Someday I would like to explore Perugia and nearby Assissi, but the traffic is just plain terrible. I think that if we ever decide to make those trips, we'll do so by train or bus.

We got to Pienza just in time to check in. Finding our rooms was a bit of a challenge, but we did - our host Sg. Ciacci, doesn't speak English - at all. His guest book lists his guests by nationality. We are "Americani", of course. We opted for a small apartment with a little corner kitchen. It is larger than the room option, and we like the extra space. Sg. Ciacci showed us where to park the car, we settled in, took a little nap, then set off to explore the town.

Pienza is beautiful. Seen from the road, it is especially charming - rising above the farmland with a much more inviting aspect than some of the towns that look like fortresses. It owes its beauty to Pope Pius II (I think) who was from Pienza and, having attained the Papacy, decided to shower the town with wealth, including a cathedral that has never been finished and is in danger of collapse, as it was built in an unstable area. Bad town planning. However, just as the views of the town from the countryside are enchanting, the views of the countryside from the town are likewise - rolling hills, planted with grapes, olives and wheat, farmhouses dotting the landscape. It is the quintessential Tuscan landscape.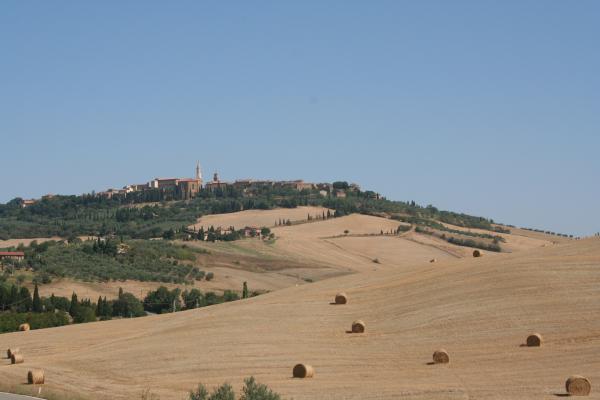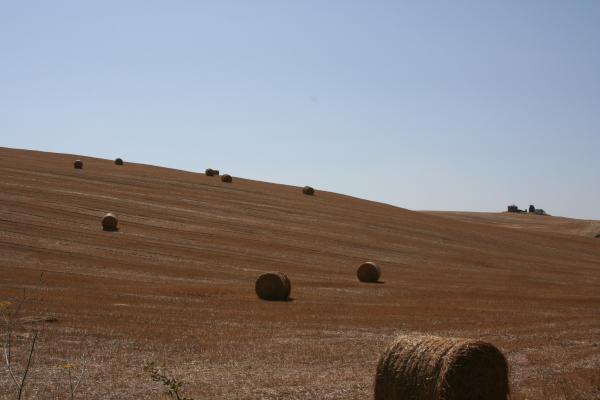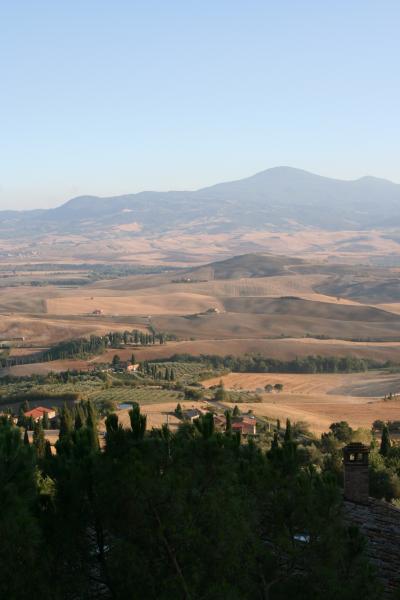 Pienza and nearby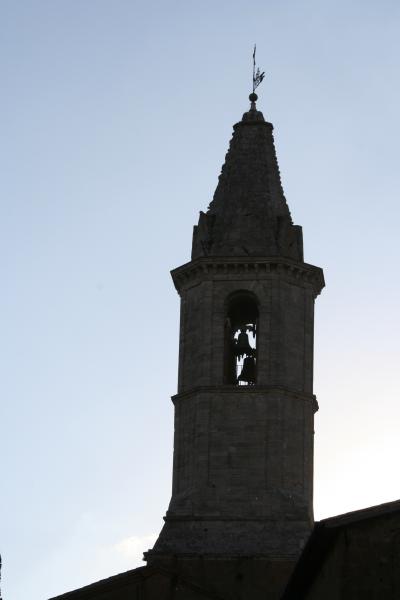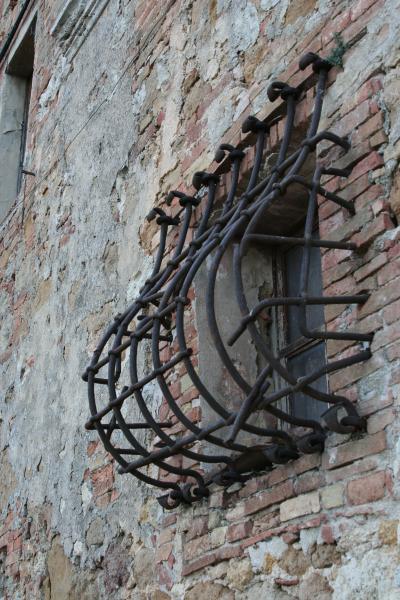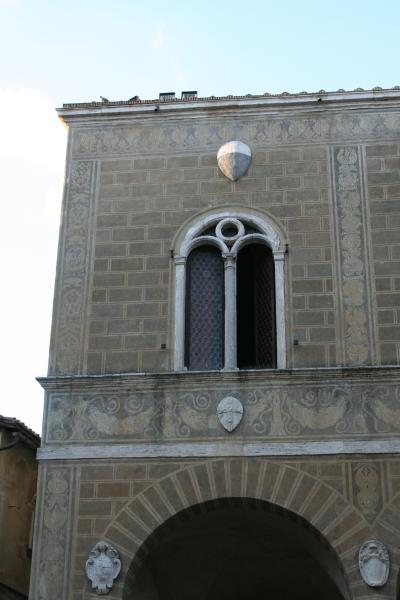 In centro storico of Pienza

Sg. Ciacci recommended a restaurant to us - La Buca della Fate (the hole of the fairy). It was very good, but very noisy, with several couples who had small, noisy, ill-behaved children. Unfortunately, one of the families was American or Canadian. Tom had a local specialty - cinghiale (wild boar) cooked 'umido' ('wet') - we don't know exactly what that means, but it was very good, although, like so many game meats, a bit tough. I had a 1/4 roasted chicken and a peperanata (like caponata, but without eggplant). It was really good. Watermelon is in season, so we shared a slice - very refreshing.

Wednesday, August 7 - Pienza

We've adopted a local bar, so we had cappuccini there this morning, and some rolls. Yesterday we bought a wonderful Tuscan melon, which we had first. Fruit - we sure miss it when we travel.

It was time to do something completely different - we have never been to an Italian thermal bath, though the country is dotted with them. Why not? We drove to Chianciano Terme - the motto is 'it's good for your liver.' Wow, how romantic. They don't have any public baths there (all the baths are connected with hotels, of which there must be 500), but the nice lady in the tourist office told us of three public ones nearby. We chose one nearby, not having a clue what to expect.

Well, it was an amazing experience - the baths are called "Fonteverde" and they are near a town called San Casciano dei Bagni. They were very posh. If you had time and money, you could check into the hotel and have all sorts of treatments ranging from a simple manicure to a full body peel. Not having time, or money, we opted for the basic rent a lounge chair, robe and slippers and use the pool.

The pool is huge - and hot - about 95 degrees Fahrenheit. The sun was also hot - as was the pavement around the pool. They had a couple of jets that spit out water at a high velocity, as well as a cascade you could lay in. The recommendation was to only stay in the water 20 minutes at a time. Given the heat, we couldn't have managed more than that. So we dipped, baked in the sun, dipped, had lunch, dipped, baked, etc. for 4 hours. We realized that we had better get out of the sun, but it was a little late - we both had pretty bad sunburns on those parts of our bodies that aren't routinely exposed. It made for a long hot night.

Our intention had been to cook dinner in the apartment, but the local Coop didn't have anything appealing, and Wednesday afternoon the butcher and the greengrocer are closed, so we ended up having dinner at a restaurant recommended in our guidebook. It was excellent. We each had a spinach (fresh) salad with balsamic vinegar and walnuts. Then we had grilled vegetables (carrots, zucchini, eggplant) and ravioli filled with porcini mushrooms and topped with a pecorino sauce.

A minor problem in the evening - I managed to stub my toe so badly that it brought tears to my eyes. It still hurt the next morning.

Thursday - August 8 - Pienza

When we were in Tuscany, in 2002, I heard for the first time of Iris Origo and La Foce, which was her home near Montepulciano. Subsequently, I read a couple of her books, the most interesting was "War Comes to the Val d'Orcia", her account of WWII in this area of Italy. I found it a fascinating account, especially when she and the children she had taken in as refugees had to flee to Montepulciano, being strafed by Germans (nice people, those Germans). Her home, La Foce, has beautiful gardens and is an agriturismo now. Unfortunately, the garden tours are only given on Wednesday, so we were a day late. Maybe next time, whenever that will be.

We also drove to one of the other thermal baths nearby. This was completely different than the one we went to yesterday - much more rustic, much more populated with locals. We didn't go in - we hadn't planned to and didn't have our suits anyway.

We then took a long drive to the Abbey of San Galgano - it is a strange place - a beautiful, ruined Gothic building, long abandoned and ruined. It was built by French Cistercians in the 1400s, then abandoned to ruin. What is so interesting to us is that this is the only Gothic building we've ever seen in Italy.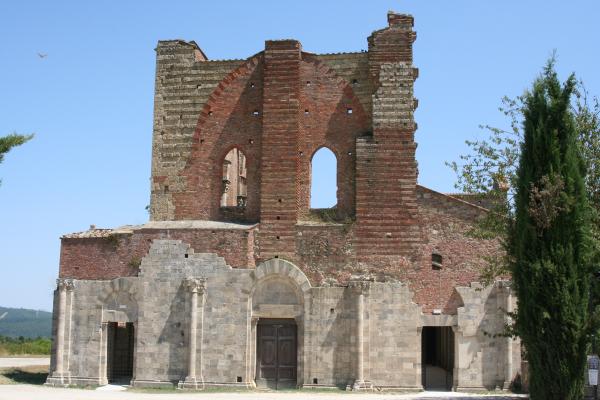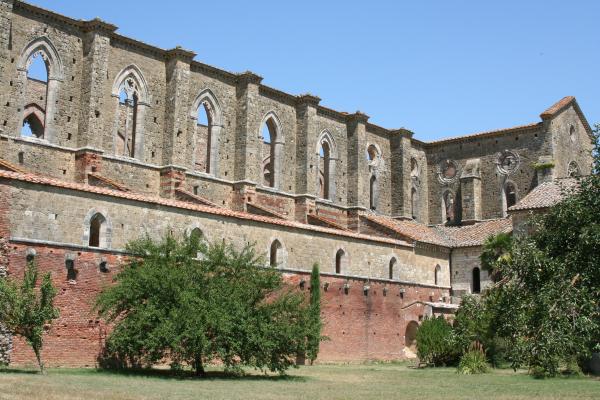 The abbey of San Galgano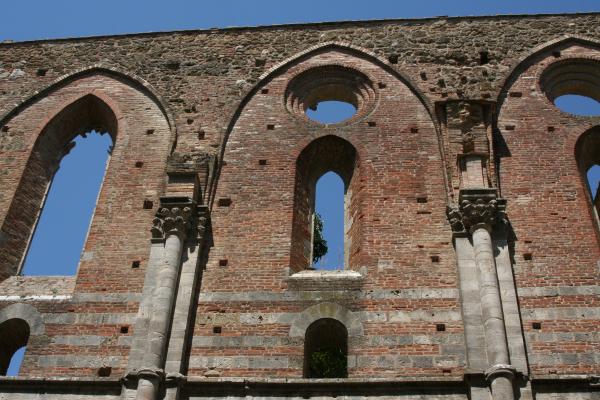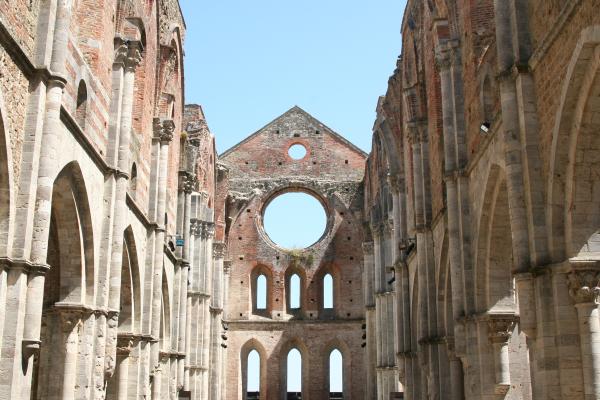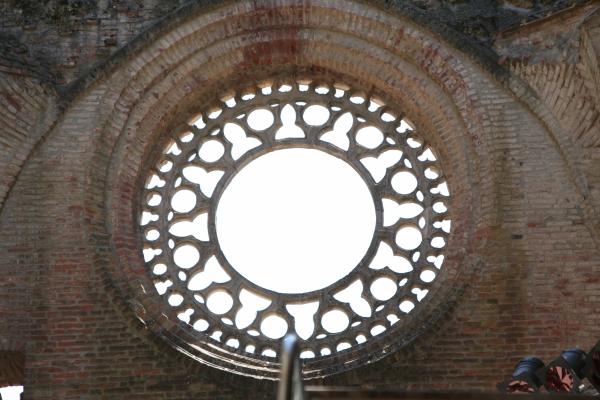 Perched above the Abbey is a beautiful little church, dedicated to San Galgano, who became a hermit, renouncing his worldly ways. He did so by planting his sword in a stone (sort of a King Arthur tale) and resolving to renounce worldly pleasures. There is a particularly gruesome display in a side chapel. Apparently someone tried to steal the sword several hundred years ago and his arms were cut off. His bones are on display in the church and have been carbon dated to within the years of the story of his transgression. Of course, San Galgano's sword is in the chapel, under glass now, but still stuck in the rock. It was a surprisingly meditative place and I felt moved to light a candle praying for our safe return home, for peace and for a return to health for our friend, Mary.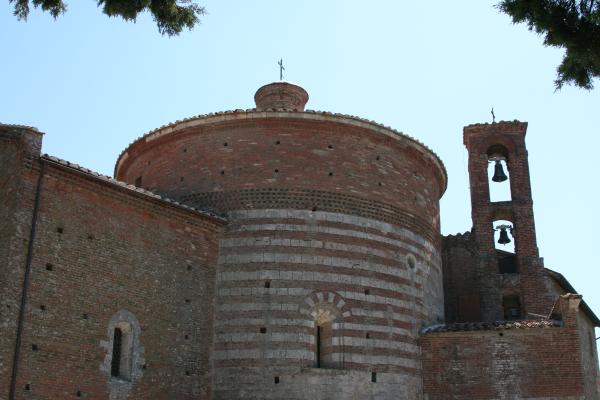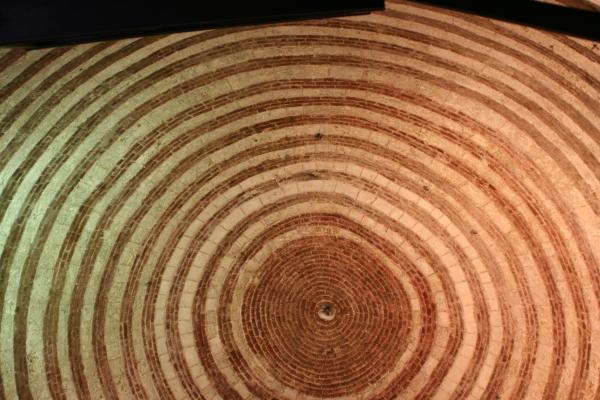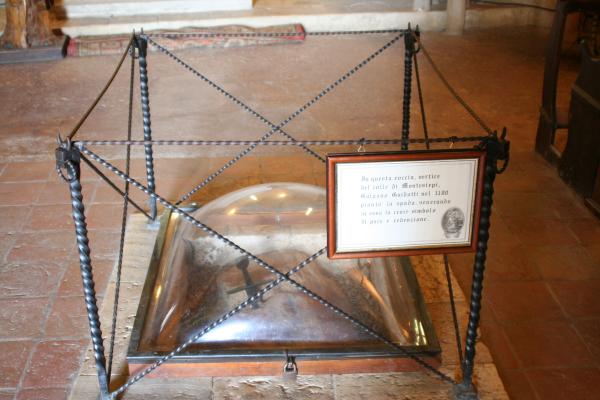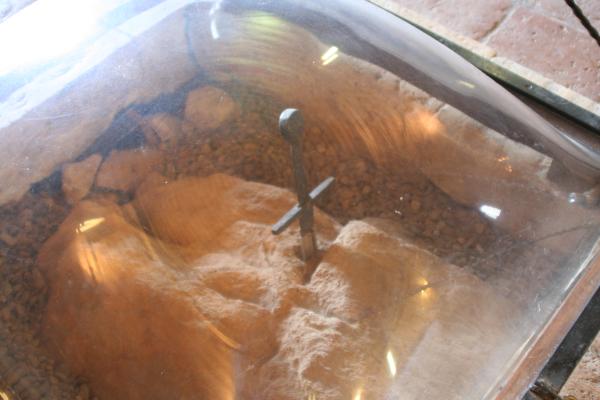 The hermitage and Galgano's sword in the stone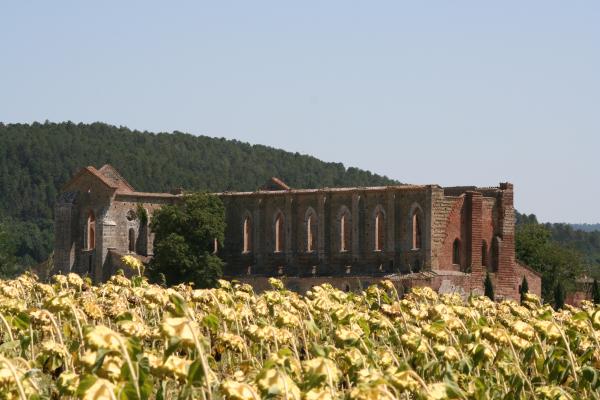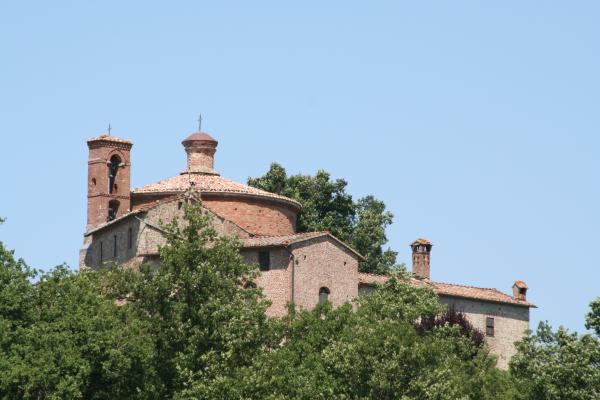 The abbey and the hermitage

We drove back to Pienza, took in the cathedral, complete with very warped floors (this place may fall into the valley tomorrow) and some lovely artwork. What struck us more than anything is how the art changed in the very few years between the building of the cathedral at Pienza (1480s) and the work of Leonardo and Michelangelo - the whole world changed in less than 100 years - from the stilted, Byzantine styles, to the styles of the Renaissance.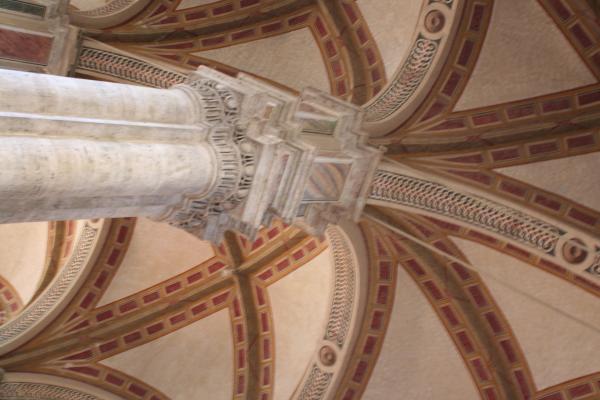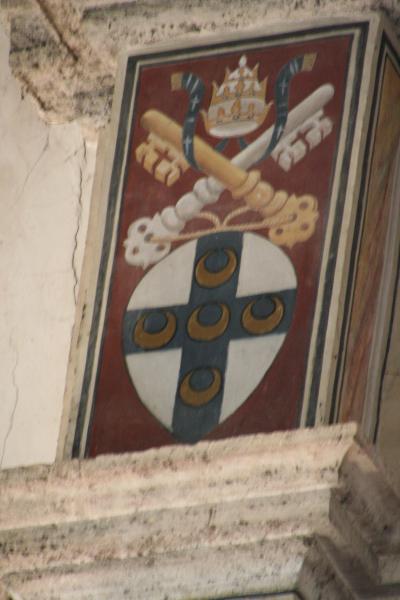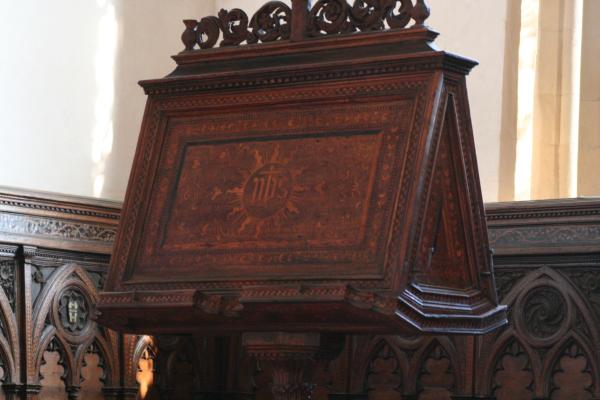 In the duomo in Pienza

We had dinner in the apartment - we had purchased some boneless chicken thighs with a seasoning of basil, oregano and rosemary, some little croquettes and a caprese with fresh mozzarella and fresh tomatoes. For dessert we had sliced, fresh nectarines. We have decided that when (if) we will self-cater as much as possible to save money and to control what we eat more.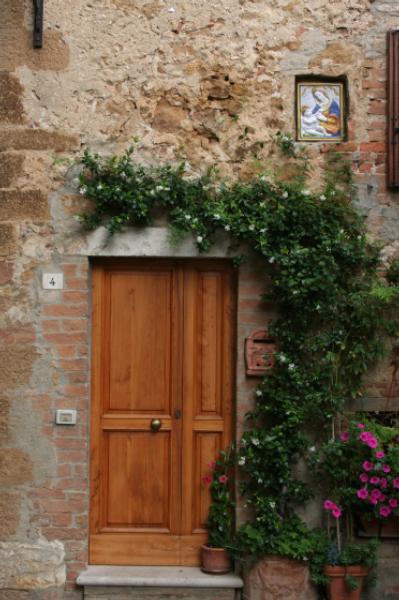 A doorway near our apartment