Journal Pages
Click a pic

On Vacation in Croatia

Tuesday, July 15 - Dubrovnik to Orebić
The clerk at the hotel told us that it was a 45 minute walk to the hotel where we were to pick up the car. He must walk very fast. We left our luggage at the Hotel Grand Villa Argentina and hiked to the pick up point, which was on the far side of the old town. It was hilly, the traffic was terrible and it took well over an hour. We got the car, an Opel convertible, which we discovered later, didn't have a functioning horn and the interior wasn't that clean. However, a convertible in this climate makes up for a lot of things.
We drove to the hotel and loaded our luggage, then headed north toward Orebić, which is on the Peljesac Peninsula. We had read that the beaches there were wonderful.
Once clear of Dubrovnik, we had a reasonably pleasant drive along the coast line. I must say, this is amongst the prettiest coasts I've ever seen - the Amalfi Coast in Italy is beautiful, but it is very built up (the road is most spectacular, though) and the Big Sur coast more rugged, but this is very beautiful.
Orebić is a pleasant little town - nothing special, really - there are some nice views from the shore, looking out toward Korčula Island - the breezes in the afternoon are pretty stiff. It isn't as touristy as Dubrovnik, but that is understandable - it isn't anywhere near as stunning.
We booked a little apartment through a travel agency. It had a balcony overlooking the sea, about 200 meters from the waterfront. It had a kitchenette of sorts and a very small bedroom. However, the balcony had a clothesline, so I was able to catch up all the laundry.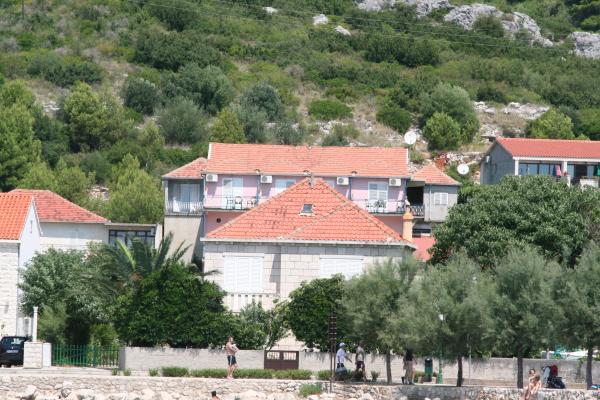 The beach was a disappointment - it is very rocky - they aren't sharp, jagged rocks, but smooth ones - none the less, it wouldn't be comfortable to either walk or lay on them.

We went into the local 'supermarket' hoping to find fresh fruit. It was the sorriest bit we've ever seen anywhere - wrinkled and dried up. We passed on that, but fortunately, on the walk back from dinner, we found a fruit stand where there were some very nice melons. Tom and I must have our fruit in the morning. I think that is an American thing, but it is a good habit.

We had dinner on the waterfront in a pleasant restaurant. Italian food is very common, but it tends to be all the same - pizza and pasta and every so often a gnocchi. It isn't the imaginative Italian cuisine we appreciate so much.

Wednesday, July 16 - Orebić and Korčula

We found a bakery not too far from our apartment and bought some pastries for breakfast, which we carried to a nearby bar and ate with a couple of the best cappuccini we've ever had. We spent a few more hours taking care of business, then boarded the foot passenger ferry to Korčula, only 20 minutes away.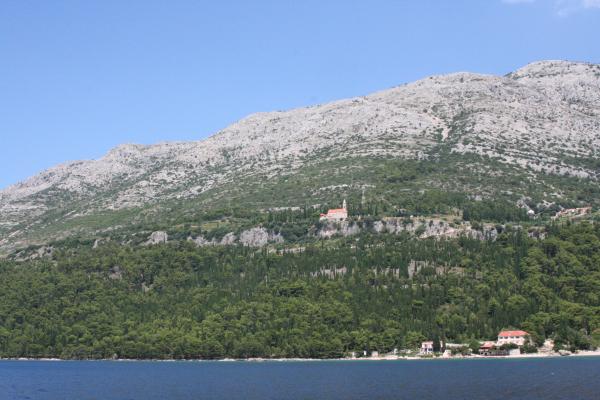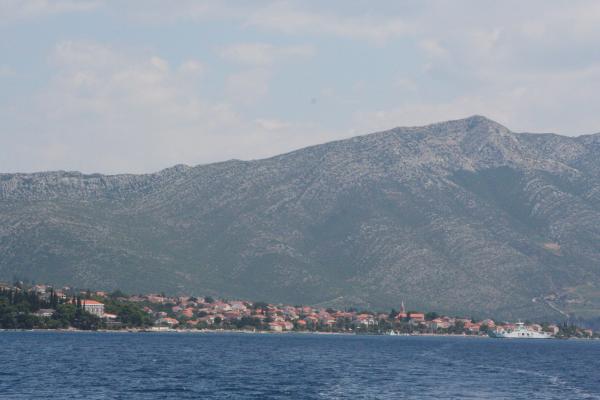 Korčula is very nice - it is a bit like Dubrovnik, but on a much smaller scale. There are narrow streets, paved in marble, a nice cathedral and many shops and restaurants. We had a light lunch in one of these - just some cheese and bread and a fruit salad (Macedonia it is called here and in Italy - it is nothing more than fruit cocktail, ours was served with whipped cream and gelato). The cheese was excellent - we couldn't figure out if we had been served some Pag Island cheese, a sheep cheese that is very well known here - our waitress wasn't a very approachable type. I think we interrupted her day by coming into the restaurant.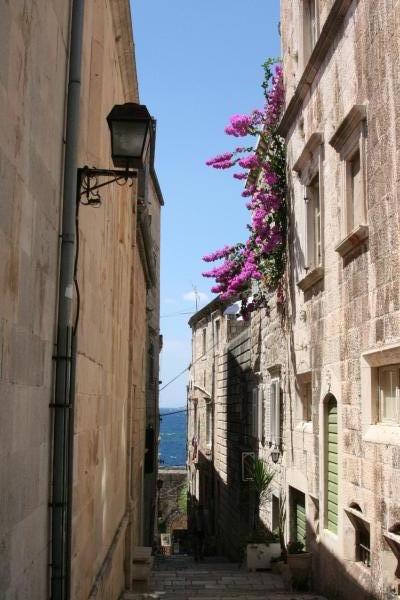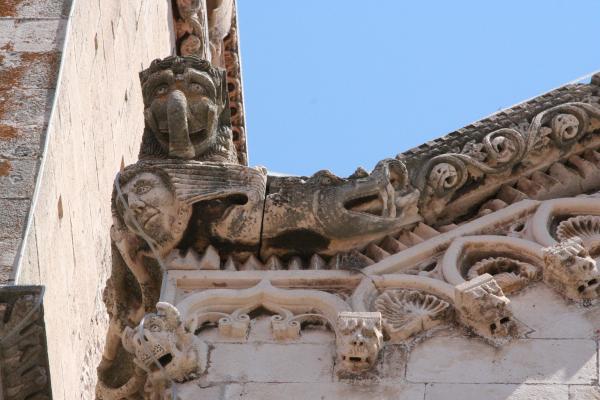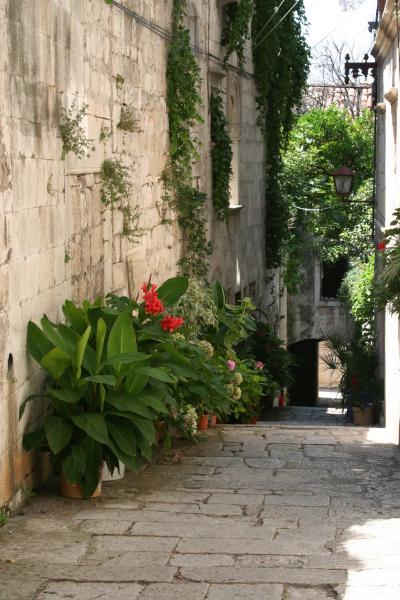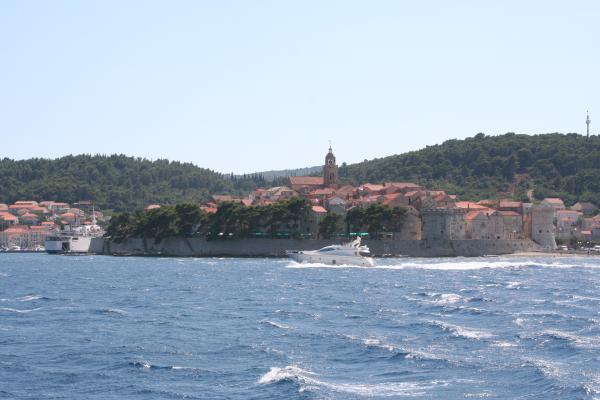 I think I've mentioned previously that many of the people in the tourist industry in Croatia are gloomy and unfriendly. I know things are rough in this country - 18+% unemployment, a real growth rate of 1%, some recent battle scars, but this is still a beautiful country and one hopes they can get past the problems.

After a few hours in Korčula, we went back to the mainland. We didn't have anything really urgent, so we just strolled around a bit, then went back to our room. Later, we went out to dinner at the same restaurant as previous.

Thursday, July 17 - Orebić to Trogir
We awoke early, showered and dressed, then headed to the bakery and bar. We found a different bakery, with a better selection, than yesterday. As far as we can tell, there are one or two central bakeries and they produce all of the product and deliver it to the store front. Once again, we had a couple of excellent cappuccini in the bar.

We packed and were on the road by 8:30. It was another beautiful day - clear and sunny. The road off the peninsula to the mainland was a bit slow - there aren't any 'delay of vehicle illegal' laws here, so we were behind a lumbering garbage truck for many miles - one or two cars would get past when the road straightened out sufficiently, but the roads aren't very straight in this part of the world.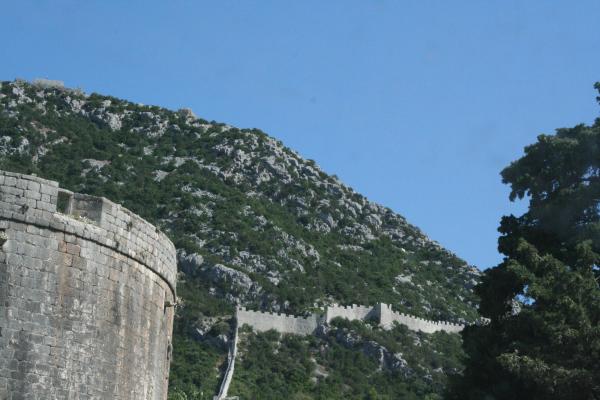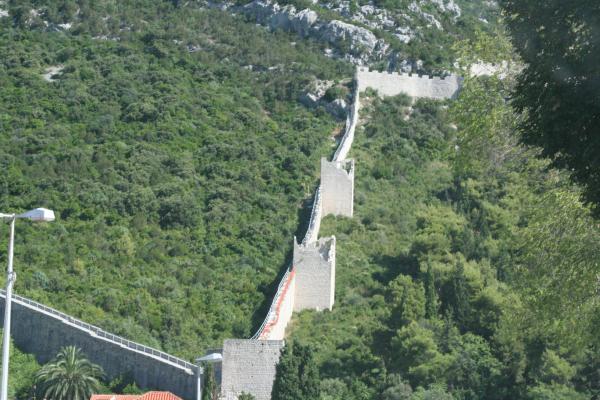 We had an interesting experience along the way - there is a small bit of Bosnia-Herzegovina which encroaches into Croatia at one point, so we had about 25 km. in that country, including border crossings into and exiting. There wasn't a lot different between the two countries, but one wonders what made that little bit of land special enough to become part of Bosnia.

We had lunch south of Split. The going was pretty slow - lots of traffic, lots of turns, lots of curves. We didn't set out with a fixed destination in mind, rather we knew we had to be in Pula on Saturday. At lunch we looked at the map and guidebook and settled on Trogir as our destination. What a lucky choice. The town is charming.

Along the way we passed through Split. Split is known for Diocletian's Palace. I am sure it is grand. However, from the road, Split is very ugly. We drove through. I'm sure Diocletian had a wonderful time there. Better him than us.

We arrived in Trogir - the traffic was awful, but we managed to book a private room and find parking without a lot of problem. Our room was a very clean, rather austere room in the old town, down a few alley ways from the main seafront promenade.

We really like Trogir - it has some great buildings and a lot of restaurants, I wouldn't want to stay along the waterfront, I think it would be noisy, but we were tucked into the old town and it was quiet, Our room was nice - air conditioned and private, but very austere - no pictures or anything to make it homey. I guess for one night that is OK.

We spent a few hours walking around, buying picnic supplies and looking at the beautiful cathedral. Then we 'trolled' the waterfront area, looking for an unsecured wireless connection - success. Tom was able to access the internet and e-mail.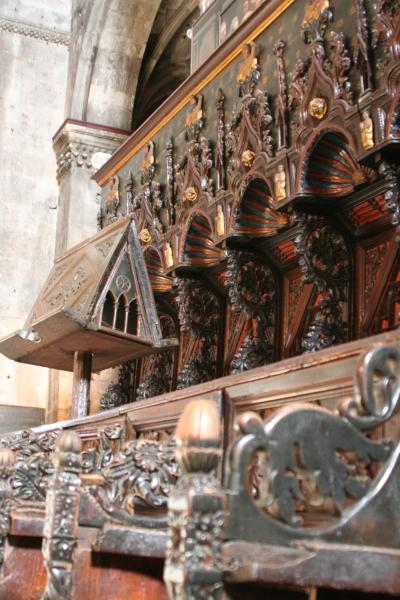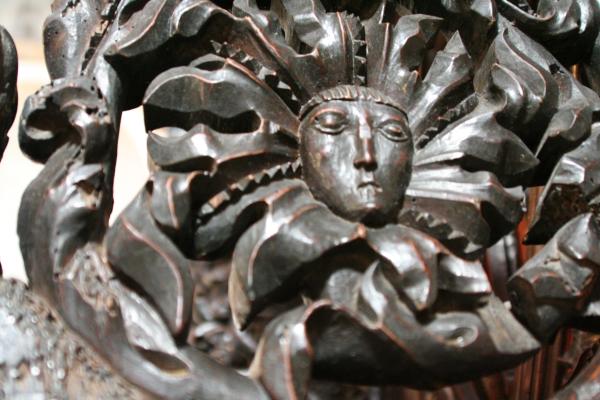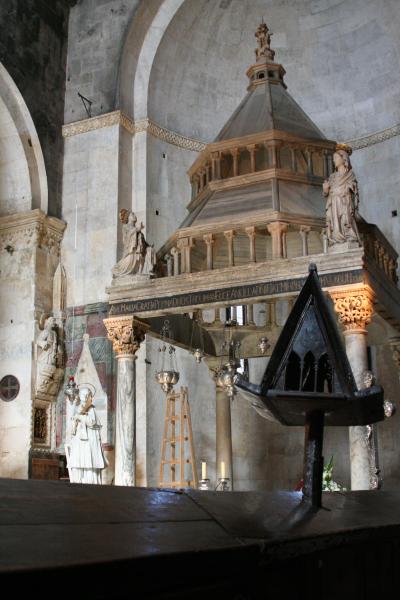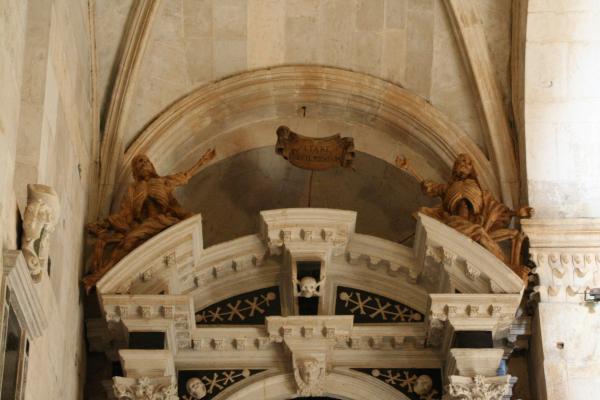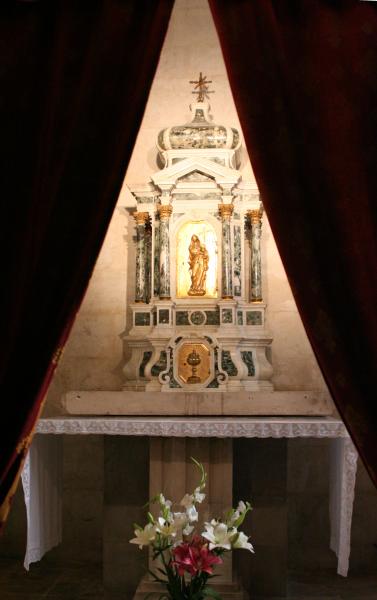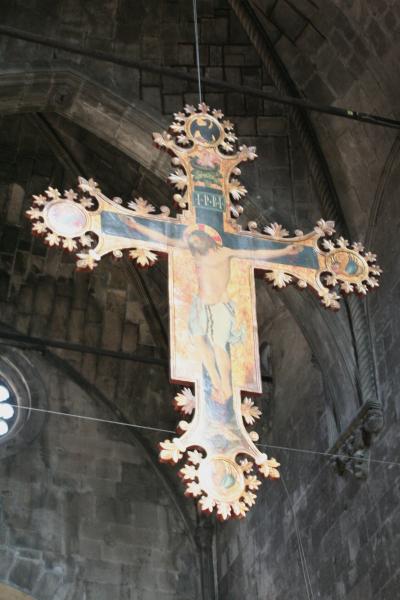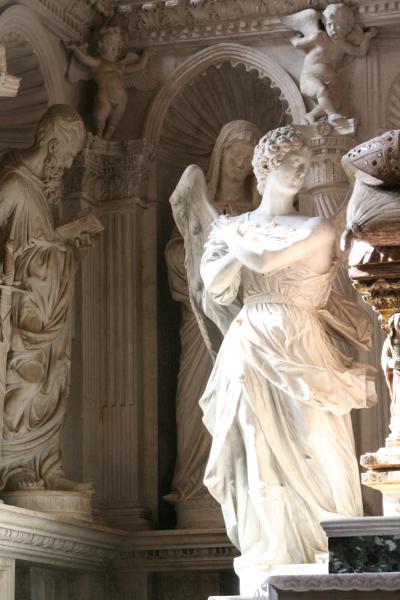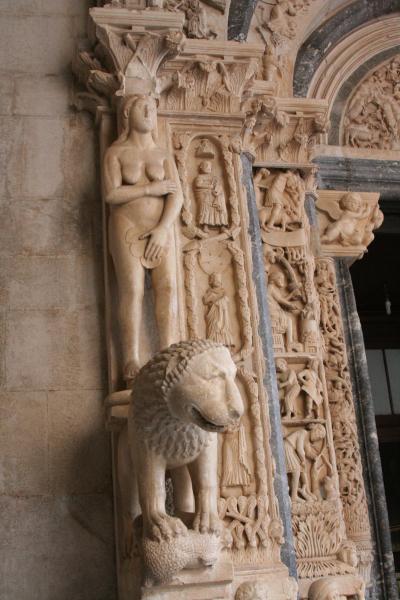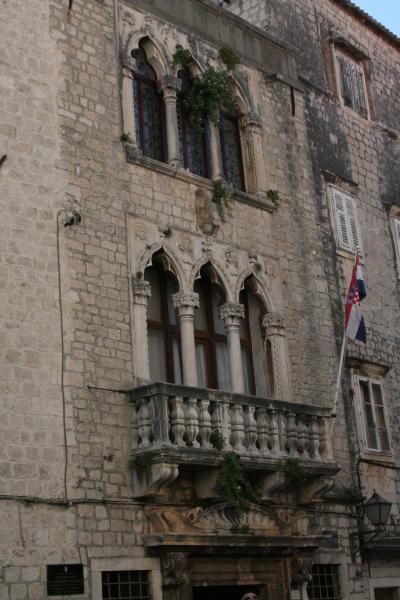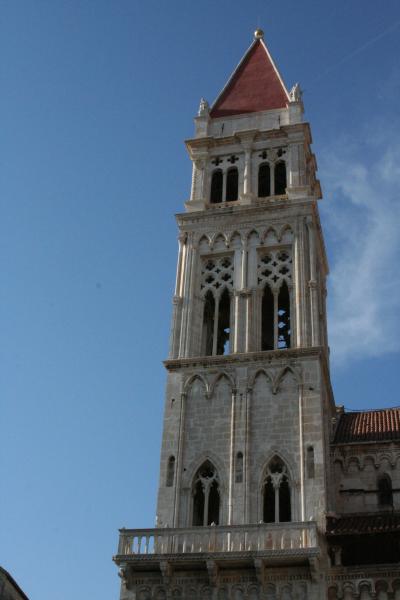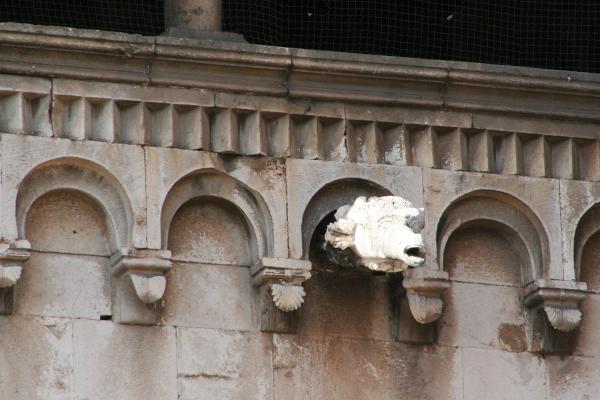 There are a couple of amazing yachts moored in the waterfront - very sleek and modern. I hate to think of how much they cost. I know that the owners have every right in the world to buy something so ostentatious, but here in Croatia, there are millions of people getting by on less than $1000 a month. When I see some of the old ladies trying to sell a few cloves of garlic in the vegetable market, I'm heart broken. But, I'd soon be one of those ladies if I gave every one of them enough to make a difference.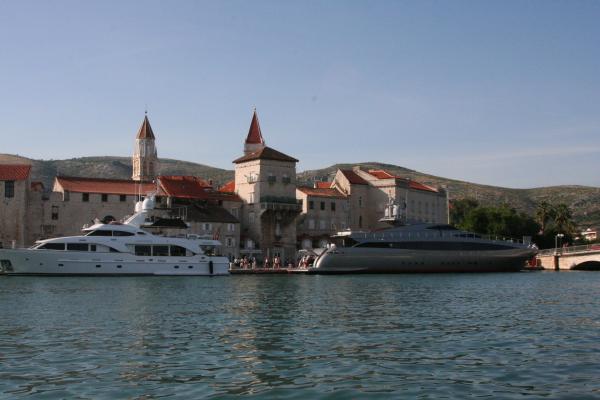 We visited the cathedral and I was pleased with the wonderful photos I was able to take - what a wonderful church. Later, we had dinner at one of the Lonely Planet recommended restaurants. We both had fish - there was so much on my plate, I was afraid that the waiter had ordered a kilo for me, not a 'portion.' My fish was excellent, but really bony - my main complaint with fish. Tom had another type of fish, but it was also bony. When will we ever find fish that isn't bony?

Friday, July 18 - Trogir to Rab

We had to find a destination near enough to Pula that we would be able to arrive in that city in time to turn in the car. We looked at the map and guidebook and settled on Rab - an island with a town said to be quite picturesque. We decided in the interest of saving time to drive on the expressway. To do so, we drove along the coast from Trogir to north of Zadar - it was the usual slow going, with a lot of small towns. The expressway is a toll road and virtually empty - only a few very fast cars from Germany, Austria and the Czech Republic.

To get to Rab Island one takes a ferry - it is a short crossing and we didn't have much of a wait at all. However, when we got to the other side, we saw that the line to board the ferry for the return to the mainland was very long. Well, hopefully the morning line is shorter than the afternoon one!

We went to the tourist office and the agent found a room for us in a private home. Italian is widely spoken in this part of Croatia since it was once part of the Venetian Empire. German is also widely spoken and there are a lot of German tourists here.

Our room was very nice and the owner spoke fluent Italian. He was very anxious to get us settled in comfortably and gave us some cold mineral water which we drank with our lunch of cheese crackers and grapes. From the terrace we could see the harbor and old town Rab.

We spent the afternoon walking around - Rab is pretty, with small streets in the old town, but not nearly as pretty as Trogir. When it came time for dinner, we settled on a place in the newer part of town - we arrived just after 7:00 and were seated immediately - good thing, because within 15 minutes the restaurant was packed - mostly Germans. Tom and I each had civapcici - minced meat, spiced and grilled - it was really very good. We also shared a caprese salad - the tomatoes in Croatia are really good and the Croatian wine is, too (and quite inexpensive if ordered by the carafe instead of in the bottle).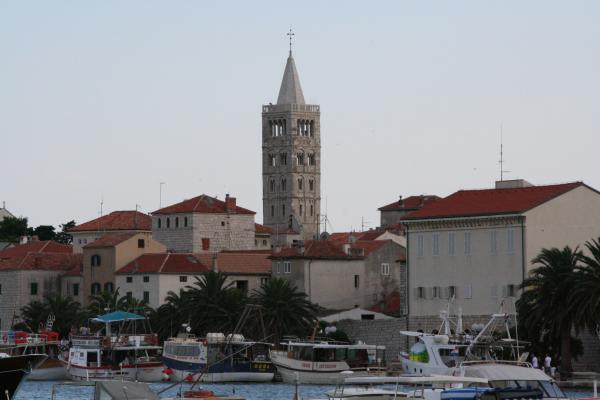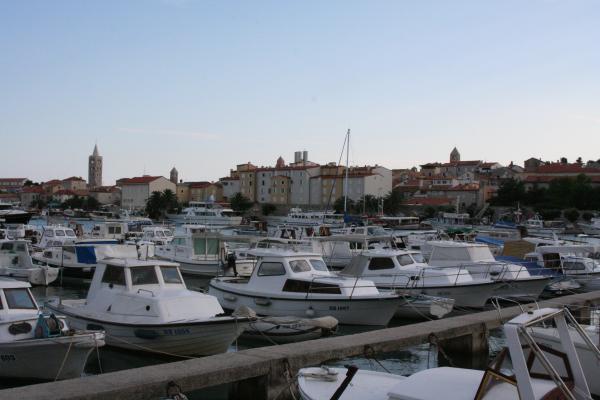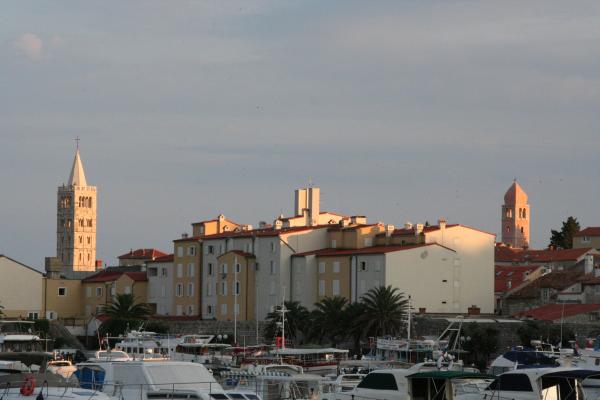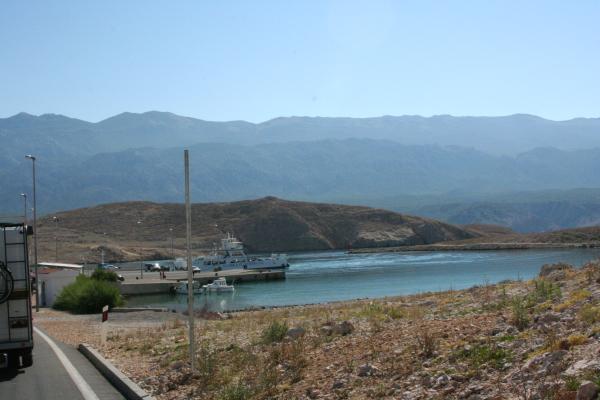 After dinner we walked back to our lodging. We sat on the terrace with the owner, his wife and cousin and a German couple (who spoke no English) and had a very pleasant evening. No mosquitoes!

One thing we don't like about Croatia is the number of people who smoke and the fact that restaurants don't have 'no smoking' areas. The people in Croatia have some serious financial problems with 18% unemployment, real growth, after inflation of less than 1%, but still it seems that the vast majority smoke.

Saturday, July 19 - Rab to Pula

We were up and on the road pretty early because we were concerned about the ferry crossing. Luckily, we were able to get over to the mainland in an hour, with only a minimal wait - at this time of year, the ferries operate continuously and they have a system where the ferry docks, offloads, moves to another pier and reloads so the next ferry can offload.

The poor people on the other side, though - the line stretched for miles - it was amazing that anyone would go to Rab on a Saturday.

Along the coastline again we were in a lot of traffic with many small towns along the way. The worst of it was Rijeka - another terrible Croatian city - we really don't like the larger towns in Croatia - should we ever come back, we'll know to avoid anything larger than 5,000 people.

We drove directly to the airport to return the car in Pula. What a horrible experience! There was one agent covering for National and Alamo (our car was from National) and every transaction took a lot of time because of different problems. When our turn finally came - after we had been in line nearly an hour - the agent went out to inspect our car and decided that we would be charged for two very small scratches on the left rear bumper - the type of scratches that could be fixed with touch up paint. He charged us $200, which will be covered by our insurance, but was really the final straw with National. I think part of the problem is that the infrastructure to support tourism is still relatively new in Croatia and they just haven't quite figured things out yet.

We took a cab to our hotel - the room was some compensation for the car experience, although it was on the 4th floor and had extremely steep steps. It was a very large room, with a sitting room, full bath and a little terrace. And air conditioning, which was a blessing.

Pula has a large Roman era arena, but we were tired and cranky so we didn't bother to go there.

Tom got connected to e-mail and learned that the boat which we were scheduled to take to Venice the next day had been cancelled due to technical problems. Salt in the wounds! He was able to get in touch with the local agent who made arrangements for us to be bused to Poreč, a town about 45 minutes from Pula, where we were to catch a boat to Venice. It meant getting up earlier than we had planned, but at least the agent was thoughtful and offered us a couple of alternatives.

By this time we were tired of Croatia and ready to move on to Italy - imagine thinking that Italy is a functional country! It is just in comparison to Croatia, which still has a long way to go to be fully functional (given that less than 20 years ago they were shooting each other does make you a little more understanding, though).

Much to our surprise, we had a wonderful dinner in Pula - we really weren't expecting much. For a change, it wasn't the typical ' spaghetti, pizza, grilled fish and meat' routine. First the waiter brought us a little starter - ricotta and green olives (the olives had been pureed) with little crostini. Wow. Then we had a fresh salad with greens, cucumbers, tomatoes and apple (make your own dressing of olive oil and balsamic vinegar). For mains I had a turkey cutlet in a very mild cheese sauce with wonderful grilled vegetables and Tom had a steak (very lean) with pancetta and slices of parmesan and beautiful roasted potatoes. Croatia has been redeemed!