The Concert Tour in England
Throughout this journal remarks by Mel are in regular type, Tom's thoughts are italicized.
Tuesday & Wednesday - July 12 & 13 – Seattle to London
Well, we're airborne on our way to San Francisco on Alaska, connecting to British Airways for the flight to Heathrow. Our seats are in 'steerage' on this flight but will be in World Traveler Plus on BA. That is a class that is a sort of premium coach - larger seats that recline further, more leg room, enhanced service and so forth. We had enough Alaska miles to be able to get the round trip and were lucky enough to get the World Traveler Plus seats on BA, although we do have to fly through San Francisco. Our flight home will be direct from Heathrow to SeaTac after the short hop from Paris.
The trip has been many months of planning, from the time when the choir decided to make the European tour. The logistics of making such an extended trip can be pretty significant. Rather than having our house-sitter deal with our mail and other routine details, we rented a mailbox in the local UPS store and setup forwarding, and we moved all the house plants out into the garden. The sprinklers will keep them watered. Hopefully they will survive. If not, we'll give them a decent burial upon return. The flight reservations were made in early March. The batteries have been disconnected in the cars. The one bill we still pay by check has been paid in advance, and all the rest of our finances are either automatic or will be managed on-line. Needless to say, we have no pets other than those that fly into the garden as they please, and they will manage quite nicely in our absence. We are traveling light, as usual. When the choir tour is over we will leave our concert attire with a friend and pick it up for the flight home.
We have the laptop and our cameras and will, if all goes as planned, build the web pages and upload them periodically. So visit often and follow us as we indulge in our favorite activity - travel.
Our Alaska flight was pretty much on time into San Francisco. We had lunch and made our way to British Airways check-in to get boarding passes and then to our gate. The BA flight backed away from the gate a few minutes early and we were off. The flight was very smooth. We rode the jet stream with a 60MPH tail wind and doing a ground speed of about 610MPH.
And in fact, we did land quite early. Then we sat on the tarmac waiting for our gate to become available. Then we waited at the gate for the authorities to open the door. Finally we got off, got through passport control and picked up our luggage. It turned out that BA flights from LAX and SFO come into Terminal 1, while the flight from SEA comes into Terminal 4. So we schlepped our luggage to Terminal 4 and met up with the folks from the flight from Seattle. An hour's coach ride later we were at the hotel, which is right next to the London Eye (a giant 'Ferris' wheel) and just across the Thames from the Houses of Parliament. We got checked in and went down for a group lunch (very mediocre) before heading off for a walk to the Imperial War Museum. The folks from the Delta flight had arrived earlier, however some of their luggage didn't make it onto the flight so should come in tomorrow.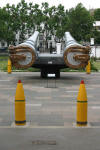 Naval guns at the Imperial War Museum
We strolled back and stopped for a cool beverage at the Starbucks just across from the hotel. We took a brief nap, then went to dinner at a Mediterranean restaurant across the street. We bought tickets for tomorrow evening to go on the Eye and headed up to our room. We are doing quite well and Mel's ankle is holding up well. Our hotel is quite nice - the only thing we don't like is that the bathroom smells like the Underground - sort of a petroleum smell, but not so bad that we can't live with it. The only thing is that every time we go into the bathroom we expect to hear someone say, "Mind the gap!"
Tom and I have been to London several times before (we've lost count) and every time we are amazed at both the changes we see from one visit to the next and the timelessness of it. Marble Arch is still there, as are Parliament and Westminster Abbey. The Tower has been in use for 2000 years. New buildings are also going up continually, traffic patterns change, formerly 'nice' neighborhoods become a little shabby and previously shabby neighborhoods become trendy and upscale. In many ways this city of 7 million is a living organism which changes constantly. When I was first here many years ago, it was scandalous for a young white girl to have tea with a Persian boy. Today, no one thinks one way or the other. London is increasingly international. Tonight at dinner we had a waitress from Belarus and a waiter from Turkmenistan. When you walk the streets of London, you hear languages from all parts of the world. You can have a meal of any ethnic origin you can imagine.
While all of this is exciting, it is dampened considerably by the bombings in the Underground last week. At last count, at least 50 have died, but the toll will probably climb. Tom and I admire the British spirit - they say "we didn't kowtow to Hitler and this lot won't get us down either." Bless them. May there always be an England.
Choral Union
The choir tour will take us from London, to Bristol-Bath, the Cotswolds, thence to York, thence to Cambridge. From there, we'll go to Paris and Chartres. In all, we are about 65 singers, family, accompanists and guides. We've got some exciting venues ahead of us and the music is challenging. Before we complete this journal, we'll put in pictures of each of the participants, the venues and the programs.
Thursday - July 14 - London
Early in the morning, we walked over to the area of the London Eye so we could get pictures of the Houses of Parliament, just across the Thames. The morning was warm and pleasant. London is going through a bit of an unseasonably warm weather - temperatures close to 30 degrees C, in the high 80s F.

The Houses of Parliament from the south side of the Thames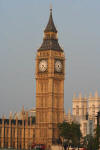 Clock Tower at Houses of Parliament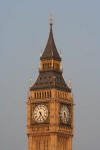 Close up of Clock Tower - most people call it Big Ben, which is actually the name of the bell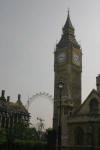 Clock Tower with the London Eye in the background
The area in which we are staying is in a block of buildings called County Hall. For many years in the 20th century, this was where London government was run. Under Margaret Thatcher, the offices were disbanded. The buildings have been taken over by two hotels, ours (The Premier Travel Inn) and a Marriot, the London Aquarium and an art gallery, currently displaying works of Salvadore Dali.
We returned to the hotel, showered and had breakfast (full English, cooked) in the hotel restaurant, then boarded the bus where we were taken for a tour of London, ending at the Tower of London. The Tower has so much history crammed into such a small space - there have been fortresses and castles here for over 2,000 years, beginning with the Romans. Some of their walls are still standing.

Tower Bridge, another famous London landmark, with some of the Choral Union group on tour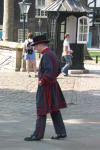 Yeoman Warder ("Beefeater") at the Tower of London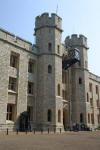 The Jewel Tower at the Tower of London - in here are kept the Royal Jewels, which belong to the nation of Britain, not the Monarch
At noon all of London, indeed, most of Britain, came to a halt for two minutes of silence in tribute to the people who died and to those who were injured by the suicide bombs one week ago today. It was very touching to see how everyone (except one tourist - not, as far as I could tell, an American, thankfully) came to a stop and stood stock still until the bell began tolling again.
The bombings have had an understandably profound effect on London. The news is not good - the bombers were Muslim British citizens. How these type of people can be recruited to do such horrible things is hard to believe. Apparently they were mostly from Leeds, which is a hotbed of radical Islam. I worry about Europe - the Muslim population is growing very rapidly and many are not assimilating into Western society. They are filled with hatred of all things Western.
After the tour, we came back to the hotel, freshened up and had lunch in a nearby cafe. Then we walked across the Westminster Bridge to meet an Original London Walks guide for a walking tour of the Westminster area - this is the area of London where are located the Houses of Parliament, Westminster Abbey, the Cabinet War Rooms and St. James Park. This is the fourth Original London Walk that Tom and I have taken - as it happened, the guide, Shaughan, was one we had followed previously - he is excellent, because he knows so much English history and he is a great mimic. His impersonation of Churchill is very believable . We walked past Westminster Abbey and other historic buildings, and went into some of the small streets where many of the MPs live - we had no idea such a nice residential area existed just a few blocks from the Parliament.

Victoria Tower at Houses of Parliament
Walking tour over, we walked back to the hotel ('limped' is probably a better verb) to freshen up and rest - and get our pictures uploaded and journal updated.
We went to the lounge for a glass of wine and took the computer with us to work on the journal. While there we met up with Colin Stave, one of the tenors on the tour. We told him we were going up in the Eye and he decided to buy a ticket as well - he lucked out - while he was at the ticket office someone gave him a ticket.
The London Eye takes 1/2 hour to make a complete rotation. The views are magnificent. Below are some of the photos we took:

Structure of the London Eye wheel

The car ahead of us on the Eye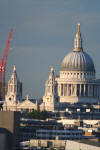 St. Paul's as seen from the Eye

Parliament as seen from the Eye

A couple having a glass of wine on their balcony
Today was our 32nd wedding anniversary. I can't think of a better place to spend it - London really is one of the great cities of the world.
Friday - July 15 - London to Bristol
We loaded the bus around 9:00 a.m. to head to Bristol with stops along the way. Our first stop was the Queen's country cottage, Windsor Castle, the largest inhabited castle in the world. Royals have lived here for nearly 1,000 years - it is Norman in origin, although it has been expanded many times since William the Conqueror.

Market building in Windsor designed by Christopher Wren
We walked to the center of town where we saw the first public building designed by Christopher Wren. Jennifer's story was that when it was built all the experts said it would not stand without columns in the middle. To satisfy the critics, Wren had installed columns in the middle, but they didn't quite meet the ceiling, therefore provided no support - and the building still stands. So much for experts.
Next to the market is a little restaurant in a tiny, very old building that has a distinct list.
Jennifer, our guide, took us on a walking tour of the castle. To Tom and me, the most impressive is St. George's Chapel, where the members of the Order of the Garter are invested and meet. It is a gothic wonder. Tom and I lagged a bit behind the tour and chatted with one of the docents. She was so willing to give us all the information we could possibly want - which Royal sat where (the Order of the Garter can be awarded to a crowned head of state from other nations, so all of the crowned heads of Europe have their banners on display).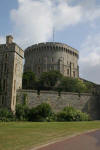 Tower of Windsor Castle, the Queen's country cottage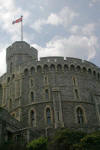 Another tower in Windsor Castle

View of Windsor Castle from inside the grounds

Private approach to Windsor Castle through the park
We walked through the state apartments, but they are so overwhelming that it is rather like a sugar high - you can only take so much. What we found most interesting and impressive was the restoration work done on the parts of the castle that had been damaged by fire in the 1990's. People are justifiably proud of the quality of the restoration work - this is true craftsmanship, and crafts which one would have thought had long died out were resurrected to return Windsor to its former glory. Especially interesting to us is what they did with some of the inlayed wooden floors. Rather than trying to recreate them, the workers discovered that the floors were solid wood through, so they removed the wood and turned it upside down so the undamaged parts were facing upwards.
We had a light lunch of a Cornish pasty (mine) and a sausage roll (Tom) and headed back to the bus. We had a longish drive to Bath. This is in the Cotswolds and is one of the most beautiful small cities we've ever seen.
The highlight was the opportunity to rehearse in Bath Abbey. The fan vaulted ceilings of Bath Abbey are glorious - they look like something spun rather than carved from that wonderful Cotswold stone. The space is very 'lively' so diction is extremely important and 'vibrato' just doesn't work in such a space. The day was hot and muggy, so Suzanne was not able to play the organ - it goes flat in such weather.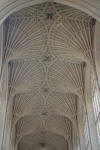 Fan vaulted ceiling, Bath Abbey
After rehearsal, we toured the Roman Baths. There are natural hot mineral waters under Bath, which have been used for thousands of years. The Romans made the best of them, building an elaborate complex around them. There are a number of 'Roman' statues around the bath - they aren't Roman really, but Victorian, attempting to imitate Roman.

Baths with natural hot springs - the color is from the minerals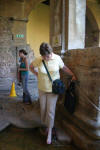 Mary Hilstad tests the water (and it is hot!)
I have to admit by this time, we were very tired - we had been up and going for several hours, so we didn't do much more touring (we've been to Bath three times before, so are relatively well acquainted with it). We walked to the river front to take a look at the bridge over the River Avon - it is an imitation of the famous Ponte Vecchio in Florence and has shops on it. However, when you are going over the bridge you don't realize it is a bridge because the shops obscure the river.

Bath version of the Ponte Vecchio
For dinner, we went to Sally Lunn's, the oldest house in Bath - dates from the late 1400's. The present owners claim there have been eateries on this site since Roman times. We were joined at dinner by Dwight Griswold, another tenor. Dinner was quite good - a cream vegetable soup, grilled lamb in rosemary and red wine sauce and some fresh vegetables. For dessert, Tom and I split a Pavlova, although it wasn't like the ones in New Zealand. This was meringue split in half, raspberry ice cream and a raspberry sauce in the middle, and topped with whipping cream. Was it ever good! Sally Lunn's is known for Bath Buns, which we still haven't had! Maybe next time. The restaurant is quite charming, albeit really old.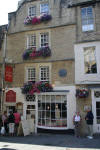 Sally Lunn's - oldest house in Bath and a very nice restaurant
We drove to Bristol for check-in at the Bristol Marriott Royal Hotel. Wow! It is a beautiful hotel in a building I would call Georgian (but then, what do I know?) The room is quite spacious and the public rooms are really beautiful.
Saturday - July 16 - Bristol and South Cerney
We knew ahead of time that today was going to be long and tiring, but we didn't appreciate how much so until we tumbled into bed at 1:30 a.m. Sunday!
We boarded the bus around 10:00 a.m., but didn't get going until 10:30 because of some confusion in the itinerary. Our route was along back country roads for the most part, through villages in the Cotswolds. I think that this area of England epitomizes very one's image of rural England - small villages, always with a pub and church, usually on the village green, cottages of honey colored stone, frequently with slate roofs, sometimes thatch (although that isn't so common here) and lovely gardens surrounding the cottages. What a life. The reality is that the price of housing in England is so high that few people can afford this idyllic lifestyle anymore, and most certainly not younger people who are just starting out. I fear that high housing prices are driving Britain's middle class out of the dream of home ownership. However, the cottages are beautiful to behold.
We stopped for a walk around and lunch in Cirencester. This is an old town - larger than a village - in the Cotswolds. It has a wonderful church. Tom and I have been here previously, in 2001, when we rented a cottage for a week, about 7 miles from the town. This area of England became immensely wealthy in the Middle Ages because of wool. Some of the churches are called 'wool churches' for that reason. You can tell which people made their fortunes from wool when you look at their graves - if their effigy has them standing on a wool sack, that's how they became wealthy.

The Bear - pub in Cirencester where Tom and I had lunch

St. John the Baptist, Cirencester
From Cirencester, the bus took us through more Cotswold country to the village of South Cerney where we had our first concert. This village has been around a while - it was chartered in the year 999 AD. It is a charming village, with the normal complement of church (two of them in this case), pubs (also two), a village hall (thatched) and a walk along the lane called Bow Wow for reasons not understood (it may be that this is where Victorians took their dogs for walks). We had a fine greeting in the village hall, were given a lecture about South Cerney, then free to roam around a bit. Tom and I followed Bow Wow, hoping to find the Avon and Severn Canal, which was supposed to be but 1/2 mile from town. We didn't find it and learned later that it had been abandoned about 1910 and had never been a particularly successful canal - it never had enough water.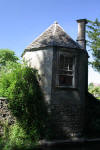 Tower built into wall next to Bow Wow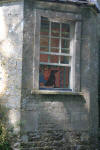 Look at the painting on the wall inside the little tower
After our walk about, we went into the church for set up and rehearsal. My goodness! This is indeed a very small church! Getting 45 or so singers in the front of the altar was a challenge. We weren't set up in a particularly graceful fashion - we just had to make do. In the process of setting up, some of the nuts and bolts for the risers were spilled and rolled down the grating for the heating system. Tom and a couple of other guys got on hands and knees to try to retrieve them. Apparently this wasn't the first time someone had such an accident - nuts and bolts of other dimensions were found in the grating, just beyond arm's reach. They managed to retrieve enough so that disaster was averted.

Our concert venue, All Hallows, South Cerney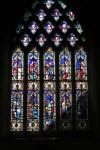 Window, All Hallows, South Cerney

Preparing for performance - the Eides look really excited about this!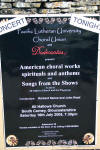 A poster advertising our concert
We trooped back to the village hall for 'high tea', which was catered. It was excellent - cold salmon, cous cous salad, pasta salad, green salad, spicy drumsticks,1 quiche and Coronation chicken (a chicken in a mild curry sauce - and remember, curry, which has turmeric, is thought to help prevent Alzheimer's!) Dessert was either/and apple pie or fresh English strawberries with really thick whipping cream. Not exactly diet fare!
Darrel Eide gave an impromptu 'green room' talk (I wonder why they call it the green room?) I have to admire him - Richard Nance called on him out of the blue to talk because he had done such a superb job at San Antonio in 2001. Darrel only had a few seconds to think, then he stood up and reminded us that by our singing we were showing God's love and at this time we all needed to show God's love. It was very moving.
We changed into our performance dress, the women upstairs in one of the hottest rooms I've ever been in. By the time I got my dress on, I was drenched in thoroughly unladylike sweat (yes, ladies perspire and horses sweat, but this was damned hot, so I reserve the right to sweat!)
The first part of the program was a concert by an English group, Dodecantus, which is a 12 voice chamber ensemble (less one who is on holiday). They sang medleys from a number of American musicals, including Oklahoma!, South Pacific and Sound of Music. However, in honor of the victims and families of the bombings in London, they opened their program with the unbelievably beautiful Durufle 'Ubie Carritas" ("Where There is Love"). Choral Union has sung this work - it is achingly beautiful.
The Choral Union program was all of our selections except the Lauridsen "Lux Aeterna" and "There Will Be Rest". This was the most crowded venue we've sung in since Tom and I have been in Choral Union - we were so cramped that we couldn't each have our music - every other singer had music and we had to look on to each other's music. It was beastly hot - yes, I sweated, but so did every other lady and all of the men, I'm sure. The audience was very appreciative, although Richard winced at the end of the Vaughan Williams Mass....hmmmm..I wonder what caused that?
Speaking of Vaughan Williams, there is something a bit overwhelming about singing his work only miles from his home. He is one of the greatest 20th century composers in England, and here we are, a choir from Tacoma, WA, singing his work.
After the performance, we had a reception in the vicarage garden. Tom and I a chance to talk to the Vicar who is convinced that the Avon and Severn Canal will be reopened within the next 10 years. I sure hope so - it passes through some of the most beautiful countryside in England!
We had a longish drive back to Bristol and didn't get back until 1:00 a.m. For some reason, Bristol was hopping at that hour - it was a Saturday, but I was very surprised at the number of very young people on the streets, un-chaperoned. Many of them looked to be about 14-15 years old, and the police were in full presence. To a certain extent, I understand the police presence - there is a lot of activity related to investigating last week's bombing in London. As it happens, the police, usually unarmed, are armed right now, because there is a manhunt in progress.
We'll pass on the tour to Stratford-on-Avon tomorrow - we've been there three times before and we've never seen Bristol.
Sunday - July 17 - Bristol
After breakfast Tom and I went to Sung Eucharist at the Bristol Cathedral. It was a lovely, inspiring service. I found the service music particularly beautiful. The sermon wasn't quite as erudite as those by Kent (our priest at St, Mary's) but the rest of the service was wonderful. It was very much a 'high church' service, which I love.

Bristol Cathedral from College Green
Weathervane atop a building in Bristol - tribute to the city's seafaring history

Unicorn atop the university in Bristol
Afterwards, we returned to the hotel, washed a few clothes, then went to explore the town a bit. We had a light lunch at an Italian cafe, then walked down to quay to the dock for the ss Great Britain and the Matthew. These are both really interesting ships. The ss Great Britain is a replica of a ship built by that great British engineer, Brunnel, which was the first iron passenger ship. The Matthew is a wooden replica of the ship that John Cabot sailed to the New World. He must have been nuts!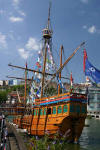 John Cabot sailed to America on a ship just like this - he must have been nuts!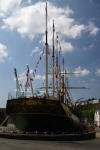 Replica of the SS Great Britain, the first steel hull passenger liner
We returned to the hotel and took advantage of the wonderful swimming pool. This is the first time I have been swimming since I broke my ankle 9 weeks ago. I felt that the exercise was really good for my flexibility, which is one of the two problems I have - the other being the swelling, which is probably going to last about a year.
After our swim, we spent a bit of time just relaxing and getting ready for tomorrow, as we leave for Yorkshire. We had dinner in an Indian restaurant. Can't come to England without eating Indian, can you?
Many of the other Choral Union folks went to Stratford-on-Avon for the day. They were late getting back, so we were just as glad that we didn't go.
Monday - July 18 - Bristol to York
Today we had a long drive from Bristol to York with a stop at the incredible cathedral of Coventry. Tom and I have been here twice previously and each time we are struck by the message of the bombed out cathedral and man's inhumanity to man. The old cathedral was bombed during the Blitz - the people in Coventry endured 11 hours straight of bombing by the Luftwaffe. I've not heard how many people died, but there were in excess of 50,000 buildings destroyed, including the old cathedral. The remnants of the cathedral have been left to stand as a message - hopefully of peace and reconciliation. Many nations have made gifts to the cathedral. Normally we don't like modern architecture, but this one is somehow right in its contrast to the old cathedral. The pictures below are all from Coventry Cathedral.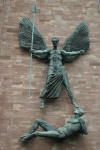 St. Michael slaying the devil - bronze sculpture outside Coventry Cathedral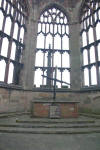 Altar in bombed out Coventry Cathedral - on front of the altar is inscribed 'Father Forgive'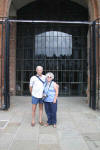 Tom and Mel in the doorway of the old cathedral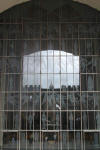 Etched window of new cathedral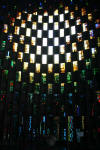 Stained glass window of new cathedral

Font of new cathedral - carved from a boulder donated to the new cathedral - originated in Jerusalem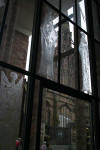 Old Cathedral seen through window of new cathedral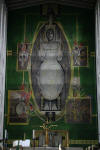 Tapestry behind the altar in the new cathedral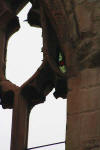 Fragment of old stained glass window in ruins of old cathedral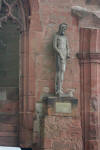 Carving of Christ displayed in old cathedral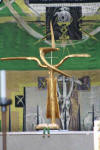 Cross on main altar in new cathedral with the cross of nails in the center
After the visit to Coventry Cathedral, we re-boarded the coach for the journey into York, stopping along the way at a rest stop for lunch. Many of the rest stops have extensive services - restaurants and 'mini-marts', small hotels, banks, restroom facilities and this one had a Ladbroke's, the bookmaker. It also had a really nice chocolate shop and I bought Tom a wedding anniversary of chocolates with names like 'love', 'passion', 'desire' and 'lust'. Why not?
Our York hotel was outside the old city walls, a bit too far to walk easily. It was a Marriott, but not quite as posh as the one in Bristol. We found an evaluation form in a rather odd place.

Our hotel in York - the York Marriott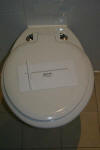 We've never had a greeting like this before!
After we checked in and had a bit of relaxation time, we boarded the bus for our potluck dinner and sing along with the Micklegate Singers of York, our hosts. It took a bit of doing finding the venue - a building in the middle of a cemetery. We had a light meal, after which the Micklegate Singers sang some of their repertoire. We hadn't brought our music, so our performance was limited to "I Want Jesus to Walk with Me", "The Battle of Jericho" and "Mosquitoes". Afterwards, Richard conducted the combined choirs in a few pieces.

The Micklegate Singers entertain us

Richard conducts the combined choirs

Mel and Cindy Luebke sing the same parts - either Mel's bifocals are causing a problem or Cindy is a lot taller (or both!)
Tuesday - July 19 - York
We left the hotel around 9:00 a.m. for a drive to the center of York. Since this is such an old city, and walled to boot, the bus drivers had a challenge finding their way to the appointed spots - many of the streets are closed to vehicular traffic and others are either dead ends or too small for the bus ('coach' Jennifer would remind me!)
Our first stop was the glorious York Minster, where we had a guided tour by one of the York Minster guides - he was excellent. We were a bit late, so he didn't have the time to take us throughout. The present Minster, which is a cathedral, is the fifth church on this site. It is glorious, in the English gothic style. The Chapter House is very interesting - the name is derived from the custom of the monks meeting each morning and reading a chapter from the Bible.

Altar piece in St. Stephen's chapel

A view of York Minster from the town

A view of York Minster from the church yard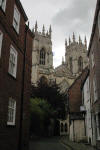 An view of York Minster from a snickelway courtyard
We had a small, informal performance in York Minster - only 20 minutes and done a cappella. We were sort of tucked away in a side transept, under the very old window, the Five Sisters. The name is thought to be a derivation of Cistercian, the order of monks.
Tom and I were delighted to see Mike and Pauline Schofield at the performance. After the performance, Mike, Pauline, Tom and I had a wonderful afternoon walking around the lovely town of York. It is a delight! I like it especially because it is so lively - the streets are busy, wonderful shops and pubs. It isn't as touristy as some of the other towns in Britain, such as Stratford-on-Avon.
It was Mike who introduced us to snickelways, the little alleys and side streets that honeycomb York. He had a book with walking tours of York using the snickelways. Mike and Pauline took us to a little cafe, sort of tucked behind the Minster, which would probably escape notice of tourists, but seemed to have a thriving trade. Afterwards, we walked a bit more, stopped for a 'cuppa' then walked to St. Olave's Church, where we were scheduled for a one hour rehearsal in preparation for the evening's concert.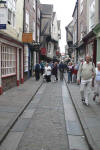 The Shambles in York - previously where the butcher shops were located
The rehearsal stretched into 2 1/2 hours and was quite grueling, although probably necessary as we hadn't performed the Lauridsen since our pre-tour concert. We also needed to set up the procession for the second half, which began with Dahl's Psalm 122.
St. Olave's is a beautiful church - larger than the one in South Cerney. It was begun in 1099. To me it was a fairly typical English parish church, except for the Norwegian flag hanging at the rear of the church. We had a particular laugh over the key to the church - it was easily 8" long - not something that you would just stick in your pocket.
After rehearsal, we were bused back to the hotel for the opportunity to have a light meal (Tom skipped this - we were too rushed) and to change into performance dress. Then back onto the bus and into town for the performance.
We were really disappointed in the turnout - most of the audience was our own people - spouses and children of the choir, with a few members of the Micklegate Singers, Mike and Pauline and their friends, Betty and Peter. However, we gave as good a performance as we've done thus far, so our meager audience wasn't disappointed.
There was a small reception after the performance, then back on the bus to the hotel. There was an early departure scheduled for the next day for Cambridge. Because we are only in Cambridge one night, Tom and I repacked the luggage so we only had to take a backpack and our garment bag into the lodging. As a result, we got to bed fairly late. Translates into a very short night!
Wednesday - July 20 - York to Cambridge
Back on the bus. It was about a three hour drive to Cambridge - because we are in a 'coach' we take motorways for the most part and miss the wonderful scenery of the English countryside. However, this is the only efficient way to transport 65+ people and ensure they arrive at the same destination at the same time.
Our lodgings in Cambridge were in the dormitories of Queen's College. Cambridge, of course, is one of the most famous universities in the world and the town is a bustling one. Our room was really quite nice - a small sitting room and a bedroom with twin beds, and a small bathroom. It is very centrally located - just a stroll into the shopping area where there are a number of restaurants, pubs, bookstores and other shops.

This was our dormitory at Queen's College
We had a rehearsal at our venue, the glorious chapel of Queen's College - the acoustics were wonderful and the setting very inspiring. Below is a picture that Tom took.

The window in Queen's College chapel
After the rehearsal, Tom and I strolled across the River Cam, just a few feet away from our dormitory, to the Anchor Pub, for what proved to be a fairly mediocre lunch (steak and ale pie, chips and peas). We are so accustomed to good food in England that we were surprised when we had a less than wonderful meal. Afterwards, we returned to our room for a 'power nap'. Yesterday was exhausting.
Nap over, we wandered around Queen's College and took photos of the wonderful campus - the buildings are mostly quite old (I would guess 16th century for some of them) and there is one modern dormitory completely lacking in charm. There is a bridge, said to be very famous, called the 'Mathematical Bridge' - I heard two stories about how it got its name - one that the mathematicians cross over it on the way to class, the other that the various geometric forms gave it the name. It crosses the River Cam - we stood on it and on the one on Silver Street and watched people who had rented punts making fools of themselves. The river has a very strong current and the punts have a very shallow draught, so they must be difficult to maneuver - we noticed several banging into the river walls - or each other.

The mathematical bridge near Queen's College

An amateur punting near Queen's College

Another shot of Queen's College courtyard

These flower pots are in a nook near Queen's College courtyard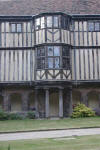 A wonderful building on one side of Queen's College courtyard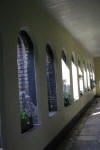 A passageway near Queen's College courtyard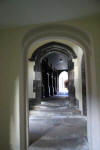 Another passageway shot - note the worn steps
A lovely old building near Queen's College chapel
We walked over to the fabulous King's College for a look around. We were too late to get into the chapel, but the porter allowed us onto the grounds for a few photos. The chapel is famous world over for the choir and the setting. It is from here that the annual Christmas concert is broadcast.

The entrance to King's College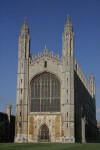 Another view of King's College chapel

Interesting textures in pavement near King's College chapel
It was fun just strolling around the town - we were very surprised to hear more American and Canadian accents than any other.
We had a cuppa at the local Starbucks and chatted with Cindy and Glen Luebke. Glen has gotten into a fair bit of trouble on this trip. First, he left his backpack under a bench in Westminster Abbey - had the police discovered it they would have been forced to evacuate the Minster and call the bomb squad. The day we sang at South Cerney, Glen was busy helping set up and ripped his pants, but he was able to borrow a pair from Richard. One of the days at Bristol, Glen went for a refreshing dip in the pool - unfortunately, he went into the women's locker room to get dressed - he didn't realize he was in the wrong locker room until he met Michelle Slater coming in. At least that is what he says.
We had a very poor meal at the Eagle Pub - my chicken in my Caesar salad was overcooked and dry, and Tom's tortelloni, which was supposed to have a pesto sauce, actually had a tomato sauce and was not hot. And the service was really slow.
Back at our rooms, we changed for the concert. On the way to the chapel we ran into Richard and Beverly Strickland of our home church, St. Mary's. They are staying for the summer (as they usually do) about 25 miles from Cambridge. It was such a pleasant surprise to see them.
There was a little mix-up on the starting time of the concert - the website and itinerary said 9:45, but the posters in town said 9:30, so the chapel was beginning to fill before we finished our warm up.
What can I say about the concert? It was the best we have done yet - the audience was really engaged and the venue was so beautiful, that we were all inspired to do our best. At the end of the concert the audience kept applauding until we were out of the hall. There was a small reception afterward and everyone, choir members, choir family and audience raved about how well it had come off. We were so pleased, because for us to sing so well in such a prestigious venue (this is the Cambridge Summer Music Festival and we are one of two full size choirs) is a tremendous honor.

Suzanne at the organ in Queen's College chapel

The choir in performance in Queen's College chapel
Tomorrow we load the coaches for a very long journey to Paris by way of the Chunnel.