A First Week in England Visiting Friends and Touring
Monday - July 25 - Paris to Trimdon Station
It is hard to believe that the Choir Tour is over, but....now to the next stage of our wonderful adventure.
We caught the coach to Charles de Gaulle Airport where we were let off at Terminal 1 for a flight to East Midlands Airport in England. My goodness, what chaos! The ground staff was hopelessly overwhelmed and they had to separate the passengers on a flight that was scheduled earlier than ours from other flights. It took a good hour to get through check-in. Once done, we went through a boarding pass control point before heading out to the gate. A man, of Arabic appearance, and the woman with him were having a terrible row just at the control point - screaming and gesticulating at each other in French. We both felt a little uneasy, given the terrible problems recently in England.
Once to the gate, we were surprised to see that it was actually a small satellite with several gates. Problem is, there were no markings at all indicating which flights left from which gates. We finally figured out that we'd just have to watch to see all BMI flights departing and inquire about the destination. That didn't seem very efficient, but it was the only way since no boarding announcements were made.
The flight was pleasant and uneventful. East Midlands is a small airport, so customs and immigration were very speedy. We picked up our car - a Ford Focus - and headed toward County Durham, where we were staying with Tony and Mary Oliver, Morganistas we had met on our trip to New Zealand last year.
Tony had recommended that we stop along the way at the Hardwick Inn for a nice lunch. It is a beautiful country pub - of the type that once were so prevalent in this country before the slot machines and loud music. We had a nice lunch (fresh mushroom soup for me, venison in a red wine sauce for Tom) and took a photo. We loved the original Mini Cooper.

A wonderful Mini Cooper outside the Hardwick Inn where we stopped for lunch
On our way north we passed a surprising number of Citroen Deux Chevaux. The club must have been on an extended outing. They were doing their best to avoid being run over on the motorway. Has anyone ever designed an uglier car? I think not, though some have tried!

A pair of Citroen Deux Chevaux we passed on the A1(M); there were a large number of them
Tony's instructions were excellent, so we didn't make any wrong turns until the very end, in the little village of Trimdon Station. An interesting feature is that PM Tony Blair lives two houses away from the Olivers, so there are security gates that you have to go through to get to the Oliver's house.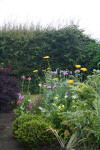 Tony and Mary's garden in Trimdon Station - delightful and very private
We had a wonderful evening with Tony and Mary - Mary and I took a walk - we started out thinking we'd just do a few blocks and ended up going over public footpaths through a woodland and some fields, so we were gone at least an hour - it was great to get out and walk in the English countryside.
Mary fixed a wonderful meal of chili and a great chocolate dessert. The starter was an avocado mixed with cottage cheese, lemon juice and L & P - it was great.
Tuesday - July 26 - Trimdon Station - Durham - Newcastle
Sightseeing day - after breakfast we went to Durham, which has a wonderful cathedral, castle and university. Since Mary is a steward at the cathedral, she knows a lot of ins and outs and was able to point out some of the more interesting features. It was like having a private tour guide. St. Cuthbert is buried at Durham, as well as the Venerable Bede, the father of English history. We especially liked the columns in Durham - some of them have designs carved into them, which makes them more interesting. Mary was able to point out some of the more personal features of the cathedral - like the apprentice column, where the designs don't quite line up. Durham is an amazing cathedral and not as well known to American visitors as York. Therefore, it isn't as crowded.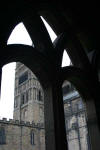 The cloister area in Durham Cathedral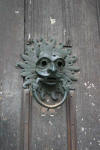 People seeking 30 days sanctuary would use this knocker to gain admittance to Durham Cathedral
The city of Durham is quite lovely, on a peninsula created by the river - you can see why a castle was set up here - it would be much easier to defend than most places in the area. We especially liked that it was so lively, yet not touristy.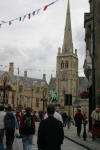 The town of Durham was quite lively and very handsome

This teapot mounted above the doors to a shop really caught our attention
Our next stop was Newcastle-on-Tyne, which was the sight of a Tall Ships Race. What can you say? There were over 100 tall ships moored along the river - some smallish, but on up to over 100 meters in length - it was spectacular. The crowds were very dense, so we think attendance was more than had been anticipated. That said, all went well until about 6:00 p.m. when there was supposed to be a parade of the crews, but the bridge over the river was too crowded, so they weren't able to hold the event as planned. We had to take another bridge to get to the side of the river where the pickup point for the park and ride was located.

The ferris wheel was apparently setup for the Tall Ships event

The Millennium Bridge rotates on its axis until both arcs are raised equally up to permit ship passage

The Performing Arts Centre, which some locals refer to as the slug

A pair of the larger Tall Ships in Newcastle-on-Tyne



The masts and rigging were very impressive

And this masthead just had to be photographed
I have no idea how many miles we walked today - we were all pretty exhausted, so it was delightful to return home to a nice meal, which Mary had prepared in advance - a prosciutto and cream cheese starter, chicken Merengo (I've probably misspelled that!) and a summer pudding.
Wednesday - July 27 - Trimdon Station - Lindesfarne - Alnwick
Some time ago I read a book titled "Civilization" by an English historian, Kenneth Clark - there was also a television program of the same title, narrated by Clark. He had a chapter in which he referred to Lindesfarne and some of the other islands off the coast of Britain and Ireland and proposed that if it hadn't been for these islands, which were refuge for the monks during the Middle Ages from the marauding hoards from Scandinavia, western civilization as we know it would not have survived. The chapter was called "By the Skin of the Teeth" as I recall.
Lindesfarne has the ruins of the priory as well as a small castle. St. Cuthbert lived here for a while, then off the coast a bit further, where he was a hermit. To get to Lindesfarne ("Holy Island") you drive over a causeway which is under water several hours each day.
The ruined priory is very interesting, especially after seeing Durham Cathedral the previous day, for many of the architectural features are shared, including the decorated columns. It was here that the Lindesfarne Gospels were written so many years ago (the originals are in the British Museum). What a place of learning and contemplation this must have been.

St. Mary's Church on Holy Island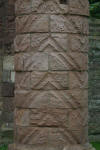 One of the columns in the ruined priory - it looks just like one of the columns in Durham Cathedral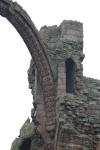 An arch from the ruined priory

A Celtic cross in the graveyard near the priory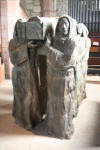 Carving of monks carrying the coffin of St. Cuthbert from Holy Island to Durham
The little castle out on the promontory is a gem. It was restored in the early 1900s so it was an "Edwardian Gentlemen's County Home" - it is very homey and comfortable. Yes, I could happily spend a few weeks here, locked up with fine food, wines, good books and interesting company.
On the way out to the castle we passed a cafe with outdoor seating. In that outdoor seating area was a Citroen 2CV deliberately overgrown with vegetation. It looked like a giant chia pet.

Buy one of these at Christmas, smear on the seeds and water
The small garden, designed by Gertrude Jekyll is absolutely wonderful. I especially liked the mix of flowers and vegetables.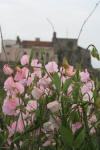 I love the way they used twigs to stake the sweet peas

Marigold with a happy bumblebee
Speaking of gardens - our next stop was the gardens of Alnwick Castle. We didn't go into the castle - the gardens are so spectacular that you can spend hours poking around. There are several 'theme' gardens in the overall scheme - a 'poison garden' with suitable warnings about avoiding the plant, the 'ornamental garden' with spectacular delphiniums (among other flowers) and a wonderful rose garden, heavy to English roses (we liked one called Mistress Quickly - doesn't that just suit?)

These children are having a great time with the loaders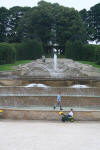 Beautiful water feature at Alnwick

We don't know exactly what these are, but they are beautiful

We love this rose - called "Just Joey"

Hard to believe, but this is the compost heap! The gardeners throw in their bits and glorious flowers spring up

Tony says it is illegal to photograph the coin of the realm
There is a new feature at Alnwick, a tree-house, which is very nice, with a cafe, shops and bits for the children, and children at heart to explore. There are a couple of rope bridges which are great fun. It reminded Tom and me of the forest canopy walks in Costa Rica.
Lastly, we went to dinner - a wonderful restaurant called the "Dun Cow" in a small village not far from Trimdon Station, called Sedgefield. We had one of the best meals we've ever had in Britain - Tom and I shared a wonderful fried brie with a chutney for starter, Tom had a beautifully baked sea bass and I had wonderful lamb shoulder with a rosemary and mint sauce. There was no room for dessert. Tony Blair hosted George Bush at this restaurant - we are told the menu was fish and chips and mushy peas. And I thought they were friends!
Thursday - July 28 - Trimdon Station to Bridgnorth
The weather yesterday was quite nice - today, not so. We had a longish drive to Bridgnorth, in Shropshire. We decided to return here after having visited in 2003 and discovered the beautiful village of Bridgnorth. Why it is not well known to tourists is beyond us.
There isn't much to say about the drive - it was a bit stressful, the traffic being heavy and the weather being rainy. However, we arrived in good order and checked into the pub, the Golden Lion, right on the High Street. In retrospect, we could have picked a more quiet place, but we wanted something close to the shops and restaurants, and the Golden Lion fits the bill.

The Golden Lion in Bridgnorth, our pub lodging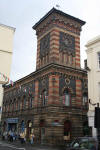 This building reminds us of the Old City Hall in Tacoma with Italianate architecture
We heard on television that a very strong tornado hit Birmingham today - about an hour before we went through the area (we didn't actually go through the city, trying to avoid what Tony referred to as the 'blot on the landscape.') No wonder that we encountered bad weather. The tornado did considerable damage and would, even in the tornado prone areas of the US, be considered a severe one.
There was good news, also - the police have arrested the four terrorists responsible for the attempted bombings in London last week. One had managed to escape to Rome, the others were still in London. Most disgusting is that these men are all British citizens. Some were apparently radicalized while in reformatory by radical omans. So, here they are - taken into this country, fed, housed and clothed, and yet they want to blow up other people. If the Muslim community doesn't get its house in order soon, there will be serious consequences, I fear.
We had dinner at a sort of pub - being Thursday, it was curry night, so we got curries and naan, rice and papadaam for only ₤4.49, including a glass of wine. It wasn't great cuisine, but it was quite good, so we were happy.
The Golden Lion is a relatively quiet pub with walls that go at an angle. Or is it the floors that go at an angle? Doesn't matter - nothing is quite at right angles. But, then, it is a few hundred years old. When you are a few hundred years old, will you go at right angles? It is right next to the town gate (17th century, I think). The High Street is pretty lively, so we used ear plugs.
Friday - July 29 - Bridgnorth
After breakfast, we went to the library and checked e-mail and finances. Yesterday we had made contact with Colin and Carolyn Cundy, Morganistas whom we had met in California at the beginning of Morgans Over America IV in May (where I broke my ankle). We were to meet them for lunch.
We drove to one of the ten museums in Ironbridge, the World Heritage Site that is the home of the origins of the Industrial Revolution. It is beyond us why this spot isn't one of the prime tourist destinations in England. The museums are excellent - in 2003 we went to two of them, including the Victorian Village. Today we went to the Jackfield Tile Museum and spent over an hour exploring the wonderful displays. We had no idea that tile was so important in the lives of us all - we tend to take it for granted - but think about how much tile is in all of our homes.

The bookkeeping office in the Iron Museum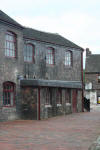 One of the factory buildings in the Iron Musem
Later, we met up with Colin and Carolyn and walked to their home, close to the church and not far from the High Street. They have lived in Bridgnorth for 19 months, and have a wonderful home near the church. We had a super lunch, then walked through the town. We loved the Severn Valley Railway, a steam rail line that has been rescued by rail lovers and operates a regular schedule between Bridgnorth and Kidderminster.

These gents run the Severn Valley Railway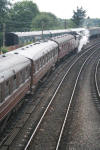 The Severn Valley Railway, headed toward Kidderminster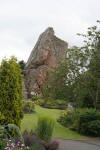 Remnants of the Bridgnorth Castle, destroyed in the English Civil War
Colin and Carolyn told us about a concert in the local church - a small ensemble of the very famous City of Birmingham Symphony Orchestra. We decided to attend (Colin and Carolyn had previously committed to visiting her parents in Wolverhampton) and thoroughly enjoyed the concert. We like the town life here in Bridgnorth - people all seem so engaged.
We had a late dinner in a small restaurant and returned to the Golden Lion - the streets are pretty lively, this being a Friday, so we have no idea if we'll be able to sleep or not.
Saturday - July 30 - Bridgnorth to Haseley Knob (near Warwick)
After we had breakfast, we walked into the center of Bridgnorth and bought a few things for lunch. Saturday is 'market day' in Bridgnorth and the market is fairly typical - meats, fruits and vegetables and the odd mishmash of 'things'.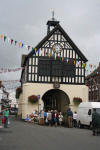 The market house in Bridgnorth
Next, we drove to Enginuity, one of the Iron Bridge Museums. We spent ah hour or so poking around engines and machinery - Tom was very happy - I'm not so mechanical. Next we went to the Iron History Museum, right next door and had a good hour learning about iron production in the Severn Valley.
A very famous English hymn is "Jerusalem" or "Did Those Feet in Ancient Times" - at one time, every English school child sang it at the beginning of the school day. One line is 'these dark, satanic mills'. The iron works in the Severn Valley must have been what the composer was visualizing when he wrote those words, for the paintings of this area in the late 1700's and early 1800's show a valley of intense pollution and squalid conditions.
We drove to Leamington Spa - the traffic was bad - it being a Saturday in summer, but eventually we found our reserved B & B. Parking was non-existent. We went into the guest house (the Dell Guest House) and were greeted by the owner who was obviously tired - she wasn't very pleasant, although in all honesty, Tom was a bit curt when inquiring about parking. The bottom line is that we agreed that three nights in this place wasn't acceptable to any of us. Tom and I left and headed to Tourist Information. They found us a really nice B & B on the outskirts of Warwick - it was quiet and had parking.

The Croft - our B&B near Warwick
Our reason for coming to this part of England was a Morgan gathering about 20 miles from Warwick. We expect to meet up with them tomorrow.
We had dinner at a pub that is alongside the Grand Union Canal. Oh, how I would love to boat this part of England - we did a very small bit of the Grand Union Canal in 2001 - it was our first canal experience and it was wonderful. I don't know if the British have any appreciation for the wonderful resource they have in the canals - they are holiday homes, highways and historical sites all rolled up into one. Tom and I would love to spend six months or so canalling, but there are the issues of time and money.
"Limited Resources and Unlimited Desires". That's a fairly age old problem.
Sunday - July 31 - Haseley Knob, Gaydon, Warwick and Kenilworth
We both spent a more restful night than we had yet on this trip. Although our little B & B is close to an "A" road, at night it is really quiet.
After breakfast, we headed to Gaydon. We had never heard of the National Motor Heritage Museum in Gaydon - it is a wonderful spot, with spacious grounds and an excellent auto collection. It was expected that there would be over 600 Morgans for the event.
We were so pleased to see some of our Morgans to New Zealand friends at the gathering - Ray Ellis and Sara-Jane Bennington, Tim and Allison Ingham and, of course, Tony and Mary Oliver (Tony is the chairman of the Morgan Sports Car Club). The one thing that struck us is that the English Morganistas are much more friendly and close than the American/Canadian contingent. They all seemed to know each other, even though there were over 1,000 people.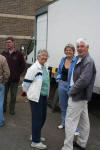 Friends from Morgans to New Zealand - Ray Ellis (far left), Alison Ingham, Sarah-Jane Bennington and Tim Ingham
One of the owners had a picture of her driving an auto-cross and at the very end, her Morgan caught fire! It made the local sporting news. I would hate for Moggie to have that fate.
There is a lot of talk about 2009, which is the 100th anniversary of the founding of Morgan - many events are in planning stages. If God wills, we will ship Moggie to Europe for that event.
We spent several hours happily chatting with Morganistas, then drove to Warwick for tea, which we had in The Brethren Tea Shop, on the site of the Lord Leicester Hospital. For those how don't know, Robert Dudley was the 'favorite' of Queen Elizabeth I - some claim that they were married (but if your father had had your mother beheaded, would you be willing to make a commitment to marriage - I wouldn't!)

The Lord Leycester Hospital in Warwick
We spent an hour or so driving about Warwickshire - we both love getting off the motorways and wandering about the little country lanes, never exactly sure where we will end up - and frequently getting just a bit lost. In the famous words of Mel Henderson in 2003 "But, Tom, England is a small country - how can you possibly get lost in England." Trust me - you can get so lost you don't know east from west.
We had dinner in Kenilworth at a chain pub recommended by our host. It was a fair meal - not great, but more than ample.
Monday - August 1 - A drive through the English countryside
The British Tourist Authority publishes a series of leisure drives through various parts of the country. Today we took one of those drives, through the county of Warwickshire. In theory it was only supposed to take a couple of hours, but we ended up spending nearly the entire day because we stopped off along the way to explore some things in more depth.
Our first stop was the little village of Hampton Lucy (Hampton is the very old name, Lucy was tacked on four or five hundred years ago when the area was given to the Lucy family). There is a very pretty Victorian church in the village, St. Peter ad Vincula.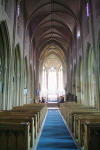 St. Peter in Vincula, Hampton Lacy
Our next stop was an art gallery in a stately mansion, Compton Varney. It being Monday, the museum was closed, so we just parked in the car park and ate our cheese and biscuit lunch (followed by fresh English raspberries, the growing season here in England being a bit later than that in Washington).
We drove on through the countryside to another stately mansion, Upton House, which had some really nice gardens. Unfortunately, unlike Alnwick, most of the plants were not labeled. We were never able to figure out just why the house had been built. It appeared to be 18th Century, but the only history we could find was that it was purchased by the son of the founder of Shell Oil in the 1920s and restored as a country home and place to display his extensive art collection.

We have no idea what this is - it is very interesting

Still life from the garden at Upton House

Another happy English bumble bee
We've had a bit of frustration with internet connections - the libraries all have free internet access, but sometimes the security is set up to prevent us from picking up our e-mail and we haven't been able to find many places that have wireless internet, so uploading our journal to our website has been problematic. We hope to tomorrow when we go to Shrewsbury we will be more successful.
After we returned to our B & B, I took a long walk - between four and five miles - that is the longest I've done since I broke my ankle - I'm very pleased I was able to do so.
We had dinner in a nearby pub, the Tipperary. Tom had a rib steak and I had lamb shank. I cannot understand why lamb is so expensive in Britain - there seem to be sheep farms everywhere, yet lamb is more expensive than beef. And beef is terribly expensive. With the dollar lower against the pound than it had been on our previous trips, we are very conscious of the cost of traveling in this country.