A Week in Eastern Sicily with TTS
Saturday - September 24 - Sciacca to Valverde
The day dawned as beautifully as most of the others had the past week. Once again we had breakfast on the veranda. The workers were in the vineyard early and the sounds of the tractor and of the chatter drifted up to us as we ate. We had hoped to be on the road by 10:00, but things went very smoothly and we left 30 minutes early. Rather than take the route that would include autostrada, we had decided to follow the southern coast through Agrigento to Gela and then head northeast to Catania. The drive was easy and the scenery was very interesting, if not necessarily beautiful. We actually drove right to the apartment. At this point things started going down hill.
Our host greeted us and took us up to see the apartment. He stepped into the apartment and turned toward a free-standing cabinet about the size of an armoir. He opened it up and announced, 'This is the mini-kitchen.' And it was! There was a two-burner cook top (no oven or microwave) and a wet bar sized sink. The rest of the apartment was similarly sized. Mel and I discussed it for about two seconds and we concluded that it wouldn't work. We so informed our host. He was very good about it, although he seemed to think that our problem was an American thing - the need for a huge kitchen. He told us he had a friend who had an apartment and called his friend for us. We got the directions to a meeting place and off we went.
We were blasting along the little roads on our way to the meeting place (the pavement reminded me of something out of an old Fellini movie) when we got to a section that had serious potholes. Between narrow roads and traffic we hit one of these car-swallowers. Immediately our Renault announced to us that we needed to change the right front tire. We pulled to the side of the road and sure enough, the tire was flat. The Renault is equipped with tire pressure sensors and we may have blown one of those. We got hold of the man we were to meet and let him know we had a problem. He said he would wait for us. We unloaded all the stuff from the boot (trunk) and got out the tools and the spare. I got the tire changed and couldn't see any obvious damage to the one I removed. We loaded all the stuff back into the boot and continued on our way.
We met Ottavio in the 'town square' of Stazzo and he led us to the apartment, just a few blocks up the street. We concluded it would work and got all the arrangements made. We unloaded the car and went off in search of groceries. By the time we got back to the flat we had relatively little time before we needed to head for the airport to pick up TTS. More down hill!
Antonella's knowledge of Sicilian roads is, how shall I say it, crappy! She was obviously confused about how to direct us to the airport (seemed to want us to turn left and drive up a stairway onto a pedestrian overpass and one point) and we wound up in the middle of Catania. We tried to follow her directions (several times over the same section of road) and finally gave up. We got lucky at last and saw a sign for the airport. We finally got to the airport only to find that TTS' original flight had been cancelled and he would apparently be on a later flight. He finally arrived on a flight that landed just before 10:00 PM.
We made our way back to the flat and got dinner prepared. We had cut up the veal earlier and Mel was able to have dinner on the table in about 20 minutes. It was quite tasty and Mel had purchased cannolli for desert. It was a tough enough day for all that tomorrow will likely be a very laid back day.
Sunday - September 25 - Stazzo - Giarre - Catania
Sunday in Italy is typically quiet and since we didn't have a spare tire, we were reluctant to go very far. Also, it was raining part of the day. The rainstorms here on Sicilia are like that in Roma - big, black clouds loom large, the temperature drops, thunder and lightening, with the thunder rolling off the hills dramatically, then large rain drops 'sploush' down. This may go on for two hours, but then it stops, the clouds slowly disappear and the sun returns. It is nice in a couple of ways - it doesn't go on for days like it does in Washington and while it is raining, it is very dramatic.
We ventured into Giarre, about 20 km from Stazzo to check out the Circumetnea railway - we had read about it in Cadogan - it is a little rail line that goes around Etna (which, by the way, we haven't seen yet - it is always behind clouds, even when the weather is clear). We found out that the trains don't run on Sunday but we couldn't get any further information than that.
The guidebook said that the Tourist Information Office in Catania was open until 8:00 p.m. everyday, so we decided that maybe we could find TI in the daylight, with the help of Antonella and a map we found in the apartment. Alas, Antonella doesn't know about the one-way roads in Catania (she knows most of them in Italy, it is Sicily that is causing her a problem). We went through the most unsavory neighborhood I've ever been in thanks to Antonella - it was the Catania version of Chinatown and it was down right scary. We found TI at around 3:00 - it closed at 2:00. I'm thinking that Catania was a big mistake.
We had told Matt we would call him, which we managed to do in the evening - we haven't had much reason to use phones and therefore haven't fully mastered international calling. We had a couple of unsuccessful attempts, but eventually managed to get through. It was nice to talk to him, although we woke him up. There are nine hours difference between Italy and the West Coast.
Things haven't been all that great the past few days, so we decided to treat ourselves to dinner at La Conchiglia (the shell), the nice restaurant in Stazzo. It was a lovely meal, with fresh fish just caught today.
Monday - September 26 - Stazzo - Catania - Taormina
Tom and I left the flat early and went to a nearby tire shop to see if the tire could be repaired. We've learned some more Italian words that we had hoped we'd never have to learn - like buca (pothole). Tom explained to the nice man that we had hit a buca and had a flat. He took the tire off the rim and pronounced it 'morte' (dead). There is a significant break in the tire wall that goes all the way through.
That meant a trip to Catania to the Renault dealer. TTS, armed with the apartment map and Antonella managed to get us there without too many difficulties. I was really glad that the dealership was on the north west corner of the city, the part closest to Stazzo as I had no desire to drive through the Black Hole of Catania again.
It took a couple of hours, but finally we had a new tire (on our tab, in Europe this type of road damage is not covered by the warranty) and we were off. We went back to Giarre and got a schedule for the Circumetnea, had lunch, then ventured up the road to Taormina, which is a very famous tourist destination.

This beautiful sailing ship (apparently a cruise liner with fake gun ports painted on) was in the bay below Taormina
Taormina is beautiful, on a steep hill overlooking the Mediterranean, but it was packed with tourists. We were all surprised at how many - mostly Italian, French and German, with a sprinkling of Americans. We went into the TI for a look around and spotted the traditional Sicilian puppets shown below on display. There is a long lived tradition of puppetry in Sicilia and the stories are mostly about fair damsels in distress and knights in shining armor. In Sicilian history, these were sort of morality plays, with roots in the Crusades.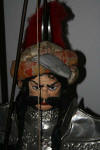 There were a number of puppets inside the Tourist Information Office in Taormina
We walked the steep climb to the Greek theater in Taormina. It is quite a sight - partially restored and apparently in use today. You can see views of the water far below.

The bay below Taormina seen from the Greek theater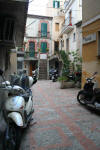 An interesting alley in Taormina

This lovely little bay could be seen from Taormina
People wax ecstatic about Taormina, and I will admit, it is stunning, but I think being crowded in with so many tourists would wear thin very quickly.
We drove back to the flat to plan our excursion for Tuesday.
Tuesday - September 27 - Stazzo - Siracusa
The Cadogan writers really like Siracusa, and it is a reasonable drive from Stazzo, so that's where we headed today. The drive down was fairly uneventful and of no great interest. The old island of Siracusa, Ortiygia, is the most interesting part of the city. This is an ancient city (2,500 years or more) and was one of the most cultured and sophisticated in the Greek Empire - Plato stayed here, as well as St. Paul.
As one can imagine, trying to find parking in a 2,500 year old city is difficult, at best! We drove completely around the island once, were routed off the island, then back on (with difficulty navigating the one way streets) and back on, where we found the Marina parking lot.
Before walking around the island, we took a brioche break at a 'bar.' We've become excessively fond of brioche breaks! Nearby was a beautiful building - we don't know what it is, so we took a picture.

We loved the carving on this building in Siracusa - the Chamber of Commerce?
After our break, we walked to the delightful Piazza del Duomo. What a wonder! We are lucky that we are past the high tourist season, as the guide says that the square is really crowded then. Instead, we found it to be only pleasantly populated.
The Duomo in Siracusa is so interesting because the builders have taken the columns from an original Greek temple and incorporated them in the Norman Cathedral. Then, when an earthquake destroyed a portion of the cathedral in the late 1600's, the building was reconstructed in Baroque style - so you have these tremendously different styles joined together - and, surprisingly, they work, unlike some of the other conglomerations we've seen.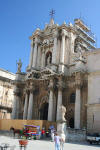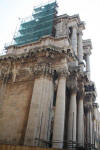 The outside of the cathedral in Siracusa and a view of the Piazza del Duomo
After walking around the Duomo, we strolled the old city - what a delight. The traffic isn't as bad as we've encountered elsewhere, it isn't very noisy and it is quite clean. There is very little graffiti. The buildings are really interesting - lots of different styles. This is the sort of town Tom and I would be happy to camp in for a couple of months. Just for interest we looked at the windows of a couple of estate agents - a fairly large, furnished apartment, overlooking the water, with a large terrace rents for €1,200 a month (around $1,500). Since most small vacation apartments rent for €500-600 a week, we thought that was pretty reasonable. However, Siracusa is a bit off the map of Europe, so isn't practical for an extended stay.
Alas, even the best places have their warts - ours was lunch - we went back to the bar where we had our brioche break. It took forever for lunch to be delivered, and it was not that great once done. We have learned that bars are trying to compete with restaurants and trattorias and do so by buying what appears to be frozen meals, which they heat up in the microwave. We would avoid them, but we have also learned in Sicilia that you can have a full meal at our lunch time (four courses) or you can eat in a bar. The pizzerias seem to be closed.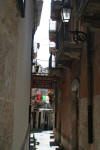 An interesting alley in Siracusa

We saw this motorino in the water in Siracusa and wondered how it got there.

The seaside in Siracusa looking north
The drive back to Stazzo started out very slow - the traffic was bumper-to-bumper for some reason. However, eventually we got on the motorway, drove a bit beyond Stazzo to a little village where there is a really pretty little church, took a picture, then headed back to the flat.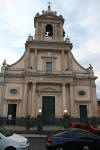 This lovely church can be seen in the village of Trepunti, a little north of Stazzo
Wednesday - September 28 - Stazzo to somewhere near Monreale
We had great plans today which didn't quite pan out.
We drove to Monreale, on a hill overlooking Palermo. We have packed a bag with two days' clothes so that we can tour about and show TTS the west side of the island, plus tour Palermo, which Tom and I really haven't seen. En route, we caught our first glimpse of Etna (we haven't made the Circumetnea yet and probably won't on this trip). It isn't as impressive as Mt. Rainier, but is a large, ethereal hulk brooding above Catania (which it has wiped out a few times, more's the pity it wasn't more effective).
We parked the car near the square in Monreale and went into the Duomo. It was absolutely amazing. The mosaics are overwhelming - it is just plain stupefying. Tom took as many photos as he could and we enjoyed 'reading' the stories told by the mosaics. The church is a fascinating mix of Norman, Byzantine and Arab. It is difficult to describe.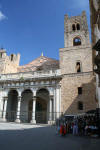 Monreale doesn't look all that impressive from the outside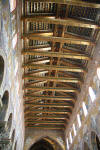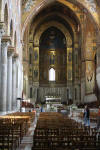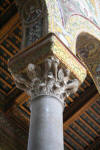 The inside of Monreale is like nothing we had ever seen before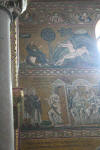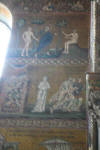 There were Bible stories everywhere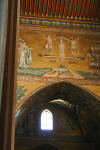 High on one wall was this mosaic of the crucifixion (upside-down) of St. Peter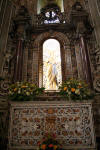 The sanctuary and the Mary chapel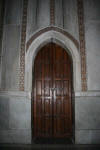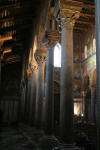 The floors, doors, walls - everywhere you looked were beautiful mosaics, even on the underside of arches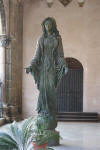 Outside there was a statue of Mary Magdalene and the lovely exterior of the sanctuary end
We needed a place to stay, so headed toward the little village of San Martino delle Scale. We told Antonella where we wanted to go. Never trust a GPS system. She actually directed us up what seemed a plausible road, but it was switchback after switchback and climbed higher and higher and got narrower and narrower until the road actually turned into a cow pasture (yes, that's right). There were no side rails and we were hundreds of feet above the valley. It was frightening. TTS got out and walked back down the road to find a place where Tom might back the car to in order to turn around. Eventually he got turned around, with great difficulty, and we retraced our route, not without some heart palpitations.
By this time is was getting late and we still hadn't had lunch. As usual, we found that there were no places to have lunch. We drove through the little village, then continued up the hill until we found a hotel, restaurant and bar. The lunch hour was over and the man at the counter, Giuseppe, didn't want to serve us, but Tom wheedled and he took pity on us. Tom doesn't have a lot of fat reserves, so when he is hungry, he is seriously hungry. Lunch certainly tasted good. Since we had had such an adventure getting here, Tom was in no mood to go back down to Palermo, so we checked into the hotel and were 'bums' for a few hours.
The area in which we've settled for the day is high above Palermo - it is where the people from Palermo come to escape the summer heat - it is surprisingly cool - we can see Palermo, yet the temperature here is 15-20 degrees F below that at sea level. It is still pleasant enough to walk around - the temperatures being in the 60s, but certainly not hot.
We had a pizza in the hotel restaurant and turned in early - tomorrow we have more great plans - let us hope they don't involve going up unpaved, impassable roads.
Thursday - September 29 - Near Monreale to Marinella
We got up early and were ready to leave the hotel by 8:00 - our host charged us less than he had quoted - I think because the hotel doesn't have much by way of patronage this late in the season. He prepared 'caffe' for us - 'caffe' to an Italian is espresso - thick, dark, strong, short, into which the Italians dump a lot of sugar, so it becomes a little caffeinated, sucrose intense bomb. Yummmm.
We drove to Segesta by way of a small town (Partinico) in the middle of nowhere, where we bought benzina (gas) and stopped for a pastry and cappucino. Segesta is quite a place - from what our somewhat, but not always, trusty Cadogan guide tells us, this Greek temple was built to impress visitors from Athens. After the visitors left, the workers dropped their tools and never completed the job. But, what a monument they left behind! It sits in the middle of nowhere, surrounded by vineyards and olive trees, surprisingly well preserved.


The temple at Segesta sits out on a mound and is truly beautiful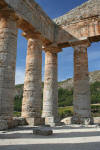 Like other temples on Sicilia, it was built from limestone

We had never before seen this treatment of the bottom of the columns
Our next stop was a little town near Trapani (on its own, one would never go to this place), called Nubia. However, it sits in the middle of salt flats and has been for a few hundred years a salt producing center. To get there, you drive out toward the water, over very flat land, passing old wooden mills, which were part of the salt production process. Once there (and it was very well sign posted) we found the small, but interesting, museum. Inside, there were artifacts of the old, manual salt production process. It must have been immensely labor intensive. After the salt has been extracted from the sea water which has been let into the salt pans, men would shovel salt into buckets that they then carried to a large pile. From there, the salt was milled, because it was very coarse, hence the wind-driven mills. It took from 80-100 days to produce a tablespoon of salt. Think of that the next time you salt your stew. Salt is still a major product of Sicilia.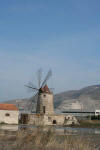 The salt museum and some of the mounds and windmills near Nubia
There was a little room with local products - we tasted and bought some 'mandorla' wine - wine made from almonds - sweet, the sort of thing you would drink a thimbleful after dinner.
TTF and I decided that since we were so close to Erice, we'd take TTS there - it is such a pretty place. TTS found a 'shortcut' up the hill - it was dramatic, and, fortunately, paved all the way. We had lunch there and walked around a bit. It was much warmer than last week.

Some of the white doves (pigeons) in Erice
We wanted to go to Selinunte, where TTF and I had been last week, because we wanted to show TTS the wonderful archeological remains. We decided to stay in the nearby town of Miranella. Cadogan listed a few hotels and we selected one - it is clean, comfortable and convenient, although not 'posh.' We checked in, left our luggage and drove to the archeological site. This has all been covered in last week, so I won't go into it other than to say that Sicilia is certainly the place to be if you want to see Greek ruins.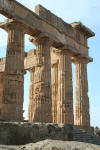 We had been to Selinunte earlier, but it never fails to impress
Friday - September 30 - Marinella to Stazzo
It is hard to believe that today is the last day of September and in less than two weeks Tom and I go home. It has been quite an adventure, with a few more adventures yet to come.
Our room included breakfast, which we had on the pleasant third floor patio. Certainly it wasn't the wonderful brioche we get at bars, but it was good enough.
We set out fairly early for a site near a town called Piazza Armerina pretty much dead center in the island. The attraction nearby is the remains of a Roman villa that was not discovered until the 1950s and has one of the most amazing collection of Roman mosaics anywhere. What was surprising to us is that the villa has been there since about 200 AD but apparently forgotten. How in the world could Romans and their heirs 'forget' a significant villa on an island that has been continuously occupied for several thousand years?
Antonella did a fair job of navigating us to Piazza Armerina, but failed hopelessly when it came to taking us to the villa, about 6 km. from the town. However, the route was fairly well marked, so we found the villa without a lot of trouble - we ignored Antonella when she told us to take the viaduct that was 30 meters above our heads!
The mosaics are some of the best preserved in the world, but according to our trusty (well, usually trusty) guidebook, the method of protecting them has actually exacerbated the deterioration. This is because they are covered by plastic domes which create mini-greenhouses, the heat in which leaches out the colors. All that being said, this is a very interesting and impressive sight. Apparently, the villa was built for someone very important in the Roman Empire (they don't know who) who wanted to escape the trials and tribulations and heat of Rome.
The setting is quite beautiful - a fair bit of vegetation on the hills, with the villa tucked in among them. We walked through the villa on the gangways provided and tried to interpret the stories being told. When it was a residence, each room had related frescos on the walls - there are some small remains of the frescos, but not much.





This is a sampling of the mosaics at Villa Romana
After touring the villa, we headed for a trattoria which Cadogan recommended - they make their own fresh pasta. We each had tagliatelle with a sauce of 'noci' (nuts). It was delicious. We don't 'do' the Italian lunch of antipasto, primo and secondo piatto (first and second plates) with 'contorni' or accompaniments followed by 'dolce' (dessert) and caffe. Some people do, but I bet they take a nap afterwards!
Next we drove to the Baroque town of Noto. It was a longish drive, through some countryside that was sometimes bleak, sometimes beautiful. We were really surprised to see that cactus is farmed in this part of Sicilia, for the fruit. I've seen the fruit in roadside stands, but have no idea of how it is eaten - raw? cooked? cold? hot? with an accompaniment?

It never occurred to us that cactus would be farmed
Noto is beautiful - it is almost all the same period architecture, because the original city was destroyed in the earthquake in the 1690s. The cathedral, municipio (town hall) and other important buildings were all built in the same architectural design from the same material, so there isn't the hodge-podge that you typically have in Europe - instead there is a delightful cohesiveness to the whole, with a beautiful garden near the town center. However, since everything was built at approximately the same time, it is all deteriorating at approximately the same time. Therefore, the Duomo and several other important buildings were encased in scaffolding, much to our disappointment. As a matter of fact, we couldn't enter the Duoma at all.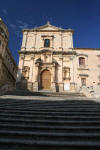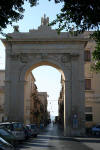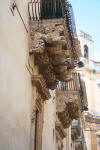 Some of the beautiful architecture in Noto
We drove back to Stazzo, fairly tired since we had had a long day. Tom and I walked down to the 'town center' in Stazzo and got three pizzas to go (yes, you can do that in Italy), which we carted back to our rooms and enjoyed for dinner.
Tomorrow we return to the 'mainland'. What can we conclude after two weeks on Sicilia?
The traffic in and around towns is terrible - worse than on the Mainland

The graffiti and litter around the towns and in some spots in the country is appalling - why don't the people who live here care more? To be fair, one suspects that most do care but a few make an appalling mess.

There are sights that are unique in Europe - Greek temples, Roman villas, astounding cathedrals and cities of immense charm

The food is good, but finding it is problematic in the middle of the day. The seafood is wonderful

The Sicilian Tourism website is not adequate - they need to make an effort to help tourists find suitable accommodations - otherwise, we never would have taken accommodations in the first place near Catania

The people are almost without exception, unfailingly polite, but they don't smile - it is as if smiling is not 'bella figura' or they are truly depressed/unhappy people

We never once felt unsafe. I suppose that there are areas where one shouldn't go - we didn't go there. Today, the man at the parking lot near the Roman villa took great pains to try to identify the English owner of a Visa card he had found in the parking lot. Other, less honest, people may have taken this as a gift to be exploited.
Will Tom and I return? Most likely not, because we have seen a lot, although we did not explore Palermo as much as I would have liked. We have not, as yet, spent much time at all on the east coast (Adriatic side) of Italia, and very little in the north. This trip, combined with previous ones, makes approximately 12 weeks elapsed time for us, yet we are mere beginners in exploring and understanding this complex land.