A Second Week in England Visiting Friends and Touring
Tuesday - August 2 - Hasely Knob to Shrewsbury
We decided to return to Shropshire and stay in or near Shrewsbury so we could see more of the Iron Bridge museums. The drive from Warwickshire was largely uneventful. We only took a few wrong turns. Tom is getting to be an expert at what is called in a film about a European vacation a "Griswold" - going around a round-about until you finally get to the right exit.
Shrewsbury is a very pretty town (it isn't a 'city' by British standards, because it doesn't have a cathedral) but the traffic is really bad. Like so many old towns, it is built along a river, and was once a gated city, so there are very few straight streets. Adding to the confusion are the walking streets.
We found a really nice B & B in the countryside, but the owner wasn't home, so we went to Tourist Information in Shrewsbury and they booked lodging for us at a very quiet place a few miles out of town. The B & B is in an old Georgian era house - the man who built it won ₤20,000 in a lottery in London in 1778 and came to Shropshire and built this house. It has been developed into what I think would be called 'townhouses' - multi-story apartments. The one we are in has a beautiful garden lovingly tended by Janice, the owner.

Lythwood Hall, former Georgian country home, now divided into townhouses

Janice's garden - a beautiful spot in which to have a cup of tea
Our museum of the day was the Broseley Pipe Museum, where for a long while they made clay pipes (they went out of business after WWII). What is particularly interesting about this museum is that the workers basically abandoned their posts in the 1950s and left everything set up as if they were coming into work the next day.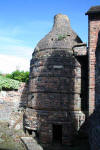 This bottle kiln was used to fire the clay pipes
We really like the Shropshire countryside - it rolls gently and the farms are very tidy and well tended.

A river Severn valley seen from the road to Ironbridge
Janice recommended an inn called The Bridge Inn for dinner - it was excellent, but neither of us can understand why meals here are so large. I had a sort of salad with fresh and smoked salmon and prawns, Tom had a chicken with an avocado and Stilton sauce. The meals came with chips, potatoes, several vegetables and bread. Needless to say, we left more than we ate.
Dear Janice has offered to do our laundry for us, which will be a great time saver - we really want to spend as much time as possible at Ironbridge tomorrow and the idea of spending 1 1/2 hours in a launderette is not appealing at all.
Wednesday - August 3 - Shrewsbury and environs
We wakened to the sound of the geese cackling - apparently they were being fed their breakfast. We had our breakfast, then started out on what we hoped was our final day of touring Ironbridge.
Actually, our first stop was Sainbury's where we got petrol and lunch supplies. Although Britain is very expensive, particularly with the dollar down against the pound, when you buy cut fruits, cheeses and lunch meats in the market, you can have a pretty decent lunch at a reasonable price.
Shopping accomplished, we drove to the town of Ironbridge. I had thought, mistakenly, that the iron bridge was designed by Thomas Telford. I learned that it was commissioned by Darby, who started the iron works, and was designed by an engineer from Shrewsbury. It is quite a feat of engineering and shortly after it was constructed withstood some fairly serious floods which would have doomed a lesser structure. In addition to being an engineering marvel, aesthetically it is very pleasing.

The famous iron bridge, which became the symbol of the industrial revolution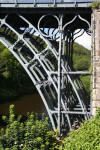 Another view of the iron bridge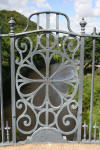 Detail of railing at the iron bridge

Tolls for crossing the iron bridge
We drove up the valley a bit and stopped at the Tar Tunnel. The tunnel was originally developed to transport coal from the canal, but once dug, they found that there was natural bitumenous tar in the hills. This turned out to have more value than the tunnel would have had as a means of transport. The tunnel isn't all that long - maybe a few hundred yards, but it is interesting to put on a hardhat and walk into the tunnel.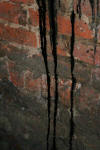 Bitumenous tar seeping into the tunnel
A surprise to both of us was the Coalport China Museum. We thought it might be just a display of china. Instead, it was a complete china factory, including studios which are used by artisans today to produce glass, china and pottery. We best liked the demonstration kiln. It was a restored kiln, but cutaway, so you could see inside - how the fires were built and how the saggers - the containers for the china - were stacked for firing. The people who made the saggers were skilled artisans - they had helpers called sagger breaker bottom knockers - or something like that. How would that fit on your business card?
Next, we went to Blists' Hill Victorian Town - we had spent a few hours here in 2003, but didn't get to fully explore.

Mel at the entrance to Blists' Hill Victorian Town
What a place! It is not unlike Williamsburg, Virginia, in that people are dressed in period costume and work at crafts from their era. I think it is somewhat smaller, but it seems more lively and the buildings are closer together. Like Williamsburg, the artisans will take the time to explain what they are doing if you ask. Their products are generally for sale. We especially enjoyed the wood carvers shop - the man there was really interested in what he was doing (carving a small rocking horse) and more than willing to give us details about the craft. He was especially knowledgeable about the man who was probably the most famous English carver, Grinling Gibbons. He had a book about Gibbons work - the man was an amazing artist. We have seen works by him on some of our travels in England - it is incredible that someone could make such detailed pieces out of wood.
We were pretty tired by this time, so just took a slow drive back toward Shrewsbury. We stopped at the ruins of an Abbey - Haughmond Abbey - it is actually one of the better ruined abbeys we've toured - you could sort of fill in the where the walls had crumbled and imagine what it had been like before the dissolution of the monasteries under Henry VIII.
We returned to our lodgings. Tom did a bit of work on the photographs, then we went into Shrewsbury. We had dinner at a really nice, small trattoria, called La Trattoria. It was a really good meal.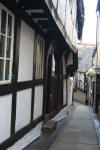 Grope Lane, Shrewsbury. Hmm. Given that these old streets were named after their primary function, what do you think happened here?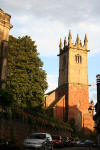 Sun shining on St. Alkmund's Church, Shrewsbury
Thursday - August 4 - Shrewsbury to Ellesmere
We left the Shrewsbury area for the short drive to Whixall, where Mike and Pauline Schofield have their narrow boat moored. We only had one wrong turn, thanks to Mike's excellent directions - and that was because a lorry was in front of the necessary road sign.
Allargando, Mike and Pauline's boat, is quite new - they launched it in 2004 - it sleeps four comfortably, has a nice galley and a head with a combination tub/shower. Since Mike and Pauline are experienced narrow boaters, they had things well under control when we got there, so it was just a matter of stowing our backpack and pushing off.

We loved their choice of names for the boat
Allargando is moored on a branch of the Llangollen Canal (believe it or not, that is pronounced Langothlen). Eventually the canal goes into Wales, although since we were going to be traveling for only two days, we did not go that far.
The stretch we traveled didn't have any locks, but it did have a swing bridge which requires a fair bit of strength (or weight) to raise. There is a chain hanging down and one pulls (or swings) on the chain to start the bridge raising. Here's a picture of Tom perfecting his bridge raising technique.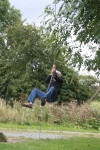 Tom exhibits great form in getting the bridge starting to lift

The lift bridge with a local farm dog waiting to be petted
We moored for a break at Ellesmere and walked into the little town. Mike and Pauline knew of an excellent delicatessen in the town, which sold a plethora of English cheeses. Charles de Gaulle is famously reported to have remarked that France was a country of 265 cheeses, but I think that England has more. Tom has a particular fondness for Stilton, and there is a Shropshire blue which is a yellow cheese with blue veins, like a Stilton. It is wonderful.
We returned to the boat by way of a public footpath that wound behind the town - I love these public footpaths in Britain - they meander here and there through the countryside. We settled in for the night. Pauline cooked some nice salmon fillets for dinner and had brought a home made apple pie with custard for dessert.

Mel, Pauline and Mike boarding Allargando in Ellesmere
One thing about sleeping in a narrow boat - normally it is dead quiet - as it was this night - although occasionally there will be early risers who motor past your boat at too high a speed. However, not this night - it was very peaceful.
Friday - August 5 - Ellesmere to Ellesmere
After breakfast, we motored further up the canal. It was very busy, this being school holidays. There were a lot of families on boats, many with varying degrees of expertise in narrow boating. Normally it is fairly straight forward, but occasionally one encounters shallow spots in the canal and the boats can run aground. Also, sometimes the novices get caught in a current and head in to the bank. Pauline had a photo of Harrison Ford and his girlfriend on a narrow boat on this canal, the boat crosswise in the canal. So, he may be rich and famous, but he can't operate a narrow boat!
We went up the canal as far as a boat yard where Mike wanted to inquire about getting some paint repairs to his boat, then a bit further to a winding hole, where he turned the boat around to head back to Whixall. Mike's steering in the winding hole was very skillful - he maneuvered back and forth until he had the boat turned around - this isn't easy in a craft that is 6' 10" wide and 58' long!

The passages under the bridges are very narrow
Back to Ellesmere, where we moored for a while and walked into town. We had a wonderful cappuccino at the Black Lion pub, then walked around town a bit more. Back to the boat and down the canal further until we got to a place opposite Colemere, a lake only a few feet from the canal. We had a wonderful walk around the lake - it was beautiful.

This thatched cottage was just over the canal from where we were moored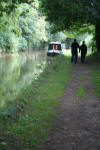 A 'Monet like' shot of a loving couple approaching their boat
Pauline had planned a hot meal, but we had so much cheese on board, and had bought some nice fresh bread and prosciutto in town, so that made dinner. It was more than satisfying!
Saturday - August 6 - Ellesmere to Lytham
It didn't take too much time to return Allargando to the moorage spot - we got her tied up and off loaded by noon.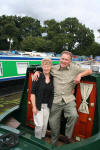 Pauline and Mike Schofield - two wonderful people and great friends
Then we started the drive to Mike and Pauline's home in Lytham, in Lancashire. On the way we stopped at the Dysart Arms in Bunbury for a wonderful pub lunch. Bunbury is a sweet village with a wonderful church, St. Boniface. Before lunch, we went in the church - it was established in the 1300s and had monuments and artifacts from the time it was established until current times.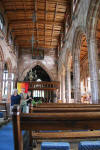 Looking down the nave toward the altar in St. Boniface
The Dysart Arms is a really nice pub - beautifully decorated with an excellent menu. Tom had 'bangers and mash' (sausage and mashed potatoes) in an onion gravy, Mike and Pauline had a plowman's lunch - meats and cheeses, pork pie pieces. I had a really nice chicken salad. Who says British food is bad or boring?
We drove to Lytham and settled into Pauline and Mike's lovely home. It is a semi-detached Victorian, with many of the original features intact, but the kitchen and bathrooms are updated. It is charming and homey.
After settling in we went for a nice walk in Lytham, along the waterfront. We stopped at the Taps pub and had a drink. I loved the people watching. There was one woman who had on these very sexy shoes, but they were two sizes too large for her - wonder how she walked?

We saw a dove in the park in Lytham. I don't think I've ever seen one before
Pauline and Mike fixed a really good meal of pasta, pancetta, tomato sauce, onions and parmesan. It was wonderful. Unfortunately, Mike trimmed his thumb badly in the process, so he was in a fair bit of discomfort.
Sunday - August 7 - Lake District
Tom had driving responsibility because Mike was a bit off with the cut thumb.
We've been to the Lake District twice, but it is so undeveloped that you can drive or walk around for a long time before fully exploring it.
Our adventure started with Tom and Mike leaving Pauline and me at the little ferry in Bowness at the southern tip of Lake Windermere. Pauline and I took the ferry to Ambleside, Tom and Mike drove. I thoroughly enjoyed the trip - it was a bit windy, but the views were wonderful.

Mel and Pauline on the boat from Bowness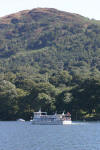 The boat on which Mel and Pauline sailed on Lake Windermere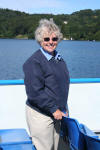 Mel on the boat up Lake Windermere

One of several boats that ply Lake Windermere

We were surprised that the wind on the lake was sufficient for a small sailboat to make good head wind

This is the Youth Hostel in Ambleside - a far cry from the hostels of the 1960's and 70's. They have a full cooked breakfast, family rooms and clean sheets.

Mel and Pauline's boat coming into Ambleside
Ambleside is very busy - lots of people and shops. The streets are narrow, but if you get off the tourist path, you can find little nooks and crannies that are a delight. We stopped for a cake and coffee at Lucy's-on-a-plate. We overdosed on chocolate. Yummmmmmm.
Then the adventure began.

View of one of the many small villages in the Lake District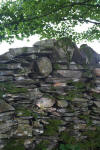 A wall in the countryside - I love these hand-built walls

Two ewes face off - none of us realized this was a sheep behavior

And then....the clash of the mighty titans
Mike navigated us to a small lake named Tarn Hows. Pauline, Mike and I went for a stroll around the lake - it was beautiful. Tom had been driving for a few hours by this time and wanted a break.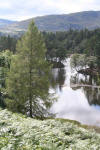 View from walk around Tarn Hows
Then, Mike directed us over Rhino Pass - my goodness gracious sakes' alive! It was narrow. It was curvy, It was full of traffic. It was one lane but the cars were going two ways. At one point we came across two tractors coming down the hill and seven cars going up. The tractors won. The cars pulled off the side. I laughed so much I nearly wet my pants. Most un-ladylike!

OK - who goes first (the biggest ones, I think!)

At last, we've made it to the top - and we are rewarded with this beautiful view

Another view of the valley. England is a 'manicured' land as Mike says, yet there are still parts that are wild.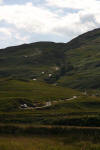 We didn't go up this road as we had a dinner appointment to keep, but look at the winding way up the hill. How glorious! We do love England.
Down the hill, though small villages, past great scenery and eventually to a little pub called the "New Inn" - five hundred or more years old. We met Margaret and Chris, friends of Mike and Pauline, and had a nice dinner before returning to Lytham.
What a great day!